by
Christopher Olsen, Managing Editor
posted on January 26, 2023
Support NRA American Rifleman
DONATE
American Rifleman's 5 Exciting New Rifles For 2023 is a great read, and with dozens of product announcements to pick from, choosing notables among the most-exciting new offerings of the year is often the most difficult task. Add in the fact there are more than just rifles announced this year (we've published 5 Hot New Handguns For 2023, 5 Hard-Hitting Shotguns For 2023 along with new ammunition and optic articles) leaves us to an often-overlooked, yet exciting, facet of shooting sports, which is the airgun. Without further ado, strap on the scuba tank, and let's dive into what's using a whole lot of air in 2023.
Air Venturi Avenge-X Series
A major player in the airgun world is Air Venturi, and each year, we've seen the company roll out innovative designs, but at SHOT Show 2023, it became apparent what Air Venturi is thinking in regards to the future of airguns. Meet the Avenge-X, a 21st century PCP air rifle featuring a different level of modularity. Think AR-15, only easier. The Avenge-X lineup offers .177-, .22- and .25-cal. arrangements with eight different stocks to choose from—it's a plug-and-play system that will allow its operator to configure the rifle however needed. In addition, users will be able to tune myriad aspects of the Avenge-X air rifle system for optimum performance. The rifle's action comes with a reversible side-cocking lever and universal rail for optic-mounting. A 210cc air tube and 390cc carbon-fiber bottle will be available, along with the company's classic stock, as well as bullpup and tactical stocks. For more information, visit AirVenturi.com.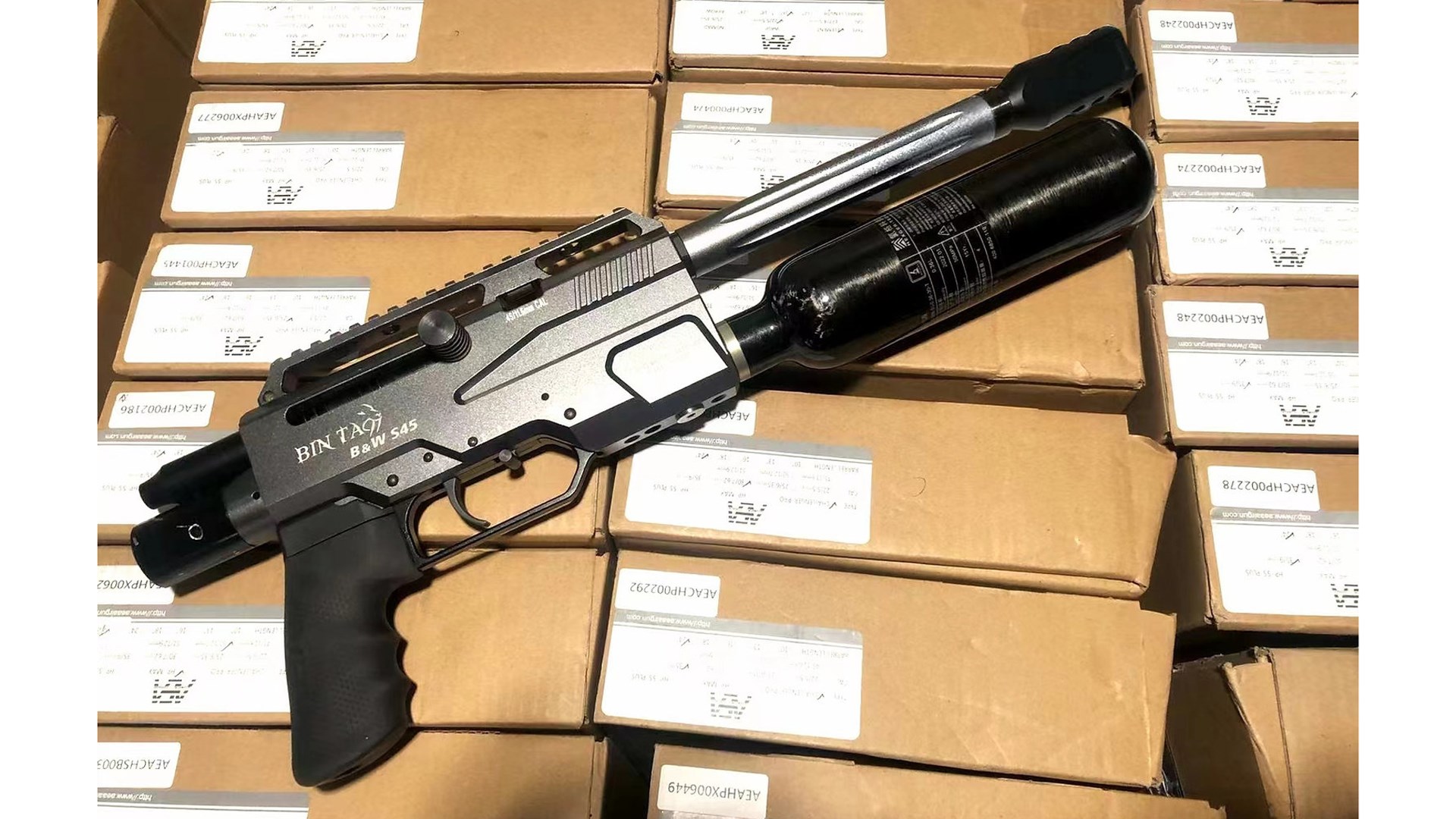 Bin Tac B&W S45 Mini
Catching a whole lot of attention this year is a big-bore pistol from Bin Tac. The new-for-2023 B&W S45 Mini is a pistol version of the company's pre-charged pneumatic, semi-automatic big-bore rifle. With a much smaller form factor and 350cc carbon-fiber front-mount tank, the new S45 Mini presents the avid airgunner with a whole new option in 2023. Sporting a 9" barrel capped with a muzzle brake, the S45 Mini creates about 200 ft.-lbs. of energy and uses a six-round, CNC-machined magazine. Overall length is about 21", and the gun weighs 8 lbs. Bin Tac offers myriad accessories for its S45. Whether you need a optic, upgraded tank kit, specialized parts or loading tools for the S45, Bin Tac has it. For details, visit bintacllc.com.

Hatsan PileDriver .62-Cal.
Big-bore airguns have been trending these last few years, and this is a department where Hatsan has excelled by offering one of the most powerful production PCP air rifles on the market with its bullpup PileDriver. Now, for 2023, the PileDriver will be more powerful than ever with the introduction of a .62-cal. variant. With the new single-shot PCP bullpup rifle comes a removable 480cc carbon-fiber cylinder, built-in pressure gauge and a 33" barrel that will provide more than 700 ft.-lbs. of energy. The .62-cal. PileDriver contains all of the same elements as its .50-cal. counterpart, such as user-friendly ergonomics, an optics rail and an adjustable, two-stage, match-quality trigger. The call to select the Piledriver was a tough one, considering Hatsan announced several other exciting models, such as its Factor series rifles and Jet pistols. For more information on Hatsan and its PileDrivers, visit HatsanAirgunsUSA.com.

Stoeger XM1 Bullshark
For 2023, Stoeger has opened the cage and let out a unique, bullpup airgun configuration with its XM1 Bullshark in .25 caliber. Bull sharks are known for their ability to navigate brackish and freshwater ecosystems, making them highly versatile and unlike any other Selachimorpha (shark), and this is also true of the Stoeger XM1 Bullshark. This integrally suppressed bullpup rifle is a pre-charged pneumatic system and available in three caliber offerings, .177, .22 and now .25, which increases the gun's utility across a wider range of users. The XM1 has a Picatinny rail for optics, interchangeable grips and cheek pieces and comes with a series of colored recoil-pad spacers to adjust length of pull. A front-mounted vertical grip is provided and can be added for enhanced control and maneuverability. Each Bullshark comes with a two-stage, adjustable trigger system and rotary magazines. The latest .25-cal. addition to the Bullshark lineup launches alloy pellets out at about 1,000 f.p.s. For details, visit StoegerIndustries.com.
Umarex Hammer Carbine
Few companies continually offer the depth of product selection as Umarex USA, Inc., a German-based company, and sister firm of Walther Firearms, that designs, builds and markets air rifles, air pistols, airsoft guns, BB pistols and rifles, as well as ammunition and accessories under the following brand names: Combat Zone, Beretta, Browning, Colt, Hammerli, HK, Makarov, Ruger, RWS, Smith & Wesson, Tactical Force and Walther. Umarex has announced several notable models (its Primal 20 Gauge Slug and NOTOS CRK made the selection tough), but its Hammer Carbine is one of the prime standouts for 2023.
The Umarex Hammer Carbine is a .510-cal. pre-charged pneumatic (PCP) airgun designed for big-game hunting. For 2023, Umarex has addressed several key components of its previous Hammer Rifle to make a carbine version that is 9" shorter, lighter, more powerful and just as feature-rich. The Hammer Carbine has a four-shot capacity at full power, thanks to a big boost in air volume from the enlarged carbon-fiber tank. The new Hammer barrel from Walther is also threaded for accessories. As with its predecessor, the Hammer Carbine has a straight-pull action with an 8-lb. cocking force, 2.5-lb. trigger, Picatinny rail for optics, Magpul pistol grip, three safeties, accessory slots and more. For more information, visit UmarexUSA.com.
Other Notable Introductions
There were considerably more announcements at SHOT Show 2023 that are worth noting, which you can reference here: