5.11 Tactical was one of the first manufacturers to offer tactical shirts, pants and jackets for women, and it has continually expanded its apparel line to reflect the fit and function of women who carry guns. New styles and sizes, as well as some non-traditional items that serve as double duty from the shooting range to work to working out were rumored, so it was worth making time to stop by the 5.11 Tactical booth at the 2018 SHOT Show. This year's visit did not disappoint. Not only did we get to see the latest in its women's apparel line—including a cool tote bag that will carry a yoga mat—but we also met the designer of the line, Tiffany Yerby-Dillon, who explained the decision-making behind some of the pieces. Most are available for purchase now, with a few (where noted) due out later in the year.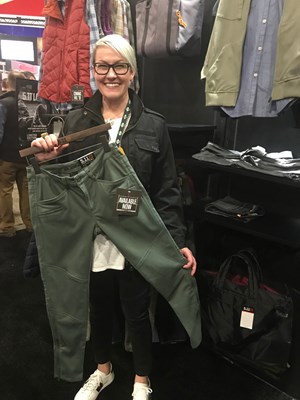 Los Angeles-based Yerby-Dillon is a gun owner and operator, which gives her a unique perspective on the needs of women who carry and train with firearms. Her design background has been primarily in technical clothing and outdoor gear, as well as designing clothes for a particular use. Yerby-Dillon said that when she started working with 5.11 seven years ago, she heard from a lot of end users on the law enforcement side.
Can you make this fit like a woman's pant? Can you please make stuff that fits us? Don't just take a man's shirt and make it small! These were pleas heard regularly by Yerby-Dillon. "I had overheard that horrible quote of 'shrink it and pink it,' and it made me want to scream," she said, finally concluding, "I've got to be their voice."

"I had overheard that horrible quote of 'shrink it and pink it,' and it made me want to scream," she said, finally concluding, "I've got to be their voice."
The process of listening to women's voices often means getting the designs onto testers' bodies, with many of the company's wear-testers either instructors, competition shooters or in law enforcement. "We've taken a lot of suggestions," said Yerby-Dillon. "They don't want to feel like they're wearing a costume." The design-to-manufacture process usually takes about 18 months, she said, as the company conducts extensive testing on the fabric in addition to apparel.
And if you've been loyal to the traditional 5.11 Tactical line of women's clothing, don't worry, those items and much more are still in the catalog. Here is a rundown of the newest 5.11 products for women: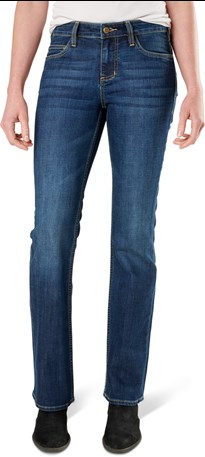 Pants: "You don't want to look like your husband or boyfriend when you're on the range."—Yerby-Dillon.
Defender-Flex Jean
These jeans have done so well in the men's line that women took notice and asked for a similar wardrobe staple. Limited styles and sizes are available online only now, but the Defender Flex jeans are on the schedule for full release between July and fall of 2018.
Built with advanced fabrics and classic jean styling—including boot cut and slim leg options—these pants are cut from 4-way stretch fabric and incorporate recovery technology woven into denim. The pants have seven pockets, including two specifically sized for magazines.
Sizes: 0 to 16
Inseam: Short, regular and long
Colors: Bootcut – Pacific Indigo; Flex slim – Pacific Indigo, Light Wash Indigo, Indigo
MSRP:  $69.99

MESA Pant
Available now, this is a super soft pant, similar to the popular Wyldcat introduced in 2017.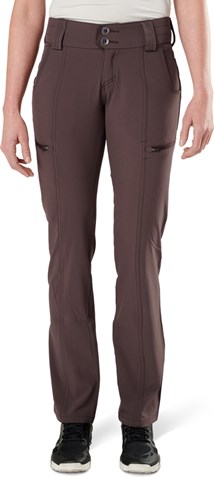 Made of 87 percent polyester and 13 percent elastane, in a 4-way stretch fabric, this lightweight pant (4.7 ozs.) has been designed with a straight fit and a contoured waistband with wide belt loops. Dual zip cargo pockets that don't look like guys' cargo pockets offer secure storage for cell phones, additional magazines and other items. Other pockets include slash hand pockets with nylon reinforcement and magazine pockets at the back yoke.
Sizes: 0 to 20
Inseam: Regular and long
Colors: Black, Lunar, Raisin
MSRP: $69.99

Jackets: The "athleisure" trend continues this year, with additional outerwear for women. "… We wanted to put our foot in the door," said Yerby-Dillon, about the range capris and leggings the company introduced at SHOT Show in 2016.
Women's Cascadia Windbreaker Jacket
"I wish I'd had this jacket on the range yesterday," said 5.11's Public Relations and Advertising Manager Kristen Gooding, referring to 2018's Industry Day at the Range, which took place at the Boulder Rifle and Pistol Club ahead of SHOT Show. Morning temperatures started cool, but quickly warmed up and then cooled off again. "This is an excellent travel piece, because you can roll it up and fit it into its own pocket for easy storage," she said.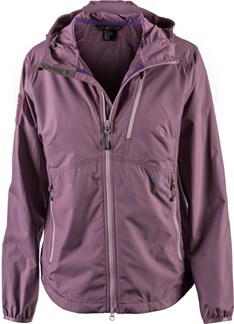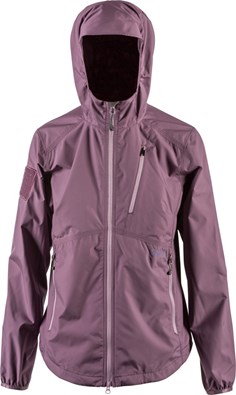 This 100-percent polyester lightweight windbreaker comes with durable water repellent, which is a coating added to fabrics at the factory to make them water-resistant. It has been designed with back air vents, cinch-style hood, brushed tricot lining on chin guard and hand pockets that offer the ability to pass through to a concealed-carry gun, making it a perfect spring CCW jacket. It also offers an adjustable hem with a shock/cord system. The Cascadia also features a two-way center front YKK branded zipper with an internal storm flap and hand pockets with the same zip closers.
Sizes: XS to XL
Colors: Plum, Peach, Lunar, Black
MSRP: $79.99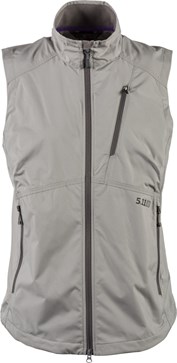 Cascadia Windbreaker Vest
The vest version of the Cascadia windbreaker simulates the jacket (minus sleeves, of course), and is designed to keep the core warm.

Sizes: XS to XL
Colors: Plum, Peach, Lunar, Black
MSRP: $69.99

The Audrey Cover Up
With its retro look and fit, Audrey Cover Up harkens back to a decidedly classy era in women's fashion. 5.11 calls it "casual elegance."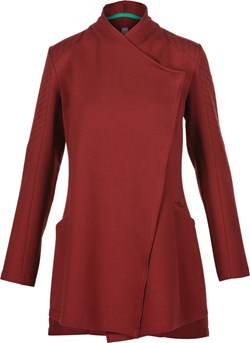 With its cotton/polyester/spandex fabric blend that moves with the wearer, the jacket offers hand pockets and quilting details on shoulder and sleeve panels. Snap the neck area closed for warmth or open it to frame a blouse or shirt. The Audrey Cover Up will be available in July 2018.
Sizes: XS to XL
Colors: Flint (navy), Black Ash (charcoal), and Sangria (red)
MSRP: $99.99

Trendy Tote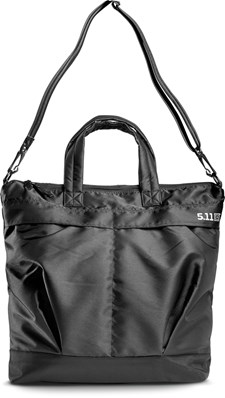 The Flare
With design inspiration from the Air Force's helmet bags, it's ideal to use for a workout bag while being classy looking, said Yerby-Dillon. Called "The Flare," the bag offers plenty of pockets, including an outside pocket that will fit a CCW or a yoga mat. Padded handles create comfortable carry. Inside the bag, which is a wild red, you'll find a water bottle mesh pocket and another zipped pocket—perfect for keys and phones. Super strong 1680D Nylon fabric keeps the bottom of this bag intact, and heat transfer reflective branding can be found on the outside—which is a safety measure so the logo will stand out in low-light situations.  
Size: 18" L x 16" W x 4.5" D
Color: Black
MSRP: $74.99

For more on these items and more, go to 511Tactical.com.