by
Mark A. Keefe, IV, Editorial Director
posted on June 30, 2014
Support NRA American Rifleman
DONATE
Can't find .22 Long Rifle on the shelf? Don't feel special. No one else can either. If you want to stay sharp with your .22, then you need the LaserLyte LT-LR .22 Trainer. While I am a big fan of LaserLyte's laser cartridges for handguns-really snap-cap chamber inserts with a laser in them-most laser devices don't fit in the small bore of a .22. And there's no way a laser unit and its battery can fit in the diminutive chamber space occupied
by a .22 Long Rifle cartridge. Impossible engineering problem? Not so with this new LaserLyte unit, as its battery is actually in front of the bore, giving it a little bit of a Buck Rodgers ray gun look.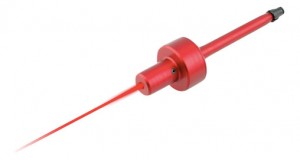 The red anodized aluminum unit is just a little longer than 3", and it protrudes from the muzzle about an inch once installed. The battery compartment is ¾" in diameter, so the device may be visible from behind when installed in guns with thin barrels and very low sights. That said, the front sight is behind the laser's housing, and we did not find it to be a distraction in the guns we guns we tried it. The LT-LR will fit in any .22-cal. barrel so long as it is 1.875" long, and we installed it in .22 Long Rifle, .22 WMR, .223 Rem. guns. It should also work in other .22/.223 bore diameter guns, including .22 Short, .22 Long, .22-250 Rem. and .220 Swift for example.
The laser is activated by sound-like a hammer or firing pin going forward. Once tripped, the device emits a red laser beam for 100 milliseconds (we are going to have take LaserLyte's word on that). We tried it in short barreled handguns, .22 carbines, such as the Ruger 10-22 and H&K 22, and a DPMS AP-4 in 5.56x45 mm NATO. Regardless of barrel length sufficient vibration was transmitted to activate the unit. Combine it with the company's Reaction Tyme Targets or Plinking Cans, and you can train for hours in the convenience of your office or den.
One thing you will need is a snap cap, as many rimfires can be damaged by repetitive dry-firing. In a pinch, empty fired cases can be used.  One lithium 1632 battery is claimed to provide 10,000 shots, and the suggested retail price is $125, which is a bargain, as the last time I saw a brick of .22 Long Rifle for sale, it was $75.
Available from: LaserLyte. Inc. 30 N Alamos Drive, Cottonwood, AZ 86326;
(928) 649-3201