There's a ton do to and see at the NRA Annual Meetings & Exhibits, and this year more companies than ever are attending and unveiling new products and services. It's impossible to list everything going on with more than 750 exhibitors, but here's a short list of things you probably won't want to overlook on the 500,000 square feet of guns, gear, seminars and celebrity.
The official website has show hours, special events and everything you need to know. Pre-plan with precision, or you're guaranteed to get sidetracked looking at a new gun/laser/gizmo and miss out on something special. There's also a listing of events and celebrity visits by day here.
There are, of course, some things that don't qualify for the list or that were scheduled too late to be included. Here are just a few of the latest to arrive. 

The first American-made, gas-operated .50 BMG semi-auto bullpup rifle can be found at the St. George Arms booth (booth 6613). The Leader 50 A1 won't be signing autographs, but you might want a selfie or two.
Stop by Hornady (booth 3617) on Friday, Saturday and Sunday from 10 a.m. to 11 a.m., and you can meet UFC legend Matt Hughes. Seriously, where else would you expect one of fighting's hardest hitters to be hanging out?
A polymer bullet revolution is underway, and it'll establish yet another beachhead at the annual meetings when PolyCase Ammunition (booth 4452) will roll out a new cartridge that will be offered in Ruger's ammunition line. It will also showcase a new 9 mm variant in the ARX Inceptor brand.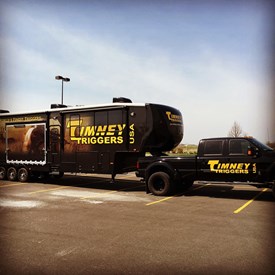 Timney's new two-stage triggers can be pressed at stage one (3709 in the exhibit hall), and on Saturday at 3 p.m. and Sunday at 11 a.m. attendees can listen to Creed Fisher perform live music there. And, if you've ever wanted to see how professional shooters "roll," 3-Gun Nation Champion Tommy Thacker's Timney Mobile Command Center can be seen at stage two—6323 in the exhibit hall, where Fisher will be performing on Friday at 11 a.m. and 3 p.m., Saturday at 11 and Sunday at 3 p.m.
Viridian (booth 3725), in conjunction with its chief tactical trainer and founder of Archway Defense Peter Johnson, will be providing rapid target-acquisition demonstrations every day during the annual meetings. "Our daily demonstrations will allow NRA members to receive 1:1 instruction from an elite tactical trainer in Viridian's on-site virtual reality simulator…," said Mike Dinndorf, Viridian's director of marketing.
SureFire (booth 5725) will be displaying new, never before seen products and hosting a daily sweepstakes.
And, Crimson Trace (booth 4331) will not only show you how its new LiNQ system works—a wireless operated laser and weaponlight that negates the need for bothersome and susceptible cable on an AR—it will be giving away one of the high-tech tactical light/sight systems to some lucky attendee every day.
Giveaways, sweepstakes, celebrities and seminars will continue to be announced and, unfortunately, it's impossible to list them all. Keep your eyes open on the show floor, keep an eye here on AmericanRifleman.org for updates, and most of all, have a good time.