Support NRA American Rifleman
DONATE
Eliphalet "Lite" Remington, Jr.'s first rifle was a flintlock half-stock muzzleloader. It is thought that for the first 30 years of business, Remington produced only rifled barrels at the forge in Ilion. Remington received so many orders, they allowed him to start a real factory along the Erie Canal in Ilion. And, by 1828, he was firmly established as the area's premiere barrel maker. Numerous examples of flintlock and percussion rifles bear the name "REMINGTON" and "P & S REMINGTON" on their barrels, having been completed as rifles by gunmakers throughout New York and well into New England.
In 1847, during the Mexican-American War, Remington purchased armsmaking machinery from N.P. Ames of Springfield, Mass., to make 1,000 Jenks "mule-ear" breechloading carbines with a Maynard-style tape-priming system. These .54-cal. carbines are marked with "Remington's Herkimer NY" on the barrel and are quite rare. This was Remington's first U.S. military contract.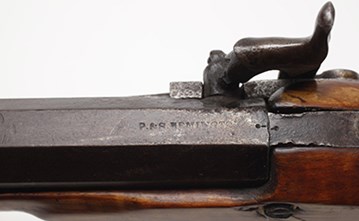 In 1848, Remington received another U.S. government contract for 10,000 U.S. Model 1841 percussion rifles, commonly known among collectors as "Mississippi Rifles" from their use by Col. Jefferson Davis's Mississippi troops during the Mexican-American War. They were delivered between 1850 and 1854 and manufactured in .54 caliber. Remington's Model 1863 rifle, often referred to as the "Zouave," was very similar to the Model 1841 in that it had a 33" barrel, brass furniture and a brass patchbox. More than 12,000 were manufactured during the Civil War, but no conclusive proof has ever been uncovered that any of them actually saw service during the war. Too, Remington was awarded a contract for 40,000 U.S. Model 1863 Springfield rifle-muskets. Most of those were delivered between 1864 and 1866.


Remington was kept busy during the war with the production of revolvers. Fordyce Beals was an enterprising designer who worked at Remington's Ilion factory as well as at the Whitneyville, Conn., arms manufactory in the late 1850s. During his time at Remington, he developed numerous patents for a solid-frame, percussion, six-shot revolver. Known variously as the Remington-Beals, Remington 1861 and Remington New Model revolvers, these .36 (Navy) and .44 (Army) revolvers accounted for the majority of non-Colt manufactured revolvers used during the war with nearly 200,000 manufactured.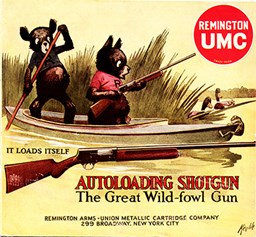 A Remington employee named J.F. Thomas patented what would become known as the Remington Cane Gun in 1858. Manufactured between 1858 and 1888, the .22- or .32-cal. canes were among the finest of their class, and nearly 5,000 were made in both percussion and cartridge versions. Today, they bring a premium on the collector market.
In 1863, Remington employees Leonard Geiger and Joseph Rider developed what would become the most ubiquitous rifle of the back half of the 19th century, the Remington Rolling Block. This breechloading single-shot was made for both military and civilian use in numbers that exceeded a million, and the design was produced from 1864 to 1934. Dozens of foreign nations' militaries adopted the rifle, and there were a significant number made for the U.S. military, too. It was a favored hunting rifle of Gen. George Armstrong Custer, a standard at the NRA Rifle Matches of the late 1800s, and it was even adopted by the Boy Scouts in 1914. In 1876, D. Barclay of NRA won an L.D. Nimschke-engraved Remington Rolling Block rifle during the international long-range rifle matches. The gun was the first in an NRA collection that eventually became the National Firearms Museum in 1935.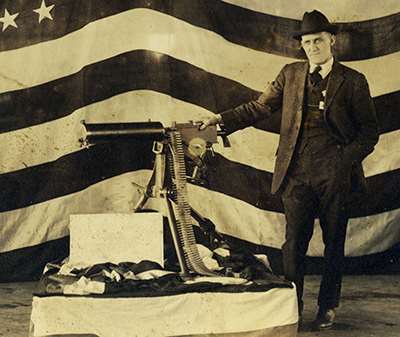 Another classic Remington signature item was the pocket derringer, including Joseph Rider's vest pocket pistol, William S. Smoot's five-shot pocket models and Doctor William Elliott's over-under .41 double derringer. They were produced in the hundreds of thousands, making Remington a leader in personal defense during the latter half of the 19th century.
The Great War (1914-1918) saw the various interests of Remington-UMC (the Union Metallic Cartridge Co. merged with Remington in 1912) working at full capacity making arms for the United States, France, Great Britain and czarist Russia. "First in the Field" would become synonymous with Remington sporting arms, but it was during this period that Remington was truly the arsenal of democracy. Remington manufactured 100,000 8 mm Lebel Rolling Block Rifles for the French, as well as an additional 50,000 1907/1915 Berthier rifles.
One million Pattern 1914 "American Enfield" rifles in .303 British were ordered by the British Purchasing Commission, and Remington-UMC opened a new factory at Eddystone, Pa., to manufacture the guns at a rate of 2,000 a day. In 1917, production was switched to manufacture the U.S. Model of 1917 rifle, which was nearly identical to the British Pattern 1914 but in .30-'06 Sprg., for use by the American Expeditionary Force in Europe after the United States entered the war in April 1917. Two out of three American "Doughboys" in World War I carried an Eddystone Enfield. The Russians ordered almost three quarters of a million Mosin-Nagant Model 1891 rifles manufactured by Remington-UMC for Czar Nicholas II. 
Remington-UMC also produced tens of thousands of flare guns and U.S. Model of 1911 .45 ACP pistols for the U.S. as well.
These were halcyon days for Remington-UMC. The manufacturing of firearms was at its peak, and its ammunition plants were making cartridges at an astounding rate. Annual sales of .22 rimfire for use in shooting galleries alone numbered 50,000,000 rounds.
The company never forgot its roots in sporting arms during those years. John and Matthew Browning were actually sitting in the outer offices of Remington in 1902 on the day Marcellus Hartley died during a board meeting just a few feet away. They had come to pitch their new autoloading shotgun to Remington, and although Hartley's death put a halt to their partnership, the Browning brothers returned later to offer Remington the opportunity to produce the Auto-5 for domestic sale while Belgium's Fabrique Nationale manufactured the wildly successful scattergun for the European markets. Branded as the Remington Autoloading Shotgun, later the Model 11, it remains one of the best-selling semi-automatics of all time.
Speaking of shotguns, the Remington Model 870 has outsold every shotgun ever marketed in the world. Introduced in 1950, this pump-action—available in a dizzying array of gauges, barrel lengths and special features—passed the 7 million mark in 1996, and remains a staple of Remington Outdoor Co. today. 
In 1962 Remington-UMC introduced the Model 700 bolt-action rifle. Available in more than 30 chamberings and every configuration you could imagine, the Model 700 holds the world's record for the most-produced sporting bolt-action of all time. Configured as the Marine M40 (now the M40A5) and U.S. Army M24 SWS, the Model 700 in its sniper configuration has been in the hands of U.S. military snipers from Vietnam to the present day. It is still considered one of the most accurate rifles ever made.
Since family control of E. Remington & Sons ended in 1888 with the bankruptcy sale to Marcellus Hartley (who also owned Winchester and the Union Metallic Cartridge Co.), Remington's ownership has passed through numerous hands including: E.I. DuPont de Nemours; Clayton, Dubilier & Rice; and, since 2007, Cerberus Capital Management, which manages what is now called Remington Outdoor Co. 
Nearly every shooter has handled and fired a Remington of some type. We couldn't cover all the models and types offered by Remington in its 200-year history here, but we wanted to showcase some of the ones that were the most popular and contributed to the longevity of America's oldest gunmaker. The Remington name is possibly on more sporting firearms than any other, and Remington ammunition has been the most produced American ammunition of all time and continues to be a market leader. If you would like to know more about this American classic, check out Roy Marcot's 1998 official authorized history of the Remington Arms Co., Remington: America's Oldest Gunmaker. Happy anniversary Remington, and thanks for 200 years of innovation and excellence in military and sporting arms.