by
posted on November 10, 2022
Support NRA American Rifleman
DONATE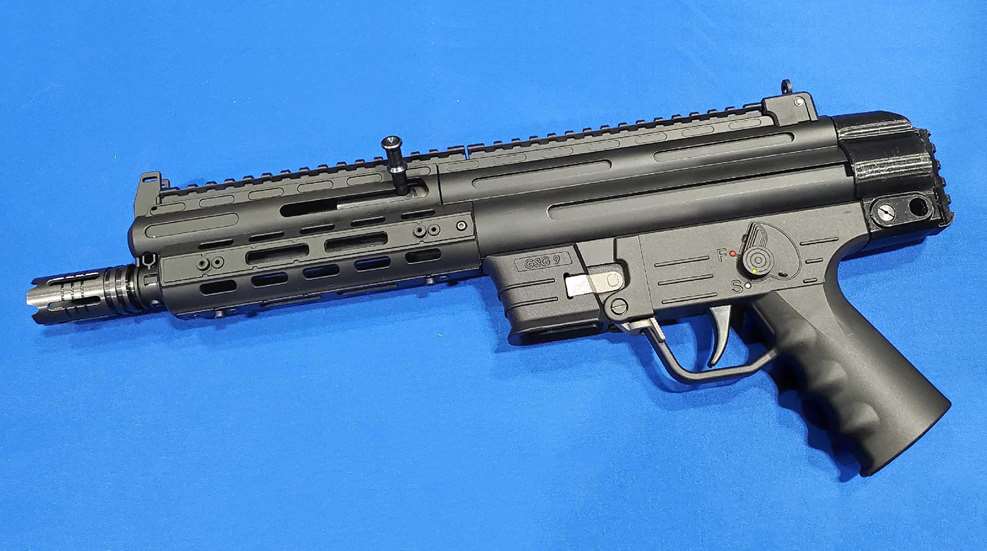 The National Association of Sporting Goods Wholesalers (NASGW) recently gathered in Kansas City, Mo., for its annual meeting and expo. This year, industry members enjoyed the opportunity to share and discuss new products in the works for 2023 without wading through often inconvenient COVID-19 restrictions or regulations. Here is a sneak peek at a few of the new models that will be heading out to local dealers in the near future.
American Tactical Inc.
American Tactical (AT) is changing up its turkey hunting game with the new Cavalry over-under shotgun, featuring a lightweight aluminum receiver, Mossy Oak camouflage synthetic stocks, sling swivels and a vented recoil pad. The single selective trigger fires two 22" barrels with interchangeable choke tubes. This not only provides a second shot but also a choice of two choke patterns, depending on what the situation calls for. The 3" chambered barrels are topped with a ventilated rib and a fiber-optic front sight. They are also drilled and tapped for a Weaver scope mount. This shotgun will be available in 12-ga. (shown), 20-ga. and a svelte .410-bore configuration. MSRP: $699 All Gauges.


This light weight turkey hunting O/U provides a second shot and interchangeable choke tubes.
AT is also teaming up with German Sports Guns (GSG) to import the GSG-9. This 7.5" hammer-forged barrel semi-automatic offers an MP5-ish profile without the MP5 price tag. The aluminum receiver supports interchangeable magazine-well adapters for Glock or SIG P320 magazines. The left-side mounted charging handle rests under a full-length Picatinny optics rail with integral iron sights. The end cap features a short rail and QD sling ports. Other features include M-Lok slots set into in the handguard, ambidextrous controls and an adapter for mounting sound suppressors. MSRP: $749.95

Enjoy the features of an MP5-style pistol at a more affordable price.
Anderson Manufacturing Kiger 9c
Anderson Manufacturing has joined the ever-growing ranks of gun makers offering their own in-house clones of the eminently popular Glock G19 semi-automatic pistol. Chambered in 9 mm Luger, the striker-fired Kiger 9c (pronounced like 'tiger') is named after the Kiger mustang.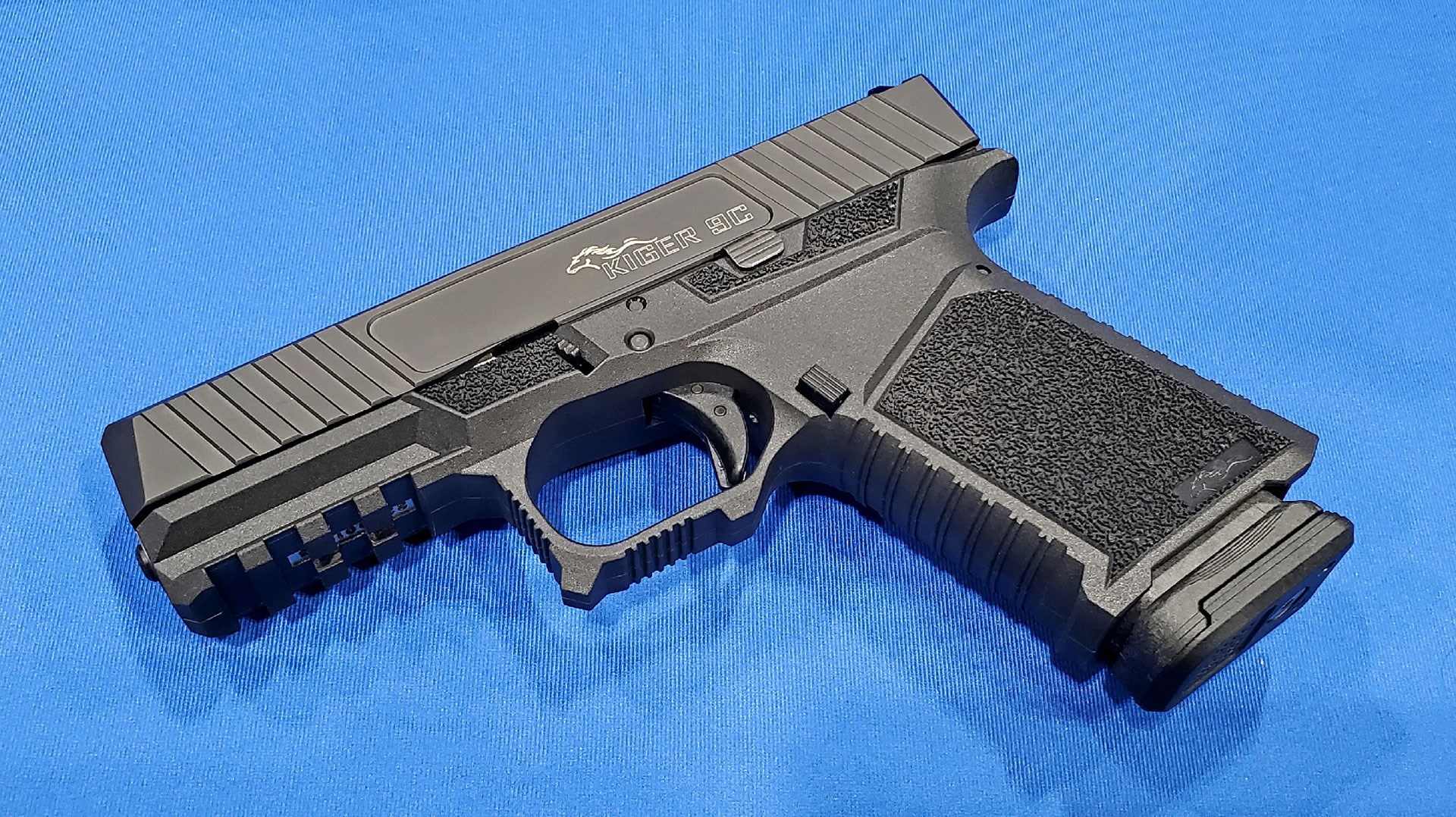 This 9 mm pistol sticks close to the G19 design but has a few unique touches of its own.

The milled billet 416 stainless steel slide has a G19 profile with front and rear cocking serrations. The Glock-compatible sight system consists of a white dot post sight up front and a dovetailed blackout target sight at the rear. The 3.91" barrel features a Gen 5-style recessed crown. The barrel and slide are both treated with a durable matte-black diamond-like carbon (DLC) coating.
The grip frame provides an integral accessory rail, textured finger rest trigger guard and pebbled grip texturing. This pistol ships with one Magpul GL9 15-round magazine. The company will be offering individual Glock-compatible components and parts kits later in the year. MSRP: $429
Bond Arms Budget-Friendly Rough Series In .22 LR

After a four-year hiatus, Bond Arms is bringing back its all-stainless steel pistols chambered for the much loved .22 LR cartridge. Instead of leading the charge with the company's high-polished double-barrels, Bond is expanding its budget-friendly Rough Series.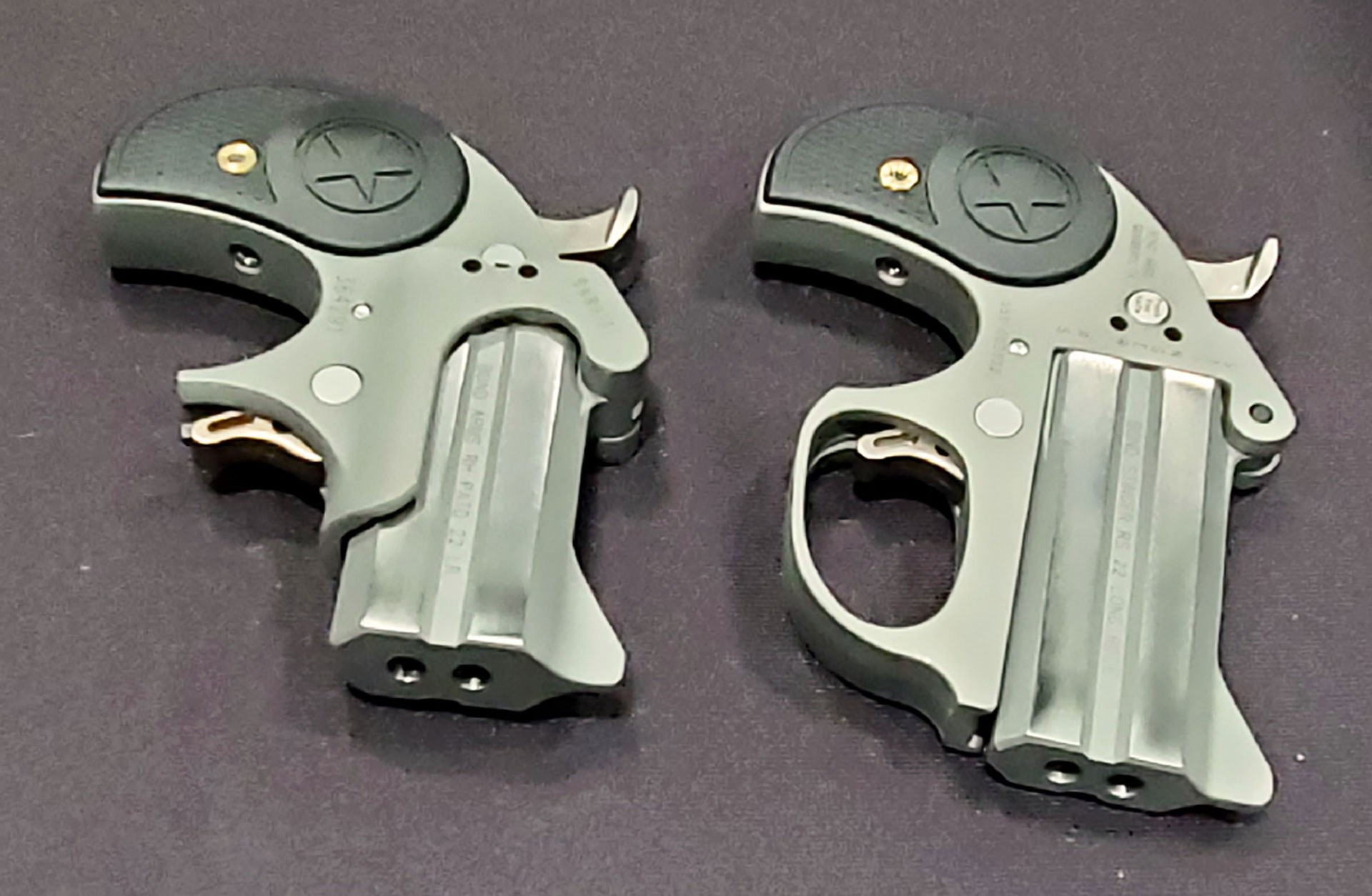 Bond Arms' new Rough Series pistols feature all-stainless steel construction and slim profile textured polymer grips.
The brand new 2.5" barrel Rawhide (left) is the first member of the Rough Series to feature the slightly shorter Cowboy standard-size frame that omits the removable trigger guard. This new model retails at a suggested price of $269. There's also a 3" barrel Stinger RS (right) is based on the slimmed-down Stinger pistol that launched in 2021. The RS version features a rough-finish stainless steel frame instead of an anodized aluminum frame. This modification increases the pistol's weight by about 4 ozs. but shaves $120 of the suggested retail price. Both of these .22s have removable barrels that can be swapped out for other caliber-conversion barrels within their frame category. These are the least-expensive Bond Arms models yet.
Chiappa Little Badger Takedown Extreme .22 LR Rifle
The Chiappa Firearms Little Badger folding single-shot .22 LR rifle has been a steady seller for many years. It's an affordably priced, compact utility carbine that slips comfortably into a backpack or gear box for casual plinking, pest control or for use as a camp gun.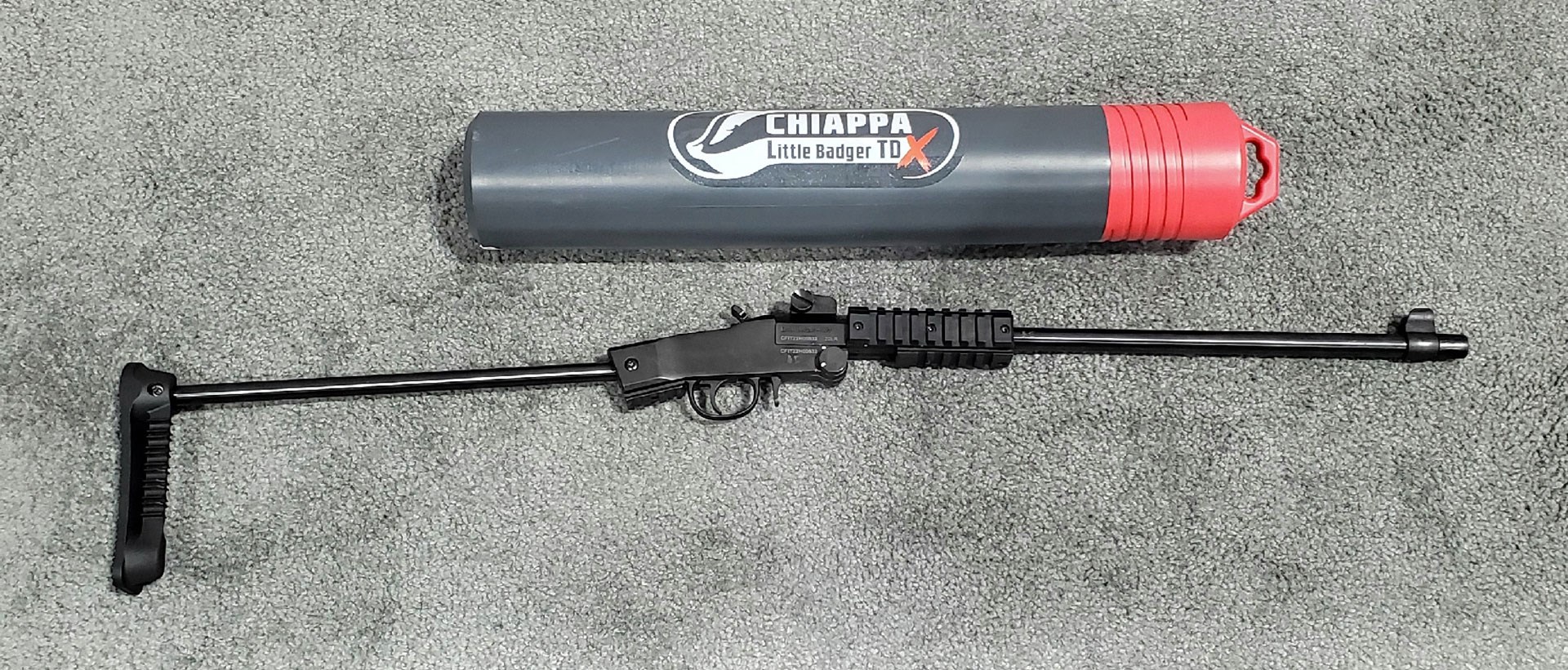 This compact .22 LR is configured for easy transport and storage.
This year, the company is offering a new version called the Takedown Extreme. In addition to folding in half, the break-action receiver also separates with the twist of a knob. This allows the rifle to break into two halves for easy storage. The dual-wire shoulder stock has been replaced with a single post stock. This post is fitted with a folding butt plate that also holds up to 12 rounds of ammunition. This model ships with a water-resistant storage tube and preserves other popular Little Badger features, including the forward quad rail, adjustable rear sight and a rail for mounting a pistol grip. MSRP: $280
CZ USA 712 G3 Shotguns
CZ USA is expanding its line-up of 712 semi-automatics to include the new 12-ga. G3 series of sporting models. Options include the 28" barrel full coverage Camo Tera version with synthetic stocks (top) or the 20" barrel black synthetic stock Utility model (bottom). The company will also offer a traditional hardwood stock version with a 28" or 26" barrel.


Enjoy the softer shooting characteristics of a gas-operated semi-automatic at a more affordable price.

Each gas-operated gun ships with a total of five interchangeable Active-Choke tubes and two pistons. One piston is tuned for heavy waterfowl loads, while the other is configured for lighter sporting loads. The chrome lined barrels are chambered for 2 ¾" and 3" shells and topped with a 7 mm ventilated rib along with bead front sight. The 14.5" length-of-pull (LOP) stock features a 1 3/8" drop at comb, a 2 ¼" drop at heel and a rubber recoil pad. MSRP: $579 - $649
FightLite Industries Model 2024 Herring Lever-Action Rifle
FightLite Industries has introduced a new model that answers the modernized lever-action rifle question with a fresh take. Instead of trying to make a classic 19th-century lever gun design more like an AR-15, this company started with the AR-15 platform and modified it just enough to convert it into a lever gun.

Take advantage of the Herring's modularity and removable box magazines in those jurisdictions which have restricted or banned semi-automatic MSRs.
The Model 2024 Herring carbine's lower receiver is based on the company's Sport-Configurable Rifle (SCR) receiver. The Herring blends a fixed synthetic sporting shoulder stock, cross-bolt safety button and lever loop with an AR-15 style magazine well and magazine release. The pivot and takedown pins allow the lower and upper receiver assemblies to swing open or separate in typical AR-15 fashion. The lower is compatible with other mil-spec upper assemblies.
The modified bolt-carrier group utilizes an off-the-shelf rotating bolt, which makes it easy to swap out bolts and convert the rifle to other calibers. The upper-receiver group is loaded with typical AR-15 features but no direct gas impingement system is needed in this manually-operated action. The first model of the American-made Herring series will sport a 16.25" barrel chambered in 5.56 NATO and .223 Rem. MSRP: $1,300.
META Tactical Pistol-To-Bullpup Conversion Kits
This lightweight polymer bullpup conversion kit accommodates a variety of polymer-framed semi-automatic pistols.
META Tactical offers a unique and affordable option for bullpup fans to assemble a compact pistol-caliber carbine at home using a pistol they already have on hand. The APEX conversion kit consists of a factory complete, ready-to-use bullpup stock assembly and a drop-in threaded 16" barrel that arrives with both a removable flash hider and a thread protector. No permanent modifications to the pistol are required. Just trade out the pistol barrel for the 16" long carbine barrel and follow a few steps to install the long-barrel pistol into the stock. The process takes just a few minutes.

The pistol is fitted with a provided 16" threaded barrel and inserted through the swing-open shoulder stock.
The APEX stock is loaded with features, including a 35-slot aluminum Picatinny optics rail, ambidextrous controls and an adjustable shoulder stock. The company is continuing to expand its model-specific kits to accommodate a variety of Glock semi-automatic pistols, along with Polymer80, Smith & Wesson and Palmetto State Armory polymer-framed models. This includes pistols chambered in 9 mm Luger, .40 S&W, 10 mm Auto and .45 ACP with stock color options that include black, OD green, gray and tan. MSRP: $600
Midland Arms Folding Single-Shot .308 Win. Rifle
Midland Arms has been manufacturing budget-friendly, break-action, single-shot shotguns chambered in 12-ga., 20-ga. and .410 bore for some time now. But this year, the company is upping its game with the addition of a 20" barrel synthetic stock folding rifle chambered in .308 Win. Due to this cartridge's higher operating pressure levels, the receiver and barrel have been toughened up to ensure safe, reliable operation.


The simple, reliable, easily stowable .308 Win. rifle is shown here (top) along with the same receiver fitted with the new 12-ga. rifled slug barrel (bottom).
The .308 Win. model is fitted with a set of iron sights, and the round-profile barrel is drilled and tapped for an optics rail. The receiver is fitted with a cocked-hammer indicator on its left side. The polymer stock features three removable inserts to adjust the length-of-pull (LOP), along with a soft rubber recoil pad. The .308 Win. rifle will have a suggested retail price of $300. Customers will also have the option of purchasing this rifle along with a rifled 12-ga. slug barrel for a package price of $400.
Trailblazer Firearms LifeCard
Since its first release in 2016, Trailblazer Firearms has continued to expand its LifeCard utility rimfire pistol options. The latest addition to the line-up is a suppressor-ready .22 LR model. The 0.5" extension of the one-piece barrel is threaded at a standard 1/2 x 28 TPI to accept a wide variety of muzzle accessories. It provides plenty of clearance to tilt the barrel for loading and unloading when a muzzle device is attached.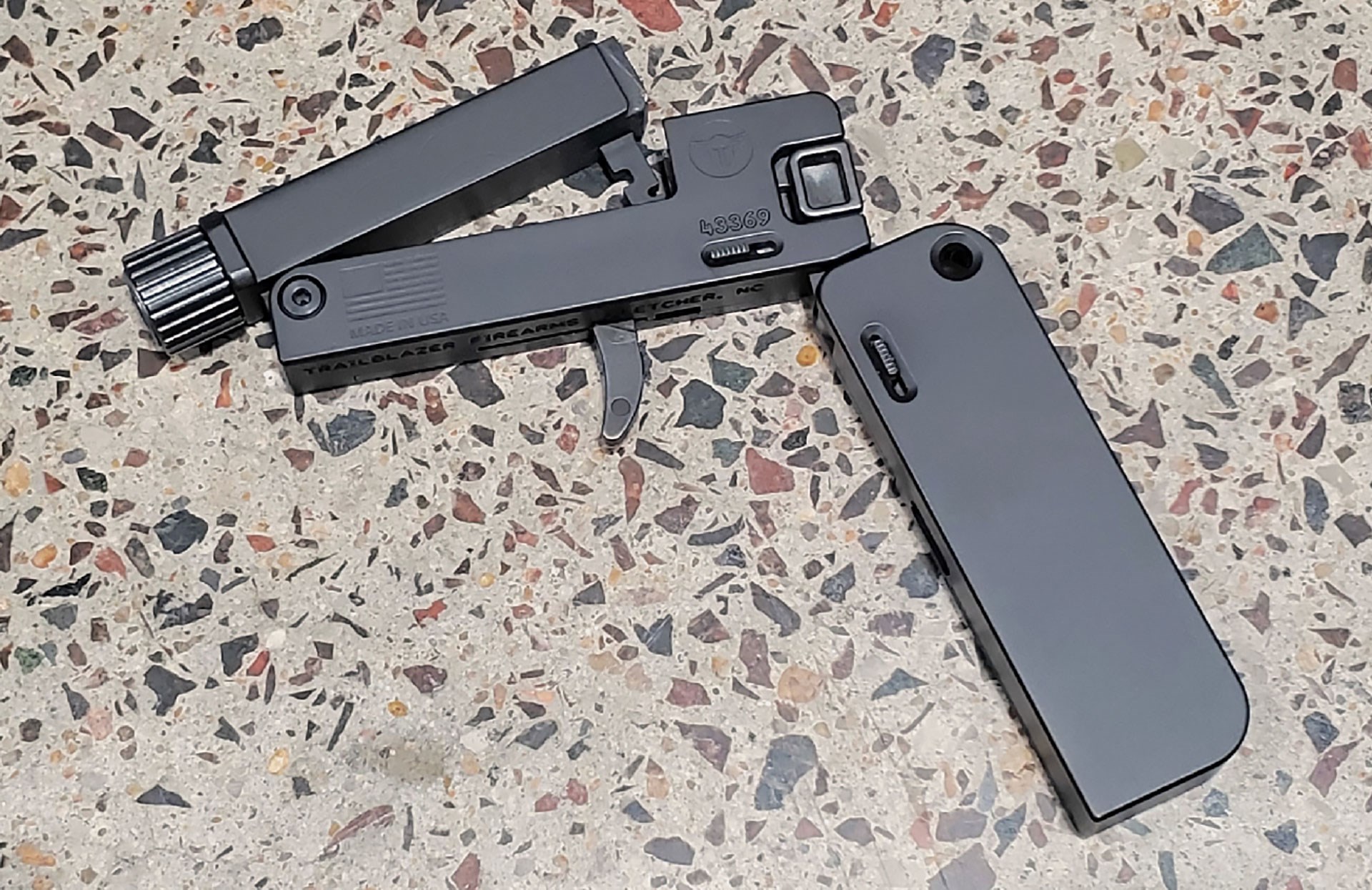 The diminutive, folding LifeCard single-shot pistol is compact enough to slip into the watch pocket of a pair of jeans.
With a thickness of 0.5", an unloaded weight of less than 7-ozs. and a folded profile the size of a stack of business cards, this may well be the most compact sound-suppressor host currently available. This latest version of the LifeCard is available with a polymer grip for $319 or an all-aluminum construction for $369. If you are looking for a LifeCard with a bit more pep, take a look at the .22 Mag. version, which is available in a variety of color options.
TriStar Arms
TriStar Arms is now offering an upgraded version of the popular Viper G2 semi-automatic shotgun. Called the G2 Pro, the stock and receiver have been redesigned, but the company was careful to preserve the weight and balance that has made the Viper G2 so popular with its customers. The barrel is topped with a waterfall rib and a fiber-optic sight. Hardware upgrades include a triangular safety button and an enlarged bolt release button, bolt handle and magazine well for easier operations. The silver receiver G2 Pro is fitted with Select Grade Turkish walnut stocks, while the bronze-receiver version sports premium-grade walnut furniture. MSRP: TBA


The new G2 Pro offers a sleek balance of function, features and good looks.
This company is stepping into a brand new line-up of steel receiver, lever-action .410-bore models dubbed the LR94 series. These shotguns hold up to five rounds of 2.5" .410 shells in their tubular magazines. The receivers will be available in matte blue, casehardened and nickel finishes. The round-profile barrels feature brass-bead front sights paired with adjustable rear sights. Early models will have a bolt-mounted safety, while later models will ship with receiver-mounted cross-bolt safety buttons. The classic lever-gun profile is enhanced with checkered Turkish walnut stocks and leather-wrapped lever handle loops. MSRP: TBA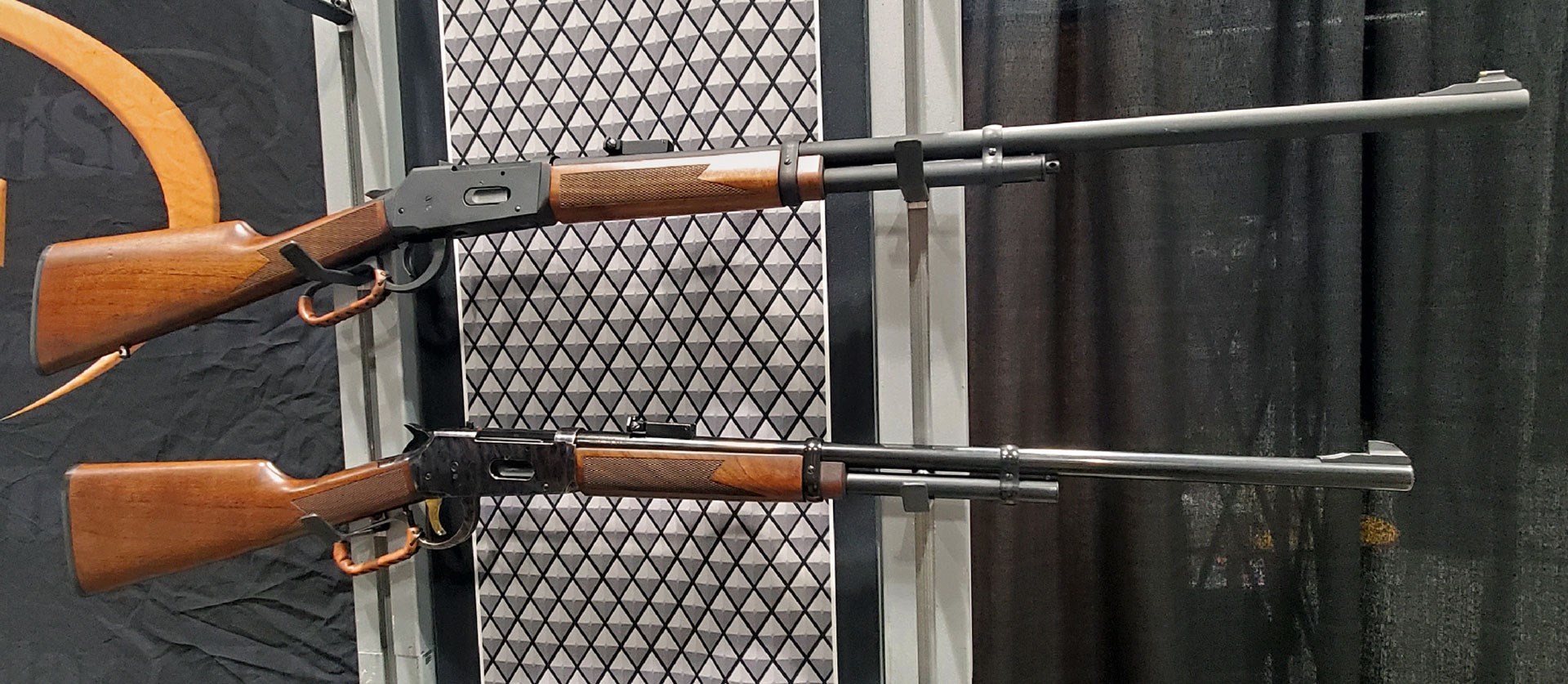 The LR94 will be offered with multiple finish options.