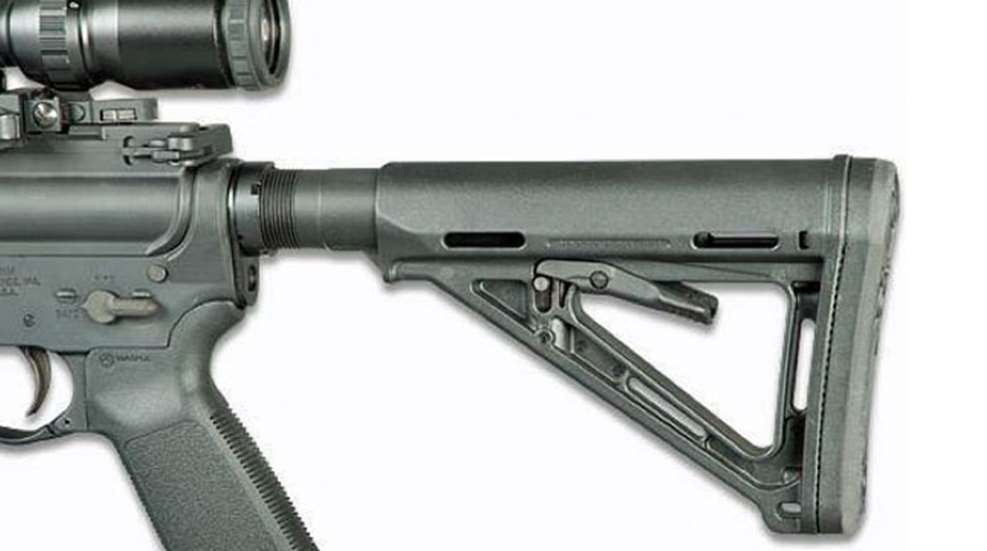 Gallery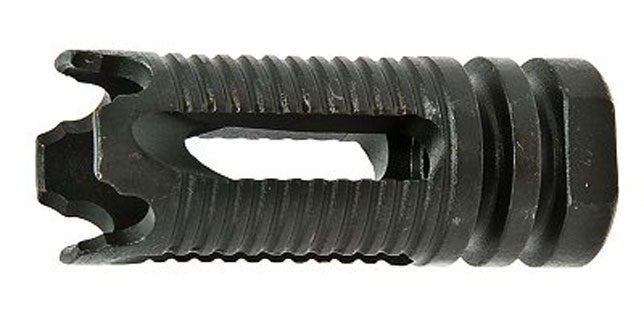 DoubleStar AR-15 Phantom II Flash Hider
Double Star's redesign of the popular Phantom Flash Hider has resulted in a muzzle accessory that successfully works as both a compensator and an excellent flash hider. Even the very bright muzzle flash of short 5.56/.223 pistol barrels is effectively quashed by the Phantom II. The five-port design has no downward facing ports, which eliminates dust kick-up when shooters fire from a prone position. The aggressively scalloped front edge also provides an advantage in hand to hand encounters. This accessory is for use on threaded AR-15 style barrels.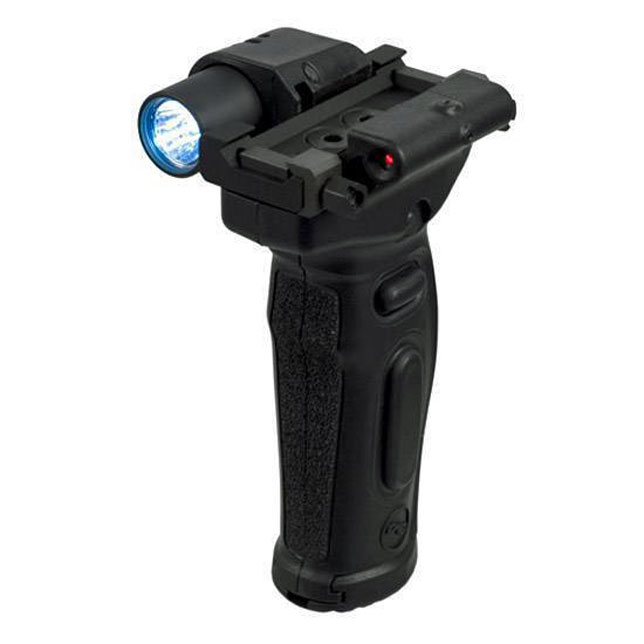 Crimson Trace MVF-515R AR-15 Vertical Foregrip
Adding a light, a laser and a vertical grip does not have to gobble up precious picatinny real-estate on your rifle with the three-in-one MVF-515R vertical foregrip from Crimson Trace. Ambidextrous dual-side activation switches allow the programmable 150/200-Lumen LED white light module and user-adjustable laser to be activated simultaneously or individually. With tough polymer grip panels, hard-anodized 6061-T6 aircraft aluminum tang and Parkerized steel recoil lugs and hardware provide plenty of strength and recoil resistance. Although the MVF-515 costs more than a standard vertical grip, the value of having all of these accessories in a single, easy to operate unit clearly makes it worth the investment.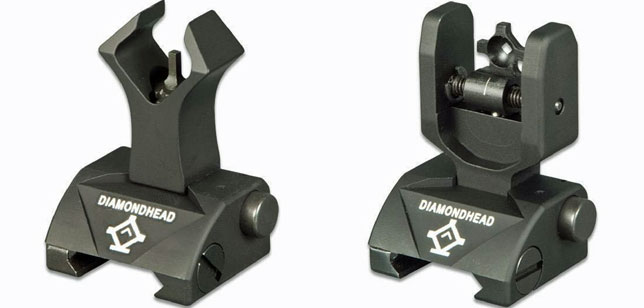 Diamondhead Flip-Up AR-15 Sights
Diamondhead provides a proprietary AR-15 sight system that includes a front sight with a diamond-shaped housing for faster sight alignment. The rear sight contains both a diamond-shaped aperture for accurate long-range shooting and a traditional round aperture for close-quarters combat. These sights flip up quickly for rapid deployment with a locking system to ensure they remain zeroed. They fold down again with the press of a button and feature a low folded height of just 0.435 inches. This sight system is constructed of stainless steel and Type 111 black anodized 6061 T6 aircraft aluminum to be combat durable. These Diamondhead sights are compatible with all military standard 1913 Picatinny rails.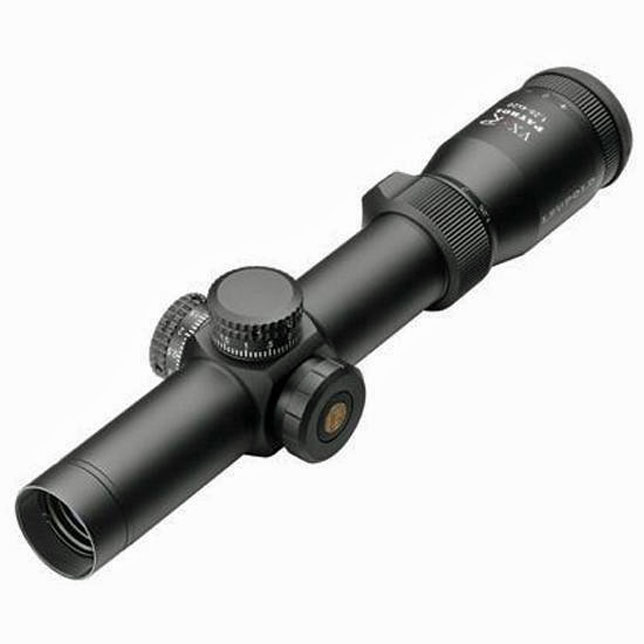 Leupold Tactical VX-R Patrol Rifle Scopes
Leupold, known worldwide for its high-quality hunting scopes, also provides an ideal combination of features for tactical and competition AR-15 rifles in its series of VX-R Patrol rifle scopes. The VX-R shown is a 1.25-4x20 mm model with 1/4 MOA adjustments and FireDot SPR Reticule. The proprietary powered fiber-optic FireDot offers eight different illumination intensity settings, including a high/low indicator. The illuminated portion of the reticule switches to "stand-by" mode automatically after five minutes of inactivity, and then, using an exclusive motion-sensing technology, reactivates whenever the rifle is moved. This extends the battery life of the scope without the need to activate or deactivate the scope like other red-dot systems.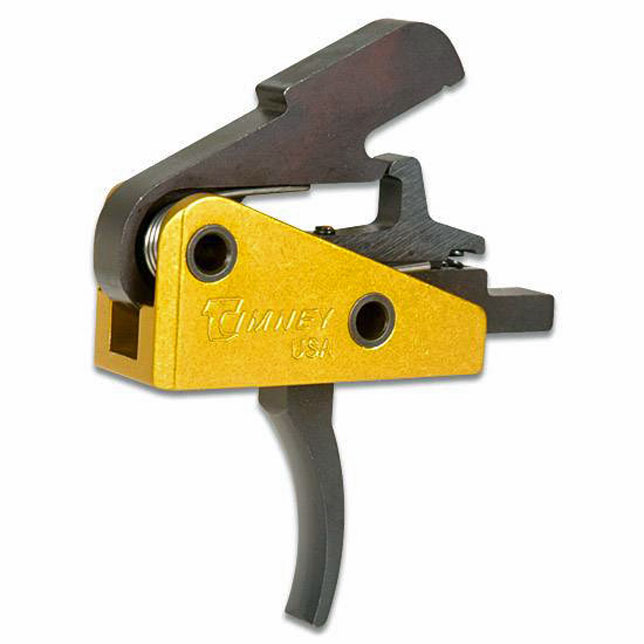 Timney Drop-In AR-15 Competition Trigger
Many quality AR-15 rifles arrive from the factory ready to run, but with stiff "stock" triggers. This precision, fire-control group is manufactured in the United States by Timney, and does not require any gunsmithing to install. Replace the existing assembly with the Timney unit to enjoy a smooth, crisp, single-stage, 3-pound trigger pull. The components are fitted into a lightweight 6061, T6 aluminum alloy housing that's been anodized for increased durability. This trigger group works with small pin (.154-inch) receivers only.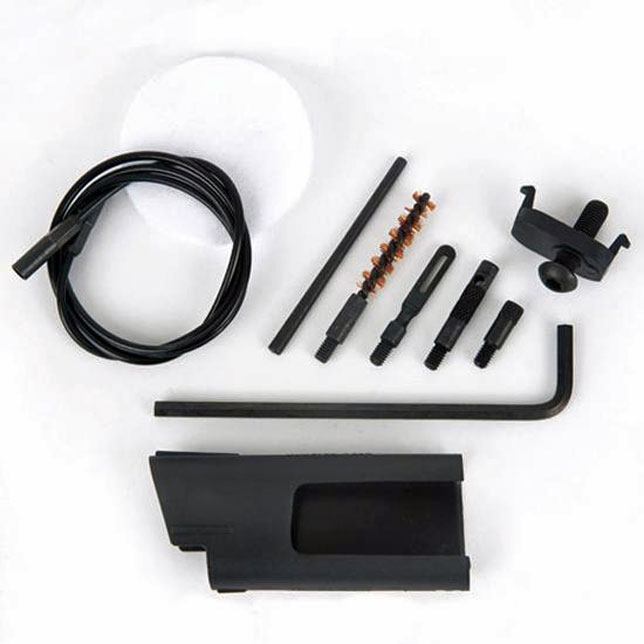 Otis 5.56mm Grip Kit Cleaning System
Keeping an AR-15's barrel clean can be a challenge in the field. Otis makes it easy to keep the essentials on hand with its Grip Kit Cleaning System. Developed for lightweight special operations firearms, bore clearing and cleaning can be accomplished in seconds. The essential Memory-Flex cleaning rod, obstruction remover, slotted tip, T-handle, bore brush and small caliber patches can be neatly packed into the hollow of a standard AR handgrip. This kit also includes an anchor for the kit, a button-head hex screw and a hex wrench.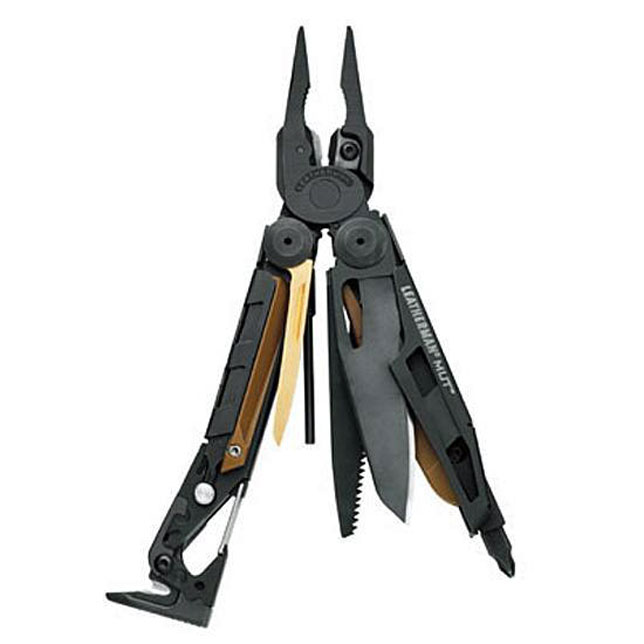 Leatherman Military Utility Tool (MUT)
Leatherman kept the needs of the serious shooter in mind during the design of its Military Utility Tool (MUT). Along with the signature high-quality knife blades and pliers, you'll find a variety of implements that come handy when faced with AR-15 malfunctions in the field, including a bolt override tool, a replaceable firearm disassembly punch, a replaceable carbon scraper and cleaning rod and brush adapters. The stainless-steel body and handles feature a black oxide finish. The MUT is 5-inches long, weighs 11.2 ounces and is backed by a 25-year manufacturer warranty.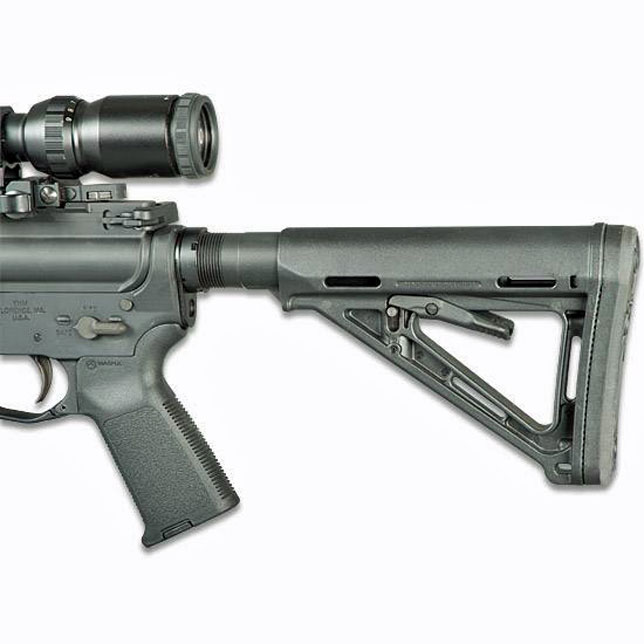 MagPul AR-15 Carbine Stock
Magpul provides a high-quality, but affordable, solution for equipping AR-15 pattern rifles with an adjustable shoulder stock. Designed for use on commercial-size buffer tubes, the streamlined A-frame design prevents snagging on clothing or equipment. The release latch is shielded by the frame and fitted with a premium chrome-silicon spring to help prevent accidental collapse. A 0.55-inch rubber buttpad is attached to provide a solid shoulder mount. This product is made in the U.S.A.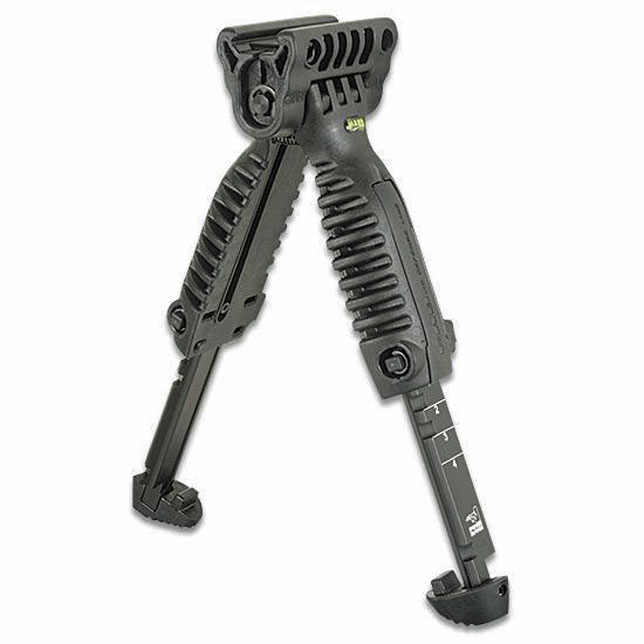 Mako Vertical Foregrip/ Bipod
Loading out the Picatinny rails of an AR-15 rifle with all the accessories you need might be a challenge. Mako Group combines two critical accessories, a vertical foregrip and a bi-pod, into one compact device. This tactical foregrip converts to a fully function bipod with the push of a button. The aluminum bipod features no-slip textured feet and five independent adjustments allowing a 6- to 9-inch shift in height. This grip also contains dual pressure-pad cutouts for use with light or laser pressure switches.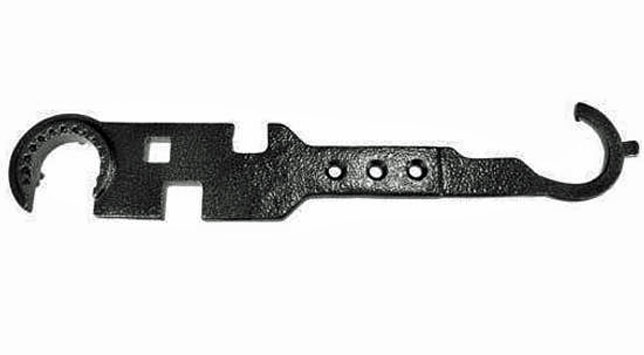 Barska AR-15 Combo Wrench
A variety of tools needed for successful installation of AR-15 parts can be found in the Barska AR-15 Combo Wrench. This tool can be used to install and disassemble free-float tubes and barrel nuts, and a 1/2-inch drive is available for socket wrenches, with an extension tube carbine stock tool, and a screwdriver tip for buttstock and compensator changes. This tool is 12.6-inches long, 2-inches wide and constructed of high-strength carbon steel for years of reliable use.