by
posted on July 26, 2020
Support NRA American Rifleman
DONATE
From the traditionally styled, steel-frame MC1911 Match Elite to the thoroughly modern, polymer-frame MC28SA-TV, EAA's Girsan family of pistols benefits from state-of-the-art manufacturing, materials and features.

So, ever heard of Girsan? Girsan Gun Industry was founded in 1993 in Giresun, Turkey. The company's first pistol was the Yavuz 16, which is based on the Beretta 92. It passed Turkish military trials and won several contracts with law enforcement and military organizations in its home country. Since then, Girsan has continued to upgrade its production standards while expanding its lineup of affordably priced pistols inspired by popular designs. This manufacturer has a knack for adding its own touches and upgrades to these platforms while maintaining a high standard of quality and reliability.

Girsan continued to expand its Beretta-inspired pistols with the release of the Compact MC and Regard MC in 2004. In 2010, the MC1911 series of semi-automatics was launched, which is based on the classic John-Browning-designed platform. The company's first polymer-frame, striker-fired pistols arrived on the scene in 2014. Called the MC28SA, this series of semi-automatics sports many of the popular features favored on duty-size guns in this category.

Girsan has teamed up with European American Armory Corp. (EAA) to introduce two new competition-grade M1911s and a series of striker-fired polymer guns that ship with red-dot optics. Plus, there is a full line of shotguns, but that's not our focus here. First, we'll take a closer look at the MC1911 Match Elite, chambered in .45 ACP. Then, for polymer pistol fans, Girsan offers an affordable package that includes an MC28SA shipped with an Ade Advanced Optics compact optic installed at the factory.

That EAA believes strongly in the quality of these guns is evidenced by the fact that both ship with a limited lifetime warranty.

MC1911 Match Elite .45 ACP 
I can still remember when building a tricked-out, competition-grade M1911 pistol was an arduous and expensive process that could cost a lot of time and thousands of dollars. Although the more pricey custom models are still available, Girsan's MC1911 Match Elite provides the whistles and bells many competitors are looking for at a suggested retail price of only $873. 

The fullsize .45 ACP semi-automatic is patterned after the much beloved Government Model, with a slide and frame that feature a matte hard-chrome finish applied over carbon steel for a combination of strength and corrosion resistance. All of the pistol's appointments, including the sights, trigger, grip safety and magazine well, are treated with a matte-black finish that contrasts nicely with the matte chrome.

The top of the slide, the dustcover and trigger guard are all rounded in the classic style, just as John Browning intended. The slide has deeply cut, canted front and rear cocking serrations, and the ejection port has been beveled for improved function. The metallic sights are dovetailed into the slide. The front sight blade is serrated to reduced glare, and the square-notch, competition-style rear sight is click-adjustable for elevation and windage.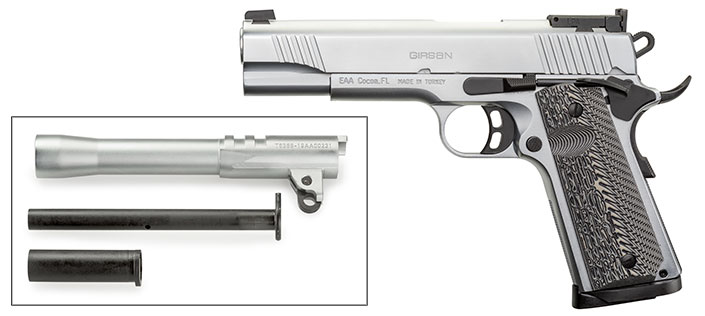 There is no barrel bushing on this model. Instead, the muzzle end of the 5"-long competition-grade barrel has a conical profile that locks directly into the slide. It appears to have the same matte chrome finish as the slide and frame. The traditional, stubby recoil spring guide has been replaced with a full-length steel guide rod that's outfitted with a single round-wire recoil spring. The recoil spring plug has been replaced with a guide that allows this rod to pass through it as the action cycles.

The slide catch and round magazine release button are on the frame's left side in typical M1911 fashion, and both controls have textured touch points for improved purchase. The exposed hammer is of the skeletonized, long-loop variety. It's paired with an extended beavertail grip safety that has a grooved memory bump. The thumb safeties are bilateral, with extensions that are just the right size. They are long and wide enough for ease of operation without being so large as to hinder quick holstering.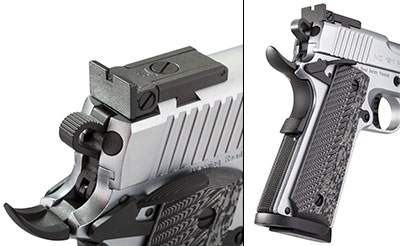 The skeletonized aluminum competition trigger has a grooved face but does not have an exposed overtravel-adjustment screw like some models do. The trigger exhibited just a hint of take-up before a crisp, clean break. According to my handy Lyman digital trigger gauge, the trigger pull for this particular gun measured 5-lbs., 8-ozs., but the trigger was smooth enough that it felt lighter. 

Because of their relatively large size, .45 ACP M1911 grip frames benefit from checkering paired with stock panels that provide improved purchase. This version of the MC1911 has a narrow strip of checkering along the frontstrap that engages the ring and little finger while leaving the edges of the strap smooth for a less abrasive feel. The straight mainspring housing is fully checkered from top to bottom, which is a plus.

The two-tone G10 stock panels are secured to the frame using standard grip screws. The texturing of the panels is both good looking and effective without being overly abrasive. The front half of each panel has irregularly shaped divots to engage the finger tips, with canted straight cuts at the rear that grab on to the palms of the shooting and support hands. The result is a grip that feels comfortable and stable for quick draws from the holster and extended practice sessions.

The magazine well is fitted with a beveled aluminum extension that aids in quick reloads. Some competition extensions are rather large and blocky; this one is compact and neatly rounded to fit the dimensions of the grip frame. Like the thumb safety, it's a handy upgrade for competition but it won't get in the way should this pistol be staged for home defense or carried for personal protection. 

As is often the case, this upgraded M1911 ships with just one eight-round, blued-steel magazine manufactured by ACT-MAG in Italy. Luckily, this fairly universal type of magazine is easy to find. I opted to include a new-for-2020 Mec-Gar eight-round Match 1911 magazine for my time at the range. Both magazines operated flawlessly and dropped free from the grip when the magazine release was depressed. 

Although there are plenty of good reasons to build modern concealed carry guns with polymer frames, pistols intended for competition benefit from all-steel construction. The added weight helps to tame the .45 ACP's recoil and gives Government Model-size M1911s good balance. The fit and finish of this gun was top-notch throughout. All of the controls worked smoothly and properly.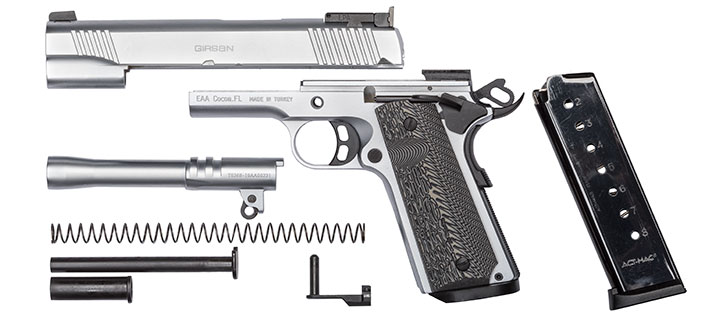 Sometimes all-steel guns require a break-in period of anywhere from 50 to 200 rounds in order to smooth things out so that the pistol runs reliably, but that was not the case with this MC1911. Other than a single stovepipe during the first 20 rounds fired, the pistol ticked along like a metronome with all of the ammunition fired, from practice-grade loads to premium hollow points.

MC28SA-TV 9 mm Luger
During the past decade, few niches within the shooting market have become as competitive as striker-fired, polymer-frame 9 mm Luger pistols. The majority of these duty-size semi-automatics, to some extent or another, have been influenced by the Glock Safe Action design. Although Girsan's MC28SA series is described as a "Glock-style" handgun in the company's literature, it clearly takes the majority of its design cues from the popular Smith & Wesson M&P series. The external dimensions are similar enough to some S&W models that both will fit in the same holsters. But the MC28SA-TV is outfitted with features not found on the pistol that inspired it.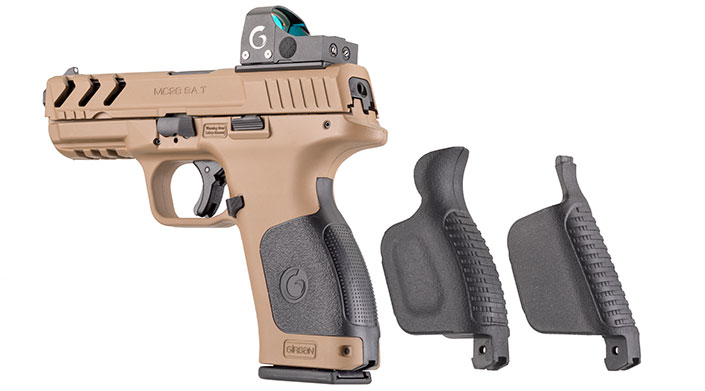 The MC28SA is a recoil-operated 9 mm semi-automatic pistol designed to accept double-stack magazines. The carbon steel slide features a witness hole on top, behind the barrel's chamber, along with front and rear cocking serrations. The straight, fluted 4.25" barrel is supported by an all-steel guide rod with a captured flat-wire spring. The metallic slide plate is ported for the red-tipped, cocked-striker indicator. The three-dot combat sight system is also metallic, with the front sight inset into the slide and the rear sight mounted onto a removable plate.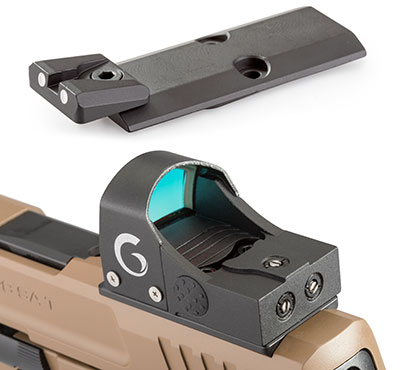 This particular pistol arrived with the rear sight removed and stowed inside the case. In its place is a factory-installed red-dot or reflex sight with the Girsan logo. According to the instruction sheet shipped with the pistol, the included sight is the Ade Advanced Optics RD3-009 Compact MINI Crusader red-dot reflex, which sells for around $60 online. Powered by a single CR2032 button cell battery, this optic is water-resistant, has an aluminum housing and six brightness settings which can be adjusted using a single rubber button on the left side. How much can one expect from such an affordably priced red-dot? Time on the range would tell. 

To compensate for the added weight of the optic, a set of angled weight reduction cuts have been made at the muzzle end of the slide. This model's slide is finished with a flat dark earth ceramic coating, which matches the coloring of the polymer frame. The other appointments, including the frame pins, sights, barrel, controls and interchangeable backstraps, are all matte-black. While the slide's lines are clean and crisp, the polymer frame is a bit more military-grade in regards to its exterior appearance. While it is certainly tough and reliable, not all of the mold marks have been removed, and touch point texturing is minimal. In other words, it may not win a beauty contest, but it gets the job done. 

A 2"-long, three-slot accessory rail is molded into the dustcover. The squared-off trigger guard houses an unmistakably Glock-pattern polymer trigger with an integral blade safety. Like the feel of many other triggers in this genre, the take-up is a bit rough, but it gets better from there. The trigger breaks with 4-lbs., 9-ozs., of pressure instead of the typical 5-lbs., 8-ozs., for factory triggers of this configuration. The break is clean and smooth with a short trigger reset that produces a distinctive click. 

The swing-down takedown lever and left-side slide stop follow the S&W M&P design. The somewhat pear-shaped polymer magazine release button is textured for improved purchase. The grip frame has a 0.5" beavertail extension to protect the shooting hand from slide bite. Both sides of the grip frame are narrowed directly behind the trigger guard to make reaching the trigger and magazine release a little easier.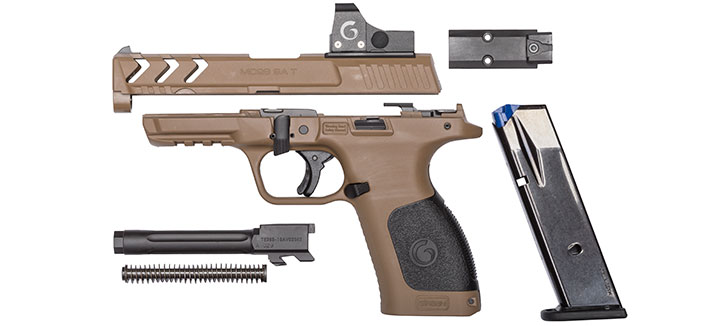 The mouth of the magazine well is beveled to allow for easier reloading. It should be noted that this model does not have a magazine disconnect safety; this means the pistol will fire with the magazine removed. While other versions of the MC28SA ship with three, 15-round, blued-steel magazines, this version ships with just one. Two magazines would have been preferable, but considering the low cost of this optics-ready package, something probably had to be left out in order to allow for the optic. And you can get more at eaacorp.com. 

There are still plenty of other accessories included in the hard-sided case. Along with the rear sight plate and packet of optics maintenance tools, there is a set of three interchangeable backstraps, a bronze bore brush, a cable lock and a protective cover for the optic. One nice touch that may be under appreciated by some is how much this set of interchangeable backstraps changes the feel of the grip frame. Some companies provide a backstrap set with pieces so similar to each other that trading them out hardly changes the feel of the grip. The MC28SA-TV's straps are distinctly different from each other, with varying thicknesses and textures that really do fit a wide variety of hand shapes. 

As I approached my time at the range with the MC28SA-TV, I have to admit that I was a bit skeptical. Although the popularity of optics-ready pistols continues to grow, especially for personal protection, the guns and the optics can be fairly expensive. This optic and pistol combination costs less than some optics do when purchased separately. Nevertheless, the MC28SA-TV pistol proved to be utterly reliable with all of the ammunition tested, including a range of practice-grade and premium hollow points. As for the RD3-009, it provided a bright, clear sight picture and held zero throughout the testing process. If a good semi-automatic 9 mm is tapping out 3" to 3.5" groups at 25 yds. using iron sights and quality ammunition, then the gun and I are doing our jobs correctly. With a reflex sight, it's possible to tighten up the groups even more. In this case, the pistol kept five-shot groups right around the 2.6" mark.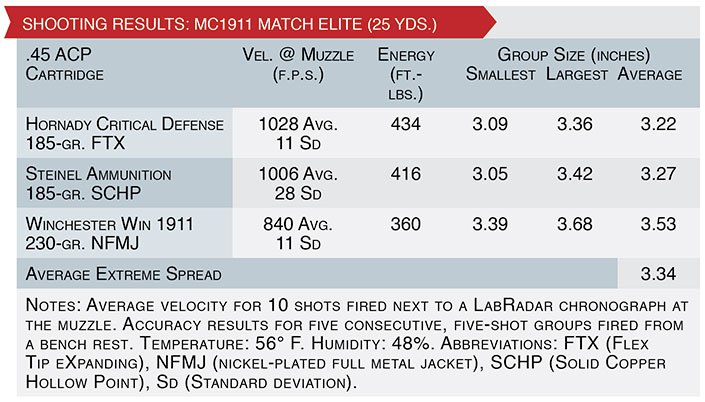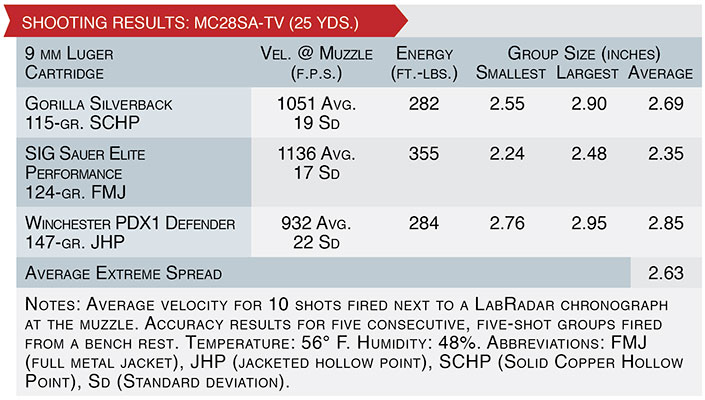 Parting Thoughts 
When I was offered the opportunity to work with these Girsan pistols, I accepted not knowing exactly what to expect from them. I haven't worked with Girsan-branded products before now, and budget-friendly imports can be something of a mixed lot. Some of them offer real value at a reduced price, while others fit into the "you-get-what-you-pay-for" category. However, EAA has a reputation for importing solid, reliable products intended to be put to work by their owners instead of dwelling in a display case.

Based on what I saw at the range during these tests, I'm glad to report that Girsan's latest offerings fall into the first category of imports. This company is manufacturing pistols that exceed their price points by providing a useful balance of desirable features often reserved for more expensive models. The MC1911 Match Elite looks and handles like an all-steel, competition-grade semi-automatic should. There's nothing about its appearance or handling to indicate that it costs less. In fact, the features are on-par with other factory M1911s that typically retail for around $300 to $400 more.

Cosmetically speaking, the MC28SA is not among my favorite striker-fired guns; its military origin shows in its looks. But handsome is as handsome does, my friends, and the MC28SA-TV does nicely. It's loaded with features, has a better-than-usual trigger, the grip shape is truly adjustable and it arrives ready to go to work. It's not just optics-ready for less than $500, it comes with a red-dot optic installed for a suggested retail price of $488. Turkish-made firearms have come a long way, and these EAA Girsan's are proof-positive.