by
Bruce N. Canfield, Field Editor
posted on January 29, 2020
Support NRA American Rifleman
DONATE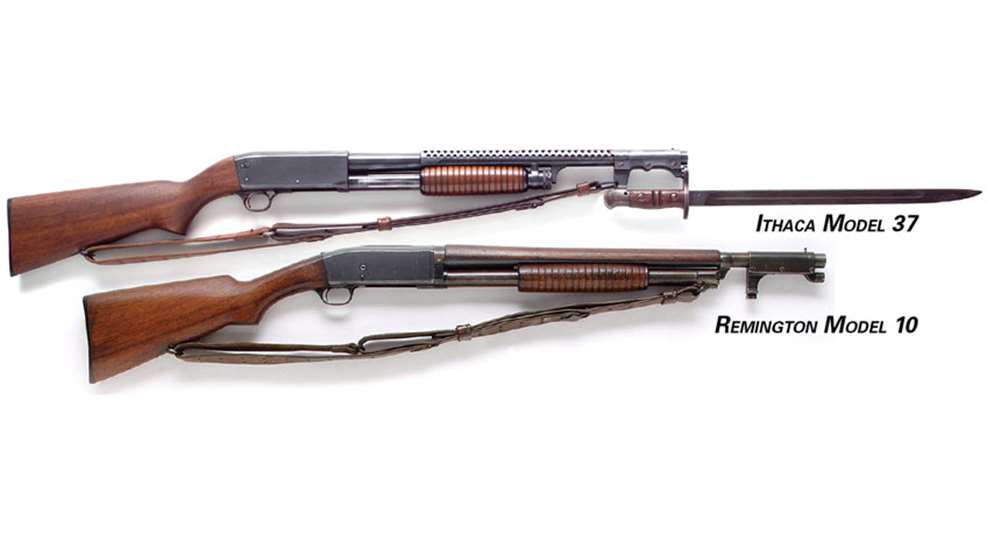 Q: I have become interested in U.S. military shotguns, especially the bayonet-equipped "trench guns." Can you tell me which were the rarest?
A: Not counting prototypes and experimental models, the rarest production U.S. military "trench guns" are the World War I Remington Model 10 and the World War II Ithaca Model 37.
There were 3,500 Model 10 trench guns manufactured by Remington during the first World War, fulfilling a supplemental role to the well-known Winchester Model 1897 trench gun. The Model 10 had a wooden handguard and separate bayonet adapter rather than the one-piece ventilated metal handguard/bayonet adapter assembly as used with the Winchester trench gun. After World War I, virtually all of the Model 10 trench guns were converted to "riot gun" configuration, which resulted in the barrels being cut down and the handguard and bayonet adapters being removed.  Surviving, genuine, unaltered specimens are rarely encountered today.
Ithaca manufactured 1,422 Model 37 trench guns in 1942 until the company was directed by Ordnance to cease production in favor of making the Model 1911A1 pistols. Beginning in the 1960s, Ithaca produced a trench gun variant of the Model 37, primarily for the civilian and law enforcement market. The gun was very similar to the rare World War II version, but had several distinguishing characteristics including an entirely different serial number range and a Parkerized finish rather than the blued finish of the World War II guns. Genuine World War II-production Model 37 trench guns are seldom seen on the market today.
Due to the extreme rarity of these two examples, and the typical high market value, one must be very wary of fake specimens purported to be the "real thing"—caveat emptor.

Related Reading
The Ithaca Model 37 in U.S. Military Service
The Winchester Story
I Have This Old Gun: Winchester Model 1897 "Trench Gun"
Guns of the Devil Dogs: U.S. Marine Corps Small Arms of World War I
The Trouble With "Trench Guns"