by
posted on August 31, 2018
Support NRA American Rifleman
DONATE
The all-new Bergara Academy is challenging the outdated perception that long-distance shooting is some sort of elitist pursuit, one where exotic rigs, Olympic stamina and MENSA cards are membership mandatory. The precision skills required to connect at 800 yards and beyond remain the curriculum's primary focus, but the atmosphere is different, warm, comfortable and the student interaction it fosters provides an added bonus I haven't experienced elsewhere.   
Don't get me wrong. Each of schools I've attended have been awesome. Thanks to top-notch instructors I've gotten better, although I'm still no world-class precision shooter—a fact any of my fellow students will eagerly confirm. I keep going back because there's some sort of primal attraction to watching vapor trails zoom into a target at 1,000 and waiting seconds for the sound of that steely clang to stroll back to the firing line. Makes me smile, even when I'm not on the trigger.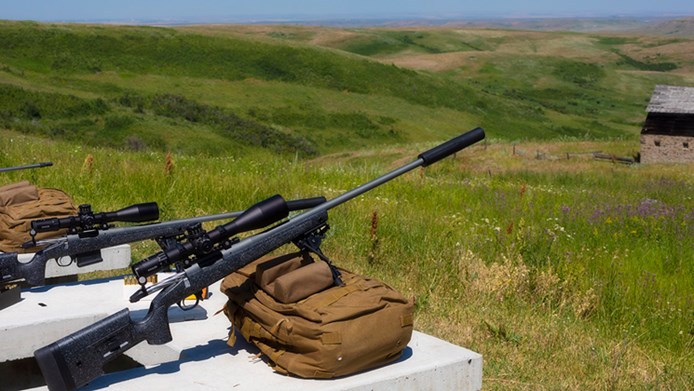 Bergara Academy is located in Belt, Mont., near Great Falls, and range sessions are conducted on 22,000 acres of private land. The scenery is worth the trip alone, although ranges nestled into the Big Sky landscape with targets out to 1,500 yards are the main attraction. Anticipate a cease fire or two when an elk or mule deer wander in downrange—unscheduled snack breaks as it turns out, because stocked coolers teaming with food and non-alcoholic beverages are provided, along with lunch.
It's the accommodations that set this shooting school apart, though. Students stay in Bergara's own Belt Mountain Lodge. There you "rough it" in a gorgeous facility with multiple floors and rooms, along with a kitchen, fridge, bathrooms, showers, washer, great room, dining room and hard-to-beat sunsets.
Marsha and Chad Shearer, from "Shoot Straight TV," cook and deliver breakfast and dinner every day. Be prepared to put on some weight, and the professionals always inquire before you arrive if you have any dietary requirements or allergies. This isn't standard restaurant fare, either. The morning menu falls more into my category of comfort food better than what I create on those rare occasions I'm awake enough to cook. During my July visit the grill wheezed to life each evening.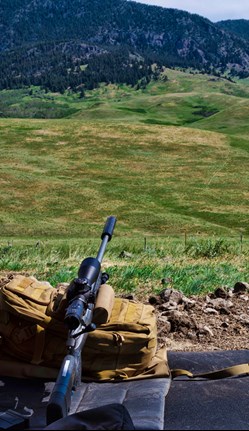 It was my first experience sharing every meal with fellow shooters in a quiet and informal setting. When I expressed frustration at my first day's lackluster performance, a few shy suggestions surfaced from the other shooters. That resulted in a longer and educational discussion, one refereed by our instructor, William "Bart" Bartholomew. Although he stood at the ready to veto malicious criticism, his intervention was never required. Instead he expanded on the constructive input and it didn't take long before everyone was engaged in conversation too rare today.
Then it was time to retire to the fire pit, glass the ridgelines for elk and enjoy conversations about family and friends. Clear and starry skies provided nightly entertainment and the conversation was fun, literally bordering the kind of amazing dialog social media murders.
Maybe it was the water, or more likely the 3,510-foot elevation. Range sessions usually take place higher, if you're wondering.   
The setup has a huge logistical advantage the other schools I've attended. You don't have to find your own lodging, hoping the hotel you choose is safe, clean and firearm friendly. There's no traffic to fight or confusing signs to get you lost, which means there's also no standing around twiddling your thumbs waiting for that certain classmate who's always running late. As a result, time learning the skills is maximized. With 100 percent of avoidable stress gone, things seemed to sink into my thick skull at little easier.
Ammo is included in the price. Bergara's precision rifles are provided for use during the course. That means no airline hassles or begging your local sporting goods dealer to place a special fodder order. With distractions minimized, students concentrate on the lessons, and there's a lot to learn.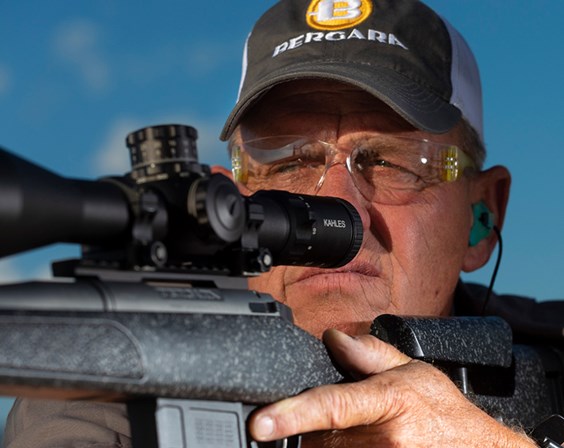 William "Bart" Bartholomew is the lead instructor/coordinator for Bergara Academy, and he has a long resume, one that includes engaging targets that shoot back. When he followed a family tradition and joined the Marine Corps, he became a marksmanship instructor and competitive shooter, where he was trained by none other than Carlos Hatchcock. "It was like sitting at the knee of the master," Bartholomew told the Baltimore Sun in 2000. "He could yell at you without opening his mouth."
After leaving the Corps, he was an operational sniper for the Baltimore County Police Department SWAT team for 20-years, and although retired, is still hard at work teaching the skills through a variety of government and private instructor contracts. He won the coveted Gunnery Sgt. Carlos N. Hathcock II Award in 2001, an honor bestowed to one of the nation's sniper per year for their accomplishments, according to Bartholomew.
He knows his stuff, and the decades of sharing that knowledge show. Instruction during my visit was broken down into simple, bite-sized and easily digested chunks. The principles being served, however, are anything but the basics.
He's patient, keeps classwork lighthearted and eagerly entertains questions and the resulting discussion. But once range sessions begin, things take on a leatherneck flavor.
Don't take that wrong. Pushups aren't mandatory and if there were any pre-dawn runs with full ruck I slept through them. Break a safety rule, though, and I have no doubt he's going drill instructor on you.
"Bart" is open to different techniques, although he asks you at least try his method a few times before discarding it. But some things are so widely accepted by professionals that they're unnegotiable. Do not break your cheek weld while working the bolt, for example. I violated the rule a number of times and he helped me break the bad habit. Return the scope to its zero stop between every engagement.
Know exactly how many rounds are left in your magazine. Sounds simple until you've spent hours sending bullets out to 1,400 yards, many of them fast follow-ups with different wind holds. Everyone on the firing line is encouraged to cheer or moan when a firing pin clicks on an empty chamber.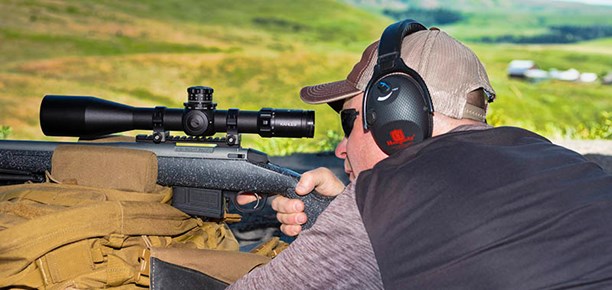 It's actually in the spirit of the course, good old-fashioned, educational fun. The ranging techniques using milliradian riflescopes and spotting scopes were a high point for me during the writer's seminar. On day one we learned how to estimate range of a known-size target, with a precision that may not eclipse laser rangefinders, but it comes so scary close you won't care if your unit's batteries die. The shooting session that afternoon began when Bartholomew provided the sizes of each target across the mountainside. Using the reticle, we then computed the distance, dialed the scope for elevation and shooting began with our assigned lab partner spotting. Math was recomputed when misses were well off the mark and trigger time was rotated within each team.
Day two was under another covered firing line overlooking a different ridge. The distance to each target was provided in this case, and we were required to compute each target's width or height (shooter's preference) before engaging.
The instruction was crystal clear and made the calculations simple, but in real life the time to double check your figures is a rare luxury. Here's where "Bart" adds Marine Corps stress to the mix by rushing the math, all while monitoring cheek welds, critiquing form, listening for empty chamber clicks, tuning trigger techniques and laughing heartily with every metallic hit sounded off.  
Bergara Academy currently offers three- and five-day courses. The abbreviated instruction covers firearm safety, rifle design and construction, basic marksmanship fundamentals, scope theory and adjustments, positional shooting, effects of wind, range estimation, care and cleaning, basic ballistics, understanding mils, range estimation using mils, rapid bolt manipulation drills and targets are engaged out to 1,200 yards. The longer version goes into more advanced ballistics and adds multiple target engagements, effects of wind and weather, shooter/spotter dialog, understanding mirage, cold bore shots, holdover versus point-of-aim/point-of-impact, understanding ballistic data, and engaging targets to 1,500 yards.
Both options include top-notch instruction that rivals all the other academies I've attended. The education, training, facility and scenery are nothing short of fantastic. Bergara Academy may be signaling a new trend with its approach. I'd claim it was more of a bed-and-breakfast school for precision shooters, but that label requires some level of pretentiousness—and there is none.