How does that line from Arthur C. Clarke go? Any sufficiently advanced technology is indistinguishable from magic? Pulsar's new thermal riflescope tests that theory indeed.
I'm a gadget nerd, there's no doubt about that. Kestrel anemometers, ballistic calculators, rangefinders--if it's a gadget that helps improve the shooting experience, I'm willing to give it a try. When the folks at Pulsar offered to let me try out the company's new thermal riflescope on a hog hunt. I jumped at the chance (okay, I'm not gonna lie, the chance to harvest some tasty pork was also on my mind…)
The Pulsar Thermal Imaging Sight Trail XP50 uses a 17 µm pixel pitch, 640x480px sensor core to detect heat signatures out to 2,000 yards (that's the range stated for a human-size target; smaller subjects will require closer distances). Thirteen different reticle options over a choice of white-hot or black-hot display, combined with the ability to retain three separate rifle profiles, give the Trail XP50 significant versatility in the optical toolbox. Magnification runs from 1.6x to 12.8x optically, while a digital zoom feature out to 8x has stop settings at 2x and 4x for rapid target acquisition.
One of the really cool features of the Trail XP50, though, is the ability to transmit the image in the reticle to a smartphone or tablet. In addition to providing a better overall view of the action, so to speak, it's an invaluable tool for hunters in spotting where a targeted animal heads after the shot breaks. Especially for nighttime hunts, being able to carefully review video evidence to start the search procedure will save time and effort in addition to more rapidly retrieving the animal. There's plenty of reasons why a thermal optic is a great addition to one's hunting gear.





In advance of the 2018 NRA Annual Meetings in Dallas earlier this month, I had the opportunity to pursue nearby Texas feral hogs. The Pulsar Trail XP50 topped a "Christine" rifle from Phoenix Weaponry, a substantial big-bore offering in the proprietary .45-70 Auto (basically, a rimless .45-70 Govt., for lack of a better description). It's a hard-hitting, hard-recoiling rifle perfect for dropping Texas-size pigs, and if there was anything that was going to test the limits of this scope, this was it.

I've used a number of thermal imaging devices. From hand-held units from FLIR and Leupold to rifle-mounted variants, it has never ceased to amaze me how, out of seeming darkness a heat source can be spotted. There's a lot of fancy science-y stuff that allows the device to translate heat into a visible image, but for the most part, until now, the image transmitted is a vaguely whatever-object-you're-looking-at shape in red/white/black/color of choice.
Until I looked through the Pulsar Trail XP50.
As I raised the .45-70 Auto to my shoulder, I peered through the Trail XP50 for my first glimpse of pig. Rather than the somewhat oblong pig form, I was instantly able to clearly visualize the entire hog, ears, snout, tail, everything. While the price tag of the XP50—some $6,599.99 with the LRF (Laser Range Finder) option—is significant, it's nearly an order of magnitude less than a much-less-capable variant of a decade ago. This is yet another instance where massive improvements in technology and hardware have made MSRPs shrink, in this case not quite into the "impulse purchase" arena, but certainly for the dedicated hunter looking for a highly specialized piece of kit for their purposes. The image, looking through the scope, was absolutely, unmistakably that of a hog.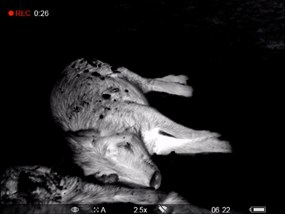 I've been on hunts where we've had to stop and reassess, as the image merely provided an outline that could have been a raccoon or a small hog, and this was absolutely not the case looking through the Trail XP50. With the scope zoomed in around 4X, I could clearly see every leading image of the hog-in-question, allowing for precise shot placement that dropped the pig in its tracks (the 4,600 ft.-lbs. of energy from the .45-70 Auto probably helped a bit, too…). What stood out using the Pulsar thermal scope was how completely it removed any and all question about the target: I clearly had a hog in my sights, there clearly was no living creature within a mile behind it and I felt entirely secure in acquiring the target and taking the shot.
While it's clearly a very dedicated piece of equipment with a substantial price tag, the Pulsar Trail XP50 makes short work of hogs and other nighttime targets. A clear, instantly recognizable image combined with the ability to save, store and transmit the actual view through the scope offers countless opportunities for the nighttime hunter who chooses to add this to his or her kit. Heavy recoil did not appear to affect the zero, and target acquisition was quite rapid. With the Trail XP50, the only heat you'll take will be that given off by your prey.