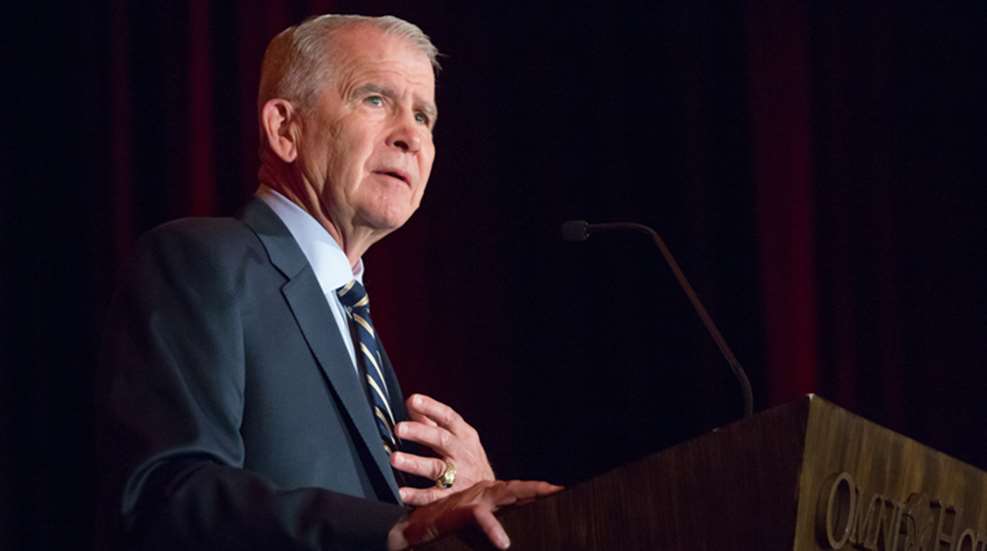 NRA members by the thousands came together in Christian devotion at the popular National Prayer Breakfast during this past weekend's NRA Annual Meetings in Dallas. Worshipers packed the Omni Dallas Ballroom to hear inspirational messages and music from an outstanding slate of presenters, including a heart-lifting keynote from American hero Oliver North.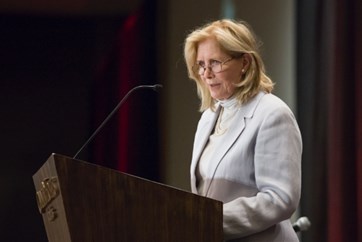 NRA Director Susan Howard welcomed the Sunday-morning congregation, saying, "This truly is the day the Lord has made; this is the day we will rejoice in the Lord. This is the 20th anniversary of NRA's National Prayer Breakfast." On that note, Ms. Howard commented on how the Breakfast has grown since she and Lt. Col. North were enlisted to help organize the first one by the late Gen. Joe Foss, former NRA President and World War II fighter pilot.
The worship service has attained must-attend status for many, who come from across the nation to praise God and affirm their patriotism with like-minded fellow NRA members. Equally faithful are perennial sponsors Trijicon and Universal Coin.com, as well as the long-time host organization, Fathers in the Field. Speaking on the group's behalf, 2017 keynote presenter Lt. Col. Allen West pointed to the rise in single-family homes and leftist attacks on boys and men, even a twisted study of masculinity as a disease. Fathers, he said, need to challenge their children to be greater than they think they could be. West stated that, "Our heavenly father needs us out in the field, and perhaps the name should really be Fathers in the Battlefield, since we need them to lead us in the cultural war we now face.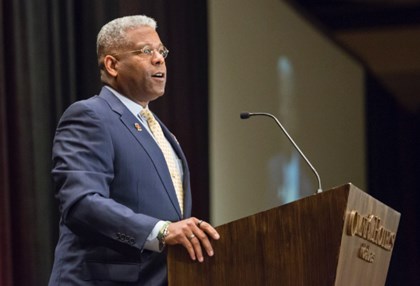 "Defending the cause of the fatherless demands a response, not an excuse," West exclaimed, echoing the touchstones—Faith ... Fatherhood … Forgiveness—that the group's Mentor Fathers bring to their young Field Buddies. 
Joe Gregory, founder of the NRA Ring of Freedom returned again this year to offer the invocation, and crowd favorite Scotty Wilbanks, an energetic and gifted Christian musician, was back to uplift the crowd with favorites like "I Saw the Light" and "I Need You."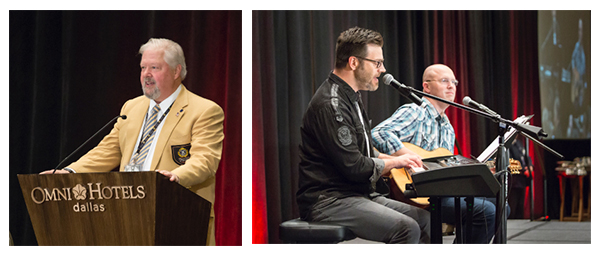 The morning's initial speaker was Adam LaRoche, well-known for his successful career in Major League Baseball and more recently as one of the "Buckmen" on the Outdoor Channel series, "Buck Commander."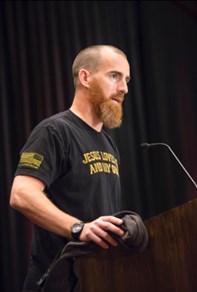 LaRoche surprised the sports world when he retired early from baseball, forgoing a multi-million dollar contract in favor of more family time and creating the E3 Foundation to support military veterans and to battle human trafficking.
And then in Dallas he surprised (and delighted) Prayer Breakfast attendees by revealing his T-shirt emblazoned with the revelation, "Jesus Loves Me And My Guns." 
"Excuse me for saying so," said LaRoche, "but Jesus always was and always will be a 'badass.' We are called to be God's hand and feet for justice for the oppressed. Jesus is humanity's greatest warrior and is calling us to follow."
The Christian warrior theme obviously applied to keynote speaker Lt. Col. Oliver North, whose service in the U.S. Marine Corps, on the NRA Board, through his long-running Fox News series, "War Stories with Oliver North," and in the cause of freedom worldwide, have made him a icon of the conservative movement.
On this morning, however, the Marine warrior and influential leader, spoke of God's grace and with sharp insight and good humor outlined "four Christian virtues important to NRA and to all of us."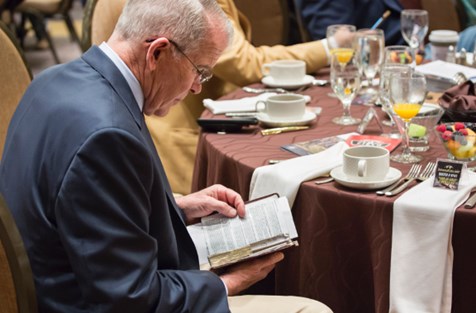 North encouraged his listeners to build, "Better relationships, the most important being our relationship with our Lord and Savior, Jesus Christ." He stressed the critical nature of the husband-wife bond, too, and urged his audience to read Proverbs 31, and, as he has, to read it aloud with one's spouse.
"Situational awareness" is another key trait, said North, "not only being aware, but also having a plan" to deal with what one encounters. On the topic of leadership, he said, "The best leaders you know in life are also servants. An example, from the last days' of Jesus' life, was when he washed his disciples' feet—an extraordinary act of servitude, and then told [the apostle] Peter that one needs to serve in order to know how to lead."

Commitment to being a role model is an example of leadership, according to North. Words are important, he said, but deeds are far more important, and anyone can step up in the moment. As an example, he showed a inspirational scene from his time embedded with troops fighting the War on Terror, when a Marine lance corporal called for an impromptu prayer as his unit prepared to board a helicopter that would take them into danger. The famed military man also shared personal testimony, telling about how, readying to board ship for a trans-Atlantic crossing, he was handed a Bible and told to "read it." He said he followed that advice, and it is the only book he's read cover-to-cover multiple times.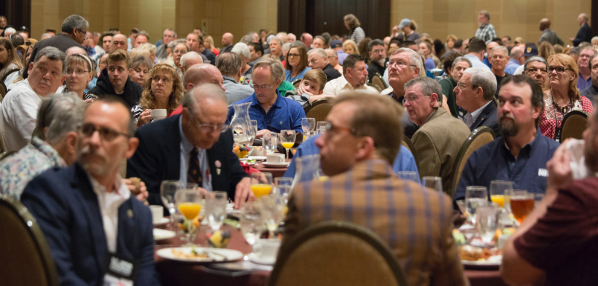 North made clear what's most important in his life, revealing, "I want to act like a Christian man is supposed to act if I'm going to be credible for my 17 grandchildren. And I have to act that way all the time. I want my grandkids to say, 'Grandad taught me to fight the good fight.' So help me God—help me be a role model."
After a closing prayer from Universal Coin's Forest Hamilton, Susan Howard returned to the pulpit to invite the audience to plan for next year and declared, "This is one of the most monumental Prayer Breakfasts ever, and truly we give all glory to God."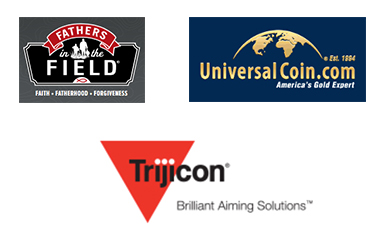 Editor's Note: On the day following the National Prayer Breakfast, the NRA announced that Lt. Col. Oliver North has agreed to become NRA President. That development is still progressing at this time, so please stay tuned for further details as they become available.