Support NRA American Rifleman
DONATE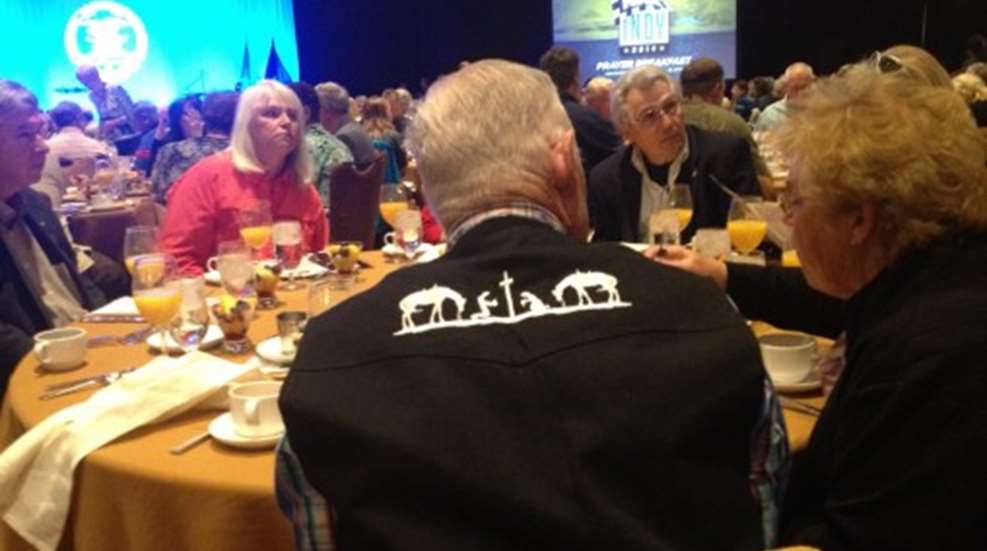 The National Prayer Breakfast has become one of the signature events of NRA weekend, and that was clearly evident this morning in Indianapolis when more than 1,000 early risers gathered for worship. The program was heartfelt, with much focus on the role of fathers, following in the example of the Heavenly Father.
After NRA Director Joe DeBergalis led the invocation, fellow director and tireless Prayer Breakfast advocate Susan Howard welcomed everyone and remembered the pivotal work of former NRA President Joe Foss in launching event.
The morning's host was Dr. Tim Clinton, a Christian counselor who is the founder of an exciting new event, Wildfire Weekend, that brings men and boys together for devotion and fun in the outdoors.
Gifted singer Meredith Andrews, accompanied by her husband, Jacob, performed songs that clearly showed why she has been recognized with Worship Album and Song of the Year awards from the CMA. She revealed how God worked in her life and has led the young couple to a ministry in Chicago.
Forrest Hamilton, from event sponsor, Universal Coin and Bullion, opened with a look at how his relationship with his father had suffered until they were recently baptized together in Israel's River Jordan, and then he introduced the first principal speaker, John Smithbaker, founder of the organization, Fathers in the Field, which pairs men with fatherless children in devotional, sharing relationships that include outdoor activities like fishing, hunting and shooting. "We have a problem in our country," Smithbaker told the gathering, "in that 50 percent of our children are growing up fatherless. Much pain in our society comes from these boys being broken."
Smithbaker recounted his own fatherless childhood and how it had haunted him. And even after he had achieved seeming success in life and was CEO of international outdoor gear maker Brunton, he was unfulfilled and ultimately inspired by God to leave the business world and devote his life to helping children growing up like he did. "Men-you can give them help. The destructiveness of broken families will repeat unless we follow as God calls on us to defend the fatherless. When you come in contact with fatherless boys, show them, through the salvation of Jesus Christ, that they can be the men they are meant to be."
Tom Munson, from long-time sponsor Trijicon, affirmed that the "Prayer Breakfast is the highlight of the NRA convention for us," and, referring to Galatians 1:5, he said, "The very concept of freedom comes from the divine hand of God." Munson then introduced chief speaker Dr. Franklin Graham, now the leader of his father's Billy Graham Evangelistic Association. Dr. Graham joked that he felt like he was, "… helping to sponsor the breakfast because of all the ACOGs and other sights I have bought from Trijicon."
Dr. Graham preached that, "By His Word, the heavens were created. Science has this 'Big Bang Theory' about creation-well they're right. I guarantee you when God spoke, there was truly a big bang. And God's still speaking and His word does not ever change.
"God loves you, and doesn't change his mind ever about that. He cannot look upon sin, and as the scriptures tell us, 'The wages of sin is death,'" said Graham. "But God is willing to forgive sin and anxious to do it … through his son, Jesus. The Bible says Jesus is coming back, and I believe he's coming sooner that some think and so you'd better be ready." In a wrap-up familiar to anyone who's ever heard either of Grahams preach, the service hit its high note with a concluding gift of a prayer for salvation.