Support NRA American Rifleman
DONATE
Changes in the political climate notwithstanding, one constant in the world of ARs is competition. With the seemingly endless modular options the platform presents, there's truly something for everybody—and for the most part, every price point, from $400 to $4,000, even higher on occasion, for both AR-15 and AR-10 systems. That said, AR-10 rifles have been a bit more vanilla in caliber offerings in .308, at least until 6.5 Creedmoor variants began cropping up. Unfortunately, or perhaps it's my own inability to shop productively, but costs for 6.5s seem to be significantly higher. Sure, you can find scores of AR-10 .308s for under a grand, even hundreds of dollars less, but you're hard pressed to find an essentially generic 6.5 for a grand or even $1,500. So, honestly, when I find one folks can afford, it's worth a hard look. Such is the case with the Rebel Yell Arms 6.5 Creedmoor AR-10.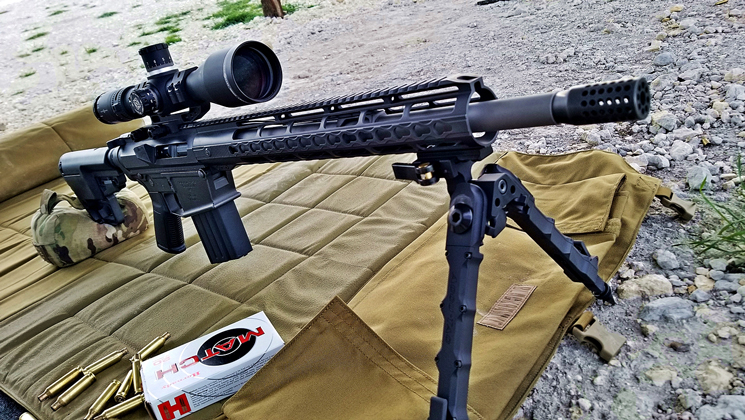 Rebel Yell Arms
Founded in 2015 and headquartered in Dorchester, S.C., the veteran/family owned Rebel Yell Arms (RYA) is a newcomer to the AR game; however, until now, the company hasn't been met with much competition as a result of their focus—purely custom work. RYA has focused on crafting premium custom-built AR systems largely for demanding customers as well as for gifts and charitable fundraising, including support for law enforcement officers, military and others.
While RYA continues to turn and burn some major builds for hardcore enthusiasts and incredibly worthy causes, it also recently decided to build affordable production AR-10 systems, even sub $1,000. So, how does a shift from custom projects to affordable production models translate to consumers? Exceptionally well, considering even custom builds with Rebel Yell have started at $999. RYA has cut its teeth on affordable builds; in fact, this is where RYA thrives. RYA sees filling a niche in serious need of some attention as a perfect fit and they seem well-suited for the task.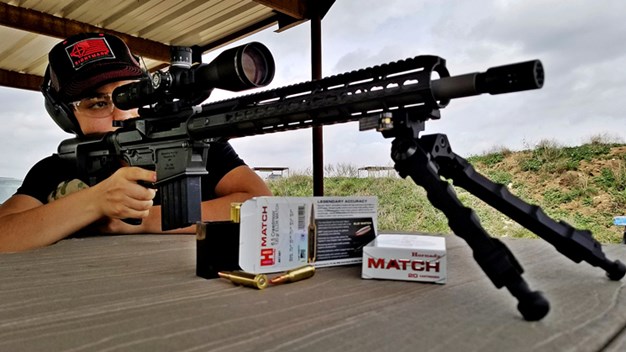 Future PRS competitor Alycia Burks, 14, helps the author sight in this Rebel Yell Arms' AR-10. 

She's a Looker: RYA's AR-10 6.5 CM
So, what kind of bang for your hard-earned buck can you expect from Rebel Yell Arm's cost-conscious 6.5 CM AR-10? What I was after was an affordable AR-10 chambered in 6.5 Creedmoor and capable of hitting consistently at 1,000 but with a sub 20" barrel. Not long ago, a seemingly perfect fit arrived at my FFL. My previous experiences with affordable AR-10s chambered in 6.5 CM left me frustrated with gassing-and-feeding issues, including constant jams, soft strikes and conversely, blown-out primers. Suffice to say, when I ordered a rifle from RYA, I was gun shy, so to speak. Was this one going to offer some bang for the buck or was it destined to be yet another failure? At first blush, she was a looker, definitely not what I expected for a rifle $500 to $1,000 less than what I would expect to pay for a rifle of this build quality. But the proof is in the trigger time. This particular RYA production AR-10 offering boasted a battle-worn graphite and tungsten Cerakote finish, sniper gray barrel, black pepper-box style muzzle brake and black furniture. Sure, I was impressed with her out-of-the-box aesthetics but it takes more than good looks to put a smile on my face. The rifle needs to run reliably and should include some performance enhancements designed to help improve accuracy downrange, ammo aside.
As requested, along with a head-turning Cerakote finish, my RYA 6.5 CM AR-10 came with some great features. The rifle, as sent by RYA, included an Alexandria Pro-Fab billet lower receiver, Sun Devil Manufacturing billet upper receiver, 15-in. Hera Arms keymod handguard, Mission First Tactical BattleLink Utility Stock and buffer tube, Ruger AR-556 grip, Triton Precision gas block and a match-grade Ballistic Advantage 18-in. 416R stainless steel barrel with 1:8" twist. This RYA AR-10 was also accurized, while the mil-spec two-stage trigger received some love and attention from RYA's gunsmith, resulting in a comfortable trigger pull averaging about 4 lbs.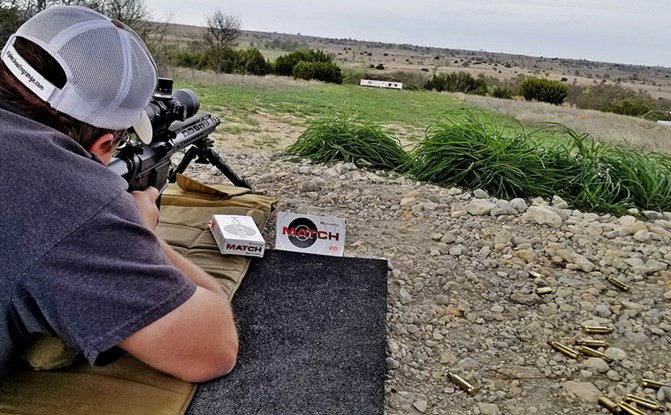 She's a Shooter!
Full disclosure: I spent two days blissful days at the Triple C Shooting Range in Cresson, Texas. If you haven't been to a shooting range in the heart of a sprawling ranch, you're missing out. But, shooting outside means dealing with whatever Mother Nature is dishing out—this time high winds averaging 15 mph and gusting to over 25 mph. Yes, the range is amazing but I did burn quite a bit of ammo getting in tune with varying wind speeds.
Since my end game included beating down steel at 1,000 yards, I employed a long-range riflescope, the Sightmark Pinnacle 5-30x50, right out of the gate. Triple C's range offers three distances: 50, 100 and 200 yards. I began by boresighting and taking my first shot on a 50-yard target to ensure I was on paper before moving to 100 yards. Over the course of show cycling, mag dumps, velocity checks and yes, zeroing, I shot several sub-MOA groups. My best and final group at 100 yards, even with pesky gusts, measured .625", just over half-MOA using Hornady 120-gr. ELD Match ammunition. It's worth noting here that muzzle velocity and energy from the rifle's 18" barrel averaged 2,702 fps and 1,946 ft.-lbs. respectively.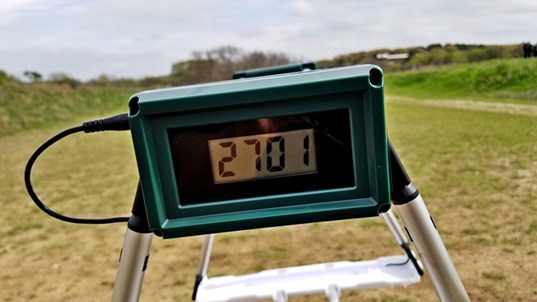 Given gusting wind in my face, I was pretty pleased, although I'm confident half-MOA or better would have been achievable if the wind hadn't folded my eyelids backwards. With my zero-stop set, eyelids folded back into service and a spirit for adventure, I moved across the road to the 1,000-yard range.
With high winds blowing from behind now from 4 and 6 o'clock and another crosswind shifting from 3 and 9 o'clock 700 yards or so out, Mother Nature didn't disappoint. Full disclosure again here—knowing the wind would be an issue I purposely used an Accu-Tac SR5 bipod—perfect for this type of shooting environment. With the Accu-Tac's extra weight, wider footprint and spike feet, Mother Nature's gale-force gusts only served to better load my bipod, increase the stability of my prone position and blow my ball cap a good 500 yards out (later retrieved).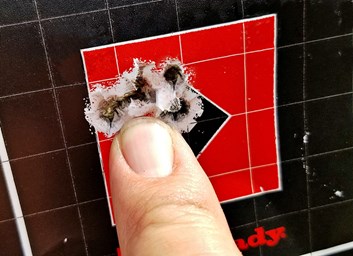 While it took time to re-figure wind variables and ballistics, it wasn't long before I had worthwhile DOPE for the several shifting scenarios and I began to connect with some consistency. When I finally reigned in the wind, I hammered out a sub-MOA five-shot group. While I have shot much tighter groups at that distance with precision rifles meant specifically for such purposes, I was incredibly pleased with my wind and gas-gun results.
In addition to great accuracy, feeding was quite refreshing. My experience with AR-10s, especially 6.5 Creedmoor iterations, has been frustrating. Nearly all of them, until now, with the exception of the truly impressive Savage MSR-10 Long Range Rifle and a premium system I built that included adjustable +2 gas system on a BSF match-grade barrel and WMD Guns BCG, have been seriously problematic. I expected feeding and gassing issues here but only found that the RYA AR-10 6.5 CM prefers steel magazines over polymer; although, my Hexmag magazine also ran well. 
Now the Bad News
So, where's the rub? As a Marine Corps veteran, I've always been partial to a forward assist and dust cover but the RYA AR-10 6.5 CM is missing both. Admittedly, this is largely my own cross to bear. Most folks aren't going to run their rifles in extreme environments. Many people agree dust covers and FAs are not a deal breaker. I have to agree—just a preference here.
And as much as I would prefer those features, they are not deal breakers even on higher priced ARs if the performance is there … and with respect to the RYA AR-10 here, it absolutely does its job exceptionally well. Whether you can live without a dust cover and forward assist or not is up to you, but pricing makes it an easier issue to swallow.
The Final Cost-Conscious Shot
This rifle offers solid accuracy and great features often found only on premium builds and as it sits, accurized, with the custom Cerakote and trigger work at $1399. But what about sub $1,000? They have that, too. This same model, without the fancy coating, accurizing and trigger work, using a 4140-steel barrel, CBC Gen 2 keymod handguard and A2 "birdcage" compensator, runs just $950 and is ready to hammer steel and game animals with sub-MOA precision.
Sure, I still love those premium systems rightly commanding top dollar but our industry is definitely hungry for reliable—and affordable—AR-10s chambered in 6.5 CM. I'm glad to see great options like RYA's AR-10 6.5 CM rising to shine. Check out Rebel Yell Arms at puretrigger.com.