by
posted on February 27, 2018
Support NRA American Rifleman
DONATE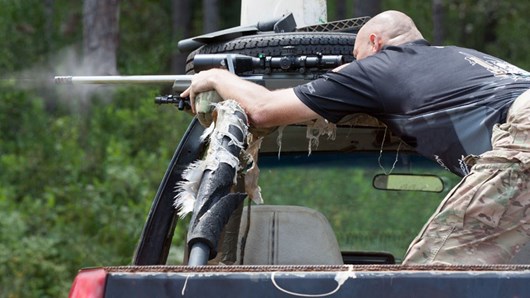 U.S. Army Maj. Shannon Kay engages targets during the 2017 CORE Classic. Though the shots on this stage were all closer than 500 yards, the shooting platform was shaky at best.
Shannon Kay, an active-duty infantry officer and former Special Operations sniper, climbed into the bed of the 4x4 pickup and rested his rifle's fore-end across the tattered foam insulation that covered the vehicle's roll bar. The rules required the rifle to be in contact with the bar, which meant that the shooter had to bend at the waist or squat rather than sit or kneel for stability. Even standing on solid ground, I could see the truck move on its worn suspension; I can't imagine what that bounce looked like through a powerful optic. At the tone of the buzzer, the stage required the shooter to engage each small "head flapper" target at 320, 356, 382, 429 and 460 yds. in under 90 seconds. Out of the dozens of shooters that ran through that stage, only Kay achieved a perfect score.
The stage was just one of 20 at the two-day CORE Classic match held at CORE Shooting Solutions in Baker, Fla., in September of last year. The CORE Classic was one of 30 matches across the nation that made up the 2017 Precision Rifle Series (PRS)—a calendar of matches that constitute an overall points race during the course of the year. For lack of a better analogy, the PRS is like NASCAR's Cup Series for long-range rifle shooting. Long-range "sniper-style" rifle matches started springing up around the country in the 1990s and slowly built momentum as part of the mainstream of competitive shooting. As they gained popularity, organizers sought out a mechanism to create a championship atmosphere in the sport—the Precision Rifle Series was born out of that desire and held its inaugural season in 2012. As civilian interest in long-range shooting has snowballed during the past decade, the PRS has grown exponentially; in 2012, there were only 164 PRS members, today there are more than 2,000.
PRS matches feature targets—usually steel—positioned anywhere from 200 to 1,200 yds. from the firing line. The closest target at the CORE match was 262 yds., and the farthest was at 840. A typical stage requires the shooter to engage multiple targets at varying distances, often from different shooting positions and in varying wind conditions. All of this takes place under extremely tight time constraints—the skill level displayed by the top professionals in this sport is astounding. An example stage from the two-day CORE Classic required shooters to hit five targets of decreasing size on a "Know Your Limits" rack at 800 yds., then transition to a second position and hit five more targets, all in under 90 seconds. A minute and a half sounds like an eternity until it is divided by 10; but, allowing for a few seconds to transition to the second shooting position, that means the shooter has less than 10 seconds to engage each 800-yd. target and reload!


In order to be competitive in the series points race, a shooter must compete at a high level in numerous matches across the nation throughout the year. There are 30 points race matches per season, spread across nearly 20 states. Prizes for each match include cash and gear from a prize table that is donated by match sponsors. Unlike most shooting sports, the Precision Rifle Series has some serious prize money at stake. Cash prizes at the CORE Classic ranged from $500 to $5,000, and everything from Accuracy International rifles to Kahles scopes were handed out as prizes. As great as that sounds, what the professional shooters really care about are the points. The points race culminates in an annual championship match—last year's finale was held at FTW Ranch in Barksdale, Texas, one of the most impressive shooting facilities in the nation. At the 2016 finale, the cash purse for the match totaled $75,000, including $25,000 for the winner. If the first-place shooter also won the PRS points race for the season, he would bring home $50,000 cash from that match—no pressure.
Unlike some shooting disciplines, the PRS rule book is relatively short—fewer than 30 pages including the various appendices. The idea is to leave as much leeway as possible to the match director's imagination while taking advantage of the strengths and weaknesses of each respective match location and to maintain the organic roots of the sport. The rules themselves primarily address safety and fundamental course setup, as well as what equipment can be used in the respective divisions of the Bolt Gun (Open, Tactical and Production) and Gas Gun (Open, Tactical Light and Tactical Heavy) series. The one universal rule of the PRS is that, regardless of division, bullet diameter cannot exceed .308" and muzzle velocity cannot exceed 3200 f.p.s. This rule exists to ensure the longevity of the steel targets used during matches. Unless the individual course of fire prohibits their use, competitors are generally allowed to use shooting aids such as bipods, camera-style tripods and bean bag-style "cheater bags" during matches.


There are two major categories of match styles in PRS: field matches and position matches. Field matches are usually shot from the prone or over natural barriers using a bipod or bag, and require minimal movement on the shooter's part during the stage. Position matches are far more athletic in nature, and usually require competitors to move rapidly between improvised positions using artificial barriers while on the clock. The CORE Classic, the match I observed for this article, was a positional type whose course of fire was designed by George Gardner of GA Precision—one of the sport's pioneers. As a general rule, the targets at positional matches are set at closer ranges due to the movement and unorthodox shooting positions required. Labor Day weekend is pretty steamy in North Florida, and the CORE match pushed the physical endurance of the competitors. Those who were in poor physical shape or who didn't stay hydrated paid the price over the course of the two-day event.
Field matches tend to be held in the wide-open spaces of Western and Midwestern states, and often employ longer shots, many of which are beyond 1,000 yds. A third, yet smaller, category of matches known as Extended Long Range (ELR) push the target distances even farther. As an example, at the Q Creek ELR match in Wyoming last June, targets ranged from 500 to 1,800 yds. Shooters in the ELR matches often take advantage of larger cartridges due to the distances, and the .300 Norma Mag. is a popular choice.
Brian Dennis, director of PRS and an active competitor in the series, recently purchased the company. "I decided to buy the series because of my love for it—I want to grow it. I'm not here to make money on this, I'm putting everything back into the sport. We want to attract as many shooters as possible, and one of the ways to do that is to push the sponsor money down to the shooters and to the local clubs."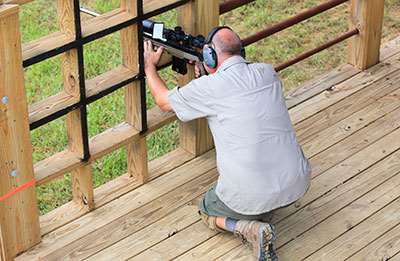 Dennis also recognizes some of the challenges of bringing new competitors into the sport and is working to address them. "The problem for some new shooters is that you show up at a match and you're shooting with the best in the world—it's like playing golf against Tiger Woods and you're hitting from the same tees. Not only can that be intimidating, but, if the course is hard enough to challenge the pros, it's likely so difficult that most shooters will get discouraged quickly."
During the next few years, the PRS hopes to incorporate rules designed to allow new competitors to transition into the sport in an educational and enjoyable way. New participants will be assigned to shoot alongside professionals, who can mentor them during the matches. The new entrant will also shoot a modified course of fire on each match stage that meets their abilities. For example, in a stage where the pros might engage 10 targets in 90 seconds, the new shooter may only be required to shoot five. This arrangement will help novices improve with every match while having the enjoyment of finding success within their skill level—the same way that golf tournaments employ a handicap. New shooters are also encouraged to take advantage of local club matches where the overall environment is more conducive to learning. Club matches are usually single-day events, so they require less of a time commitment and may not require overnight travel. There are currently 42 PRS-affiliated clubs located across the nation.
The second barrier to entry for new participants is financial: A competitive rifle setup for the PRS Open Division can easily top $10,000, not to mention match entry fees, the cost of ammunition and travel expenses. To address this issue, the PRS has a Production Division where competitors are required to use off-the-shelf production rifles and optics. Production rifles must cost less than $2,000, and an additional $2,000 is allowed for optics. As an example, a shooter could pair a Ruger Precision Rifle—which is widely available for less than $1,500—with a similarly priced riflescope and be competitive in Production for less than a third of the price of an Open Division rifle and optic. With match-grade ammunition widely available for many of the frequently used cartridges, such as 6.5 mm Creedmoor, a competitor doesn't even need to be a handloader in order to participate.
The PRS also wants to encourage active-duty military personnel and law enforcement officers to participate in matches without being penalized by their service's or agency's choice of cartridge. The Tactical Division was designed for this purpose, and restricts competitors to rifles chambered in either 7.62x51 mm NAT0/.308 Win. or 5.56x45 mm NATO/.223 Rem. Though most of us first think of bolt-action rifles when it comes to long-range precision shooting, there are also "gas gun" divisions in the PRS for semi-automatic rifle shooters with Open, Light and Heavy categories. The Open Division restricts shooters to .30-cal. and smaller cartridges with less than 3200 f.p.s. of velocity, while the Light and Heavy divisions are restricted to the 5.56 mm NATO and 7.62 mm NATO cartridges, respectively.
Many PRS competitors, particularly those who are highly ranked in the points race, are professional shooters, easily identified by the sponsor-clad jerseys that they wear during matches. Some, like Kay and retired army sniper Jim Gillialand, are former military sharpshooters, but, perhaps surprisingly, many of the top shooters are not. Another interesting thing is that, unlike many other shooting disciplines, the sport is still in its relative infancy, so some of the top-ranked shooters in the series have only been shooting for a few years. Texan Matthew Brousseau, who ended up winning the Open Division of the CORE Classic, and would go on to win the 2017 season's overall points race, has only owned a precision rifle since 2014. Regina Milkovich, one of the top-ranked female shooters in the sport, shot her first club match in 2009 and her first national match the following year. Compare that to the USPSA, where some of the top-ranked shooters have been competing since the 1980s and '90s.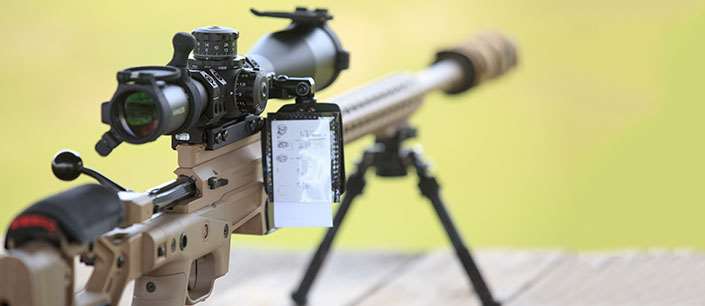 Shooters interested in competing in the Precision Rifle Series are encouraged to start at the club level, and for those willing to make the commitment, formal training programs are available. Kay—who owns K&M Precision Rifle Training in Tennessee in addition to being a PRS competitor—offers a Competition Preparation Clinic alongside his other precision rifle courses, and CORE Shooting Solutions has a Precision Rifle Competition Prep Course among its offerings. Other training opportunities exist throughout the country.
The competitors we spoke to offered two consistent pieces of advice to new shooters: First off, don't run out and buy a rifle until you are sure of what you want, as it is better to borrow or rent a gun initially. Secondly, anyone who is interested should stop hesitating, drop the excuses and go shoot, or at least observe, a match.
The Precision Rifle Series is one of the most exciting shooting sports available. The PRS requires competitors to master the fundamentals of rifle marksmanship and external ballistics in a setting that is both fun and challenging. Men and women of all ages and abilities will find themselves in a friendly and welcoming environment where the best rifle shooters in the world are competing alongside first-time amateurs. These competitions push the limits of both shooters and their equipment, and are helping spur-on rapid innovations among rifles, bullets, optics and even ballistic software. There's good reason why the Precision Rifle Series is becoming more popular every day. Check it out for yourself: A list of national and club matches is available at precisionrifleseries.com.
---
Guns Of The PRS
Competition almost always drives innovation, and the rifles used by serious PRS competitors have evolved into highly specialized tools to meet the competitors' needs. The Open Division of the PRS is dominated by custom rifles, with factory guns from Accuracy International and Surgeon Rifles being the only real exceptions. A typical PRS setup will feature a custom Model 700-style action from Defiance Machine or Surgeon Rifles, a heavyweight premium barrel fitted with either a muzzle brake or a sound suppressor, a stock from McMillian, Manners or one of the chassis-style stockmakers, such as AI or Masterpiece Arms, and a detachable-box magazine.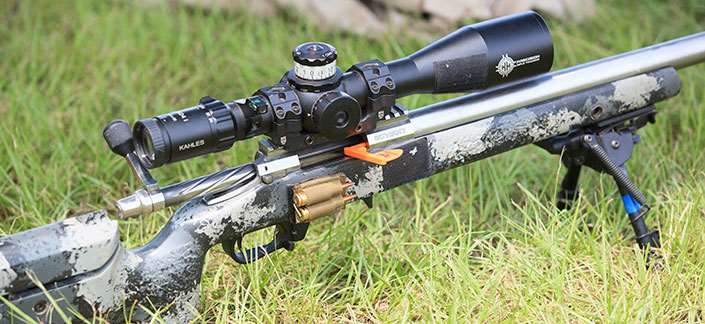 The vast majority of competitors use powerful variable-magnification optics made by Kahles, Vortex, Schmidt & Bender or Nightforce due to their durability and repeatable adjustments. The field is dominated by rifles chambered in 6.5-mm and 6-mm cartridges, with the latter being increasingly popular among top shooters. One might think that high-velocity cartridges would be popular in the PRS, but it is actually quite the opposite. Mild-mannered cartridges, including the 6.5 mm Creedmoor, 6.5x47L, 6 mm Creedmoor, 6x47L and 6 mm Dasher are all popular choices among competitors. Besides the inherent accuracy of these rounds, their low recoil, high ballistic coefficient, long barrel life and relatively flat trajectories make them ideal choices for this type of shooting. Wind drift can make or break a long-range shot, and each of these cartridges fare well in that department. In PRS, it is also crucially important that a shooter be able to determine whether a shot was a hit or a miss, and these cartridges are all conducive to that, especially when a brake or suppressor is used.