by
posted on December 29, 2015
Support NRA American Rifleman
DONATE
One of the reasons I enjoy being a part of the shooting community is that there are so many engaging endeavors to pursue. One category of bolt-action rifles I've wanted to learn more about are the long-range precision platforms. Over the years, I've had opportunities to hunker down behind someone else's tricked-out rifle at the range, and each time I wanted to just keep shooting. Earlier this year, while looking for a precision rifle company to work with, a friend of mine suggested I take a look at McRees Precision. I was immediately impressed with the company's background, products and prices, so I teamed up with them to build what would be my first long-range rifle using the BR-10 modular rifle system.
Company founders Scott McRee and his wife Kathleen are both highly accomplished long-range shooting competitors who were fed up with poorly made products. Today, the shooting systems built by hand at the McRees' shop in Mississippi are routinely employed by elite members of our nation's military service. They're also used by state and federal tactical police forces, civilian competition shooters and big-game hunters. Gunsmiths who work for McRees must pass a qualification program to ensure consistency and quality. Along the way, national champion shooter and "Top Shot Season 2" winner Chris Reed joined the team.
McRees has found several innovative ways to reduce customer cost without cutting corners on quality. One of the most expensive (and important) components of a rifle is the action. Many custom gun shops insist on using a factory fresh or in-house action for their builds. But McRees has a program that allows customers to have their guns built around a rifle or action they already own. This program is also helpful to military and law enforcement agencies because it's much easier, bureaucratically speaking, to upgrade a rifle than buy a new one.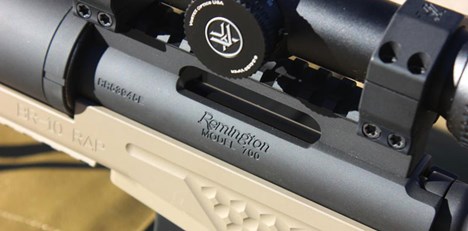 I didn't have a compatible rifle or action on hand. I checked in with the folks at Brownells who, as usual, had just what I was looking for. A new blued .308 Winchester compatible Remington 700 short-action was sent to my FFL, transferred to me and then sent on to McRees. When the action arrived it was inspected according to a 70-point checklist. Other custom shops will automatically work the action through a series of fix and parts changes whether the action needs it or not. At McRees, the gunsmiths perform only those modifications required to bring the action up to their specifications, which saves turnaround time and money.
The Remington action was treated to the BR-10 Standard Folder Package. This modular, all-weather conversion is designed specifically for long-range precision shooting (1000 yards) under the toughest conditions. The AR-style grip and handguard allow individuals trained to use gas-driven AR-15s and AR-10s to adjust quickly to running a bolt gun. The receiver is topped with a 6061 T6 aluminum billet 5.50"  1913 Picatinny rail with a 0 MOA or 20 MOA, depending on the optic.



The 22" stainless steel .308 barrel features 1:10" RH rifling, a match chamber, and a proprietary external contour for 1000-yard shots. Although the barrel is optimized for bullet weights ranging from 175 to 190 grains, it will stabilize bullets as light as 168 grains all the way up to 220 grains. The .900 diameter muzzle is threaded (5/8 x 24 TPI) and shipped with a thread protector. This rifle was fitted with an optional in-house 3-chamber muzzle break to reduce felt recoil. The rounded 12.25" aluminum handguard, made by Yankee Hill Machine, allows operators to attach rail-mounted accessories designed for AR platforms. The BR-10 arrives with a domed stud installed for Harris-type bipods and a mount for flush cup or push button sling swivels.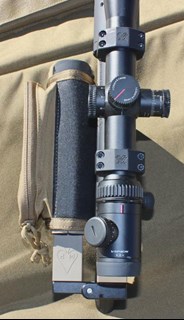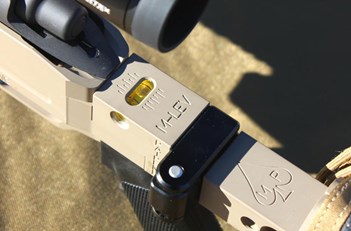 The BR-10 receiver and folding shoulder stock are precision-milled from 6061 T6 Aluminum and fitted with a 7075 aluminum hinge. The receiver extends below the hand guard and supports a 2.75" long removable aluminum accessory rail. Set into the receiver just behind the action is the M-LEV (Patent 9170067) bubble level system. The addition of this level allows operators to verify the cant of their rifle to ensure proper shot placement. The M-LEV can be visually checked while holding the rifle in the shooting position with a quick downward glance. 

The rugged aluminum T-Mag trigger guard accepts AICS style removable box magazines (one 5-round magazine is provided). The no-nonsense, heavy duty release allows magazines to drop free when pressed forward using the trigger finger. The factory trigger is replaced with an excellent model 510 Timney adjustable trigger group. Safe and reliable, the Timney trigger exhibited a smooth 2 lb. 10 oz trigger pull with a crisp, clean break after only 0.02" of trigger travel.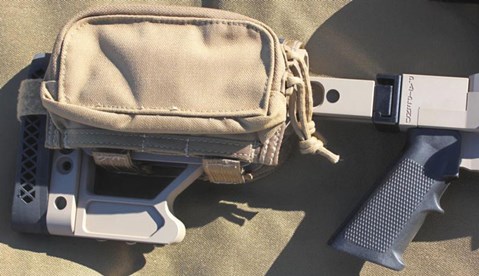 The adjustable portions of the shoulder stock are supported by several interchangeable 0.25" domed hex-head bolts. This allows all of the bolts to be removed and replaced with just one tool. The length-of-pull shifts between 12.50" to 14.50". The vented soft rubber Pachmayr recoil pad, with polymer support plate, has 1.00" of adjustment room. The two sections of the 0.125" thick 5000 series aluminum cheek rest can be adjusted by 1.25" or removed completely if desired. The cheek rest is covered by a comfortable Tactical Taylor cheek pad with a zippered storage pouch. Sling swivel ports are located on the left and right side near the recoil pad and the stock's hinge.
All of the major components of the BR-10 are treated with a durable High Temperature (bake on) Cerakote finish. Customers can opt for a single color rifle in Flat Dark Earth (FDE), OD Green, Armor Black, or a two-tone option like this rifle which was finished in black and FDE. The finished rifle with an empty 5-round magazine and no optic tips the scale at 12-pounds with an overall length of 41.50" with the stock extended and set at 13.50" LOP.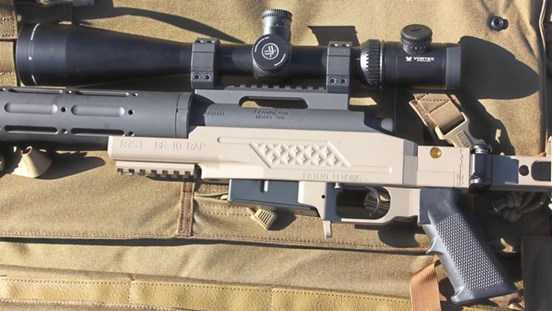 When setting up a precision rifle it's important to install a quality optic. Cheap glass means poor shot placement, plain and simple. But just like many of the long range rifle platforms, the scopes can be exorbitantly expensive. I called Chris Reed and asked which of the optics he's seen folks using on the competition circuit that are more affordably priced. One of the first companies he mentioned was Vortex Optics. When I contacted Vortex and described the rifle, they recommended the Viper PST 6-24x50 FFP with EBR-1 MRAD illuminated reticle secured with a set of Vortex Precision Matched 30 mm rings. If you choose to send your scope and rings to the shop along with your action, McRees will mount it and sight it in for an additional fee.
When the BR-10 arrived it demonstrated an excellent level of fit and finish throughout. The company's passion for their projects shows in every component and detail. A series of bench checks confirmed all of the controls were working properly and smoothly, so the rifle was ready for the range. The rifle was tucked into a Blackhawk! Long Gun Packmat. Constructed of durable 1000 denier nylon and closed-cell foam, this multi-purpose case can serve as a protective rifle case, backpack, jungle drag bag or shooting mat. It arrives with removable pouches for a notebook, cleaning kit, bolt and spare cartridges.



At the shooting range, the BR-10 exhibited modest to moderate levels of felt recoil when fired from standing or bench rested positions thanks to its weight, muzzle break and shock absorbing recoil pad. The Timney trigger pull was so short, crisp and light that it felt more like an exercise in mental telepathy than a flexing of muscles to cycle it. My eldest son is currently working with .22s but he would be able to run this rifle from the bench with ease.
I followed the McRees prescribed barrel break in process, which is quite simple. Fire up to eight rounds to sight in and then give the bore a good scrubbing with a quality solvent using a bore guide to protect the match chamber. Patch the barrel until the patches come out clean. The barrel is now ready for the next 50 rounds of fire. Clean in between 50-round sets thereafter to maintain accuracy.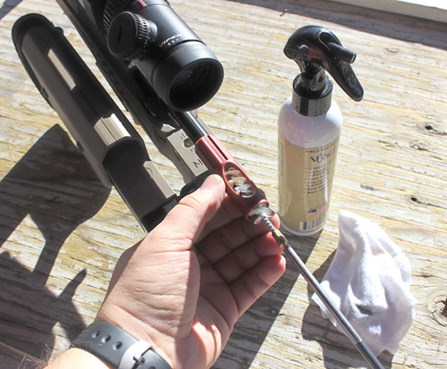 The formal accuracy testing for the BR-10 consisted of the usual five 5-shot groups fired at 100 yards using .308 Win. ammunition. I would have liked to stretch the target distances but the facilities to do so were not available at the time of this review. Black Hills Gold Match 178-gr. Hornady A-Max turned in a best single group of 0.95" with an average of 1.05". Winchester Super X 180-gr.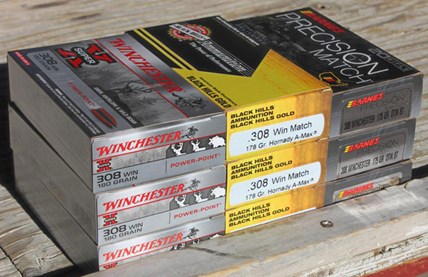 Power Point hunting grade soft points had a best group of 0.82" with an average of 1.00". But it was the Barnes Precision Match 17-gr. OTM boattail that this rifle liked the best with a single best group of 0.55" and an average of 0.60".
Once all of the required testing was done, I just didn't want to go home. So, I decided to try something I've always wanted to do, which was to shoot the pips out of some playing cards. Not all of my attempts were successful but, as you can see from the photo, I did manage to pull it off at least once quite nicely. Needless to say, I drove home with a smile on my face.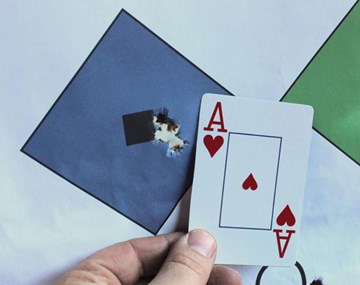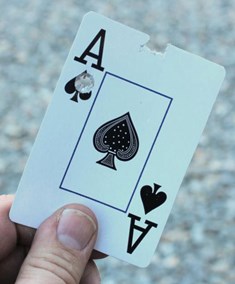 McRees Precision is a company dedicated to building long-range precision rifle platforms equal or superior to the best on the market for a fraction of the cost. I'm very pleased with the results I've seen so far. Some folks are going to blink when they see the price tag for this project. However, don't forget that similar set-ups routinely sell for $10,000 to $17,000. Now that I have a top notch set of equipment, it's time for more education, experience and visits to some long-range shooting venues. I'm looking forward to taking the BR-10 along for the ride.
Specifications
Manufacturer: McRees Precision
Model: BR-10 Standard Folder Package
Caliber: .308 Win.
Finish: High-Temperature Cerakote
Stock: McRees BR-10 Folder
Scope Base: 6061 T6 Aluminum Billet
Barrel Length: 22"
Chamber: Match Grade
Grip: Polymer A2, removable
Magazine: AICS-style magazines
Folded Length: 31.75"
Extended Length: 41.50 with 13.50" LOP
Weight: 12 lbs. with Empty 5-round Magazine
Capacity: 5+1
Twist: 1:10" RH
Rifle Grooves: Six
Accessories: One Five-Round AICS Magazine
MSRP: $2995
Additional Components:
Remington 700 SA Receiver Assembly: Brownells SKU: 767-000-818WB, $459
Scope: Vortex Viper PST 6-24x50 FFP with EBR-1 MRAD Reticle, $1049
Scope Rings: Vortex Precision Matched 30mm, $179
Carry Case: Blackhawk! Long Gun Packmat (20PM03DE), $256