posted on November 6, 2018
Support NRA American Rifleman
DONATE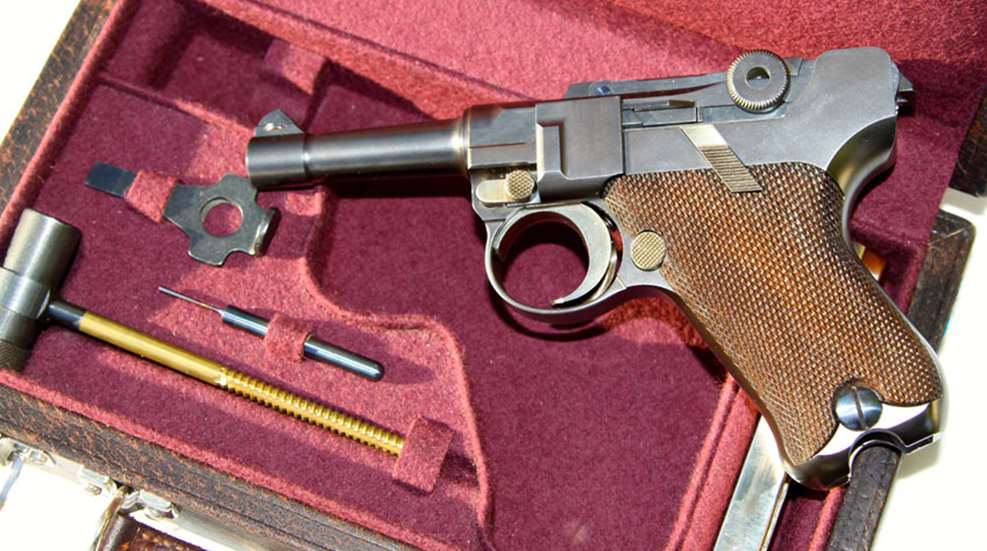 Because of myriad variations, collecting a complete representation of Georg Luger's P08 toggle-link semi-automatics can be a daunting task. In fact, two extreme rarities make achieving such a lofty goal nearly impossible.
The first is a pair of well-documented Lugers manufactured by the Deutsche Waffen und Munitionsfabriken (DWM) in .45 ACP for the 1907 U.S. Army trials. After the trials, one Luger was destroyed; the remaining gun, now in a private collection, was once valued at $1 million. So collectors can pretty much forget about acquiring it.
But in 1962 another ultra-rare Luger variation surfaced when a magazine article revealed a scaled-down "Baby Luger," Serial No. 4. Not to be confused with Georg Luger's rare 1904-05 cut-down prototypes or the much later 9 mm Baby Lugers by John Martz of Lincoln, Calif., this was one of four mini-Lugers made by DWM between 1925 and 1926 to allegedly explore the post-World War I civilian pocket-pistol market. These toolroom prototypes were manufactured in .32 ACP, with one re-chambered to .380 ACP. All featured 2 15/16" barrels and seven-round magazines. The guns were never put into production due to their high manufacturing costs, and the fact that the Baby Luger's shortened locked-breech action consistently jammed with its incompatible .32 and .380 ACP chamberings.


Baby Luger Serial No. 4, in .32 ACP, was authenticated by DWM Director of Development August Weiss, who confirmed it was made by his predecessor, Heinrich Hoffman. Only one other Baby Luger has materialized since, a .32 ACP now in a private collection.
The cased Baby Luger shown here is an exact duplication of the DWM .32 ACP Baby Luger Serial No. 4, as re-created by dealer/collector Michael Krause of Krausewerk Collectibles in San Mateo, Calif. (krausewerk.net), who decided if he couldn't find one, he'd make one, copied from the original Serial No. 4. In 1998, he produced 15 frames CNC-machined from 4130 steel billets. These immaculate mini-Lugers were hand-fitted and -polished and rust-blued. So far, Krause has assembled nine of these cased guns for collectors. This 99 percent Krausewerk's gun was sold by Lock Stock & Barrel Investments (lsbauctions.com) at the 2018 Las Vegas Antique Arms Show (antiquearmsshow.com) for $12,256. Krause's remaining guns are priced at $15,000 each. "But you're buying an exact replica of the original gun," he cautions, "with all its faults."
Gun: Krausewerk Baby Luger
Manufacturer: Krausewerk Collectibles, San Mateo, Calif.
Chambering: .32 ACP (7.65 mm Browning)
Manufactured: 1999
Serial Number: 6
Condition: 99 percent — NRA Excellent (Modern Gun Standards)
Value: $12,256; Lock Stock & Barrel Investments auction at the 2018 Las Vegas Antique Arms Show