by
posted on December 30, 2017
Support NRA American Rifleman
DONATE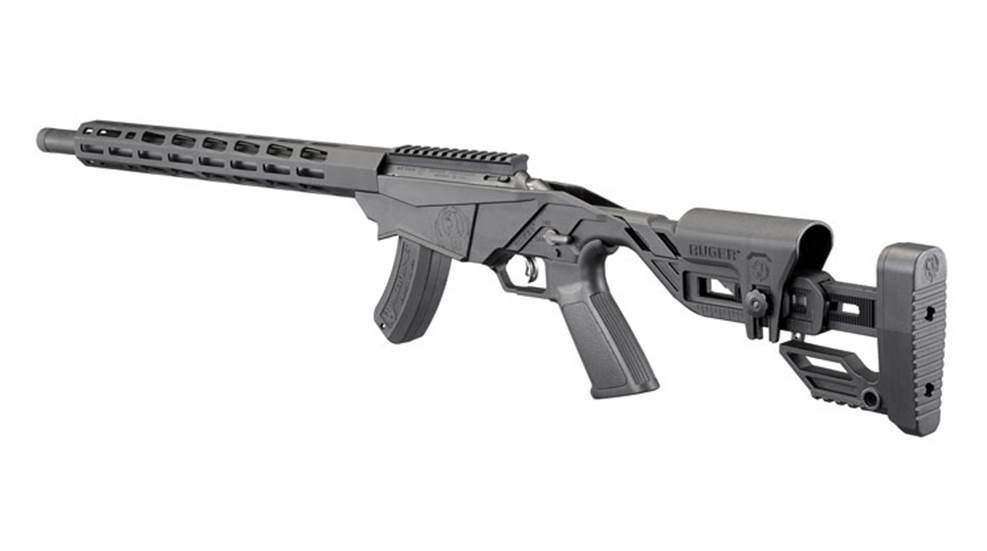 In recent weeks Ruger has created a flurry among brand aficionados, introducing new pistols and rifles at record pace. It's closing out 2017 with a final announcment (we think—there's still one day remaining in the year) of a line extension, the Ruger Precision Rimfire. The rifle is a scaled down version of the Ruger Precision Rifle and maintains the same ergonomics, trigger and manual of arms as the larger center-fire rifle. Very welcome news is that the rifle also accepts 10/22 magazines.





Here's what a late press release from Ruger says about this new rimfire:

The Ruger Precision Rimfire features a molded, one-piece chassis and adjustable buttstock assembly manufactured from glass-filled nylon for strength, stiffness and stability. The innovative Quick-Fit adjustable Precision Rimfire stock allows the rifle's length of pull and comb height to be quickly and easily adjusted for proper fit over a wide range of shooter sizes, outerwear and shooting positions. Indicating marks molded into the chassis help a shooter quickly return to a previous position.



To make the .22 LR chambering feel more like 6.5 Creedmoor, Ruger engineers designed the Big-Gun adjustable bolt throw technology. By simply removing a spring clip, shooters can change from a rimfire 1-1/2" bolt throw to a short-action center-fire 3" bolt throw, reducing the chance of short-stroking the bolt in competition. Identical to the Ruger Precision Rifle, the oversized bolt handle makes for positive bolt manipulation.
The rifle's 18" target barrel is cold hammer-forged from 4140 alloy steel to create ultra-precise rifling for excellent accuracy. The 1/2"-28 thread pattern allows for easy pairing with the Silent-SR suppressor or other muzzle devices. The 15" hard black anodized aluminum, free-float handguard features Magpul M-LOK slots on all four sides for improved scope clearance and easy mounting of M-LOK-compatible rails and accessories.
The popular Ruger Marksman Adjustable trigger has a pull weight range of 2.25 to 5.0 lbs.; the adjusting wrench is conveniently stored in a buttstock compartment on the rifle. Ruger's own AR-pattern pistol grip and safety selector allow for maximum control and access to the 45 degree, reversible safety selector. The Precision Rimfire ships with one, 15-round BX-15 magazine or two, 10-round BX-1 magazines. For increased long-range elevation capabilities, the rifle is topped with a 30 MOA Picatinny scope base.

For more, visit Ruger.com.





Additional Reading:
Ruger Precision Rifle  
NRA Gun of the Week: Ruger Precision Rifle
Ruger Unveils Enhanced Precision Rifle
Ruger Precision and Predator Rifles Now in 6 mm Creedmoor