by
posted on August 25, 2016
Support NRA American Rifleman
DONATE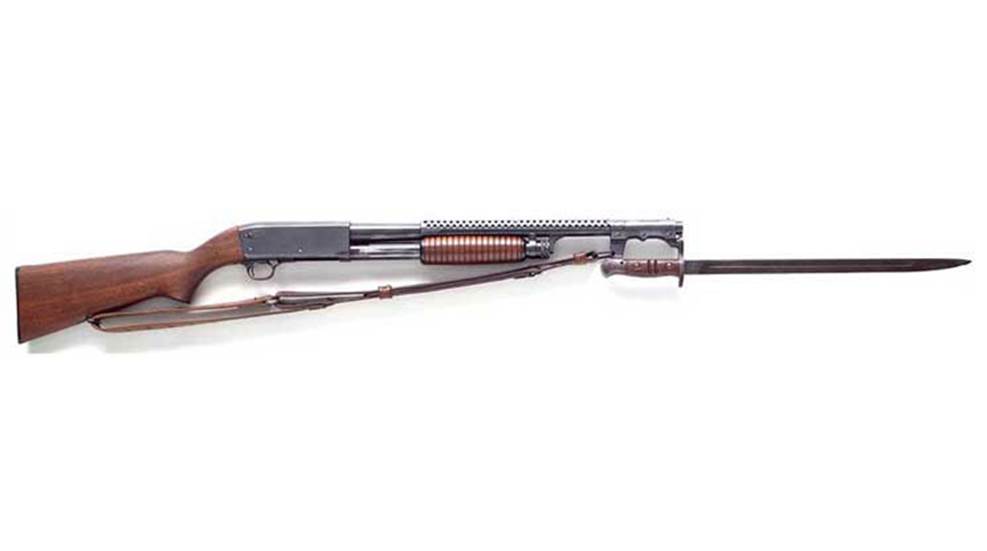 Like most gun companies, the Ithaca Gun Company has had a checkered path in terms of successes and failures. Founded in 1883 in Ithaca, N.Y., by William Henry Baker, Dwight McIntyre and John Vanatta, its original plan was to build fine double-barrel shotguns. Baker was a longtime gunsmith of good reputation for design and execution, but like many gunsmiths he had relatively little capital to work with, which sent him on an endless search for underwriters. By 1887 Baker had left Ithaca, and McIntyre, Vanatter and L.H. Smith, brother of L.C. Smith, continued to run the company.
The company enjoyed some success during the Edwardian latter years of the 19th century and beginning of the 20th century, but mechanization and technology continued its relentless pursuit of all things efficient at the expense of all things aesthetic. Ithaca needed to come up with a magazine-fed shotgun to hold its share of the marketplace. It eventually chose a design patented by John Browning in 1915 and put forth as the Remington Model 17, a contemporary of the Winchester Model 12 that everyone seemed to want at the time. Trouble was, of course, Ithaca had to wait until Browning's patent—owned by Remington—expired before it could utilize the features of the shotgun, so not much could be done until 1932. By then the U.S. was in the depths of The Depression, and companies like Ithaca again scrambled for working capital, as well as something that could give it a competitive edge in the market.
Fortunately for Ithaca, Remington discontinued the manufacture of the Model 17 by replacing it with the Model 31 in 1933. Like most Browning designs it depended on forgings and other relatively expensive-to-make parts. The Model 17 had some improvements patented by John Pederson—of Pederson Device fame—that did not expire until 1936. Ithaca had its own designer, Harry Howland, who modified the Remington's firing pin and ejection mechanism in 1931, thus making it simpler and less expensive to produce. Finally, in 1937 Ithaca was able to bring the Model 37 to the market.
The Model 37 is a manually operated, slide- or pump-action shotgun fed from a tubular magazine located beneath the barrel. Its most notable feature is that it is loaded and ejects through a common port located on the underside of the receiver. The shotgun combines robustness with a simple, yet elegant design that ensured its success and popularity over more than eight decades. Though originally designed as a shotgun for hunters, its adaptation as a trench gun and police shotgun has equally cemented it in the hearts of gunners. One reason for its popularity early on as a martial shotgun was its lack of a disconnector in the fire-control mechanism, allowing the shotgun to be fired by simply holding the trigger down and operating the slide. It was thought that this provided an increase in firepower, but in actuality the gun is nearly impossible to control when operated in this way—with the exception of motion pictures where guns can do about anything. Ithaca added a disconnector in 1975 after prodding from corporate lawyers.
Its bottom-ejecting feature was actually an improvement, however. Without a big hole in the side of the receiver, the Model 37 had some built-in resistance to catching debris inside the gun and tying it up. Too, southpaws appreciated not having smoking empty hulls flung across their faces, as was the case with other magazine-fed shotguns.
The Model 37 saw service in World War II, Korea and Vietnam, as well as some other relatively minor skirmishes. It has seen extensive use by the New York and Los Angeles police departments, as well as the L.A. Sheriff's Department. Countless other smaller law enforcement agencies pressed the Model 37 into service, too. It was very popular in the Midwest and prairie states as a waterfowl and pheasant gun.
When the Model 37 was introduced it was also called the Featherlight, though in 12 gauge it still weighed in at a shade more than 7 1/2 lbs. Later an Ultrafeatherlight model in 20 gauge with an aluminum receiver would be brought forth at about 4 1/2 lbs. It has been chambered for 2 3/4" and 3" shells in 12 gauge, as well as 16, 20 and 28 gauges. The Model 37 has been fitted with rifle sights and called Deerslayer; clad in a synthetic camo stock and deemed Turkeyslayer; even given a straight, English-style stock targeting quail hunters. Ithaca's marketing guys used to make a big deal about the shotgun's Raybar front sight, a sort of first-generation fiber-optic. Today it comes with a TruGlo red front sight. The number of variations that the marketing guys came up with would boggle the mind, but these are the most popular. More than 2 million Model 37s have been built in this country. One particular variant—the Stakeout—featured a pistol grip sans buttstock and a 13" barrel designed for undercover policemen. It was made popular in the television series "Miami Vice" as the gun of choice for Detective Ricardo Stubbs played by Philip Michael Thomas, who, according to the firearms consultant for the program, had difficulty handling handguns. The Chinese and Argentines have produced knock-off variants of the Model 37 as well.
Ithaca has undergone a lot of ownership changes over the years. Today it is based in Upper Sandusky, Ohio, and prides itself as a gunmaker still building every part of its guns in the United States. The Model 37 is still available with MSRPs starting in the $895 range. Though never as popular as the Remington 870 or some other pump guns, the Model 37 retains a cult-like following, especially in the riot-gun configuration with a 20" barrel and an 8-shot magazine.