Support NRA American Rifleman
DONATE
Images courtesy RockIslandAuction.com

It's the most expensive single firearm sold at auction, according to Rock Island Auction Company. Pairs of guns have gone for more, but this one's connection to the surrender of Chiricahua Apache Chief Geronimo and impeccable condition added up to a new world-record on April 30, 2016.



Captain Henry Lawton and Lt. George E. Albee served together during the Civil War. The latter went on to work for Winchester, while the former stayed in uniform and later captured Geronimo. 
The friendship they forged during the War Between the States ran deep, though, so when the legendary firearm maker was rolling out a brand new carbine—the Model 1886—Serial No. 1 went to Lawton. The engraving isn't fancy. In fact, it's so understated it carries a timeless eloquence. The wood, too, is good, but probably wouldn't turn too many heads.
Albee obviously knew his friend well. Lawton led troops in a rugged time, when troopers relied on their tools and personal possessions to survive and thrive in the scorching sun and pouring rain. Fancy enough to attract longing stares wasn't—and still isn't—an asset in the Chiricahua Mountains of the desert Southwest.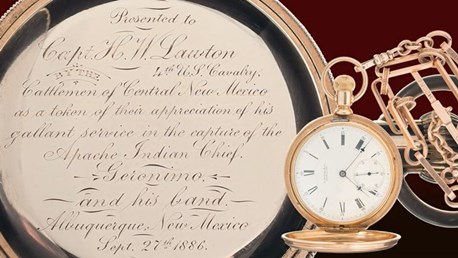 A pocket watch presented to Lawton by businessmen in New Mexico—part of the gun's auction lot—punctuates that point. He didn't want to attend the ceremony, but he received a direct order that he would. He described the timepiece as valuable, and from its looks it was rarely, if ever, used.    
At 130 years old, the carbine is in great shape and finally, perhaps for the first time since it rolled out of the factory, back in the news. For more of the gun's history, visit Rock Island Auction's blog and watch a detailed video about the gun here.