by
posted on February 8, 2016
Support NRA American Rifleman
DONATE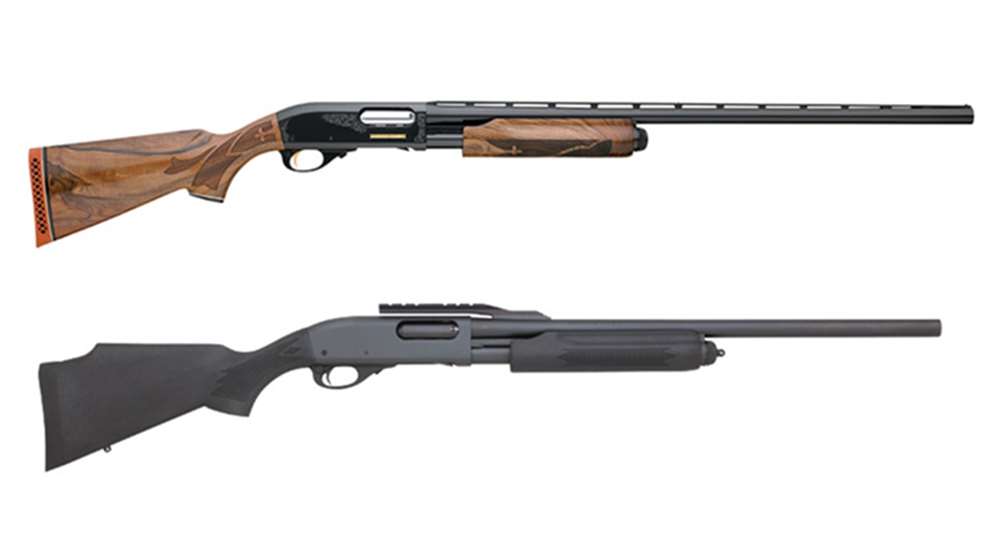 Any gun that has 11 million copies, has been used in more than 25 countries in various military and police applications, as well as a sporting arm and has become the benchmark of pump or slide-action shotguns deserves a look back at its origins, along with an examination of why it was and remains so popular. As Remington celebrates its bicentennial, the Model 870 shotgun has been a major factor in the longevity of the company for more than a quarter of its existence.
Remington had been struggling a bit in its shotgun market. From the beginning of the 20th century, Americans had been flocking toward the pump or slide-action shotgun because of its simplicity, reliability and it costing far less than any double or semi-auto. Winchester ruled the roost with its models 1897 and 1912 pumps. Their reliability had become legend, and the appeal of the Model 12 with its sleek lines pretty well spanked any of the competition. John D. Pederson had designed the Remington Model 10 slide-action, bottom-ejecting shotgun—he actually designed it in 1908, but it wasn't brought to market until 1909—and it sold reasonably well, even serving some trench-gun duties into the 1930s. It was one of the first shotguns with a rounded profile to the rear of the receiver. The Model 10 was more fragile than the competing Winchester Model 12 so John Browning designed the Model 17 pump shotgun, retaining the bottom ejecting and loading port and successfully addressing some of the issues with the Model 10. Because of wartime production needs the Model 17 was not brought forth until 1921. Later on, the Ithaca Model 37 and the Browning BPS would share much of the engineering found in the Model 17. 




The Remington Model 17 pump shotgun was a forerunner to the Model 870.
The Model 17 was a 20 gauge, and it enjoyed a fair degree of popularity as well, though it never threatened the Winchester Model 12. Another Remington engineer, Crawford C. Loomis, redesigned the Model 17 to handle 12-gauge ammo and employing side ejection, introducing it as the Model 31 in 1931. The Model 31 was produced in 12, 16 and 20 gauge and made from 1931 until 1949. Model 31s were purchased by the FBI, and one each was ascribed to each office after the Kansas City Massacre of 1933.
World War II changed everything, including manufacturing parameters. The new prevailing consideration was expense of manufacture. Cost cutting—some say cheapening—became the primary focus. With The Depression over, wages—hence manufacturing costs—were skyrocketing. Remington needed to find a less expensive way to produce pump shotguns.
In 1948 Remington designers L. Ray Critendon, Ellis Hailston and C.R. Johnson came up with a long-recoil semi-auto shotgun that featured some new technology and design. Chief among the new innovations was the use of stamped steel parts and true interchangeability allowing the gun to be assembled with much less hand fitting. When it came time to update its pump shotgun, Remington utilized these same technologies, as well as the fire-control system developed for the 11-48. The new pump featured dual action bars that constrained the torque often imparted to the fore-end when operating it, thus making cycling the action smoother and more reliable. Instead of having to machine a recess deep within the receiver for the bolt to lock up, Remington created a hardened barrel extension with a recess machine into it to restrain the thrust of the bolt during firing. By doing this, it allowed the new pump shotgun to not only be made in less time (less expensive), it also made it easier to replicate headspacing from barrel to barrel, allowing for barrel interchangeability without tools or fitting. Like its predecessors, this new Model 870 was fed from a tubular magazine beneath the barrel originally holding four rounds. 
The Model 870 was an instant success, and when it was brought to market in 1950 no fewer than 15 variations were available. That availability to be so adaptable through modular technology has been a cornerstone of the 870's success for the past 66 years. In addition to countless grades of engraving and wood quality, the 870 has been made in deer or slug-gun garb, trap and skeet versions, waterfowl, turkey and upland configurations. It has been built to the special considerations of tactical users. The Model 870 has been available in all four shotgun chamberings and from 2 3/4" to 3 1/2" magnum. In short, if you have a task that can be handled with a shotgun—even some pretty obtuse ones—Remington has made an 870 to address that task well



Sixteen years after its debut, Remington ushered its 1 millionth Model 870 out the door. Seven years later the 2 millionth 870 was shipped. Today, 66 years after its introduction more than 11 million Model 870 shotguns have been produced. While most firearms, especially with some longevity, have undergone several design changes during their manufacture to deal with unforeseen glitches that can occur in the field, the 870 has but one that I am aware of. Older 870s were capable of being tied up if the user failed to engage the shell latch. The shell could then slip back into the receiver between the lifter and the bolt in such a way as to prevent the bolt from moving rearward, thus requiring the gun to be disassembled to clear the shell. The Flex-Tab carrier introduced around 1980 took care of this rare issue, and today it's almost impossible to bind up an 870—unless you are me.
I've owned four 870s, two sporters and two in riot or tactical configuration. I had an 870 Express that I used as a rough-and-ready duck gun for a while. One rainy day on a marsh in central California I managed to somehow bend the ejector spring into a paper clip, thus turning my shotgun into an inefficient single shot. With the rain pouring down I stripped the 870, laying the barrel in the reeds above the water I was in, sitting on a T-chair made from two pieces of 2x4 screwed together in a T shape and stuck into the marsh mud. My rain parka formed a parts bowl in my lap that quickly filled with rain water, thus serving as a sort of redneck parts washer. I stripped the receiver down to where I could remove the ejector spring. After straightening it back to its original configuration, I reassembled the gun and returned to my hunt. Total elapsed time: about 10 minutes … and I didn't lose a single part!
Remington's Model 870 shotgun has earned its just place as the benchmark of American shotguns. It's almost unimaginable that anyone who has owned more than one shotgun doesn't have or hasn't had an 870 in their closet or safe. It certainly has become an icon in that company's 200-year history.