by
posted on August 20, 2015
Support NRA American Rifleman
DONATE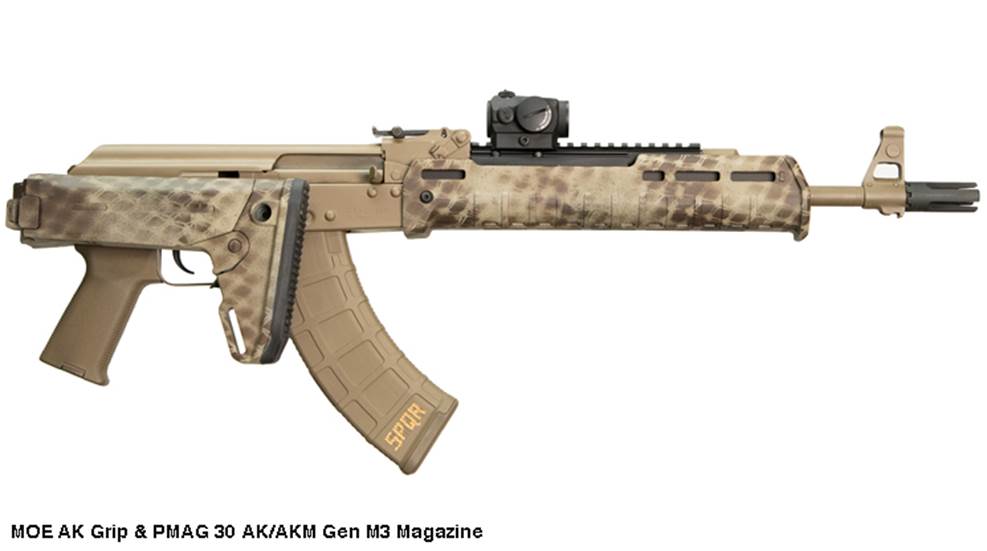 Magpul Industries has made a name for itself by offering some of the best and most affordable AR-15 components available. The company's clear understanding of what its customers want has resulted in several gunmakers offering AR models fully dressed in Magpul furniture right from the factory. Now Magpul is expanding its presence in the market with new products for a variety of other popular shooting platforms. This metamorphosis from its beginnings as a maker of a single, simple injection-molded accessory to a major manufacturer of primary components for a wide range of popular firearm platforms has brought the company tremendous growth.



AK Accessories
Recognizing the continued demand for reliable, durable AK-pattern rifle upgrades, Magpul now offers the Zhukov and Magpul Original Equipment (MOE) lines of accessories. The ZHUKOV-S is a modern, right-side folding, collapsible shoulder stock. It ships with mounts designed to be compatible with most single-tang trunnion, stamped-steel receivers, including AK-47-, AKM- and AK-74-pattern rifles. Other features include quick detach (QD) sling mounts, modular cheek risers (sold separately) and a shock-absorbing rubber recoil pad. The ZHUKOV handguard provides a longer gripping surface for modern shooting techniques and additional M-LOK accessory mounting positions.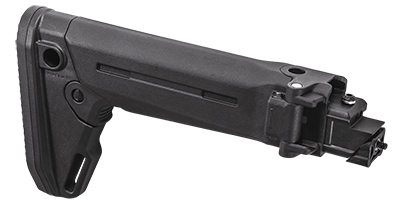 The MOE shoulder stock is a lean and lightweight A-frame fixed stock that offers a 12.8" length of pull with a storage compartment optimized for AK-type cleaning kits. The easy-to-install MOE AK and MOE AKM handguards are constructed of reinforced, heat-resistant polymer with integral black-oxide-coated, stainless-steel heat shields. M-LOK channels are located at the three, six and nine o'clock positions. A front lip and long side extensions shield hands from a hot barrel while increasing the grip surface.

Rifle Stocks
The Magpul Remington 700 Hunter stock, which is compatible with all Remington Model 700 short actions, provides a reinforced polymer shell with a Type III hard-anodized aluminum bedding block. This stock free floats all factory Remington barrels including aftermarket profiles up to a Medium Palma. The length of pull (l.o.p.) is adjustable from 13" to 15" using the provided 0.50" stock spacers. Optional cheek riser kits can be installed to increase cheek height by 0.25", 0.50" or 0.75". The Hunter stock accepts factory and most aftermarket triggers while being compatible with all stock Remington hinged floorplates. M-LOK slots located in the fore-end accept a broad range of accessories. For those who have a Remington Model 700 chambered in .308 Win., look for the drop-in Magpul bolt-action magazine well that allows the rifle to use detachable PMAG box magazines without custom inletting from a gunsmith.

For fans of the Ruger 10/22 semi-automatic rimfire rifle, the Hunter X-22 chassis is an ergonomic, full-featured stock with multiple sling mounting options, a non-slip rubber buttpad and M-LOK slots for accessory attachment. A reversible barrel tray accepts all factory barrels as well as aftermarket barrels up to 0.920" in diameter. This stock is compatible with all capacities of factory Ruger 10/22 magazines including 10-, 15- and 25-round models. Adjust the l.o.p. from 12.5" to 14.5" using the 0.50" spacers provided with the stock.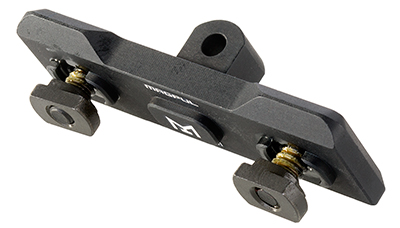 Accessory Systems
Designed by Magpul as the next evolution of the MOE accessory mounting system in use since 2007, the Modular Lock (M-LOK) system has been released as a free licensed platform to allow greater compatibility of accessories between all manufacturers. The M-LOK system employs enlarged squared-off slots paired with redesigned direct-mount rails. The accessory rails are mounted to the front face of the slot via custom cammed T-nuts without the need of additional parts or supports inside of the slot.
M-LOK accessories feature recoil-mitigation lugs with full recoil lug support in all four axes of movement to prevent slippage in the system under recoil or rough handling. This design also allows each accessory rail to be rotated 180 degrees to face the front or rear of the rifle. The rails can be mounted entirely within a slot or bridged across slots allowing for smaller adjustment intervals.
The M-LOK system will eventually replace the MOE system on all new production stocks and fore-ends. For those who wish to continue using MOE accessories, adapters will be made available.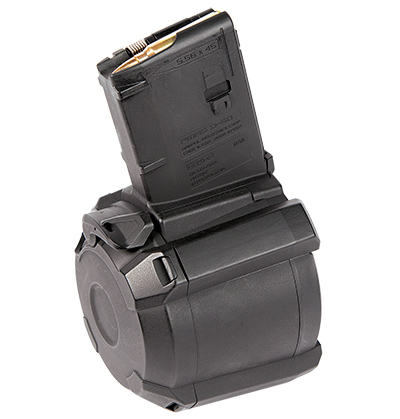 AR-type Drum Magazine
After moving to another state in protest of magazine-capacity restrictions, it only seems fitting that Magpul would produce a product such as the PMAG D-60—a drum magazine that holds 60 rounds of .223 Rem. or 5.56x45 mm NATO ammunition without being any longer than a standard 30-round box magazine. The reinforced polymer chassis features a ratchet lever for easy loading and a window to check the number of rounds inside. Removable supports set around the exterior can be detached to allow the magazine to be quickly disassembled for cleaning. The D-60 can be seated fully loaded into a rifle with its bolt in the closed position and is compatible with a wide range of NATO firearms including the AR-15, M4, M16 and HK416.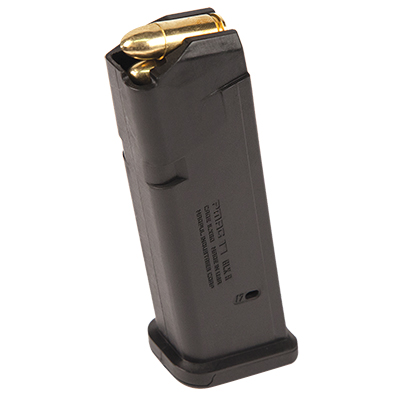 Glock Pistol Magazines
Despite an initial misstep (see the full story at americanrifleman.org/glockpmag), Magpul's PMAG 15 GL9, a 15-round magazine for Glock G19 9 mm Luger pistols, and the PMAG 17 GL9, a 17-round magazine for G17 9 mm Luger pistols, are some of the company's most promising new products. They feature proprietary all-polymer construction and a suggested retail price of just $16. Each magazine is assembled with a high-visibility, controlled-tilt follower, stainless steel spring, a load indicator window and an easily removable floorplate. The floorplate has a paint-pen dot matrix for magazine marking and ridged edges for a better grip. The magazines are designed to drop free from the grip whether loaded or unloaded. To enhance rapid magazine extraction and positive handling, look for three-packs of the GLOCK 9 mm Luger/.40 S&W SpeedPlate (MAG230).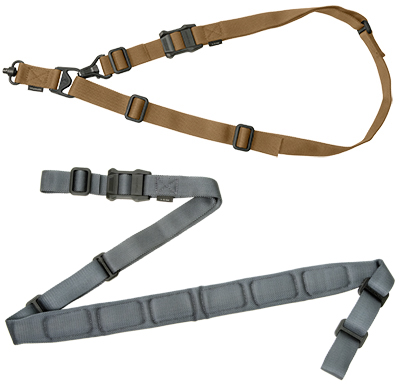 Rifle Slings
To support the company's long gun stocks, Magpul offers a variety of high-quality two-point and single-point slings. The lightweight MS1 two-point sling features a ripstop, nylon-wrapped, foam pad sewn to the inside of the sling's webbing for added comfort. The MS1 slider allows the sling's length to be rapidly adjusted from about 48" to 60". The MS3 multi-mission sling system is designed to provide rapid transition between a one-point configuration for direct action and a two-point configuration for increased stability. Used in conjunction with the Magpul ASAP plate (sold separately), the MS3 enables the user to transition into an array of shooting positions without becoming entangled in the sling. Magpul also provides a wide variety of sling adapters. For more information, call (877) 462-4785 or visit magpul.com.