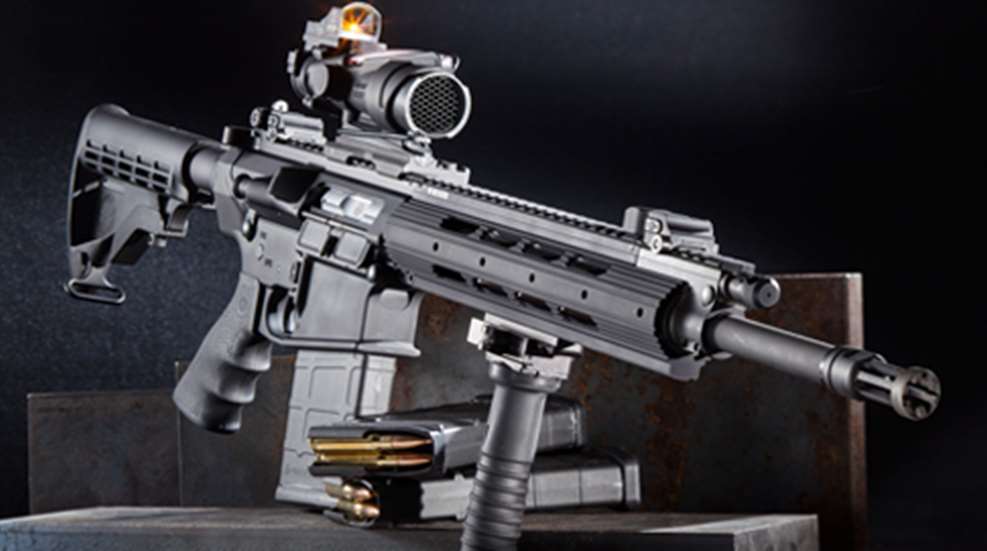 As I've mentioned, we get firearms almost daily here at NRA Publications, most of which get used and abused in order that we may provide you with extensive evaluations. More often than not, our writers send them back to us dirty, mud-caked, scratched and for lack of better words-used. Not only are the used guns a lot of work to prep for photography, but new, oil-soaked guns from the manufacturer can be just as much work. I am often asked, "How do guns turn out so clean and spotless looking in photos? Lots of elbow grease and great photographers.
In my opinion, one of the toughest guns to clean is the AR platform-nooks, crannies, picatinny rail slots, pins, threads and nuts seem to relentlessly bleed oil/lubricants. Not only are oils my main combatant, but fouling on revolvers, gas piston parts, carriers, and bolt faces can make a sweet looking gun rather ugly.
What is the secret?
You tell me-secrets aren't meant for sharing right? One of my most useful tools in my arsenal of cleaning gadgets/products is my Hornady Ultrasonic Cleaner. All metal parts, whether they are littered with grease, covered in oil, or have a crusty buildup of fouling (black powder breech plugs)-the sonic cleaner does wonders on lifting the load from your elbow. Now, this isn't a "set it and forget it" situation. Depending upon solutions and or time in the machine, you will still need to do a bit of scrubbing, but let me tell ya, it sure cuts time and not to mention the filth. *Caution* Over exposure to sonic cleaning and or mixture strength can or may affect gun blue.
Most of the time a quick bath does the trick and a final blow from the DataVac air duster is a surefire way to blow out the residual oils/solution. All that's left is a good rub down with an oily rag then parts are ready for assembly.
However, not all gun parts are as easy as this to clean/degrease for photos. Externals of an AR-15 are my arch nemesis. I happen to have a cure-all for that as well. Spray degreasers formulated for firearms do the trick but if you happen to have a can of carb cleaner or brake clean lying around your garage, you can use that to blast the grime away. Remember to always use solvents, sprays, and or any cleaning products in a well-ventilated area.
A few other items every cleaning bench ought to have are stock oils and a gun blue kit to touch up those nicks and scrapes we all get when using our guns afield.
Ready for use
So, I have spent an hour or more of my time and completely degreased/cleaned these guns for photography and the photo lab is finished with them. Now what? Well, since I am knee deep in gun parts most of my days I prefer the more eco-safe, non-toxic, CLP's. An overall lubing of all wear parts to ensure rust-free storage is a must and not to mention a fingerprint-free wipe down. I am still trying to track down one of our editors who leave semi-permanent finger prints on guns. You may not know it, but, everyone produces oils and for some, their PH is higher and more caustic to metal than others. As a rule of thumb, try not to touch bare metal and if you do, wipe your thumb print off with an oily rag.
Q&A
Do you have a question you want answered with regard to cleaning firearms? Feel free to submit your question below and we will try our best to answer your questions in a timely fashion. Maybe I can coerce American Rifleman Editor-in-Chief Mark Keefe to let us run your question in the next issue of his magazine.