I enjoy fancy grips on even my every day carry guns. Many pistoleros and pistoleras have similar feelings, but modern gunmakers (particularly autopistol makers) are understandably making their grips integral with the polymer receiver. On these guns, you cannot do much to personalize them. Happily, there are still a great many pistols and revolvers that can be dressed up with custom grips. And happier yet, there are still some artisans who can do exceptional shaping, surfacing and carving handgun grips to the desires of the gun's owner. I have recently been working with Ron Der, who runs RMH Knives (yes, he makes them, too). This is an outfit that makes some of the nicest custom grips that you have ever seen.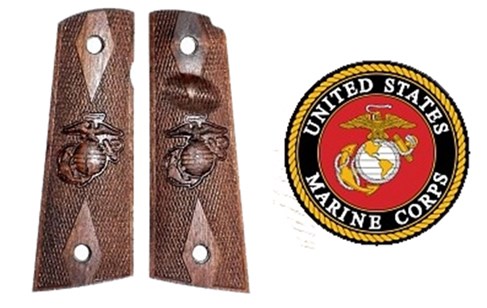 Der is a CAD-CAM (computer-aided-design, computer-aided-manufacturing) engineer, who has the necessary equipment to carve just about any shape remotely according to a program he has written. If you can give him the necessary "art" in the form of a precise drawing, he can render it into a computer program, do the necessary set up of raw material and have his trusty computer produce the grip. If, for example, you wanted to have a family coat of arms or maybe a Masonic emblem or even the complicated crest of the 719th Royal Fusiliers, he can do it. With me, it is usually a globe and anchor or initials. The system is so sophisticated that it can work in three dimensions. That means a USMC globe cut into the walnut of my grip that is actually rounded. The implications are huge, as the technique can render an emblem as familiar as the Rampant Colt in a very lifelike fashion. On Der's equipment, it is also capable of incredible detail. You can actually read the Semper Fidelis motto on the ribbon in the eagle's beak on my grip.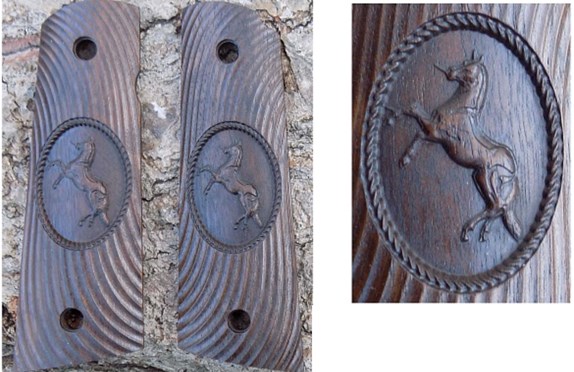 This artist can work with a variety of materials, including several kinds of synthetics. There is a very handsome simulated ivory that has a realistic look, as well as a wide variety of exotic woods. He can also do practical finishes like fine checkering or stippling that work well in securing the pistol in your hand—maybe even an emblem of some sort over the checkering. If you choose an emblem, it looks best to make it from some kind of straight-grained dense wood. Der can use some of the modern synthetics, like the currently popular G10. Every design is crisply executed and strikingly handsome.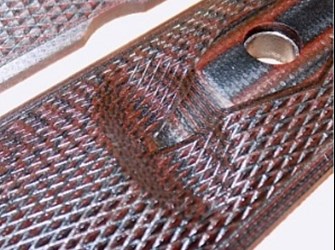 One of the best aspects of ordering from this artisan is his willingness to use technology to your benefit. After an e-mail or two, we had reached agreement on what I wanted on a particular set of grips. He then e-mailed me a computer-generated illustration for my approval. With the go-ahead, he went ahead with the grips themselves—which turned out to look even better than the illustration. All of this takes a certain amount of time, so be patient. Since a craftsman's time is expensive, be prepared for to pay for it. In my view, it is worth every bit of the price tag. We have never had anything like this before.