by
posted on December 4, 2014
Support NRA American Rifleman
DONATE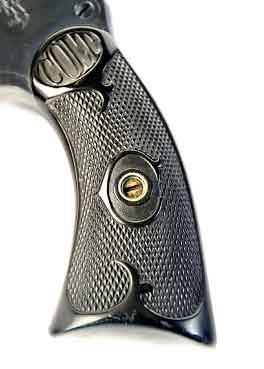 Gun: Police Positive Special
Manufacturer: Colt
Condition: NRA Excellent (Modern Gun Standards)
Caliber: .38 Spl.
Manufactured: 1923
Value: $400-$450
Despite its renown for producing some of the first and best single-action revolvers, for some reason Colt had a difficult time coming to terms with double-action. Such formative self-cockers as the Model 1877 "Lightning," Model 1878, Model 1889 Navy (and follow-on New Army and Navys), while successful with regard to sales, all had significant mechanical flaws that ultimately limited their effectiveness.
But when the company got it right, it really got it right. The New Police model, which was introduced in 1896, was a superb revolver. Though following the general outline of the 1889 Navy, it had considerably improved internals. Fortunately for Colt, this .32 DA was quickly adopted by the New York Police, giving the gun an official seal of approval.
Still, the internals were not perfect, a situation that was remedied in 1905-1907 with the introduction the Police Positive. The new gun's works incorporated the Colt Positive Lock, an internal safety device that prevented the hammer from moving completely forward until the trigger was drawn fully to the rear. This meant the gun would not discharge if dropped or otherwise mishandled.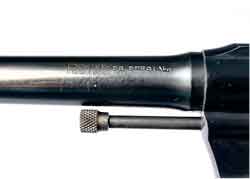 Modernized externally, the initial .32 Police Positive serial numbers picked up where those of the New Police left off. Offered in a number of chamberings, barrel lengths and even a "heavy frame" target  model, ultimately some 199,000 .32 Police Positives were manufactured between 1907 and 1943. As well, a Police Positive chambered in .38 Colt Police Positive and .38 S&W appeared, which was numbered in its own sequence. Early Police Positives had checkered hard rubber stocks with fleur-de-lis designs and the Colt name in an oval. The panels were changed to checkered walnut in 1924.
The formative .32 and .38 Police Positives took off like rockets and rapidly became law enforcement favorites as well as civilian staples. They were (and are) also widely seen in motion pictures-especially in Depression-era gangster movies and film noir.
As good as it was, it was felt that the Police Positive could be made even more effective, so in 1908 the revolver was altered by extending the frame and cylinder slightlyto handle the longer, more powerful Smith & Wesson Special and.32-20 Win. cartridges. Of course, as Colt reminded its potential buyers, other cartrtridges, such as the .38 Short and Long Colt, .38 S&W and .38-44 could also be accommodated in the more capacious chambers. Barrel lengths ranging from 1¼" to 6" were available, as were different finishes, with blue being considered standard.
According to Colt literature of the 1930s, the Police Positive Special was, "Adopted as standard by many large and hundreds of smaller city Police Departments due to its accuracy and hard-hitting qualities. Popular among Express messengers, paymasters, Watchmen, and Special officers. It is also the choice for Home, Store, Motoring and camping protection."
For once the advertising wordsmiths weren't exaggerating. To say the gun became a phenomenon is something of an understatement, as it was ultimately produced in several series in the hundreds of thousands. It spawned the famed Detective Special, and its frame size was chosen for the Colt Cobra in 1950.
The example above, which is chambered in .38 Spl. and has a 4" barrel, was made in 1923. Being in NRA Excellent (Modern Gun Standards) condition-exhibiting only light wear at the muzzle and on a few high points-it's worth between $400 and $450.