by
posted on January 4, 2016
Support NRA American Rifleman
DONATE
Loading magazines is a manual task and it's a pain. It's tough on your fingers and if you are loading multiple mags, you end up with sore hands. The new 30-round Ultimag Smart Load by FAB Defense makes the task of loading up your mags a whole lot easier. The innovative, first of its kind, FAB Defense Ultimag Smart Load allows shooters to load their mags by incorporating a cable that releases the tension on the following spring for easy drop 'em in loading and drop 'em out unloading.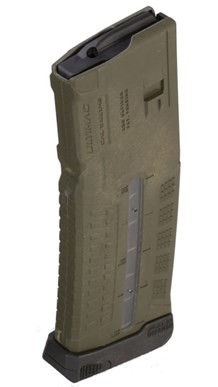 The heavy-duty polymer and cable design is built tough and the anti-tilt follower provides a positive sure feed.  This breakthrough design speeds up the process because shooters can drop in the rounds and then release the tension off the strong stainless steel following spring by pushing the smart release mechanism built into the bottom of the magazine. To unload, pull the cable to release the tension off the spring and the rounds drop out.
See for yourself in this informative (and funny) video!



The Ultimag Smart Load is available in black, green and dark earth and will work in any gun that uses a standard AR15 magazine. It is available exclusively to the U.S. by The Mako Group. Why load your mags the old fashioned way, when FAB Defense just made it all the more efficient?
The Mako Group is the exclusive U.S. distributor of battle-proven gear and accessories. Products designed for the Israeli Defense Forces, Israeli Security and Israeli Police by Meprolight, FAB Defense, E-Lander Magazines, Front Line Holsters and RTS Target Systems, are fully available to the U.S. market. 
For more information, visit themakogroup.com.