by
posted on December 22, 2017
Support NRA American Rifleman
DONATE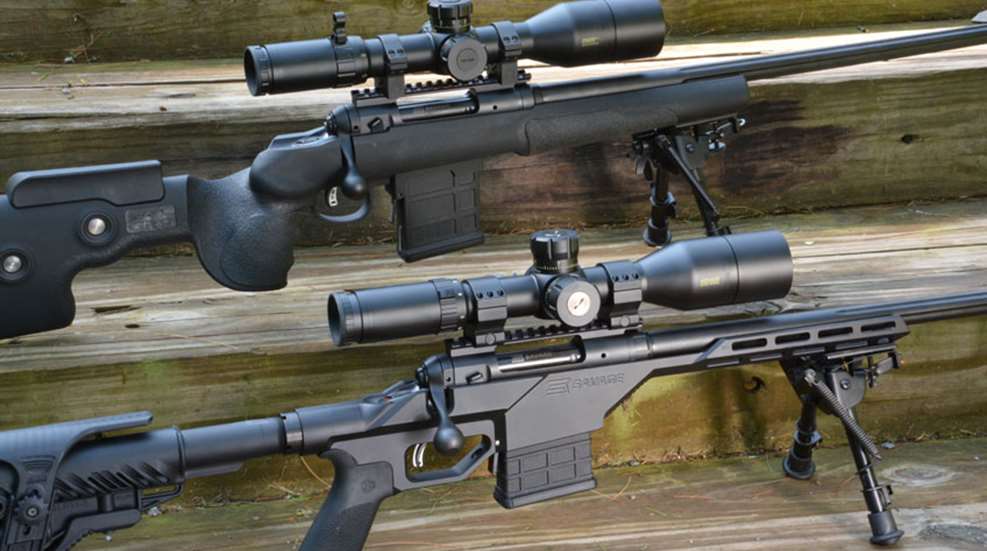 The shooting industry is always in flux, and, during my long career, I have watched a lot of changes occur. Some were just fleeting fads—electronic ignition and super short magnums for example—while others have stuck around. One trend that looks like it has traction is long-range shooting.
When I started writing about guns in the early 1980s, and for a long time after that, the focus for rifle manufacturers was almost exclusively on hunting, and their long-range rifles were marketed to that use. For a hunter back then, 500 or 600 yds. was a remarkable shot. With the exception of a few notable cliques of shooters, any claims of shooting game at distances beyond that were met with justifiable skepticism.
Shooting targets at distances of 1,000 yds. was pretty much the domain of some competitive shooters and a small and exclusive group of disciples who used custom-made or heavily modified rifles and ammunition.
Today, the realm of long-range shooting has shifted. While there is still a growing interest in long-range hunting, the long-range market is being driven more by target shooters. Those shooters are stretching the limits to distances that were the domain of the elite a generation ago. Now, with the introduction of Precision Rifle Series (PRS) competitions, interest in shooting long range is growing even faster.
The trend started with custom guns built to be mission-specific, but it wasn't long before the major gun companies took notice and began to introduce their own rifles. One of the most popular styles of rifle for long-range shooting is known as a "precision rifle." These are usually built on a modular chassis or with a specialized stock that has adjustments and design features specific to the sport of long-range target shooting. Prices initially started out high, but they were quickly driven down by competition and the growing market.
One rifle company that has taken notice and jumped hard into the long-range market is Savage. Two of its newest rifles are designed for this style of shooting, the Model 10/110 BA Stealth and the Model 10 GRS.
The barreled actions are pretty much the same for the two rifles. There are a few small differences in things such as muzzle crown, but the primary difference between them is their respective stocks. The Model 10/110 BA Stealth is a chassis rifle and the Model 10 GRS is fitted with a precision rifle stock. The idea is to cover both sides of the long-range spectrum. There is a clear split between those shooting chassis-built rifles and shooters who prefer more conventional, though still highly adjustable, stocks.
Both rifles feature heavy, fluted, button-rifled 24" barrels. (That configuration is standard for the 6.5 mm Creedmoor rifles tested. Other cartridge chamberings will vary in barrel length.) Savage says its workers blueprint the actions of these rifles, the same as a gunsmith would do when building a custom rifle. The receiver and bolt are all trued to the same center-line and are fitted as a single package.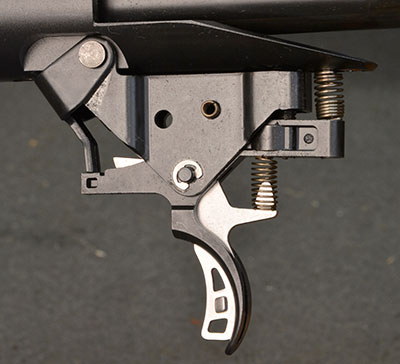 The Savage style of attaching the barrel with a nut allows for very precise control of headspacing, which is another factor in accuracy. It also allows for very easy replacement of the barrel if you ever shoot it out or want to upgrade to a high-end aftermarket barrel.
The bolts have an oversize knob that is integral to the handle, not threaded on as with most tactical knobs. The rifles feature the adjustable Savage AccuTrigger; the one on the Stealth broke at 2 lbs., 2 ozs. from the factory, while the GRS trigger was a pound heavier.
The Stealth has an 11-degree crown on the muzzle, while the GRS has a recessed 90-degree crown. Both guns have the Savage three-position tang safety. It locks the bolt shut when on and allows the bolt to be safely opened for loading and unloading when in the center position. Forward, twice, is fire.
Most serious long-range shooters use a muzzle brake or a suppressor. The muzzles on both rifles are threaded 5/8x24 TPI, which is fairly standard for many .30-cal. aftermarket brakes and suppressor attachments. The rifles come with a thread protector cap. For testing, I fitted both rifles with Bushnell 3.5-21X 50 mm Elite Tactical riflescopes.
Model 10 GRS
"We took a look at what the top shooters in PRS were using," then-Savage-spokesman Bill Dermody told me. "We saw that a lot of them were using rifles with stocks rather than chassis systems. That showed us a need, and we filled it with the Model 10 GRS rifle."
The rifle is fitted with the rather unique Norwegian-made GRS Berserk model stock (only right-hand models are available at this time). GRS has made stocks in laminated wood for years, which are hugely popular in Europe with target shooters and hunters. This stock copies that design, but with synthetic materials, which are lighter and less expensive. The GRS is injection-molded of 15 percent fiberglass-reinforced Durathane. While metal chassis systems can be expensive, so too can many of the more traditional-looking top-name fiberglass or carbon fiber stocks. Europotics sells the Berserk stock for $625, which is still considerably less expensive than many of the latter.


The stock features adjustments for the length of pull and cheekpiece height, that operate with the push of a button. The grip is a rather unique, oversize, offset affair that had me a bit skeptical at first. But after shooting this gun, I came to regard it as genius. It positions the hand perfectly for shooting, providing for fantastic trigger control. The grip and fore-end have overmolded rubber surfaces. The recoil pad is squishy rubber, but is only 0.4" thick, so it's not going to absorb a lot of energy. It's not an issue for the mild-mannered 6.5 mm Creedmoor cartridge as this heavy rifle mitigates recoil anyway. Besides, most shooters will add a brake to reduce recoil even more. The stock has a large, slightly rounded fore-end that works well when hand-held, shooting with sandbags or in a machine rest.
The stock has synthetic action pillars and bedding that is said to be 65 percent glass in a polymer matrix. There is a swivel stud in front to mount a bipod and two quick release style cups for mounting a sling on the left side of the stock. This rifle comes with a 10-round Magpul PMAG 7.62 AC magazine, and will accept any AICS-pattern magazines.


The Savage Model 10 GRS is available in short action only. It's chambered for .308 Win. with a 20" barrel; 6 mm Creedmoor with a 26" barrel and 6.5 mm Creedmoor with a 24" barrel.
The market continues to brim with new ammunition offerings for the 6.5 mm Creedmoor, so I tested the rifle with two new introductions to the market: Norma Match and Federal Premium with Berger bullets. I also included the old standby, Hornady 140-gr. ELD Match, which is a continuation of the original 140-gr. A-Max load that started the 6.5 mm Creedmoor down the road to its current success.
Accuracy, on average, was not quite as good with this rifle as with the Stealth, as it did not quite crack the magical minute-of-angle threshold with the ammunition tested. I rarely add caveats to any test results—they are what they are—but, in this case I feel it might be warranted.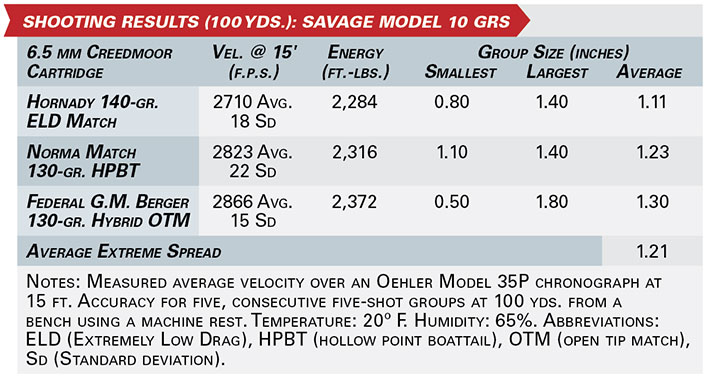 The rifle did show moments of brilliance with at least one group measuring right at half-m.o.a. With the Federal loads, the groups would be very tight, only to be spoiled by a flyer. In fairness, I should note that the ammunition I was shooting was from the earliest production. And although newer-production 6.5 mm Creedmoor loads were not available before this story was written, I have tested a similar, recent-production load using a Berger bullet in .308 Win. and found it to be extremely consistent and accurate in multiple rifles. I can only surmise that there may have been a few bugs in my early ammunition and that the latest-production 6.5 mm Creedmoor will be just as consistent as I witnessed with the .308.
I am sure that with a bit of break-in work and perhaps a little tweaking, this can easily become a sub-m.o.a. rifle. It is a rare Savage these days that is not.


---

Model 10/110 BA Stealth
The Savage Model 10 or Model 110 BA Stealth rifles (The 10 is the short-action version, while the 110 is the long-action) use a modular chassis design. In long action, the Model 110 BA Stealth is available in .300 Win. Mag. and .338 Lapua Mag.
The Model 10 BA Stealth is offered in 6.5 mm Creedmoor and .308 Win. It would appear that the .308 Win. is marketed to law enforcement, as it has a 20" barrel favored for urban use and easier to stow in a patrol car. The 6.5 mm Creedmoor has a longer, 24" barrel and is out-of-the-box ready for long-range shooting.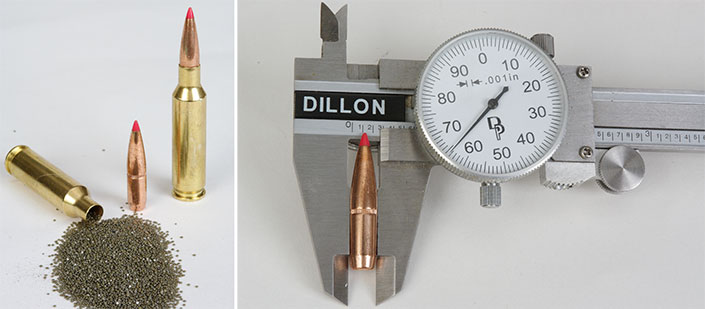 The 6.5 mm Creedmoor is the "in" cartridge right now, especially within long-range shooting circles. It is very capable out to 1,200 yds. and beyond, and will handle 99 percent of the long-range target shooting most people will encounter.
The Savage Model 10 BA Stealth in 6.5 mm Creedmoor weighs in at 9 lbs., 10 ozs., which is a bit light for this style of rifle. While that's a good thing for some competition shooting where shooters must move and/or support the rifle with their bodies, most shooters will want to add a muzzle brake to help mitigate recoil to help them observe their bullets' traces and impacts through their scopes.
The Stealth uses a Drake Associates Hunter/Stalker model chassis. This slim, monolithic chassis is machined from a single piece of aluminum. It has M-LOK slots on the fore-end. There is a front swivel stud to mount a bipod. It features a slim, short fore-end, which rests well on sandbags or on a machine rest, as well as on a bipod. With a lot of the barrel exposed, it cools faster. Also, I like the slim feel for shooting offhand.


The FAB Defense buttstock has a rubber buttpad and is adjustable for length of pull. The cheek rest is adjustable for height. The gun accepts quick-detach sling swivels on either side. Any aftermarket, AR-style, commercial-spec buttstock will fit the gun, so it's easy to change out in order to customize the rifle. The rubber AR-style grip is by Hogue and can also be changed easily.
There is a Picatinny rail screwed to the action to mount an optic. The magazine release is a large lever in front of the trigger guard. The supplied polymer magazine holds 10 rounds and feeds from the center. Any AICS-pattern aftermarket magazine will fit the gun.
I tested this rifle over several range sessions from 100 to 500 yds. with three factory loads. The most accurate was the Nosler 140-gr. HPBT Match load, which averaged 0.91". This is for five, five-shot groups at 100 yds.
A close second was the American Eagle 140-gr. load. At 100 yds., five, five-shot groups averaged 0.96". I also used this loading for some long-range testing out to 500 yds., which is the limit at my club. Two 300-yd., five-shot groups averaged 2.65". At 500 yds., two groups averaged 4.75". That is consistent sub-minute-of-angle (m.o.a) accuracy across the spectrum.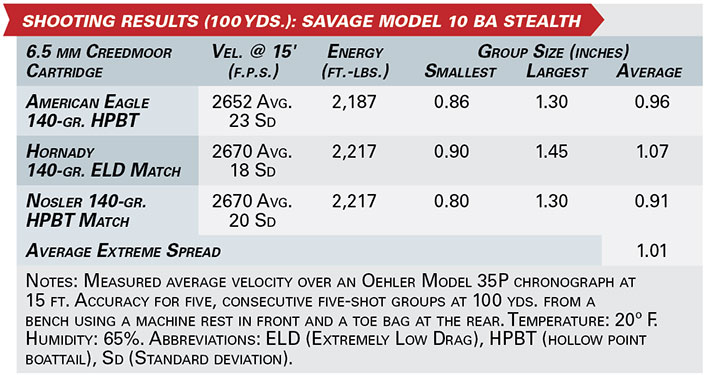 This Savage has a sticker price of $1,207, which is less than half the price listed for most factory-produced chassis precision rifles just a few years ago.
With the Model 10 GRS and Model 10 BA Stealth, Savage has brought a commendable level of accuracy and features to the masses at reasonable prices. Either of these rifles is well-suited right out of the box for long-range shooting or competition. Just add ammunition and optics and start pulling the trigger.