Support NRA American Rifleman
DONATE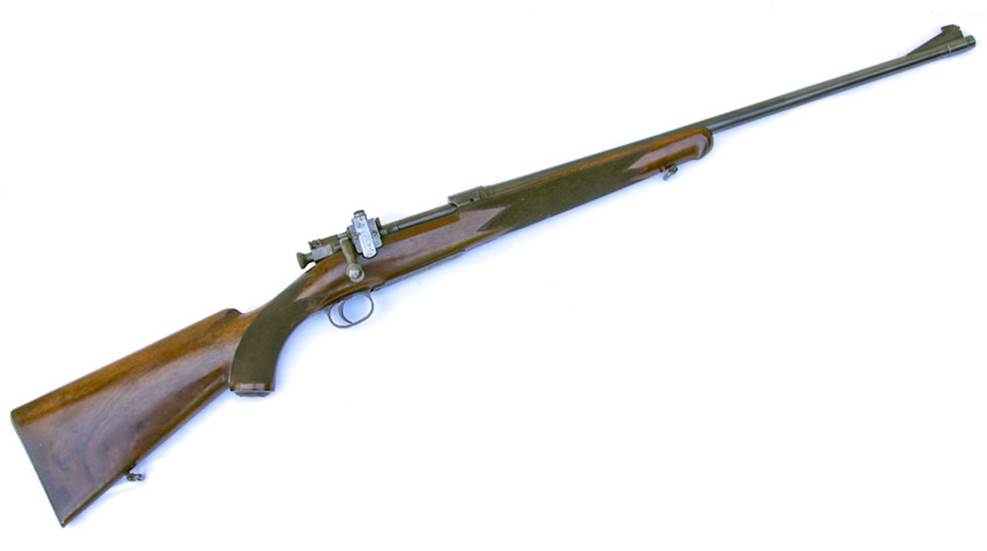 Recently, bolt-action rifles made in the early 20th century have escalated in collectability. Much of this can be attributed to the late Michael Petrov, author of Custom Gunmakers of the 20th Century (Volumes 1 and 2), which brought attention to important riflemakers of their day, such as Newton, Sedgley and Hoffman, who used World War I-surplus Springfields and Mausers to create customized sporters.
Nonetheless, even before Petrov's books, one gunmaker, Griffin & Howe, was already well-known. Still in business today, Griffin & Howe was formed in 1923, thanks to Maj. Townsend Whelen, an influential U.S. Army Ordnance officer and gunwriter.
Whelen suggested that a talented Pennsylvania gunmaker, James Howe, whose specialty was metalworking, join forces with skilled New York gunstock maker Seymour R. Griffin, who enjoyed a stellar reputation among affluent and demanding riflemen. Griffin had fashioned his first custom rifle in 1910, inspired by Theodore Roosevelt's African Game Trails and Roosevelt's praise of the M1903 Springfield.
Whelen often praised Griffin's expertise to readers of the widely read Arms & The Man (forerunner of
American Rifleman
).

Already a skilled cabinet maker working out of Hotel Bretton Hall, an apartment-hotel in Manhattan, Griffin continued customizing surplus Springfield and Rock Island Arsenal rifles until 1923.
With a rifleman's sense of form and balance coupled with shaping and checkering proficiency, Griffin used Circassian walnut, with many of his guns re-barreled (although unmarked) by Harry M. Pope. A majority of Griffin's rifles were engraved, primarily on the floorplates and trigger guards, and often by R.J. Kornbrath. Griffin did not mark his work until about 1922, when he began using a small "S.R. Griffin New York" banner.
This 90-percent rifle predates that­—as authenticated by Griffin & Howe President Guy A. Bignell, Vice President and Director of Gunsmithing Paul Chapman and Chairman Emeritus Joe Prather—as one of the earliest known Griffin rifles.
"Some of these characteristics which Mr. Griffin incorporated into rifle No. 511XX" the company stated, "include 1.) the ultra-fine hand-checkering and checkering pattern itself, 2.) precise inletting of the action to the stock, 3.) distinctive profile of the Griffin-carved stock, 4.) downward-angled plane cut into the stock parallel to the bolt ejection port, 5.) Griffin schnabel fore-end and 6.) cross-hatched steel buttplate with trapdoor … . These features set the tone for the Griffin & Howe rifles that were subsequently made by that firm."
With its original Lyman No. 48 receiver sight, this pre-Griffin & Howe rifle is worth $6,500 to $7,000.
Gun:
Seymour Griffin Rifle (built on U.S. Rock Island Arsenal Model 1903)
Chambering:
.30-'06 Sprg.
Serial No.:
511XX
Manufactured:
c. 1918-1921
Condition:
NRA Very Good/Excellent (Modern Gun Standards)
Value:
$6,500 to $7,000
Note: Manufacturing date denotes custom work by Seymour Griffin, not original manufacture of host Rock Island Arsenal Model 1903.