by
posted on July 3, 2017
Support NRA American Rifleman
DONATE
German Reichmarschall Hermann Göring, as well as being Reichminister of Aviation, also possessed a bevy of other titles and honorariums—one of which was Reichminister of Forestry. He was also an avid hunter and firearm enthusiast, and this may explain why he provided selected aircrews in his beloved Luftwaffe with a "survival arm" that would have been the envy of the most sophisticated Teutonic sportsman.
The M30 Luftwaffe Drilling ("drilling" being a derivative of the German word drei, or "three") was a superb, commercial-grade longarm possessed of two upper 12-ga. shotgun barrels and a lower barrel chambered for the long, tapered 9.3x74 mm R sporting cartridge. The latter first appeared just after the turn of the 20th century and provided performance similar to the British .400/360 Nitro Express. The rifle/shotgun combination provided a downed aircrew not only with a self-defense gun but also a hunting arm should they be stranded in inhospitable territory.
Manufactured by the esteemed Suhl, Germany, maker J.P. Sauer & Sohn, this combination gun was built to exacting standards and, in fact, was basically just a "militarized" version of one of the firm's popular sporting arms. We use the term "militarized" loosely, for there was virtually no attempt to skimp on quality. Possessing blued barrels of Krupp Lauftstahl, the action was tastefully case-hardened and engraved. A beautifully finished walnut stock featured checkering at the wrist, fore-end and cheekpiece. Weight was 7 lbs., 8 ozs., and overall length a well-balanced 42".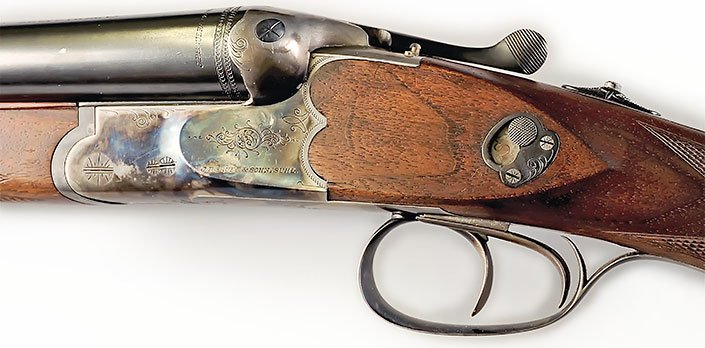 The M30 broke like a top-lever shotgun and employed a Greener-style crossbolt. It had two triggers. To fire the rifle barrel, one pushed forward on a tang-mounted selector switch. This automatically raised a 100-meter rear sight notch. The forward single-set trigger fired the rifle barrel and the rear trigger the left shotgun barrel, which was intended primarily for Brenneke slugs. By returning the selector to its rearward position, the right shotgun barrel could then be discharged with the front trigger. A safety switch was mounted on the left side of the stock behind the receiver. As well as the Sauer & Sohn markings and proofmarks, the drilling had Luftwaffe eagle insignias stamped in the stock and on the barrels.
Of course, one couldn't expect such an elegant arm to just be casually tossed inside a cockpit or cargo area unprotected. Accordingly, the M30 could be broken down and fitted into a green-painted aluminum transit case stenciled on its lid, "DRILLING M30 MIT MUNITION U ZUBEHöR" (Drilling M30 with Ammunition and Accessories). The ammunition consisted of one 20-round box of 9.3x74 mm R cartridges, 20 12-ga. Brenneke slugs and a 25-round carton of 12-ga. shotshells. Accessories included a cleaning kit contained within a cardboard carton, a 32-page instruction manual and a sling.
Originally, some 4,000 M30s were ordered from Sauer & Sohn, but apparently only 2,456 were actually delivered in 1941 and 1942. As slick as the M30 was, there are no recorded instances of one having been used in its intended survival mode.
The highly desirable M30 shown here, courtesy of Sportsman's Legacy of Kalispell, Mont., is in superb condition and has its original aluminum case and all appurtenances, save the ammunition. As such, it's worth a solid $22,000.
Gun: M30 Luftwaffe Drilling
Manufacturer: J.P. Sauer & Sohn
Chambering: 12 Gauge/9.3x74 mm R
Manufactured: c. 1941-1942
Condition: NRA Excellent (Modern Gun Standards)
Value: $22,000