Support NRA American Rifleman
DONATE
Winchester 1885 High Wall (top) and Winchester 1885 Low Wall images courtesy NRAMuseum.org

Some gunners—usually younger ones—come down with a case of the vapors at the mention of John Moses Browning. After all, the guy has been dead for nearly 90 years; it's time to get over him and move on. Others—often old fogeys like me—continue to hold John Moses in awe. He was the most prolific firearms designer who has ever lived, with some 128 patents awarded to him for everything from a single-shot rifle to a variety of semi- and full-auto guns. His incredibly fertile mind brought us everything from the plebian .25-cal. pocket auto to the tremendously elegant Superposed shotgun. Most gun designers after Browning have borrowed in some way portions of his designs and concepts in both gun as well as cartridge design. So I ask a bit of indulgence as we take a look at his first successful firearm—the Winchester Model 1885.
Browning made his first firearm in 1868 at the age of 13. His inventiveness came naturally, as his father, Jonathan, was a successful and innovative gunsmith in the then relatively new town of Ogden, Utah. The younger Browning worked in his father's gun shop, learning the trade that would define most of his life. Ten years after that first gun, Browning designed and built from scratch a self-cocking, single-shot, falling-block rifle. A year after that first prototype was made, he received a patent 220, 271for his rifle and began producing it with his brother, Matt. Between 1880 and 1883 the Browning brothers manufactured some 600 of these rifles.
Long-range target shooting was the sport of the day by the early 1880s, and the rifle caught the attention of Thomas G. Bennett, vice president and general manager of the Winchester Repeating Arms Company. Bennett made the trip to Ogden in 1883 and bought the rights to Browning's rifle, thus inaugurating a longstanding relationship between Browning and Winchester Repeating Arms. Winchester pretty much owned the repeating rifle market at the time but had no single-shot rifles to offer. Always eager to increase its market share, the company wanted a rifle desirable to target shooters, as well as new shooters who may not be able to afford a repeater.
During the following two years engineers at Winchester designed and implemented a few improvements and variations to Browning's rifle. Initially two variations which became known as the High Wall and Low Wall were developed. The High Wall featured a more massive receiver that covered most of the breech block from the side. Intended for large, powerful cartridges, the High Wall was offered in many of the powerful black powder cartridges of the day including .45-70 Gov't, .45-90-2 4/10 and .50-90 Sharps when it debuted in September of 1885. A few Model 1885s were even chambered in 20 gauge. Eventually myriad cartridges were chambered in this super-strong single-shot rifle. Even after it was discontinued in 1920, Winchester used some old High Walls as test guns when developing new smokeless cartridges. Standard barrel lengths ranged from 24" to 28", and although intended as a rifle for powerful cartridges, Winchester chambered the High Wall in .22 cal. for army marksmanship teams; these were informally called Winder Muskets in honor of Col. C. B. Winder, who promoted the idea of marksmanship training with a rifle of similar size and weight to the service rifle but chambered in .22 rimfire.
The Low Wall version was intended for less powerful cartridges like the .22 Short, as well as the pistol cartridges of the day—.44-40 WCF, .38-40 WCF and .32-20 WCF. Later in production most all of the rimfire cartridges were chambered in the Low Wall, along with more modern pistol cartridges like the .38 Special.
As the production of the Model 1885 matured several variants were offered. A fairly all-inclusive list included Plain Sporting Rifle, Special Sporting Rifle, Special Single Shot Rifle, Schuetzen Rifle, Musket, Carbine, Shotgun and the aforementioned Winder Musket. In addition, Winchester made special order variations to just about anything a customer could dream of. Barrels as short as 14" and as long as 38" left the factory, as did fancy wood, set triggers, takedown options, just about any cartridge up to .577 Eley and special sights.
The Model 1885 had a decent run—from 1885 until 1920 with some 140,000 rifles produced. It has been copied by several offshore gun makers, but Winchester reintroduced it in 2005. Today the High Wall Traditional Hunter (below, top image) is offered in .38-55 WCF and .45-70 Gov't. The Low Wall is chambered in .22 Hornet, .222 Rem., .223 Rem., .22-250 Rem., .243 Win., .204 Ruger and 6.5x55 Swede. A Low Wall Hunter (below, bottom image) is chambered in .22 LR, .22 WMR, .17 HMR and .17 WSM.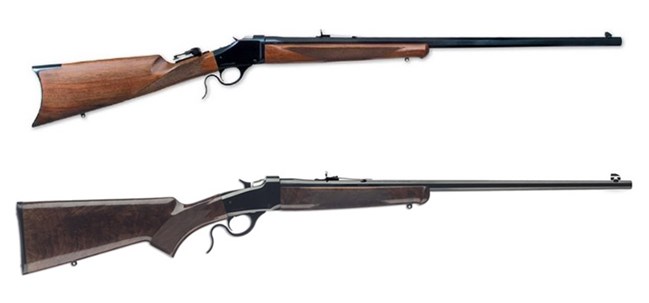 A single-shot rifle isn't really much of a handicap for most, and it offers a few advantages over modern repeaters. The primary advantage is a similar overall length with a longer barrel. Too, many one-shooters are a bit lighter and thus easier to pack around than their repeating counterparts. The Model 1885 is a prime example of why many of us old fogeys still revere old John Moses Browning. More than 130 years after its introduction the rifle is still being made and used by savvy shooters and hunters.