posted on January 2, 2013
Support NRA American Rifleman
DONATE
1/2/2013
For the most part, I'm a Remington 700 kind of guy. I don't buy into the notion that a control round feed rifle is better, or more reliable, than a push feed rifle. I also like my firearms made in America. My first center-fire rifle was a Remington 700. That was almost 35 years ago and, if I remember correctly, it cost about $400. It was a $400 rifle that would knock the white off a golf ball at 100 yards every time.
Remington's newest bolt-action rifle is the Model 783. The "7" in the model designation comes from the 700 line of rifles, the "8" is kind of a throwback to the affordable but reliable model 788, which was discontinued 20 years ago, and the "3" is for the three in 2013. The suggested retail price is $451, but you can expect street prices to be closer to $400.
Anytime a firearms manufacturer offers a bargain-priced rifle with claims that it will perform like a higher-priced model, shooters are skeptical. I'm no different. I've heard the same sales pitch numerous times, and there's always a catch or some sort of gimmick to the greatness. The 783 was no different; I needed proof.
In September 2012, I had an opportunity to be the first non-Remington guy to see and shoot the 783. Two Remington employees were preparing for a New Mexico Elk hunt with the 783, and we got together in a big West Virginia cow pasture to see how well this new rifle worked. We set up steel targets from 100 to 500 yards, and after zeroing four 783s we proceeded to burn through about a case of 7 mm Rem. Mag. ammunition.
The first thing I noticed was how easy the rifles were to sight in. I've sighted in enough rifles to know those that are not consistently capable of shooting sub two-inch, five-shot groups at 100 yards can become a nightmare. We did not have that problem. We zeroed four rifles with only one box of ammunition.
After that I got behind one of the 783s and fired six shots using the same point of aim. The first shot struck a bit high and I'll blame that one on first shot unfamiliarity. The next five printed a nice 1-inch group with Remington Premier ammunition loaded with Swift A-Frames bullets. For what it's worth, I've never had a lot of luck getting Swift bullets to print sub-inch groups in any rifle.
Next we backed off to 500 yards and proceeded to whack steel. It was no trouble to clean the course with the 783 from the bench. We even moved out among the cow patties and shot just as well from various field positions. I must add that we were aided by excellent Leupold CDS riflescopes. Equipped with ballistic correction dials for the ammunition we were using, all we had to do was dial in the range, hold dead on and pull the trigger. It was almost too easy. The 783 shot great and there were no mechanical issues encountered.
So, the 783 delivers on performance; as far as I'm concerned it functioned and shot every bit as well as my first model 700. But, what exactly is the Remington model 783?
According to John Fink, senior product manager for rifles with The Freedom Group, the model 783 was designed with accuracy, durability and reliability as key elements. It is intended to fill the gap between the Remington Model 770 and Model 700 SPS, and it is being built in America's largest rifle manufacturing facility located in Mayfield, Ky.
The 783 has a proprietary cylindrical receiver with a minimally sized ejection port. Both features add to the rigidity of the action. All 783s, regardless of caliber are fitted with either a 22- or 24-inch magnum contour barrel, which is attached via a barrel nut system similar to that used on Savage rifles and the Marlin X7 series of bolt-actions. Two Model 700 front scope bases can be used for scope mounting, but integral scope mounts will be available from Remington. Another nice feature is the bolt, which has dual, opposing locking lugs, a 90-degree throw and a sliding plate-style extractor that is more similar to a Sako or M16 extractor than the one used on the Remington 700.
The stock is synthetic and has an ergonomic appeal with both the trigger guard, and front and rear sling swivel studs molded in. It is attached to the barreled action with two screws that pass through pillars to ensure a free-floated barrel. And, to diminish felt recoil, a Remington SuperCell recoil pad is a standard feature.
The 783 also has a new consumer adjustable trigger, which leaves the factory set at 3.5 pounds. This trigger, which Remington calls the CrossFire Trigger System, is similar in appearance to the Savage AccuTrigger and the Marlin Pro-Fire Trigger; it has a center lever that locks the trigger until it is fully depressed. It is indeed a very nice trigger, and broke and felt, dare I say, as clean as a Timney trigger.
A detachable box magazine is also standard. The magazine fits flush with the bottom of the stock and the magazine release, which is recessed, is located at the front of the magazine well. The magazine was easy to load and cartridges fed into the chamber just as smoothly.
Initially, the model 783 will be available in three long-action cartridges: .270 Win., 30-06 Sprg. and 7 mm Rem. Mag., and one short-action cartridge: .308 Win. According to Fink, by mid 2013, additional long- and short-action chamberings will be available, as will rifles with stocks sized for shooters with smaller statures.
Anyway you look at it, the model 783 is big news. No, it's not a Remington 700, but as a friend of mine likes to say, "Few things are." But the 783 is a bolt-action rifle that shoots like a model 700 and costs as much as a 700 did 20 years ago. That's something special in today's economy. Actually, that's something special in any economy. It looks like Remington has pulled a rabbit out of the hat with the 783.
Gallery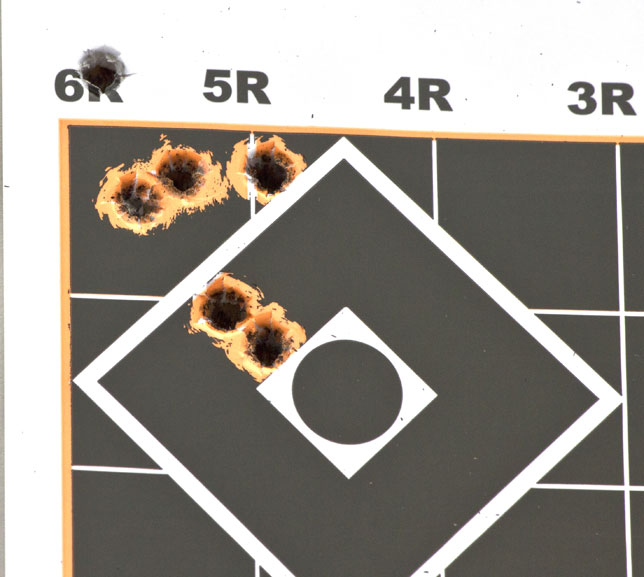 Grouping
This five-shot group is indicative of the precision that all four of the field tested model 783s demonstrated. (Note: The single shot out of the black was the first shot fired.)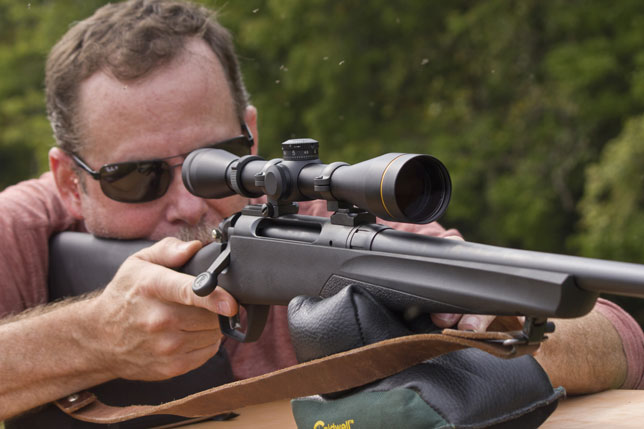 Testing
During the 783's first field test four different rifles were tested. Each rifle delivered 100-yard groups right at the 1 m.o.a. mark, and there were no malfunctions of any kind.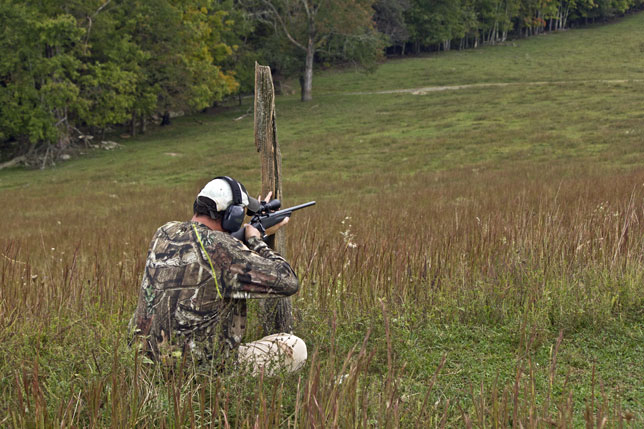 Shooting Steel
The Remington 783's first field test involved shooting at steel targets from 100 to 500 yards. It performed admirably from the bench and from field shooting positions.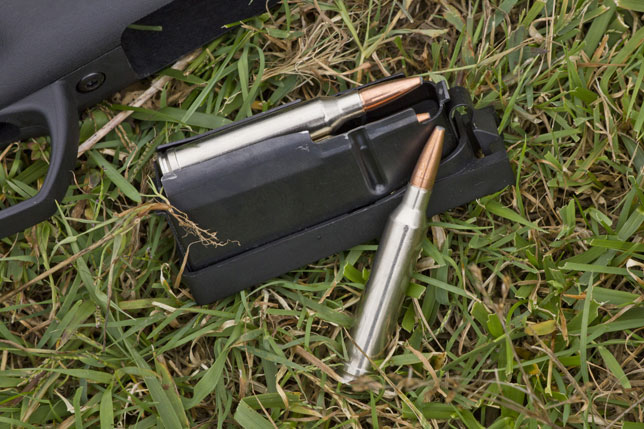 Magazine
A flush fit, detachable box magazine is standard on all Remington model 783 rifles. The magazine release is recessed into the stock, just forward of the magazine. The magazine for the Remington model 783 is easy to load and holds four cartridges.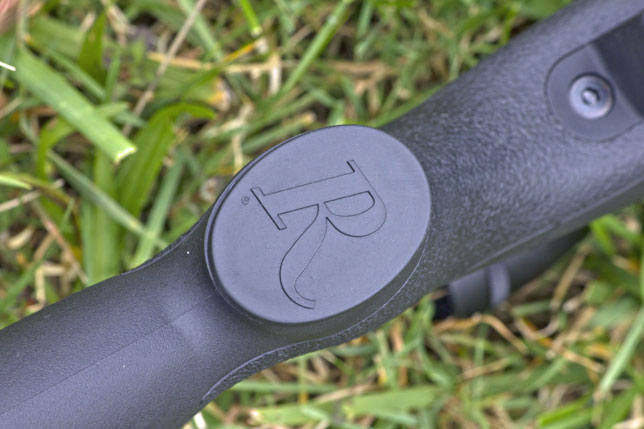 The Remington "R"
The grip cap on the Remington model 783 has a molded-in Remington "R."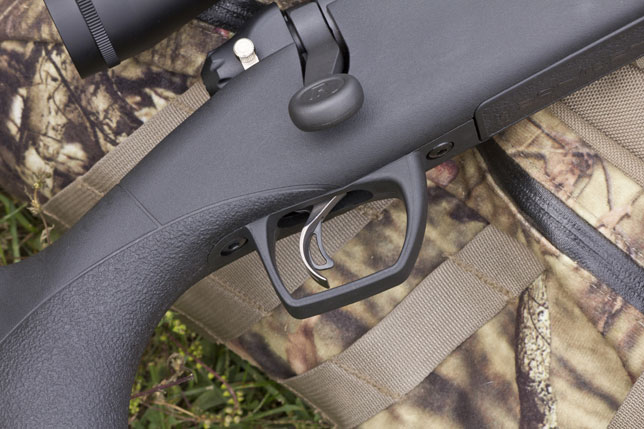 Trigger & Bolt Knob
The large trigger guard on Remington's new model 783 bolt-action rifle is molded into the synthetic stock. Also, the bolt knob on the Remington model 783 is the same size as the bolt knob on the Remington Model 700. However, on the model 783 the knob is flat.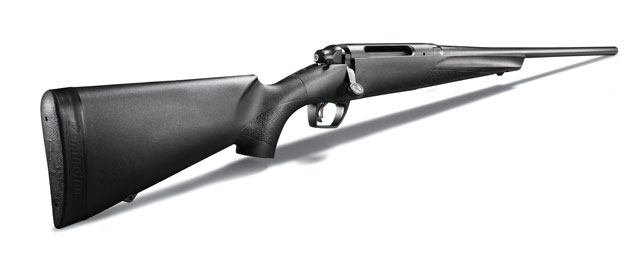 Remington 783
Remington's newest bolt-action, the model 783, has clean, trim lines and a suggested retail price of $451.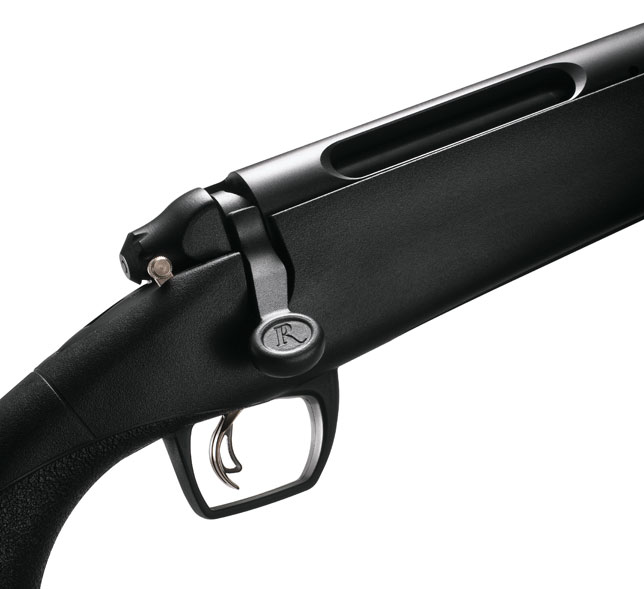 Safety
A consumer adjustable trigger and a two-position safety are standard features on the new Remington model 783.

Remington New Rifle
Remington's new Model 783 bolt-action rifle is affordable and accurate. It also costs about the same as a Remington model 700 did 20 years ago.