posted on December 11, 2013
Support NRA American Rifleman
DONATE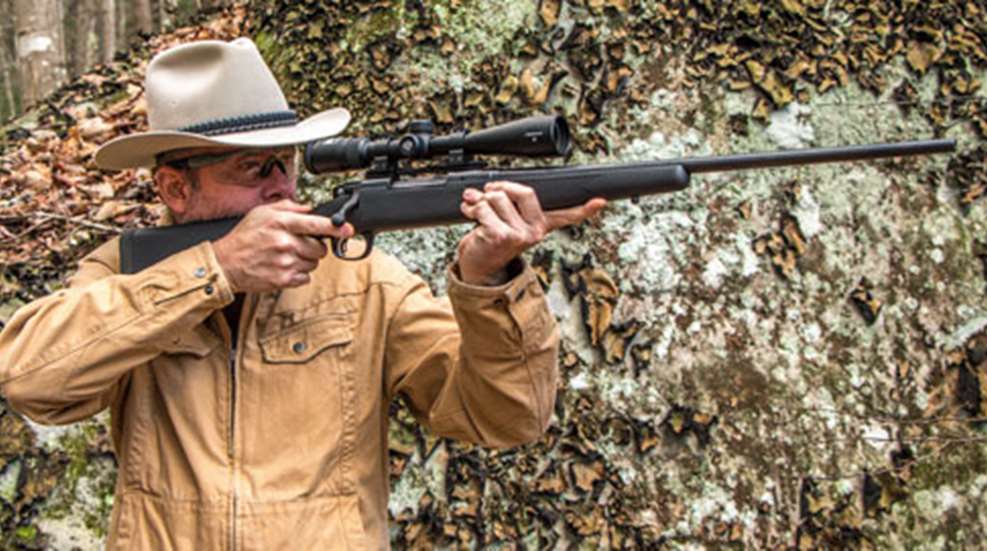 Practicality in cartridge selection is a popular topic that is often preached more than it's practiced. Practicality in rifle selection is less fashionable in conversation and in service. This is due in part to the vanity of hunters who like to have a cool or expensive rifle to show off around the campfire. It's the same reason you could buy a Ford Mustang with a V6 instead of a 300 horsepower V8. High gas prices make the V6 more practical since the Mustang's sexy lines would still turn heads on the way to the post office. Ford, however, sold a lot of V8 Mustangs.
From a practical standpoint a rifle should be completely reliable, provide suitable accuracy, long-term durability and ease of operation, for as little money as possible. If you look at big-game hunting rifles from that point of view, it would be hard not to see Marlin's X7 line of bolt-actions.
The X7's most notable feature is the Marlin designed Pro-Fire Trigger. In the center of the trigger there's an actuator or release, which has come to be called a "passive safety." This actuator prevents the rifle from firing unless it is pressed with the trigger. This is similar in function to the Savage AccuTrigger and triggers on Glock pistols. With the action removed from the stock, the trigger is easy to adjust for pull weight. Marlin claims the Pro-Fire Trigger is creep-free, though I could detect a minuscule amount of creep at the lowest weight setting. Even so, this is a great trigger for a factory rifle, especially when you consider many replacement triggers cost a third as much as the X7 rifle.
The X7's injection molded, pillar-bedded, synthetic stock has a straight comb and cheek piece. The rifle has a two-position safety and a fluted bolt that is easy to remove and disassemble for cleaning. It is a push-feed design with a spring-loaded ejector and an extractor that slides at a 90-degree angle in a raceway cut into the bolt's face. The head of the bolt is separate from the bolt body and attached by a robust pin. This permits the head to slightly flex, potentially compensating for alignment errors incurred during assembly and action torque when firing.
For testing the X7, I mounted a new 3.5-14x40 Nikon Pro-Staff riflescope with a BDC reticle. This brought the total rifle weight to 8 pounds, 2 ounces. The X7 comes with Weaver bases but will work with Winchester model 70 mounts. I fired five, five-shot groups from the bench with four different factory loads, cooling the barrel after every fifth shot. Average for all 20 groups was 1.755 inches. The smallest group measured 1.15 inches, the largest, 2.56 inches. The best single load average for five groups was just a shade less than 1.5 inches.
Problems with a rifle very often only surface in the field. How a hunting rifle performs and handles during off-hand shooting is even more important than how it shoots from a solid rest, at least for hunters. Feeding from the internal box magazine was flawless and it wasn't necessary to insert a cartridge into the magazine before chambering. You could just toss a cartridge in the ejection port and close the bolt.
I worked with the rifle from various shooting positions, manipulating the bolt slow and fast and no issues were encountered. Starting with a loaded rifle and shooting from the standing off-hand position, I used a shot timer and fired several three-shot strings at a deer target 60 yards down range. Average time for three kill zone (6-inch circle) hits on the deer was about eight seconds. These times are consistent with similar rifles I have tested in the past.
There are five versions of the X7 available from Marlin, each is configured a bit differently and one of the five should appeal to you and the game you hunt. With the exception of the X7Y (Youth) and the X7VH (Varmint), all X7s are available in .243 Win., .25-06 Rem., .270 Win., 7 mm-08 Rem., .308 Win. and .30-06 Sprg. The X7Y is only available in .243, 7 mm-08 and .308 and the heavy barreled X7VH comes in only .22-250 Remington and .308.

About 10 different hunters use our camp each year and it's not uncommon for one or more to experience rifle, scope or ammunition problems during the two-week buck season. I arrived at camp one year only to discover I'd left the bolt for my purely practical, but custom built, .257 Roberts at home. I hear stories every year about hunters getting to camp only to find they have a gun related issue of some sort. At that price, it makes sense to buy a Marlin X7 as a backup or camp gun for knuckleheads like me, or for anyone else that might need to use a really practical hunting rifle.
Marlin made its name building what are arguably the best lever-action rifles in the world. Marlin lever-action aficionados who would like to remain brand loyal, but would also like to have a bolt-action, have several X7s to choose from. For those folks and others who may not be loyal Marlin owners, one of the X7s should give you practically everything you are looking for in a hunting rifle and you'll still have some cash left over for a scope.
Manufacturer: Marlin Firearms, Marlinfirearms.com, (800) 544-8892
Model/s: X7, X7S, X7C, X7Y, X7VH
Caliber: .22-250 Rem., .243 Win., .25-06 Rem., 270 Win., 7mm-08 Rem., .308 Win., .30-06 Sprg. (tested)
Capacity: 4+1
Stock: Synthetic, Black or Realtree APG HD
Barrel: 22" with recessed crown (26" on VH model)
Twist: Varies by cartridge
Sights: Weaver bases included
Length: 42 ½" (X7Y – 41", X7VH – 46")
Weight: 6.5 lbs.
Length of Pull: 13 3/8" (X7Y - 12 3/8")
Suggested Retail Price: X7 ($391), X7C ($443), X7S ($443), X7Y ($391), X7VH ($396)