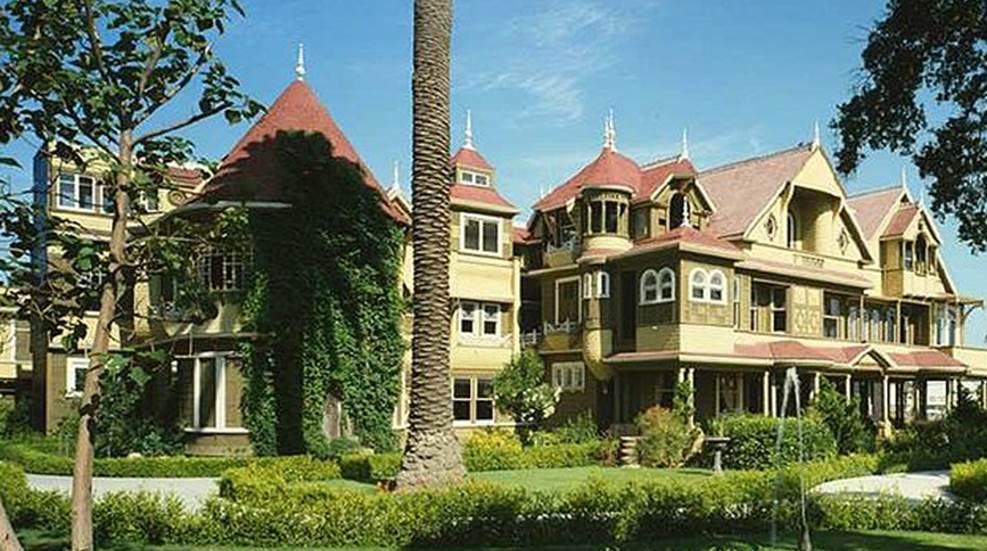 Winchester Mystery House: Library of Congress image

From the outside, the Winchester "Mystery" House, located in a suburb of San Jose, Calif., undeniably extolls grandeur. At first glance its myriad broad windows, turrets and balconies are eye-catching. But on closer inspection, all is not as it seems. The house and its owner have become shrouded in myth and mystery, and are now set to be the focus of a new Hollywood movie.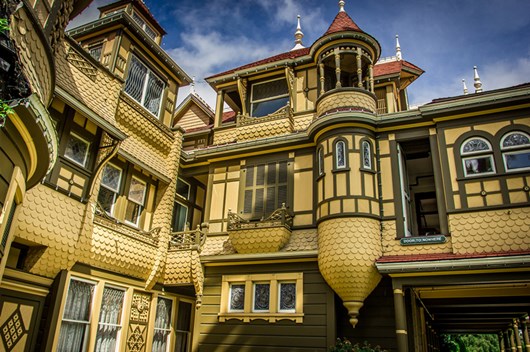 The house's second story "door to nowhere" that opens out to a sheer drop. (winchestermysteryhouse.com)

The story of what has since become known as the Winchester Mystery House begins in 1881, when William Wirt Winchester, treasurer of the Winchester Repeating Arms Company and the son of its founder, Oliver Winchester, died of tuberculosis at just 43. He left behind a wife, Sarah, and a monumental inheritance of more than $20 million, roughly equivalent to $500 million today. (Sarah and Oliver Winchester, right. Wikipedia images)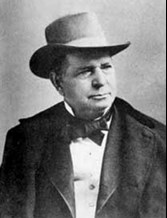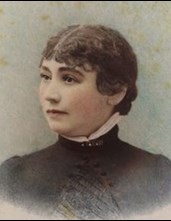 After several years of traveling, Sarah Winchester moved to California to be near family and, in 1886, began work on what would become a lifelong project—a grand home that would eventually boast, according to some sources, more than 200 rooms, extensive gardens and a tower that topped seven stories high. After purchasing a 160-acre plot of land she began building a house in the American Queen Anne style, which was popular during the late 1800s.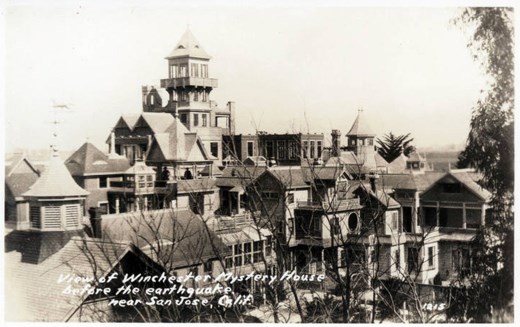 Sarah Winchester's grand home before the devastating quake of 1906 that saw the seven-story observation tower collapse. (image courtesy San Jose Public Library California Room)

Winchester's maze-like house reportedly conformed to no set architectural plans. Instead, over the next 36 years, she directed the construction herself. She allegedly had teams of builders, carpenters and tradesmen working 24 hours a day, 365 days a year. For Sarah, money was no object as her shares in the hugely successful Winchester Repeating Arms Company continued to amass her fortune, which was built on Winchester's unprecedented success. The 1880s, 90s and early 1900s saw the company introduce some of their most iconic designs, including John Browning's 1886, 1892 and 1894 lever-action rifles and 1897 shotgun, as well as Thomas Crossley Johnson's popular series of self-loading rifles. Winchester dominated the firearms market into the first decade of the 20th century.




Winchester has produced more than 7 million of the wildly successful Model 1894s (Rock Island Auctions).

As a result, Sarah was able to explore her architectural ideas on an ever-changing slate. The makeup of her home fluctuated hugely during its near 40-year construction. With no grand plan, this inevitably led to architectural abnormalities including stairways that led nowhere, interior windows, doors that opened to solid walls, upside down pillars, tiny doorways leading into large rooms and even a "door to nowhere" that opens out to a sheer drop.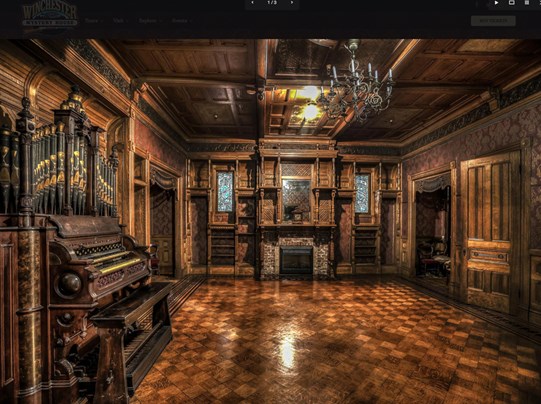 The Winchester House grand ballroom cost $9,000 to build in the 1890s (winchestermysteryhouse.com).

The house today covers 24,000 square feet, four stories and as many as 160 rooms. It had 10,000 windows, 2,000 doors, 47 chimneys, 40 staircases, three elevators and a grand ballroom complete with an organ. Some have likened aspects of Mrs. Winchester's house to the art of M.C. Escher. While she stopped short of building upside down staircases or rooms on their sides, there are plenty of dead ends and hidden rooms.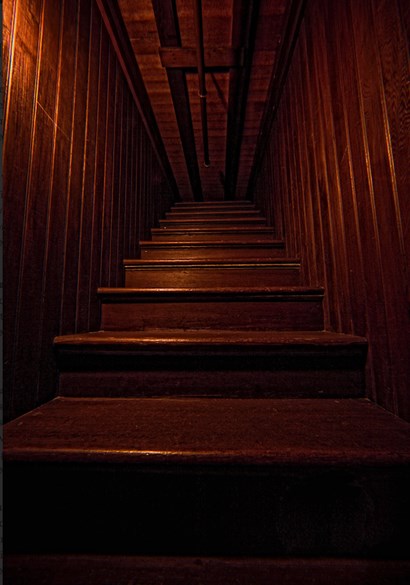 The mysterious and unexplained stairway to nowhere (winchestermysteryhouse.com)

The mansion that stands today, however, is not as it once was. On April, 18, 1906, San Jose was rocked by the great San Francisco earthquake. The Winchester House was not spared, and Sarah's house suffered extensive damage, with its seven-story tower collapsing and Sarah reportedly being trapped in her rooms for several hours. After the earthquake that destroyed as much as 80 percent of San Francisco, Sarah directed her workmen to continue working on new parts of the house, leaving many of the damaged areas unrepaired.
An intensely private person, Sarah never felt the need to explain her architectural vision and many have since tried to unravel her motivations. Some claim she was a Rosicrucian or a Freemason that sowed symbols from those philosophies throughout her house. Others have suggested more supernatural explanations for the unusual home.
The supernatural folklore surrounding Sarah suggests that after a meeting with a spiritual medium, she built her home to house the many tortured spirits created by the rifles that her family had sold. The story goes that Sarah believed she and her family were haunted by ghosts and that the ever-changing house was an effort to confuse or appease the spirits, so much so that it's claimed that the house even had a dedicated Séance Room where Sarah communed with ghosts.  
Another less-spooky explanation for the unusual construction of the house is that the widowed Sarah used the project to occupy herself and used her wealth to keep a large number of craftsmen employed for decades, creating a thriving industry and community in the area. But this explanation, while more plausible, does not inspire the same paranormal intrigue.
The folktales surrounding Sarah Winchester and her home have now been brought to the big screen, with "Winchester," starring Helen Mirren and Jason Clarke, and directed by the Spierig Brothers ("Jigsaw"). The film depicts Winchester's seemingly erratic architectural choices as her attempt to build a prison to hold the hundreds of ghosts that haunt her and her family.
After the 1906 earthquake Sarah spent less time at the house, staying instead at her ranch, but construction nevertheless continued. Sarah Winchester died in her sleep at age 81 in 1922 while staying at the house. The house in San Jose was left to her niece, who auctioned off much of its contents. The Winchester mansion itself was sold in 1933, and the new owners opened it as a "museum," weaving the story of the ghosts into the house's appeal.
Today, the Mystery House is open to the public with 110 of the house's rooms open, as well as a small but comprehensive collection of Winchester rifles. There is also a museum dedicated to the little-known Winchester Products Company, set up in the aftermath of World War I to maintain Winchester's profitable production line. The Products Company museum displays some of the many commercial and household products offered by Winchester in the 1920s.

Additional Reading:
Winchester Movie Trailer
The Winchester Story
Three Hundred Words: Winchester's Horse and Rider 
Winchester Celebrates 150th Anniversary