by
posted on February 28, 2020
Support NRA American Rifleman
DONATE
At first look, it's as ungainly as a newborn colt. More than a foot in length and weighing about 2 3/4 pounds loaded, its weight and bulk hardly lends itself to any modern notion of a carry gun, but a closer inspection reveals a gracefulness in construction no longer seen in today's pistols. The Mauser C96 is nothing if not a collection of contradictions.

First, it wasn't designed by Paul Mauser. In fact, he didn't even like the outsized pistol and attempted to forbid its development. But Fidel Feederle, Mauser's Superintendent of Experimental Workshop, and his brothers, Friedrich, and Josef, secretly advanced the project from inception to prototype, eventually winning over the owner's objections. Mauser eventually lent his name to the pistol, calling it the Mauser Military Pistol in the hope that the German military would adopt it, making Mauser a lot of money from a government contract—a common goal of many firearm entrepreneurs.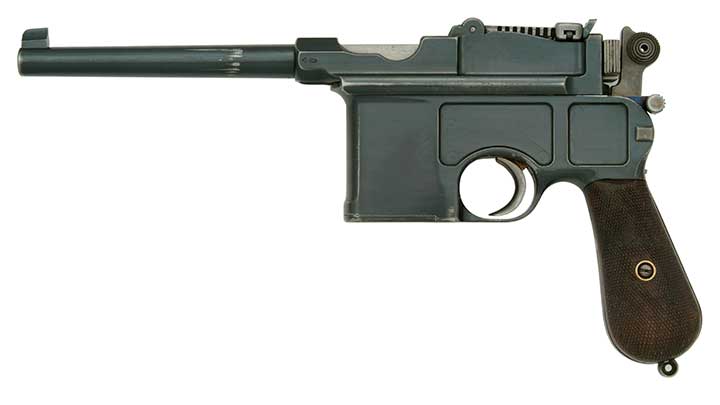 That, of course, never happened, but what became known as the C96 pistol had a 41-year commercial run—1896 until 1937—with more than a million made. Many more were produced by Spain and China during the first half of the 20th century, most, by the way, infringing on the Mauser patent. Though a number of countries made some smaller orders for the C96, China was the only one to adopt it as an official military sidearm.

What the pistol lacked in terms of Teutonic military acceptance, it made up with in panache in the eyes of many British military officers, including one lisping young officer, Winston Churchill, who first used it at the Battle of Omdurman in the Sudan in September 1898. Many British officers smitten with its profile purchased a C96 through Westly Richards. Though not an official military pistol from its home country, the C96 has been involved in no less than 16 wars or conflicts ranging from the aforementioned Battle of Omdurman to the Soviet Afghanistan War that ended in 1989.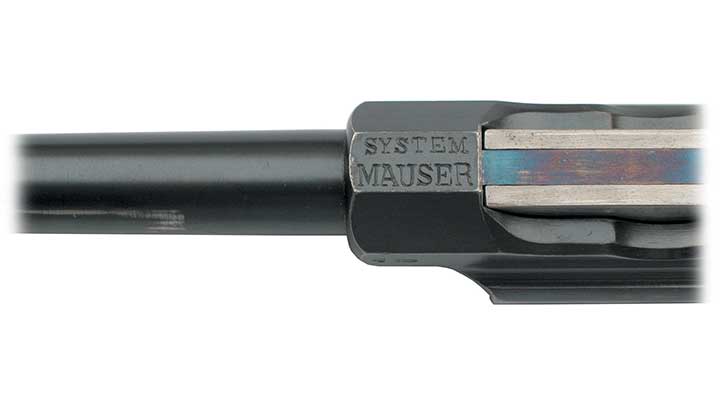 The profile of the C96 is as iconic as the 1911, Glock or Colt Single Action Army. One look, and there's no mistaking what it is. From the integral box magazine located forward of the trigger guard to its namesake gripping handle and rather straight hammer—and let's not forget the detachable shoulder stock that doubles as a carrying case—the C 96 is a one-of-a-kind pistol.

Initially the C96 was chambered in the 7.63x25 mm Mauser, but by 1902 it was made in 9x19 mm Parabellum, usually, but not always, distinguished by a large red "9" burned deeply into its wood grip. A few were chambered in 9x25 mm Mauser Export, and some Chinese knock-offs were chambered in .45 ACP. The pistol operates on the short-recoil system. A curved stripper clip charges the magazine from the top.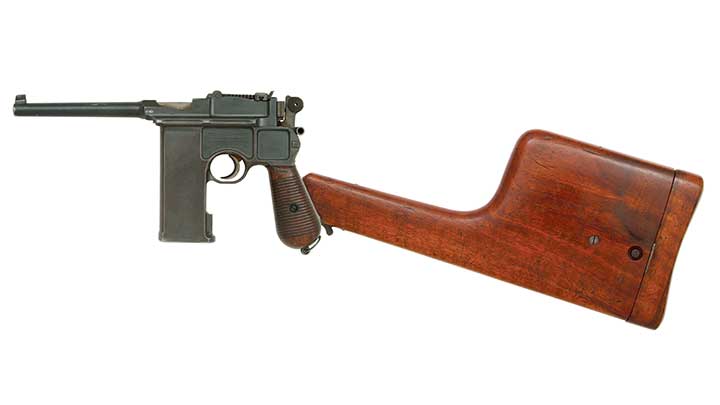 Magazine capacities ranged from six to 20 rounds, with the 10-rounder being the most popular. Barrel lengths ran from 99 mm (3.89 inches) to 140 mm (5.51 inches) with the 140 mm being the most common. Sights were an inverted "V" front with an adjustable "V" notch tangent rear with graduations out to 1,000 meters—a rather optimistic range for a pistol.

Variations abound, and a dedicated C96 collector can amass dozens of examples without doubling any one in particular. A few—notably the M1932/M712 "Schnellfeuer" and Brazilian PASAM (Pistola Automática Semi-Automática Mauser)—were made to fire full-auto.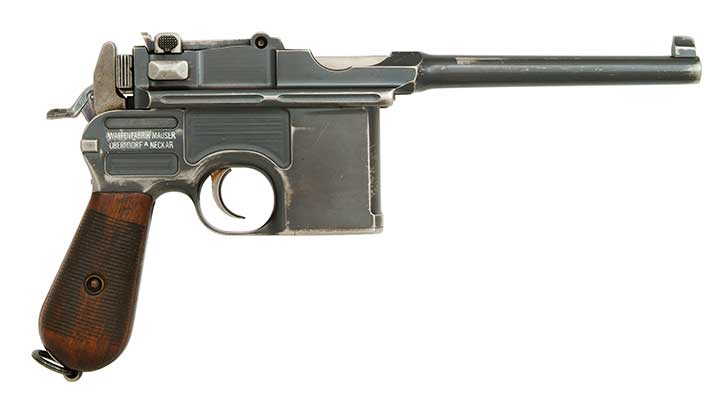 The C96 carried with it a fair reputation for accuracy but so-so reliability—although Churchill credited the pistol with saving his life. It is hopelessly complex and slow in operation, and that complexity, combined with the cost of producing the pistol ushered its demise as more reliable, less costly and more portable semi-automatic pistols were developed. The exotic look of the pistol made it a status symbol and eventually a movie star. It has enjoyed feature roles in many movies like "From Russia With Love" and "Joe Kidd."

Today the C96 is mostly a collector's gun, and collectors often find themselves in as much of a contradiction as the gun itself. Production records are scarce; Mauser's own records were destroyed in the aftermath of World War II. Nonetheless it retains the "cool factor" it had more than a century ago.