by
posted on June 12, 2020
Support NRA American Rifleman
DONATE
This article appeared originally as "A Grisly Business" in the August 2003 issue of American Rifleman. To subscribe to the magazine, visit the NRA membership page here and select American Rifleman as your member magazine.

---
Australian-made Lee-Enfield sniper rifles were only just coming on line as World War II ended, and for that reason, their use in that conflict was limited. Some were present during the mopping-up campaigns on islands in the southwest Pacific during 1945, and the Australian War Memorial has pictures to prove it. The majority of active service use occurred during Australia's participation in the Korean War in the early 1950s.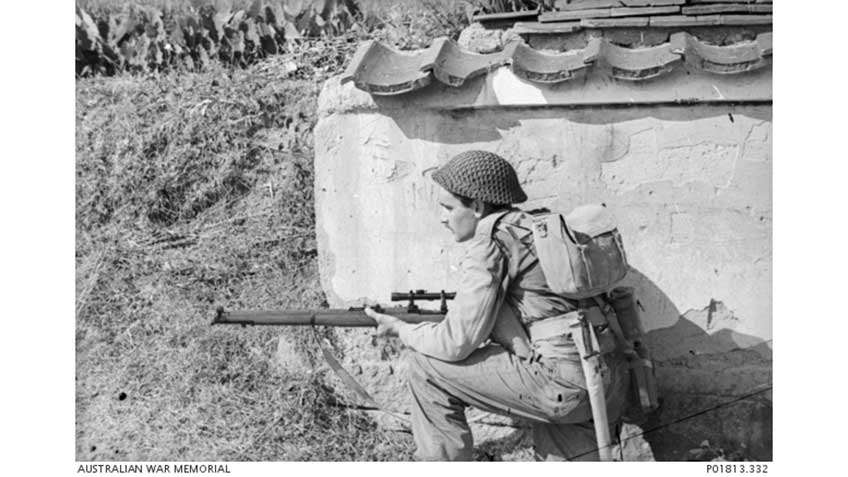 According to Ian Robertson, who was a sniper with the 3rd Battalion of the Royal Australian Regiment in Korea in 1950 and 1951, during fighting for a terrain feature known simply as "614," he was sniping on and off for a whole week at very long range. The company commander's map indicated the range varied from between 900 and 1,200 yds., though Robertson says it didn't look to be any more than about 600 yds.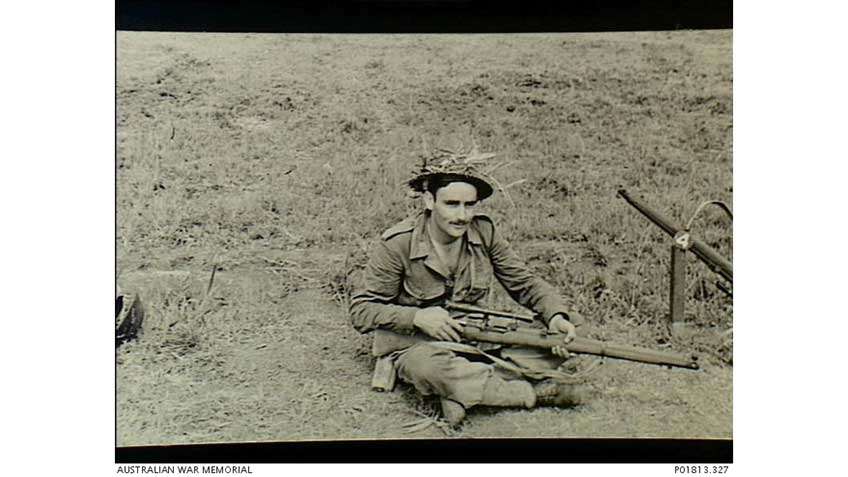 Operating at high altitude and firing from ridgeline to ridgeline into a light headwind, shots started to hit home with the scope adjusted either to or above its maximum elevation setting of 1,000 yds. Robertson noticed a steady flow of single enemy soldiers making their way down from the top of the ridge to a forward position that was sheltered from his view.

"I would say I had hit after hit there.... when I saw these blokes suddenly drop or fling themselves away or something like that, I thought that, most of the time, it would be a near miss. They were flinging themselves out of the way to give the impression that I'd hit them or something like that. I was able to do it time after time—every time I fired, the figure would disappear. I had the idea that they must have had a huge bunker, because so many people were going down there.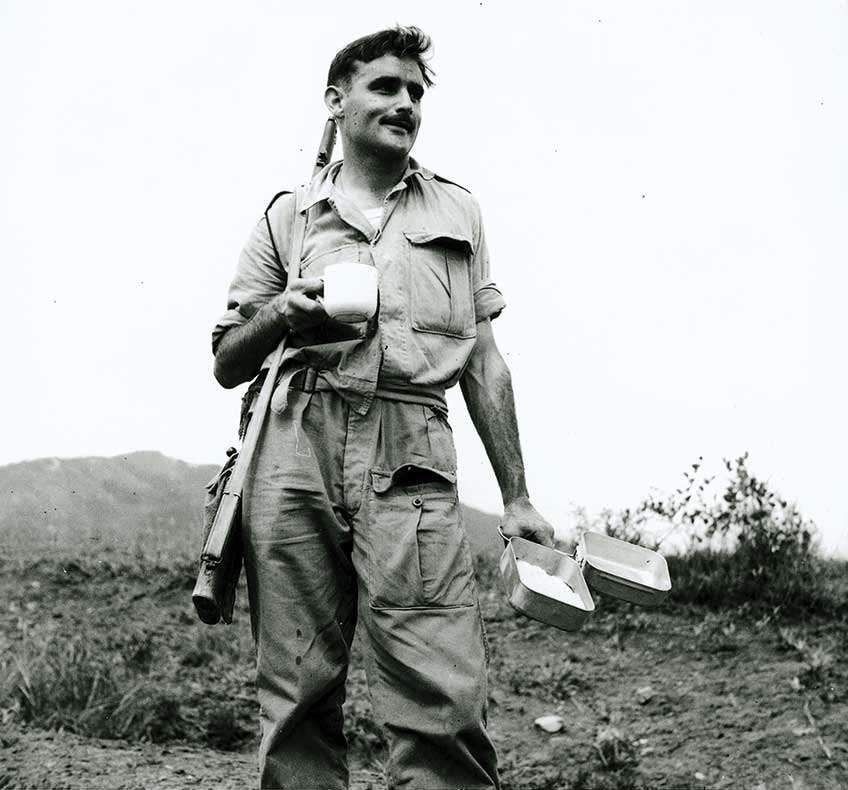 "I nutted it out that when they passed a particular point, if I fired then, they would run into the bullet. They had to come down at the same speed because of the rough ground they were moving on. I tried an experimental shot low down and saw the blast of the bullet just above that bloke, so I made another guess and fired another shot, and this bloke disappeared. It seemed to confirm what I thought. Then I got the measure of them coming uphill as well.

"Once in a while, one of them would come uphill. A lot of them were going down, though. What seemed to happen was that one or two might have made it, and then they were eventually coming back and being replaced by others. But they weren't getting down there, because I was knocking them off as they went.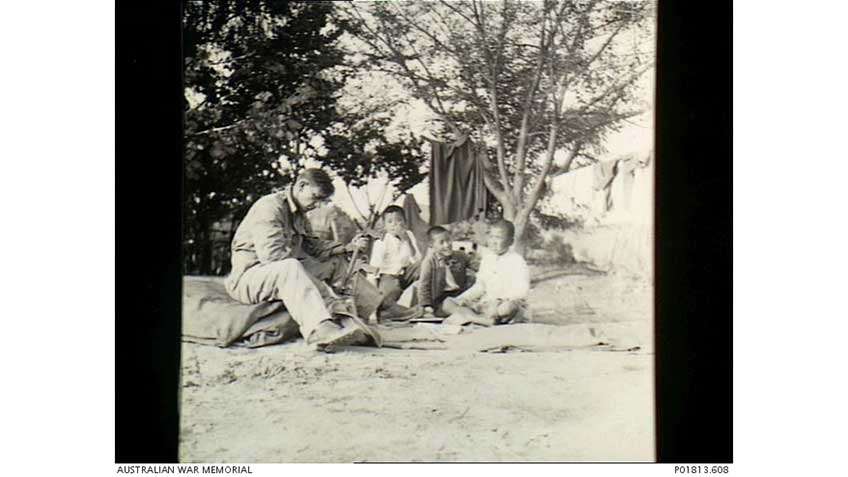 "I kept doing this in between other duties, sniping across there. All this went on for about a week. Each time I'd come in I was exhausted, so I'd go out and fling myself down on the ground in a little sort of a borough and then get my position and range in nicely, set my range and all that and then away I'd go again.

"They were mortaring a tangle of rocks not far from where I was, about 60 or 70 yards away. They were hammering the daylights out of it, and I thought, 'What the hell are they doing this for? We have never had any troops in among those rocks, yet.' I could see through the scope that there was a number of important figures in control of all this, the FOO (forward observation officer) and all this, so I very cheerfully waited and put another shot in amongst their group, and they'd all disappear.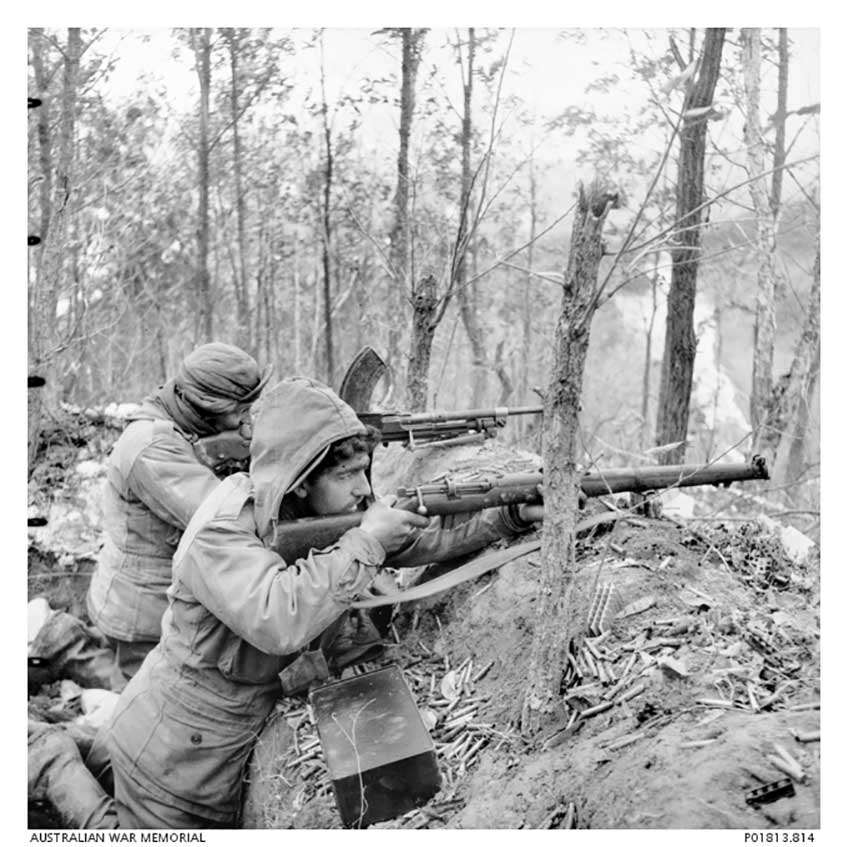 "When we finally took the hill, I thought 'I have got to have a look at this thing, I have got to see this 'Flinders Street Station' they have up here that they have been manning all the time.' It was only a pit that would hold a few fellows, but there was a steep drop about 25 feet deep in front of it, which was why they had to stick to the ridgeline to get in there.

"There were about 30 bodies down there in front of the pit. I went a bit like jelly for a minute and thought, 'oh sh*t, I'm in a grisly business here.' All the verve and dash sort of went out of me for a moment and I thought, 'Gee I've been working on this for a bloody week, what sort of mayhem have I done?'"

When I recorded an interview with this old soldier some years ago, I was a bit skeptical about the long range involved in this incident. The story remained the same no matter which way I came at it, and a number of other things he had told me had checked out.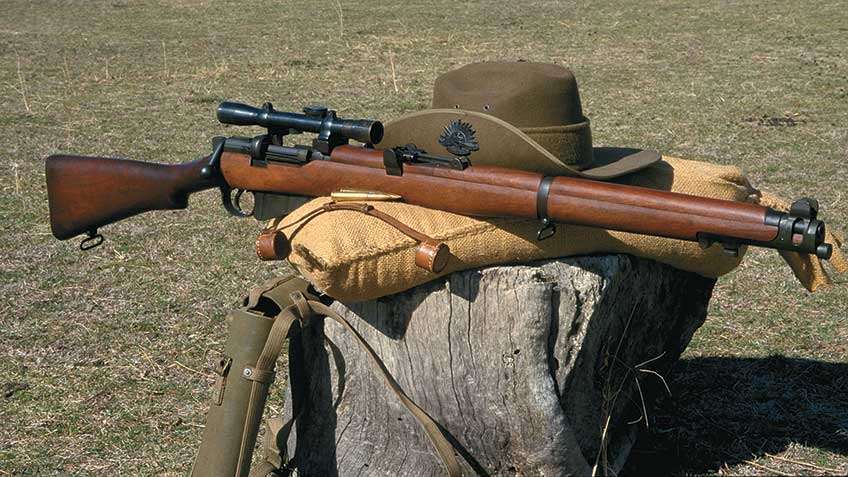 Regular competition at the rifle range I shoot at only went back to 900 yds. in those days and using a high-mount sniper rifle in good condition (the one pictured above) and several different sorts of ammunition, I set out to see for myself.

It took a while to get the hang of the rifle, and to get calm conditions similar to those Robertson had described, but when I did it became clear that what he had described was achievable under the right circumstances. A score of 48 out of 50 on a 900-yd. full-bore target was the best I managed.