by
Mark A. Keefe, IV, Editorial Director
posted on March 1, 2017
Support NRA American Rifleman
DONATE
One of the biggest surprises for 2017 was the introduction of the 22 Nosler cartridge. I really thought the guys from Bend were going to take their big parent case and shove an even bigger bullet in it. I was wrong. And I'm glad I was.
In my view, the 22 Nosler is pure genius. It gives you 30 percent more energy and about 300 fps more speed than most conventional .223 Rem. loads by increasing powder capacity within the case. It's like a .22-250 Rem. performance-wise out of the standard AR platform. It's a good thing, as I think my 20-year-old .22-250 Ruger varmint rifle's barrel is starting to go. The 22 Nosler arrived just in time.
It has long been my contention that shooters are often looking for a reason, er, excuse, to buy another rifle. That is perhaps why switch-barrel designs have not been terribly successful in the United States. Unlike most European countries, where switch-barrels abound, there is no limit on the number of rifles you can own beyond your checkbook. Buy all you want, we'll make more. You don't want to invite your buddies over for a cold one on Saturday night to show them a new barrel. "Look, Earl, there's a hole in both ends." No, you want to show your buddies a new rifle.
But the AR platform has changed that dynamic somewhat. With the modularity of the design, you can use one lower receiver for quite a few different chamberings. Simply knock out the two takedown pins, slap on a new upper, put the pins back in, add an appropriate magazine and you have a new chambering. Nosler has made it even easier for shooters to add a caliber. All you need is a 22 Nosler upper with a 22 Nosler barrel; you can even retain your bolt carrier group as the case head dimensions on the 22 Nosler are the same as 223 Rem.
As versatile as the .223 cartridge is, it has some limitations. Some of those are imposed by the cartridge overall length and others by the actual dimensions of the interior of the magazine well. The latter isn't an issue with the 22 Nosler, and the former is handled by using a 6.8x43 mm SPC magazine.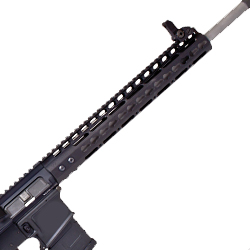 Nosler announced that (besides Nosler) there are now three rifle manufacturers offering 22 Nosler guns, two makers of complete upper receivers as well as five barrel makers. Nosler's press guys called the head of steam building up behind the 22 Nosler a "juggernaut" (and I suspect they didn't mean the common British usage of a large heavy truck, "I say, we've got us a convoy, old bean."), and indeed it may end up being the "Sharknado" of varmint cartridge introductions. Expect that list to grow fairly rapidly.
The cartridge was introduced to SAAMI, and the only thing proprietary about it is the fact that is has "Nosler" in its name. Not surprisingly, the bullet maker is happy to have others make rifles, uppers and barrels. Company executives and engineers are freely sharing data, drawings, reamer makers and other information. The more industry partners that get on board, the more successful a new product will be. Nosler is making it easy on consumers and manufacturers. That's how you get a cartridge Sharknado.
It used to be guys would buy one receiver and do multiple uppers. But now several friends of mine have built new lowers to go with their extra uppers (one even pestered me to buy one of my unassigned uppers because he miscounted and built a complete lower too many). I think dedicated guns will be the case most new owners of a 22 Nosler, though. With some stripped lower receivers going for less than $100 and useful videos, such as those on Brownells, you buy a baggie of springs, pins and bits, and you can do it yourself. It's a whole new ballgame when it comes to the AR platform.
And once you've done it, AR builds are like potato chips. You can't stop at just one. Several makers have asked me is the 22 Nosler worth doing. In my view the answer is a resounding yes. I have a brand spanking new assembled lower to prove it. Now I just need to call one of the guys on the list below and get that upper in here.


Complete rifles:

Colt Competition
coltcompetition.com
855-308-COLT (2658)
Noveske
noveske.com
541-479-6117
Radian Weapons
radianweapons.com
503-893-2987
Uppers:

AR-Stoner AR-15
Available through Midway USA
midwayusa.com
800-243-3220

Columbia River Arms/Black Hole Weaponry
columbiariverarms.com
503-410-5583
Odin Works
odinworks.com
208-906-1405


22 Barrels
AR-Stoner AR-15
Available through Midway USA
midwayusa.com
800-243-3220

Columbia River Arms/Black Hole Weaponry
columbiariverarms.com
503-410-5583

Proof Research
proofresearch.com
406-756-9290 
Odin Works
odinworks.com
208- 906-1405
White Oak Armament
whiteoakarmament.com
309-376-2288