by
posted on December 1, 2021
Support NRA American Rifleman
DONATE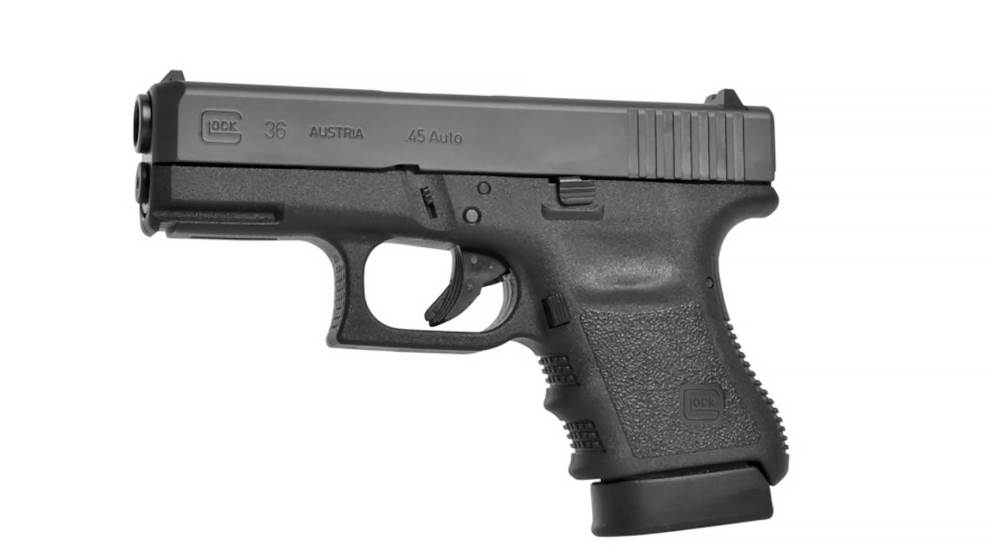 The subcompact, single-stack Glock chambered in .45 ACP introduced in 1999—the G36—doesn't get the attention it deserves. It's an ideal choice for self-defense, packs all the performance enthusiasts have come to expect from the company and still, somehow, avoids headlines. Going unnoticed is a valuable and rare skill for a pistol designed for concealed carry, but the relative silence in the two decades since its introduction has been deafening.
Magazine capacity is six cartridges, and that single-stack design keeps the G36 slim, a virtue that minimizes printing during concealed carry. Overall width measures 1.18". It has a 3.78" barrel, weighs 22.4 ozs. with an empty magazine and overall length comes in at 6.97".
The semi-automatic features the company's familiar Safe Action system and, as expected, sports a businesslike black look. The frame is polymer and the steel slide is finished in black Tenifer. There was no place to hang weaponlights or lasers on early models. Glock added an accessory rail in 2013, however.
As for performance, B. Gil Horman reviewed a model for American Rifleman. He explained, "On the range, the G36 demonstrates a more manageable level of felt recoil than might be expected of a lightweight pistol. The .45 ACP rounds produce a solid thump into the shooting hand but it's not as snappy to the wrist as a Glock chambered in .40 S&W. The narrow single-stack grip feels great in smaller hands like mine, and the smooth, 5.5-lbs. factory trigger is easy to master."
A pair of finger grooves at the front of the pistol grip and texturing at the back ensure a solid purchase on the pistol, even in inclement weather. Current prices for a new model, when you can find them, are running $650 and up, depending on configuration.
Their popularity with knowledgeable gun enthusiasts is made obvious by the fact FFL shelves aren't exactly teaming with fresh-from-the-factory G36s. In fact, they're usually hard to find in stock—despite the fact the pistol has flown under the radar for more than two decades.