by
posted on December 19, 2013
Support NRA American Rifleman
DONATE
The battered old chest held 43 pistols in individual slots, with seven empty spaces. Made from some of the strongest oak that ever grew in this fair land, the chest had a new coat of paint. Not surprisingly, it was green, with the freshly painted blue tactical markings of a company of Marines. That old chest, used for decades, was typical for its time and place. Every rifle company had one to hold its allotment of pistols to arm those Marines in the company assigned to carry them. Mostly, they were the guys who manned crew-served weapons, grenadiers, senior NCOs and officers. In the summer of 1964, the pistol was the U.S. M1911A1 .45 ACP semi-automatic. Now, pretty much everybody knows that the .45 Auto was the nation's choice for fightin' iron from 1911 on.
A decision was made to adopt a new 9 mm Luger service pistol in 1985, and I have never met a true handgun man who was happy about that. Back when it was the Browning-designed gun, we were content with the armament. As for me, I drew an M1911A1 pistol from the old chest the first time my new company went to the field and turned it in when we came back. But one day in the summer of '65, I drew it from the box, slipped it into my holster and left it there for more than a year in Vietnam. A year like that tumultuous one tends to grow a bond between man and tool.
I do not mean to say that I was in any way different from hundreds of other Marines of my generation. When we went to war, the .45 was part of our gear; that is no longer true.
I understand the need for upgrading our equipment, but there was nothing wrong with the M1911 in the first place. That's why so many of our troops-the ones closest to the pointy end of the spear-have been finding one means or another to lay hands on a .45 when they actually deploy to Southwest Asia. That unusual situation is no longer necessary. Colt's Mfg. Co. now produces a special version of the M1911 pistol for the United States Marine Corps. And a smaller number of the special guns will be available for sale on the commercial market.
That constitutes good news, but there is some that is bad. Not all Marines will be getting the new version of the old pistol. The Corps asked for bids to provide somewhat more than 4,000 pistols to arm certain units of the Fleet Marine Force. Basically, the guns will go to Marines whose duties might require them to engage enemies at close range. In current military jargon, this is "Close Quarters Battle." Many readers are going to be unfamiliar with the USMC unit abbreviations, so let's take a moment to sort them out. MARSOC stands for Marine Special Operations Command, a fairly small unit of deeply trained Marines who work directly for the Dept. of Defense and theatre commanders. MEUSOC stands for Marine Expeditionary Unit Special Operations Capable. Built around an infantry battalion, reinforced with smaller special units (tanks, artillery, recon), a MEUSOC exists for a couple of years. It is then relieved from deployment by another infantry battalion that has run through the special training cycle that gives it the MEUSOC designation. Because of some additional training, such units are deemed capable of conducting special high-risk operations. Certain reconnaissance units-Division and Force-may also get the gun. It will not be issued to every operational unit of the Marine Corps.
Like everything else in today's complex military establishment, the new gun has a designation. It is the M45A1 Close Quarters Battle Pistol (CQBP). Several makers submitted their versions of the gun, which were built to specifications developed by the Marine Corps. It was Colt's Mfg. Co. that won the right to build 4,036 pistols and spare parts. Interestingly, the contract is written to be extendable in both numbers and time. There may turn out to be as many as 12,000 M45 pistols.
At the heart of the matter is a very nice version of the Colt Rail Gun. Many of the features found in this new .45 Auto are things developed by tactical shooters and police SWAT team members.
A sample pistol was provided by the maker for this evaluation. It was one of the commercial versions, which are assembled in Colt's Custom Shop. These guns are the same as the actual pistols shipped to the Marine Corps, with the exception of the serial number and U.S. property markings. Two things are immediately noticeable the minute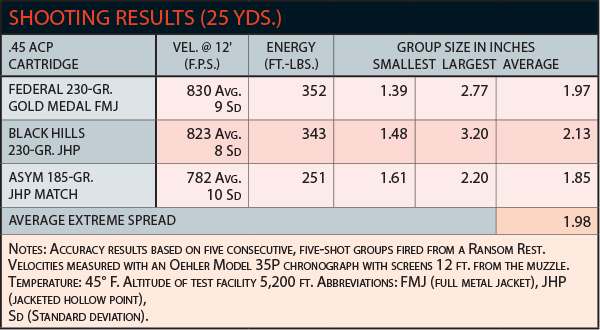 you handle the gun. One is weight, which seems to be heavier that the ordinary commercial or service M1911A1. The other is color, which is a light desert tan. Intended for rough service in "every clime and place," the M45 has a ceramic-based finish known as Cerakote. The dull finish seems unusual in the civilian context, but it is durable and will not reflect light. In a similar vein, the G10 stock panels are cut from a multi-layer laminate of tan, brown and green. Shaped in the familiar rounded cross section and machine checkered, the virtually indestructible stocks are much like one of today's digital camouflage patterns. The left one even has a useful channel that increases access to the magazine's release.
The M45 is a solid, durable rough-service pistol, with stocks and finish that befit its serious purpose. Current tactical operations at close quarters have placed the pistol in a unique role, particularly where low-light operations are concerned. Modern service semi-automatics often mount compact and powerful lights with which to identify targets. This practice is now so common that almost all service pistols have rails built into their dust covers, and this is how the M45 is made. Colt's own rail gun receiver was the basis for the M45. The Marines get a pistol with a heavily strengthened receiver forward of the trigger guard and into which a section of Picatinny rail is machined. Right in front of the slide lock, the receiver is so thick that it protects the slide lock edge from dragging on equipment. I have mentioned that my first impression of the new Marine gun was that it was heavy. Most of that extra weight comes from the rail. As a matter of fact, the scale on the desk of the guy that wrote the specs was off. His said the gun weighed 40 ounces, but my scale indicated 42.5 ounces, and that's 3.5 ounces more than the World War II M1911A1. Yes, it is a heavy gun.
It is also built extra-rugged in other areas. Since the M45 might be pressed into service in operations against criminals-pirates, druggies, terrorists, etc.-it must be capable of using any kind of .45 ACP ammunition. That includes some +P loads. Such wide variety in ammunition is much greater than the parameters facing John Browning in 1911. To ensure performance across such a wide spectrum of ammunition and to deliver decent service life, the M45 has a dual, spring-within-a-spring system of recoil springs. In informal shooting exercises, I tried a variety of different .45 ACP loads, running from +P 230-grainers to 185-grain semi-wadcutters. There were no problems in functioning and handling.
Speaking of handling, let's look at the M45s controls. At the rear, the gun sports a so-called "beavertail" grip safety developed by Colt, as well as a rounded Commander hammer and flat mainspring housing with vertical serrations. Interestingly enough, the mainspring housing has a lanyard loop on its bottom surface because today's SpecOps warrior often uses a modern version of the old khaki pistol lanyard. The magazine well is lightly beveled for speedy magazine changes.
As it is on many custom .45s, the new M45 has an ambidextrous thumb safety. Consistent with the preference of the majority of pistoleros, the trigger is the long variety first used in 1911. It has a black polymer finger pad. One final note on contours and controls-there is a nicely shaped undercut on the trigger guard that lets the middle finger get just a smidgen higher on the grip.
On the slide, the Marines specified, and Colt provided, cocking serration panels on both front and rear. Also, the ejection port is beveled at the rear corner and enlarged at the forward end. But the crowning glory of that top end is a set of genuine Novak LoMount sights complete with Trijicon's tritium highlights. Inside, the gun has a Colt National Match barrel. While the gun is basically a Colt Series 80 Rail Gun, the enumerated features give it a very different character. It was time to take the new pistol to the range.
In both informal shooting and accuracy testing, the new gun did quite well during the course of several hundred rounds. I was surprised to see how well a familiar design responded to the addition of 3.5 ounces more weight. Recovery from recoil was a little quicker, as the heavier pistol tended to stray a shorter distance from the line of aim. Fast pairs are somewhat easier than with a standard M1911A1, and a good trigger action contributes to the equation. The sample did not have a light trigger, nor did it have an overtravel adjustment. But it broke at about 4 pounds, 12 ounces, and that was without noticeable creep. While my preference is for a slimmer grip, the G10 laminates on this gun are hand-filling and easy to manage. Also, I have grown accustomed to a checkered frontstrap and missed it on this gun. Nonetheless, from the handling and functioning viewpoint, the M45 is a formidable handgun.
That is a formidable one with superior accuracy. I shot the Colt M45 in the standard American Rifleman protocol-five consecutive, five-shot groups at 25 yards from the late Chuck Ransom's machine rest. The results are tabulated nearby and show excellent accuracy. The average group size was slightly less than 2 inches and the best single group was 1.39 inches. This is sufficient accuracy for the demands of the work for which it was designed. It was a pleasure to have this gun for evaluation.
I can flatly state that this new M1911 variant is superior to the refurbished Remington Rand that I carried in Vietnam. The older gun was not quite as accurate as the M45 sample, although it was accurate enough for those times. The one thing that makes it a superior pistol more than any other is the big, east-to-see sights. Those miniscule little sights on the G.I. guns of old were at the top of everybody's list of pet peeves.
It should be obvious that there is a great deal of nostalgia on the writer's part where the new Marine pistol is concerned. It has not unduly impacted my evaluation of the gun. Any M1911 gets my attention, and one that says Colt on the side and has EGA (Eagle, Globe, Anchor) as a serial number suffix just has to be OK. Also, for the first time in the long, long history of the M1911 pistol, we have one that says "COLT USMC" on the left side of the slide.
It is a mark of distinction.
Colt Marine Pistol
MANUFACTURER: Colt's Mfg. Co. (Dept. AR), P.O. Box 1868, Hartford, CT, 06144; (860) 236-6311
Caliber: .45 ACP
Action Type: recoil-operated, semi-automatic pistol
Frame: stainless steel
Barrel: National Match, 5"
Rifling: 1:16" RH twist
Magazine: detachable box, seven-round capacity
Sights: Novak LoMount with tritium Dots
Trigger: single-stage; 4-lb., 12-oz. pull
Overall Length: 8.5"
Width: 1.40"
Height: 5.35"
Weight: 42.5 ozs.
Accessories: hard case, manual, lock, spare magazine
Suggested Retail Price: $2,095