posted on December 20, 2018
Support NRA American Rifleman
DONATE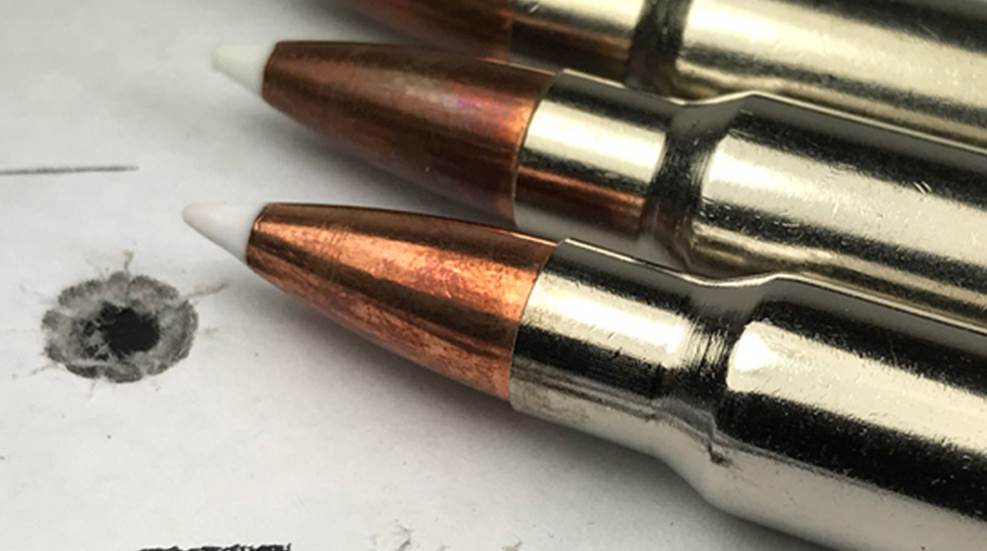 The magnum cartridge craze was at its height about 40 years ago. Magnum proponents expounded that increased velocity and bullet weight were necessary for modern-day big-game hunting and the .338 Winchester Magnum was one of the best all-around big-game cartridges. That was enough of a recommendation for me to buy a Ruger M77 chambered in .338 back in 1981. The rifle was my faithful companion over the ensuing seasons and always delivered hunting moose, elk, deer, black bears and even a huge grizzly. Other cartridges eventually turned my head, though, and the .338 has stood idle for the last decade.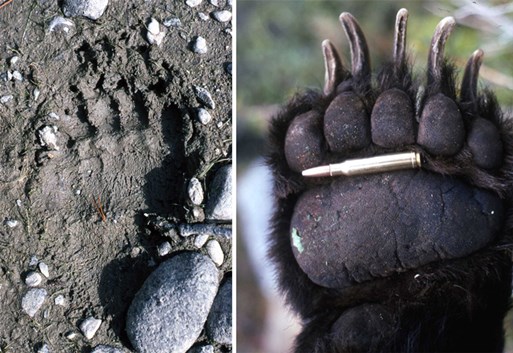 Grizzly tracks along the hunting trail are enough to make a hunter carry a rifle chambered for a big cartridge, like the .338 Winchester Magnum. A grizzly was no match for a 250-gr. Grand Slam bullet fired from a .338.
However, the .338 is back in service due to the increasing number of grizzly bears where I hunt. The rifle felt reassuring in my hands when I crossed grizzly tracks nearly everywhere I hiked and when I saw grizzlies this past season. Hunting with the rifle again, I also rediscovered the .338 is a great hunting cartridge for deer and elk.
When I first started shooting my .338, the standard bullet weight was 250 grains. Recoil was cruel from that weight bullet fired by a case full of propellant. Standing while shooting from a bench allowed my shoulder to somewhat roll with the punch. Sierra GameKing and Speer Grand Slam bullets were about the only fairly-pointed 250-gr. bullets available the first year hunting with the Ruger. I handloaded those bullets in the chance a long-shot presented itself.
Over the seasons those bullets killed quite a few mule deer, elk and black bears with one shot apiece, always punching clear through the game.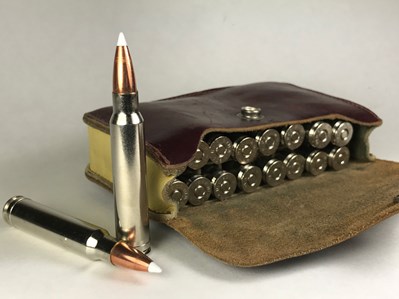 Nosler 225-gr. AccuBond bullets handloaded in the .338 Win. make a great all-around big-game load.
Before heading to British Columbia on a grizzly and moose hunt, my outfitter recommended I bring my .338. A few days into the hunt and an eternity into the wilderness my guide and I spotted a huge grizzly at timberline. The grizzly came out of the brush above with an intimidating swagger. I shot the bear with a Speer Grand Slam bullet. The bear snapped at the sting of the bullet then ran into a line of dark alders as the sun set. We nearly stepped on the dead bear before we saw it. A few days later I shot a bull moose on the bank of a mountain river. It made it to the water and died.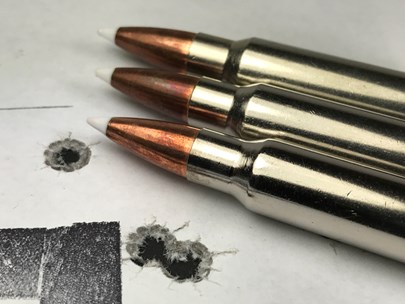 Handloaded Nosler 225-gr. AccuBond bullets shot this group at 100 yds. from an old Ruger M77 .338.
All manner of premium bullets have been developed in the years since that hunt. Because bullets such as the Barnes Triple Shock and Swift A-Frame hold on to most of their weight when they hit game, many hunters have passed over the .338 in favor smaller caliber cartridges, especially .300 magnums. Then again, these bullets have also expanded the .338's versatility. A .338 shooter has the option of shooting a heavy bullet, like Swift 275-gr. A-Frame, for a tough and deep strike. Or he can shoot a lighter bullet, like a Nosler 225-grain AccuBond or Barnes 210-gr. Tipped Triple Shock, at a higher velocity for a flatter trajectory at long range.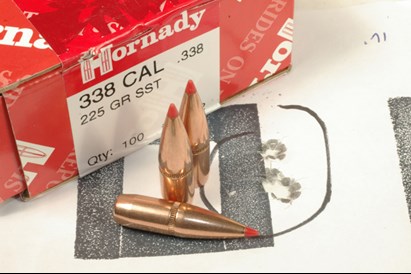 A reduced velocity load with Hornady 225-gr. SST bullets fired from a Ruger M77 shot this group at 100 yafds.
I eventually started shooting various 225-gr. bullets. Hornady Spire Points and Nosler AccuBonds were favorites. One plus was their somewhat milder recoil compared to 250-gr. bullets. If you're into nitpicking numbers, 225-gr. bullets carry more energy and produce a flatter trajectory than 200-gr. and 250-gr. bullets at 350 yards and farther. 
Recoil was still more than apparent shooting 225-gr. bullets at maximum speeds. Finally I sat down at the handloading bench to develop some light-recoiling practice loads. The minimum amount of IMR 4350 propellant, listed in the Hornady Handbook of Cartridge Reloading, loaded with Hornady 225-gr. SST bullets produced about half the kick as a maximum amount of the propellant. Accuracy was good, too, with three shots under an inch at 100 yards. In fact, after a spring and summer of shooting the reduced-recoil loads, the accuracy of my full-power hunting loads also improved. No doubt that was due to the absence of anticipating a hard kick, which kept my finger from stuttering on the trigger.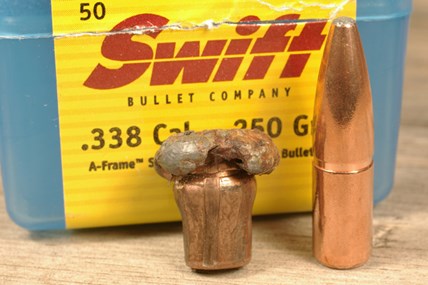 This Swift 225-gr. A-Frame bullet was recovered from a bull elk.
This past summer I dusted off the Ruger .338 in preparation for hunting season. At the reloading bench I assembled Nosler 225-gr. AccuBonds with 71.5 grs. of IMR 4350. The first three bullets hit right where the rifle's Leupold scope had been sighted in at 100 yards several years before. Velocity was right at 2,800 f.p.s.

A variety of bullet weights and styles are available for the .338 Win. From left: Nosler 180-gr. Ballistic Tip; Nosler 210-gr. Partition; Hornady 225-gr. SST; Swift 250-gr. A-Frame; and Swift 275-gr. A-Frame
.
Opening morning of elk season I hunted with three young fellows. One of them was jittery and jumped at every shadow. He had gone to bed in his pup tent and during the night a grizzly had poked its nose in the tent door. A lot of yelling scared off the bear and he spent the restless remainder of the night in the cab of his pickup. 
Just after daylight the three spotted some elk in the distance and they were off on the chase. I took a seat with a wide view in hopes a spooked elk might run past.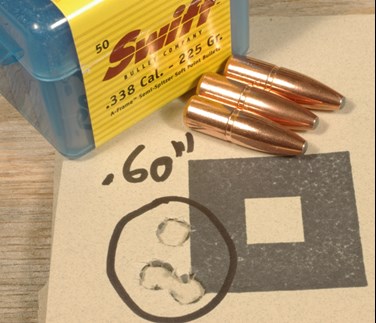 The .338 Win. Mag. is an accurate cartridge, shown by this group fired with Swift 225-gr. A-Frame bullets.
About noon I hiked along the edge of a timbered draw toward another vantage point. Grizzly tracks pocked the dust. The breeze flowing out of the draw brought the musk of elk. A bull broke out of the timber and in a moment I had the rifle off my shoulder and in my hands. The elk ran full out across the sagebrush flat. The scope's crosshairs caught up with the bull and I fired as the crosshairs swept past the front of the bull, just like shooting a crossing pheasant.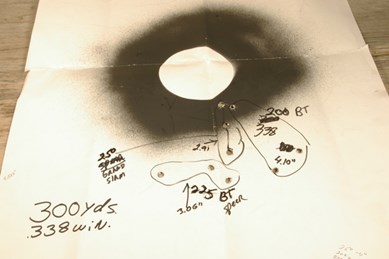 With the same sight setting and hold, a .338 shot 200, 225 and 250-gr. bullets to nearly the same place at 300 yards.
The bull pitched over forward. It kicked a few times, but was dead before I reached it.  The AccuBond had punched through both lungs and gone out the front of the far shoulder. A quick kill by the .338 on that bull certainly wasn't overkill.
A couple weeks later the whitetail rut was starting. I watched deer going in and out of a long and timbered draw. I started hiking over, but stopped part way there when a grizzly came out of the draw. A second grizzly came out and I left.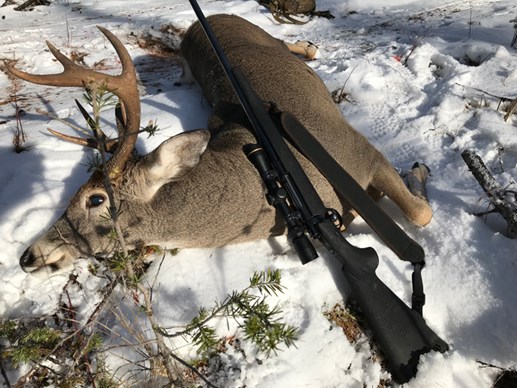 The author harvested this whitetail with his .338.
The next weekend I hiked all morning through spruce thickets and around frozen swamps. I peeked over a slight rise and saw a pretty nice buck with four does. The buck stood quartering toward me. I shot it offhand and the buck collapsed. The .338 bullet had poked a neat hole through it with no bloodshot meat.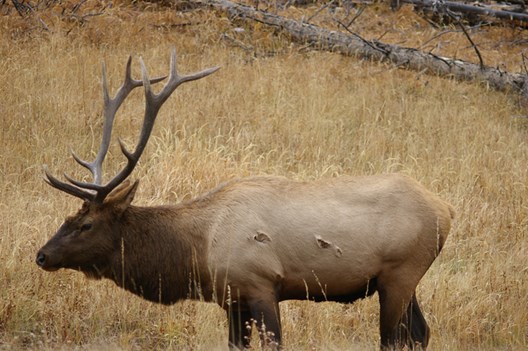 Elk are the main reason hunters carry a .338 Win. Mag.. The .338 also works fine on deer.
I leaned the rifle against a tree within easy reach. Every so often while field dressing the buck I looked up at the .338 with renewed appreciation for its abilities through the years.