by
posted on February 12, 2019
Support NRA American Rifleman
DONATE
Until the end of 2018, Windham Weaponry offered only one 9 mm option and it wasn't even a whole rifle. It was a blowback-operated caliber-conversion kit included with the company's RMCS-4 Multi-Caliber Rifle Kit that I got to work with a couple of years ago. But with interest in 9 mm pistol-caliber carbines (PCC) continuing to grow among American shooting enthusiasts, it only made sense for the company to provide its own platform. The designers wisely chose to make these guns compatible with inexpensive and ubiquitous Glock magazines instead of the Colt AR stick magazines, which are hard to find. This review takes a closer look at the carbine version of Windham's new 9 mm Glock Magazine Compatible (GMC) models.

Unlike the popular gas-impingement operated 5.56/.223 ARs, there is no Mil-Spec guideline for blow-back 9 mm AR receivers per se. Therefore, it is a common practice for manufacturers to design their own in-house receiver sets which blend their own in-house features while remaining compatible with a variety of Mil-Spec components and upgrades. Although the components inside the receivers may not be compatible with other systems, you can still swap out other parts including stocks, pistol grips, hand guards and sight systems.

Like most AR-pattern pistol-caliber carbines, Windham's GMC is blowback-operated. Nevertheless, the company has applied its signature touches that make this rifle stand out from the PCC crowd. The flat-top upper and dedicated Glock magazine lower receiver set is milled from billet 7075 T6 aircraft aluminum and treated with a Mil-Spec hard-coat anodized finish.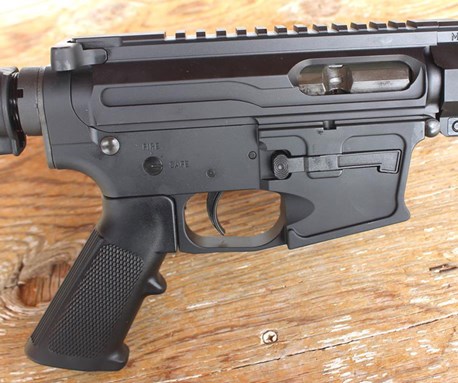 The upper is fitted with a Mil-Spec charging handle. The company incorporated a bolt hold open mechanism on the left side of the upper. A polymer block, secured by three screws, supports a rod that engages the bolt when the last shot is fired. This same rod can then be disengaged by pressing the left-side bolt release. Since many PCC rifles don't lock open on the last shot, Windham's modification is a welcome improvement.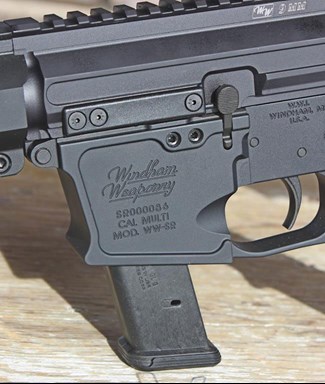 The lower receiver features an integrated trigger guard and cut outs that provide an intuitive resting place for the tip of the trigger finger. The magazine well is beveled for faster reloads. The left side bolt release and safety selector are Mil-Spec. The modified right side magazine release lever has been designed to feel and operate like a Mil-Spec button even if it does not look the part. The pistol grip is the typical A2 polymer type which is easily swapped out with the removal of a single screw.

Separating the receivers reveals the modifications required for the lower receiver to accept Glock magazines, including a heavy-duty ejector that hooks up and over the rear of the magazine. The blowback bolt assembly is topped with a 8620 steel bolt and sports a black phosphate finish.

The trigger group is Windham's better-than-Mil-Spec factory option, meaning it's a standard single-stage group with a cleaner, firmer feel than the usual Mil-Spec groups. The trigger breaks with 5-lbs. 8-oz. of trigger pull making it a useful option for those who don't want to invest in a trigger upgrade. This trigger can be traded out for other Mil-Spec compatible options but be aware that not all upgrades work reliably with 9mm PCCs (check with the trigger's manufacturer before you buy).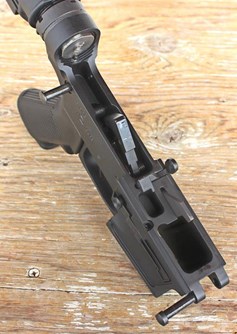 The 4150 Chrome Moly steel barrel is 16" long with 1:10" right-handed rifling and a durable Melonite QPQ finish. The muzzle is threaded at 1/2x28 TPI and ships with a knurled thread protector. The light weight 13" free-float aluminum hand guard is topped with an integral full-length Picatinny rail and features M-Lok type accessory slots. The Mil-Spec 6-position buffer tube supports Windham's in-house adjustable shoulder stock, which has a textured buttplate and sling loop.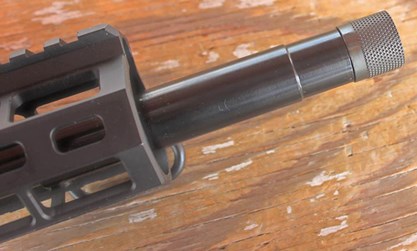 When it comes to accessories, Windham takes extra steps to provide customers with a ready-to-use set up. The rifle arrives in a foam lined hard case with one magazine, a nylon web 2-point sling, and an owner's manual. The handguard does not provide a sling attachment point, so the company installs a removable 2.25" accessory rail with a QD sling swivel port and a swivel. This allows the sling to be installed right out of the box. If the sling is not going to be used, then the customer already has a rail for a light or laser module. It's a nice touch that often goes overlooked by other manufacturers.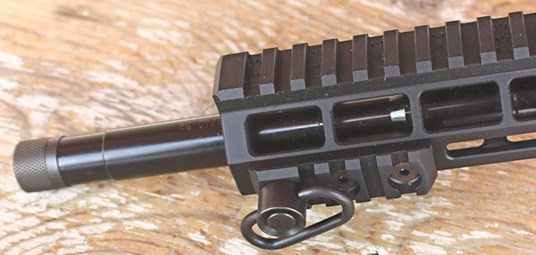 At the range the GMC was fitted with Nikon's Black Force 1000 1-4x24 Speedforce scope using a Nikon Black MSR/AR Height 30mm Cantilever scope mount for all testing. It tapped out groups like a typewriter with nary a mechanical, magazine or ammunition related issue to interrupt the enjoyable shooting this carbine provided on and off the bench. Test magazines included the Magpul PMAG G17 shipped with the rifle, a Glock factory Gen3 G26 magazine and Elite Tactical Systems (ETS) translucent 31 and 22-round sticks.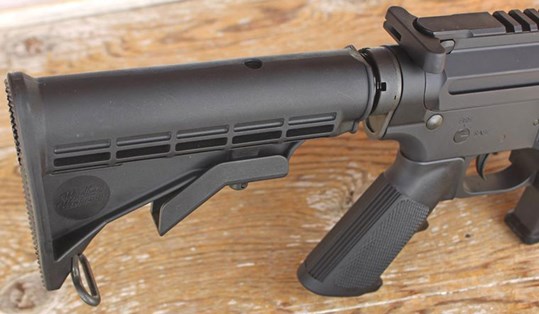 Along with the advantages of being chambered in one of the least expensive center-fire cartridges, producing mild levels of felt recoil and sharing ammunition and magazine compatibility with popular handguns, 9 mm PCC platforms like the GMC can squeeze more performance out of 9 mm cartridges. Low-grade and practice-grade rounds might not get as much of a velocity boost from the longer burn time the 16" barrel provides. However, defense-grade and +P 9 mm cartridges can show impressive gains. To demonstrate this, formal bench-rested accuracy testing at 50 yards was conducted using three souped-up loads topped with bullets at the lighter end of the weight scale. Bullet velocity was measured for 10 consecutive shots using a Lab Radar chronograph with a 12" offset from the muzzle.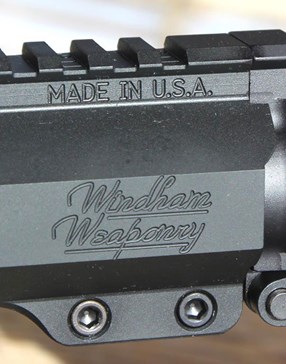 Super Vel's 115-gr. +P solid copper hollow point gained 144 f.p.s. of muzzle velocity compared to the manufacturer's listed muzzle velocity for an average speed of 1394 f,p.s resulting in a muzzle energy of 496 ft.-lbs. This load produced a best single 5-shot group of 1.13" with a five-group average of 1.22".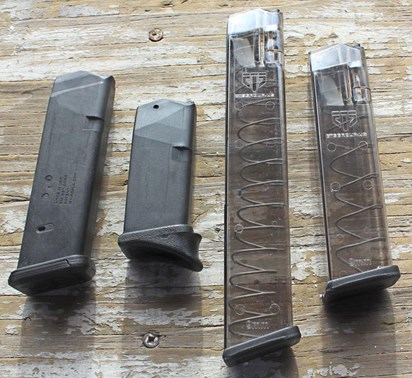 DoubleTap's 77-gr. DT Lead Free solid copper hollow point gained an average of 200-fps. for a muzzle velocity of 1800-fps. and 554-ftlbs. of muzzle energy. It printed a best group of 1.41" with an average of 1.56".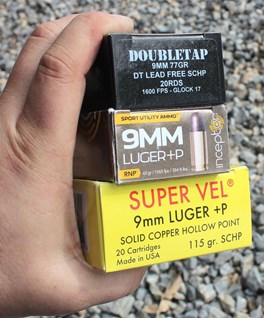 The hot rod of the ammunition set proved to be Inceptor's Sports Utility 65-gr. +P poly-copper round nose, which is ballistically matched to the company's ARX defensive loads. It gained an average of 404 f.p.s. for a muzzle velocity of 1969 f.p.s. and 560 ft.-lbs. of muzzle velocity. The trade off for this added speed was some accuracy with a best group of 2.55" and an average of 2.75".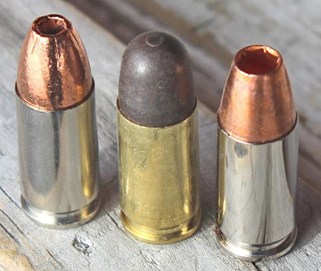 Windham Weaponry's new 9 mm GMC pistol-caliber carbine exemplifies both the fun and utility that PCC platforms have to offer. Thanks to the bolt hold open feature, it handles and operates just like a rifle-caliber AR platform while costing less to operate than larger caliber models. When loaded properly, this carbine is also an ideal home security option which can be fed out of the same ammunition boxes as your preferred 9 mm semi-auto pistol.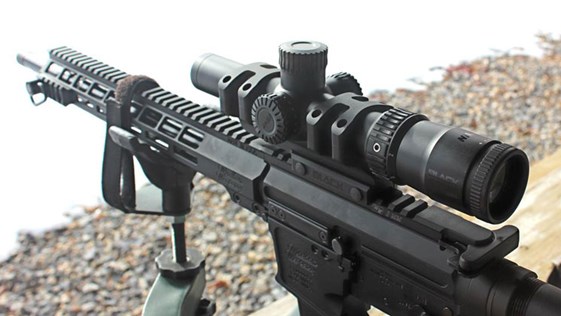 As always, the quality, features and reliability of this carbine was a step above what one expects for the price point. For those looking for a more compact pistol-caliber platform, Windham also offers the GMC in a pistol configuration with a 9" barrel and 5-position SB Tactical wrist brace.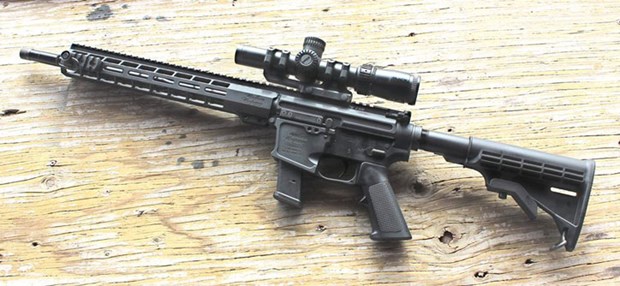 Specifications
Manufacturer: Windham Weaponry
Model: R16FTT-9MM
Action: Blowback-Operated Semi-automatic
Caliber: 9 mm
Receivers: Milled Billet 7075 T6 Aircraft Aluminum, Mil-Spec Hard-Coat Anodized
Upper Receiver Type: Flat Top
Trigger Guard: Integral
Ejection Port Cover: No
Forward Assist: No
Last Shot Bolt Hold Open: Yes
Charging Handle: Mil-Spec
Bolt Carrier Group (BCG): Blow-Back
Bolt Material: 8620 Steel
Barrel: 16″ 4150 Chrome Moly Vanadium 11595E Steel with Melonite QPQ Finish
Rifling: 1:10" RH
Barrel Length: 16"
Grooves: 6
Muzzle Threading: 1/2x28 TPI with Thread Protector
Handguard: 13" Free Float, Integral Picatinny Optics Rail
Handguard Slots: MLOCK
Trigger: Single-Stage
Trigger Pull: 5 lbs. 8 oz.
Length of Pull: (LOP): 10.50" to 14.25"
Pistol Grip: A2 Polymer
Buffer Tube: Mil-Spec
Shoulder Stock: Windham Standard 6-Position Telescoping Buttstock Sling Loop
Sights: None, Optics Ready
Magazine: Magpul PMAG 17 GL 9
Capacity: 17+1, Accepts Glock 9 mm Magazines
Overall Length: 30.75" to 34.50"
Weight: 6 lbs. 13.6 oz. with Empty Magazine
Accessories: Hard Case, One Magazine, 2.25" Accessory Rail with QD Sling Swivel, Web Shoulder Sling, Owner's Manual
MSRP: $1,148
Optic: Nikon Black Force 1000 1-4x24 Speedforce (#7100076), MSRP $399.99
Mount: Nikon Black MSR/AR Height 30mm Cantilever Mount (#16403) $139.95