by
posted on September 26, 2018
Support NRA American Rifleman
DONATE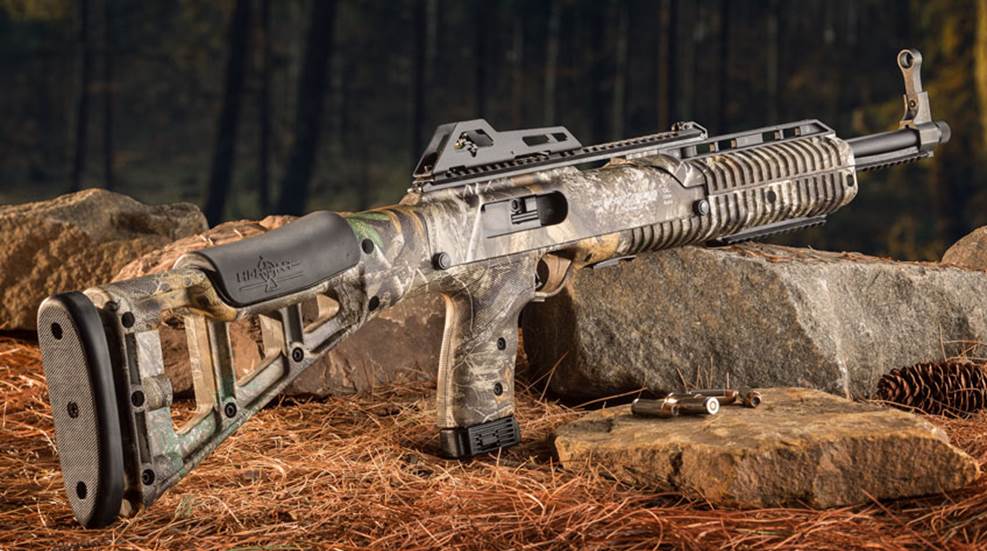 Hi-Point Firearms has been manufacturing some of the least expensive semi-automatic pistol-caliber carbines on the market for more than 20 years. Loyal fans often praise the simplicity and reliability of these platforms even though their aesthetics may not please everyone. Despite their low price, these carbines are loaded with features, constructed of components sourced from American manufacturers and assembled by a U.S.-based labor force.
Chambering options include 9 mm Luger, .40 S&W, .45 ACP and .380 ACP, the latter of which was added to the lineup in 2016. This year, Hi-Point has launched its most potent carbine yet with the brand new Model 1095TS chambered in 10 mm Auto, offered in either a matte black or Realtree Edge camouflage finish. Our test gun was an example of the latter.
The 1095TS is a blowback-operated, striker-fired semi-automatic carbine with a single-action trigger. The striker mechanism, bolt assembly, trigger group, external controls and single-stack magazine all take design cues from Hi-Point's pistols. However, the carbine does not have a magazine disconnect or interchangeable stock panels.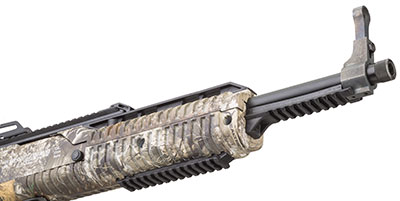 The muzzle of the round-profile, 17.5", blued-steel barrel is threaded at .578x28 TPI for muzzle accessories and fitted with a knurled thread protector at the factory. The sight system consists of an adjustable hooded-post front attached to the barrel and a fully adjustable peep at the rear. The rear sight is set into a stamped sheet-steel housing that can be removed in order to install a magnified optic or red-dot sight.
Hi-Point carbines are rated for +P ammunition. This means the cast Zamak 3 alloy receiver of the 1095TS is strong enough to safely fire the 10 mm cartridge despite its relatively high pressure levels (SAAMI Max: 37,500 p.s.i.). It stands to reason, however, that any 10 mm Auto-chambered carbine, no matter the manufacturer, is going to have a shorter operational life than similar models chambered in 9 mm Luger, .40 S&W or .45 ACP.
A sheet-steel shroud is placed over the receiver to keep out dirt and to support the rear end of the sight rail. The ribbed fore-end, pistol grip and shoulder stock are all constructed from a single piece of textured, high-impact polymer. A 9.5" Weaver-style sight rail sits atop the gun, while a 3.5" accessory rail is mounted under the barrel, in addition to a 4.5" rail attached to the fore-end of the stock.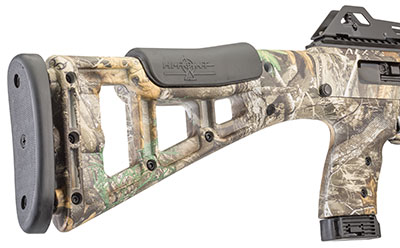 Hi-Point carbines are configured to eject spent shell cases to the right of the receiver with the manual controls installed on the left side of the gun. The round, reciprocating charging handle is simply screwed into the bolt assembly and tightened using the provided combination wrench and sight-adjustment tool. The manual safety swings up into the "safe" position, and down, exposing a red dot, to fire. The polymer magazine release button allows the magazine to drop free of the pistol grip when pressed. The 1095TS Edge arrives with one blued-steel, 10-round, single-stack magazine with an oversize black polymer baseplate.
The black polymer trigger is best described as having a single-action pull even though the arc of its travel is a bit longer than most single-actions. It is surprisingly smooth, and breaks at 5 lbs., 11 ozs., of pull. The skeletonized shoulder stock provides a 14.5" length of pull with a soft rubber cheekpiece. The black polymer recoil plate is supported by three extensions, each of which is fitted with a recoil-reduction spring. The carbine arrives with a simple nylon web shoulder sling and a set of removable blued-steel sling swivels.
At the shooting range, the 10 mm Auto 1095TS Edge experienced two failures to feed in the first 50 rounds. After that, it performed reliably using a variety of ammunition types, ranging from relatively low-velocity (1,150 f.p.s.) imported practice-grade loads to premium, American-made hunting and defensive loads. The carbine is a bit on the heavy side at 7 lbs., 13 ozs., with an empty magazine, but it handled nicely. Our reviewers also noted that the sight system is quick to acquire and easy to see. The recoil-reduction system built into the shoulder stock works effectively to moderate the rifle's kick.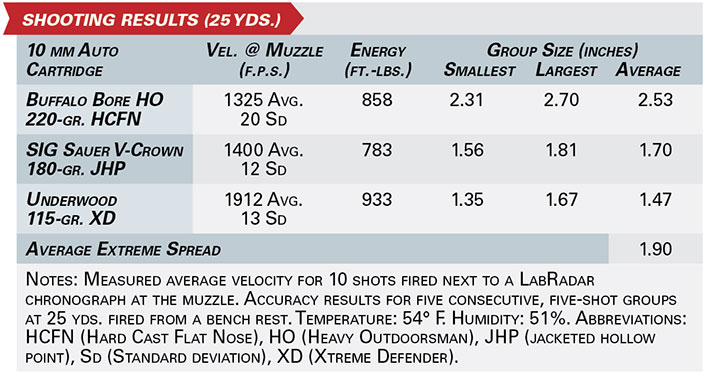 In most cases, formal pistol-caliber carbine accuracy testing is conducted at 50 yds. from a benchrest. However, the five-shot group sizes of the 1095TS Edge expanded to around 5" at that distance when firing practice-grade ammunition. The carbine printed more practical groups, 3" or smaller, when the target distance was reduced to 25 yds.
As expected, the 17.5" carbine-length barrel of the 1095TS provided a marked increase in bullet speed when compared to the listed ammunition velocities for pistol-length barrels. The heaviest load tested, Buffalo Bore's Heavy Outdoorsman 220-gr. Hard Cast Flat Nose, gained 125 f.p.s. of muzzle velocity. SIG Sauer's Elite Performance 180-gr. V-Crown jacketed hollow point picked up an additional 150 f.p.s., with Underwood Ammunition's 115-gr. solid-copper Xtreme Defender bullet traveling 212 f.p.s. faster.
The new Hi-Point 1095TS Edge increases the power potential of a platform favored by those who are looking for a reliable pistol-caliber carbine at a rock-bottom price. Although the gun's accuracy potential was less than that of other pistol-caliber carbines we've tested, quality 10 mm loads fired through the Hi-Point carbine will still get the job done. With a retail price starting at $389 ($439 for the camouflage-dipped Edge), fans of the 10 mm Auto now have a new inexpensive way to put this well-regarded cartridge to use.