by
posted on June 15, 2018
Support NRA American Rifleman
DONATE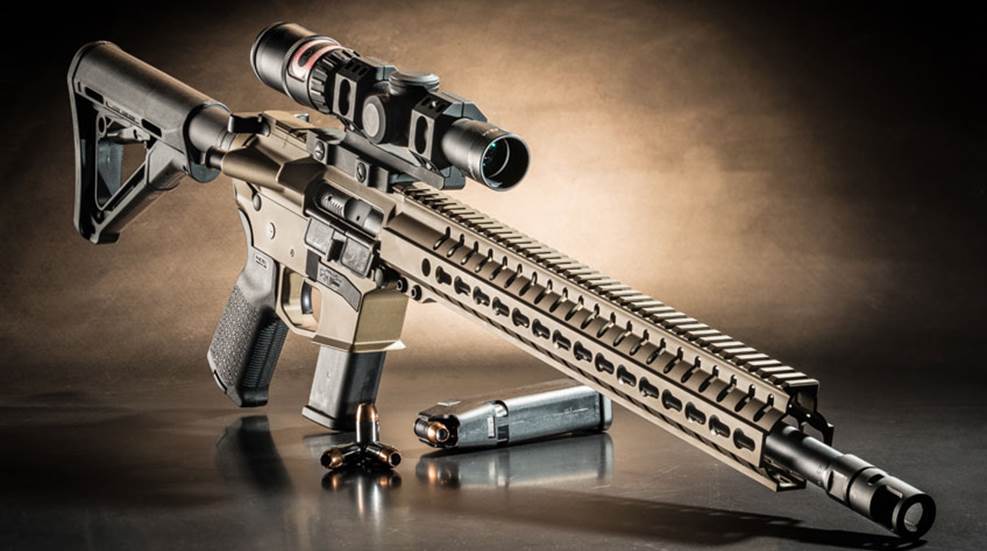 Combining the ever-popular AR platform with the iconic .45 ACP cartridge, the Guard, reviewed here, required CMMG to design a completely new operating system that it claims minimizes the carbine's overall weight and felt recoil. Company engineers initially looked at building the gun using both the simple blowback and direct-impingement modes of operation, however, neither were found to be ideal for the .45 ACP. Instead, they developed a patent-pending system that they refer to as a radial-delayed blowback.
Here's how it works: A rotating bolt locks into the barrel extension when in battery, and when the gun is fired, the bolt is forced to rotate and unlock. This slows the bolt carrier's velocity enough to safely cycle the .45 ACP. The system also allows the rifle to use a lighter carrier and buffer than a standard blowback-operated gun. That reduces the reciprocating mass while firing, making the Guard much smoother to shoot and easier to keep on target. It also helps keep the rifle's weight down to a svelte 5 lbs., 12 ozs.
Because of the Guard's unique operating system, there is no gas block or piston system attached to the barrel. CMMG uses a medium-taper barrel made from 4140 chrome moly steel and finished with a salt-bath-nitride treatment inside and out. It is rifled with a 1:16" RH twist and measures 16.1" long. Its muzzle is threaded .578x28 TPI, a fairly common thread pitch for .45-cal. suppressors and muzzle devices, and the Guard comes equipped with an effective, side-ported, SV compensator. The barrel is shrouded with a free-floating KeyMod handguard that measures 14" in length. No iron sights are included with the CMMG Guard, but any detachable back-up sights designed for AR-15s will work fine.


In the past, other manufacturers have built .45 ACP-chambered AR-15s, and those guns usually used UZI magazines with some type of magazine well block. CMMG instead designed its lower to accept the readily available and proven Glock magazines. Machined from billet aluminum, the Guard's lower receiver features a trim magazine well and does not use a conversion block. The lower is specific to Glock 21 magazines (one 13-rounder comes with the rifle) and boasts a last-round hold-open feature that many pistol-caliber ARs don't have.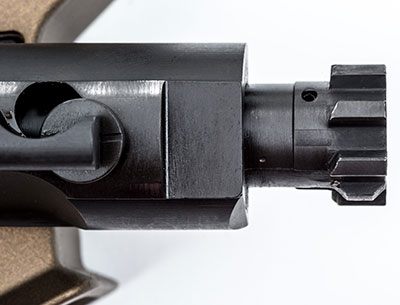 CMMG's engineers designed a dual-pinned, machined linkage that is engaged by the magazine's follower, which, in turn, activates the bolt catch. The magazine release is larger than we are used to on AR-pattern guns and can easily be activated with a right-handed shooter's trigger finger. Our test sample came equipped with a match-grade, two-stage Geissele Automatics trigger. This non-adjustable trigger is the choice of many competition shooters, but CMMG also offers the Guard with a standard trigger at a reduced price. The upper receiver is machined from a forging and possesses a flat top with Picatinny rail and a hinged ejection-port cover. The gun does have a forward assist, and the bolt carrier is cut to work with the assist.
At 50 yds., our single best group was with 200-gr. semi-wadcutter rounds from Black Hills Ammunition and measured just 1.31". Because the gun is not gas-operated and has no barrel port, we felt comfortable shooting non-jacketed lead bullets through it. The Guard fed the sharp-shouldered projectiles flawlessly, and recoil was negligible.
With a USPSA paper target set up at 15 yds. and a Trijicon AccuPoint riflescope dialed back to 1.25X, we used the optic as a reflex sight and fired the Guard with both eyes open.
We used a PACT electronic timer to measure our time between shots to get an idea of how controllable the Guard is in rapid fire. Our splits, or time between shots, averaged just 0.16 of a second on controlled pairs. We found the Guard very easy to shoot, with recoil and muzzle disruption being so mild that the AccuPoint's triangular reticle never came off target. We also shot a 5"-barreled M1911 in .45 ACP to compare its velocity with that of the Guard. Averaging the three loads, we found the longer barrel of the carbine accounted for 22.8 percent more velocity and a 50.7 percent increase in energy—a remarkable and somewhat unusual increase based on our previous reviews comparing other .45 ACP-chambered pistol-caliber carbines and conversions to like-chambered pistols.
During our testing we used a wide variety of ammunition, and found all to be reliable in the Guard; we experienced no stoppages or problems during our 400-round evaluation. Disassembly of the Guard for cleaning and maintenance follows that of a standard AR-15. CMMG offers an optional Tuning Kit consisting of three different weights for the bolt carrier in order to optimize its cycling—whether using hot, +P defense loads, mild-mannered target rounds or a suppressor. Both the ejector and extractor are located on the Guard's bolt.
Our sample Guard sported an optional Burnt Bronze Cerakote finish. The takedown pins, bolt release, safety/selector, trigger pins, charging handle, forward assist, ejection port cover and magazine release are left black for a pleasing contrast to the bronze. CMMG also offers Flat Dark Earth, Midnight Bronze, Sniper Grey and Titanium Cerakote colors for an extra $150. Additionally, there are three pistol versions of the Guard, with 5" or 8" barrels, as well as two NFA-applicable short-barreled versions.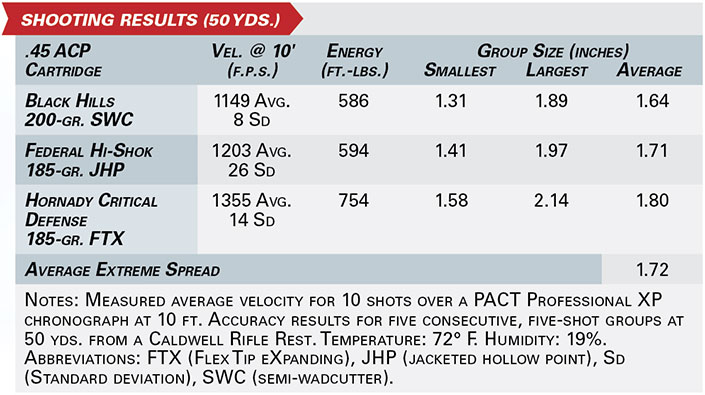 The CMMG Guard would make an ideal companion piece for the shooter who favors the .45 ACP pistol. Based on the AR platform, the gun is easy to shoot and uses readily available and relatively inexpensive magazines. We found CMMG's radial-delayed blowback system to work well with the .45 ACP cartridge, and were impressed with the gun's light weight and fast-handling characteristics. Whether used for home defense, competition shooting or general plinking, the CMMG Guard possesses the accuracy and reliability needed to find success.