by
posted on May 30, 2018
Support NRA American Rifleman
DONATE
Engaging non-static targets swiftly at close range demands an easy-to-use optic offering immediate acquisition. Forget traditional riflescopes; regardless of magnification level or eye relief, they play "second fiddle" to red-dot optics for target acquisition and for tracking moving targets—particularly in low-light conditions. For 2017, Bushnell added several red-dot sights to its lineup, including the Enrage, which is reviewed here.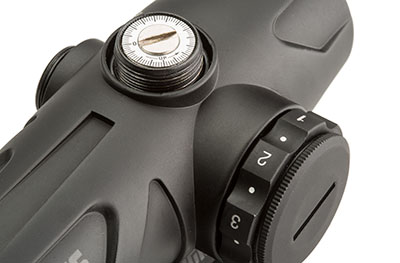 Although it fits in the Bushnell "AR Optics" line, the unmagnified Enrage is intended for use beyond the realm of the modern sporting rifle. Accompanying the optic are two sets of Allen head screws that, when paired with the reversible base and included spacer, enable it to be mounted at different heights to minimize clearance issues and for preservation of cheekweld on a range of long guns. It can be used on certain handguns, too. The mount is touted as fitting both Picatinny- and Weaver-style rails; however, we found it attached properly only to the former. The locking nut/knob includes cutouts so that a slotted screwdriver or coin can be used to supplement hand tightening.
When compared to other red-dot sights, dimensionally the Enrage occupies the middle ground; the 9.8-oz. unit measures 41/2" long, 23⁄8" wide and 23/4" tall (with spacer). Removing the top and right turret caps enable elevation and windage adjustments, respectively, to be made. Clicks are audible and tactile, and valued at 1/2 m.o.a.
The 16-position rheostat, which features eight brightness settings and an "off" position between each, is on the Enrage's left side. Movements of the rheostat are consistent and solid; there's no undesirable mushiness. Powering the unit is a single CR2032 battery that, according to Bushnell, provides double the life compared to its older models, and when used at mid-level settings, is comparable to other companies renowned for the efficient energy use of their red-dot sights. Housed within multi-coated glass, the prefocused, 2-m.o.a. illuminated dot is sized ideally for instant target acquisition at close range, and yet is small enough for acceptably precise bullet placement at moderate distances as well. Eye relief is "infinite," as such, diligence in maintaining a suitable eye-to-optic distance is not required.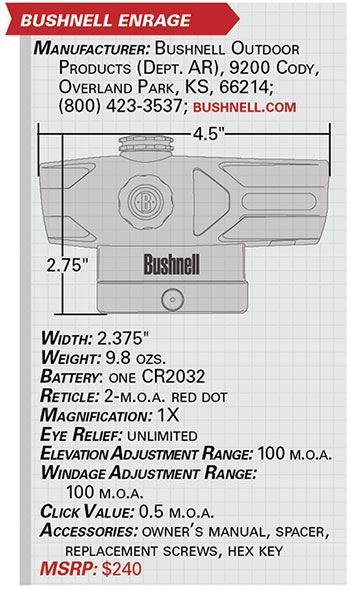 The Enrage is advertised as waterproof, fog-proof and shock-proof, and we sought to substantiate those assertions during our testing. First up was "shooting the square"—using a T/C Contender with an 18" SSK Industries .338 Whisper barrel—to confirm the value and repeatability of the clicks. Due to the close proximity of clicks and imprecision of a 2-m.o.a. dot for aiming, this was a trying test. Nonetheless, movements appeared to be accurate and repeatable.
A Benelli Super Black Eagle II 12-ga. shotgun and four boxes of assorted 2¾" and 3" magnum waterfowl, buckshot and turkey loads were utilized to determine that the Enrage is shock-proof. Once zeroed, there was no discernible deviation in the pattern core—except when the Enrage's dual base screws loosened halfway through. Re-tightening the screws solved the issue. Thread-locking compound is recommended.
Lastly, we challenged the Enrage to survive submersion in water after a short stint in the freezer. Though it fogged temporarily, which was expected, no signs of water defeating the seals was evident—it is waterproof.
Our battery of testing, as well as mounting it atop a range of firearms, illustrated to us that the Enrage is well-suited for a variety of tasks as diverse as home protection, competition and pursuing spring gobblers.