Support NRA American Rifleman
DONATE
Several gunmakers, including Glock, Smith & Wesson, SIG Sauer, Kahr and others, have introduced handguns ready-made for the mounting of mini-reflex sights, and many optics companies have entered the market to address this growing trend. So it stands to reason that one of the world's largest optics makers, Bushnell, would not be left out. Its entry is the First Strike, a mini-reflex-style sight from the Trophy Red Dot line.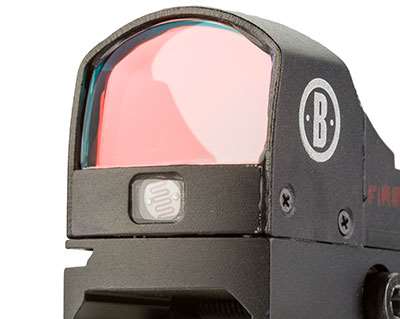 In essence, the First Strike is a battery-powered, ruggedized, miniaturized reflex sight that features a 5-m.o.a., windage-and-elevation adjustable red dot. The unit itself, without its included rail adaptor, measures 1.8" long and 1" tall, and weighs 2.1 ozs., with a single CR2032 coin-type battery installed. Alone, it's meant to be installed on the peg-and-hole system common to the aforementioned firearms. The First Strike's lens is multi-coated to minimize sun flare, and the unit comes with a lens cover that is essential to its functioning, because the dot's brightness is regulated by a photo-cell eye located on the front of the optic that senses the lighting conditions and adjusts it accordingly. When there is little ambient light, the red dot is dimmed—much like a vehicle's instrument panel when the headlights are turned on—because it needn't be bright in order to stand out in darkness. In bright sunshine, however, the dot reverts to its maximum brightness setting. Technically, the dot only becomes very dim in dark or near-zero light and never completely shuts off, so when not in use the lens cover should be kept on to maximize battery life.

The company touts a single CR2032 battery to last 1.2 days at full power in sunny outdoor conditions, 15.6 days at half power (similar to indoor conditions) and at least 283 days with the cover on. We've had our test unit now for 10 months, during which it has been subject to periods of sporadic use and storage, and its initial battery is still going strong. The First Strike's adjustments are made via a tiny slot-head screwdriver. They do not give off an audible click, but they did their job and stayed in place once adjusted. Each hash mark indicates a 1/2" of reticle adjustment at 100 yds.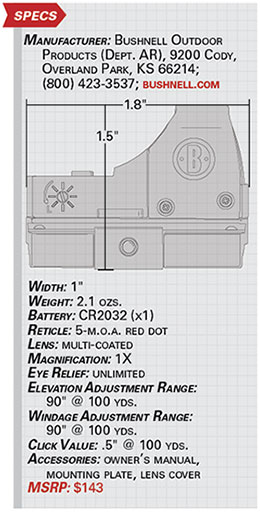 One accessory that differentiates the First Strike from most other mini-red-dot sights is that it comes with an adaptor rail for mounting it to a Picatinny rail. It also serves another function; It raises the sight 1/2", so that it is usable on guns with very little drop at comb, such as the AR-15. At the very least, it provides the consumer with multiple mounting options. In testing, the First Strike performed admirably, even when compared against competing mini-reflex sights costing several hundred dollars more. The unit is advertised as being waterproof, which we confirmed during an immersion test.
While its automatic brightness adjustment is great for quick use—like when drawing a gun in a defensive situation and there's no time for calling timeout to fiddle with the optic—its only drawback is that, like many other auto-illuminating sights, it turns off in total darkness, even if a distant target is lit. In this case, iron sights would be necessary, as they could be silhouetted against the lighted target. For this reason, it's important that a defensive gun's iron sights be tall enough to be seen through the First Strike's lens.
But for 99 percent of the time—for recreational shooting and all but the most pitch-black of defensive scenarios—the Bushnell First Strike is a quality optic that mounts easily to shotguns, rifles and some handguns. It is durable, reliable and, best of all, affordable.