Support NRA American Rifleman
DONATE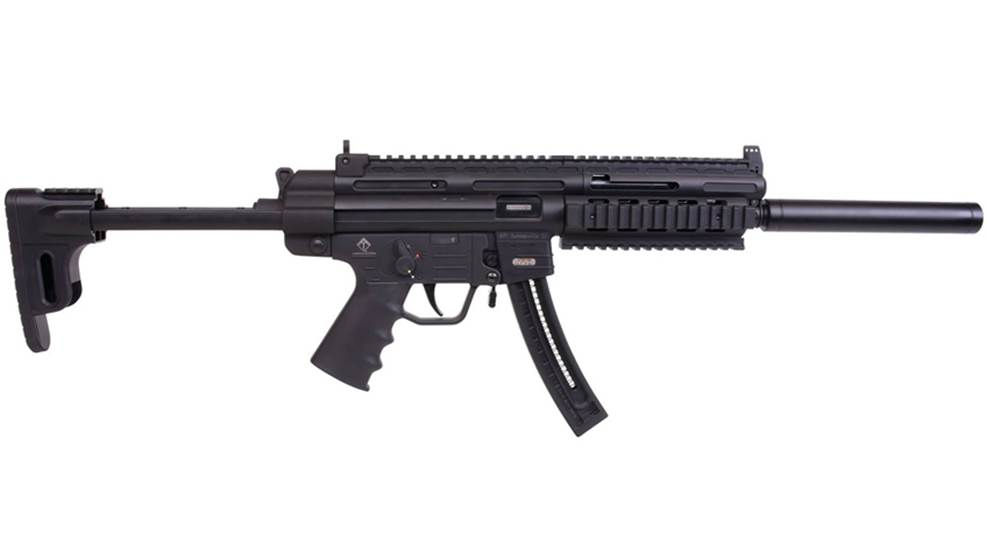 German Sport Guns (GSG) manufactures a variety of .22 LR semi-automatic replicas designed to look like famous and historical firearms. These replicas are affordably priced and less expensive to shoot than the sometimes expensive or difficult to obtain originals. Located in Ense-Höingen, Germany, GSG has a long standing business relationship with American Tactical Inc. (AT), a company that imports GSG offerings including rimfire versions of the venerable 1911 pistol and the Schmeisser StG 44. 
In 2009, these two companies teamed up to bring the GSG-5 to the American market. This replica borrowed its cosmetic profile from the renowned Heckler & Koch (HK) MP5. The GSG-5 was well received and there were plenty of accessories for it. However, HK took umbrage with both companies for what is called "trade dress infringements." In other words, the GSG-5 looked too much like an MP5, and HK did not approve. While the guns and gear that had already shipped were not recalled, GSG stopped production, AT discontinued distribution and the GSG-5 slipped into the history books. 


At the 2019 SHOT Show, the folks at AT let me know that GSG was going to revive this short-lived platform in a new configuration called the GSG-16. This latest model was touted as preserving, and even improving upon, the original without treading too close to MP5 territory. It has a suggested retail price of $399.95 instead of the $550 price tag the GSG-5 sported a decade ago. I took the opportunity to handle and examine the light weight, tactically styled GSG-16 there at the show. I liked what I saw and requested one to work with. Rather than dedicating too much time to comparing this version of the rifle to its previous incarnation, I'm going to focus on what the GSG-16 has to offer.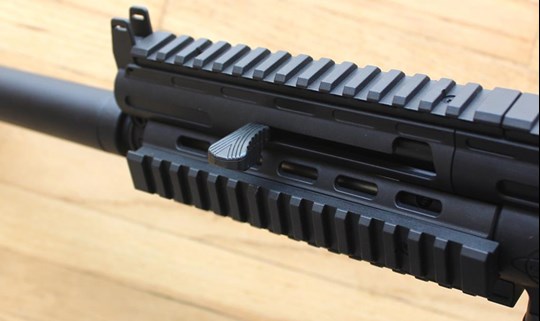 Using the same action GSG installs in other rimfire rifle models, the GSG-16 is a blowback-operated .22 LR rimfire. The rifle's exterior housings and components, including the "upper" receiver, removable trigger group housing, hand guard and telescoping stock assembly, are constructed of black impact resistant polymer. While the sight system, stock rails, stock release lever and safety selector are also polymer, the barrel shroud (i.e. faux suppressor) charging handle and trigger are made of aluminum. Steels are reserved for some pins, the pencil profile (0.42") stainless steel barrel and the bolt assembly. As a result, this rifle weighs in at 4 lbs. 13.9 oz. with an unloaded magazine.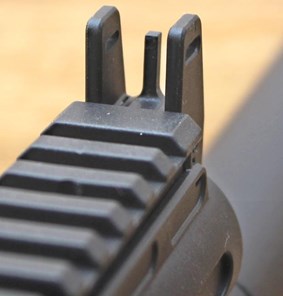 The polymer front sight post is shielded by protective extensions. The rear aperture sight is also polymer and adjustable for windage using the screw mounted on the right side of the sight block. GSG includes a set of interchangeable sight posts in different styles and heights including a second rear sight with a smaller aperture. Positioned end-to-end in between the sights are two 6.5" polymer Picatinny optics rails providing a total of 13" worth of slots for mounting optics. Three more of these removable rails are attached at the 3-, 6- and 9-o'clock positions on the ventilated hand guard. Removing the hand guard rails exposes a series of M-LOK type accessory slots.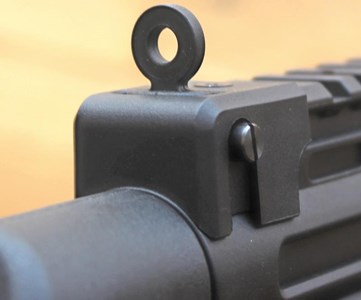 In order to meet U.S. length regulations, rifles like this one need to have at least a 16" barrel (GSG adds a quarter inch, just to be safe). The submachine gun this rifle was originally based on only has a 9" barrel. Therefore, about 8.5" of this .22's narrow profile barrel sticks out past the front sight. So, GSG has outfitted the barrel with a protective aluminum shroud that looks like a sound suppressor. It simply snaps into a support ring mounted below the front sight making it easy to remove.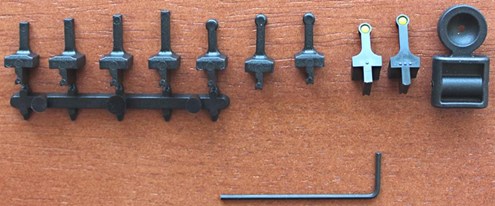 The four-position telescoping stock is a new feature designed specifically for this rifle. An easy to operate lever swings from left to right to release the stock. When the stock is fully collapsed, the rifle's overall length is 28.50" making it easy to store or pack. When fully extended, the stock provides a 14.5" length-of-pull (LOP) with stops at the 10.5" and 12.25" positions. That's a good range of LOP to fit most body sizes from youthful to seasoned enthusiasts. 

The stock's one-piece polymer buttplate is grooved for improved purchase. On top there's a molded-in 1.75" Picatinny accessory rail. A compartment designed to hold either a short 10-round or extended 22-round magazine makes it much easier to carry a spare in the field.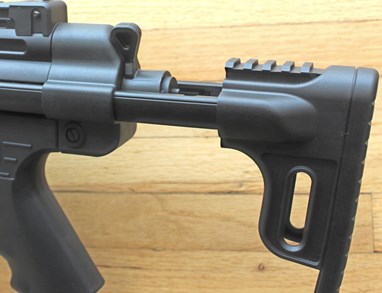 The integral pistol grip sports finger grooves and a removable dust cover. The external controls include a right-side round magazine release button, an ambidextrous magazine release lever, a smooth faced trigger and an ambidextrous safety selector lever. The right-side magazine release button was exceptionally stiff, so I didn't use it much. Instead, I relied on the much easier to swing magazine release lever located in front of the angled trigger guard.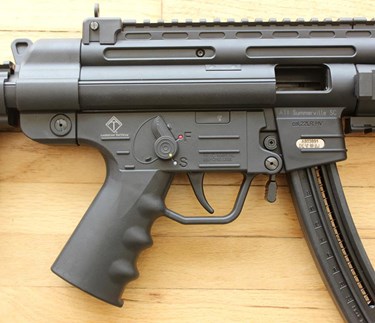 The feel of the trigger is best described as single-stage with a long and slightly gritty arch of travel. It doesn't feel heavy at 5 lbs. of trigger pull (as tested) and is pleasant to use with a bit of practice. The safety selector is of a particularly good design for new or less experienced operators. The Fire position is clearly marked with a large capitol F and an easy to see red dots on both sides of the receiver. The Safe setting is similarly marked with an S and white dots. The relatively large left and right side levers have a yellow dot and an indicative "click" that indicates its current position. 


This rifle ships with one curved 22-round stick magazine. AT offers additional 2-Packs of 22-round or 10-round magazines along with individual drum magazines which hold up to 110-rounds of ammunition. Thankfully, the 22-round magazines I worked with have tabs attached to the followers that can be pulled down as the magazine is loaded. This makes filling the magazines to their full capacity easy to do. An internal magazine safety prevents the trigger from cycling if the magazine is removed.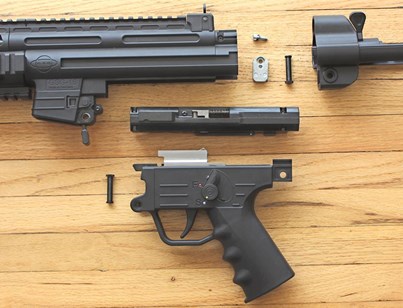 Breaking down the GSG-16 for cleaning takes a few more steps than some models and includes some small parts to keep track of. It's not a bad idea to have a small container on hand to store them. A closer look at the bolt assembly reveals that the bolt is supported by two separate steel guide rods and recoil springs. The cast metal bolt housing provides metal-on-metal support so that the moving components do not come into contact with the polymer receiver. It's a sturdy assembly designed for regular use. 


This is one of those .22 semi-automatics that says, "Take me with you!" when heading out for a day of casual plinking in the wilderness or punching targets at an indoor range. It handles nicely and swings comfortably. The light weight and mild recoil are hard to beat.


In keeping with this rifle's light, handy and tactical configuration, it was topped with the new Crimson Trace CTS-1300 red dot optic for informal and formal testing at the range. Designed for use with rifles and shotguns, this optic's 3.5 MOA dot was just the right size for the aiming points on the paper targets used for formal bench-rested accuracy testing at 50 yards.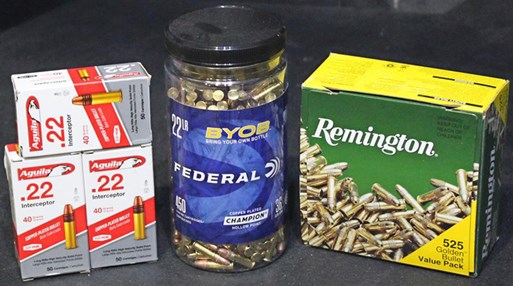 The GSG-16 proved to be a reliable operator with the .22 LR ammunition tested, which ranged from bulk-box to mid-grade multi-purpose loads. GSG lets folks know up front that High Velocity ammunition (1260 f.p.s. or faster) is recommended to ensure reliable operation.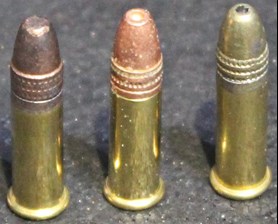 Remington Golden Bullet 36-gr. brass-plated hollow points (listed at 1280 f.p.s.) printed a best 50-yard 5-shot group of 2.17" with a five-group average of 2.28". Federal Premium's new bottled Champion BYOB 36-gr. copper-plated hollow points (1260 f.p.s.) tapped out a best group of 1.71" with an average of 1.98". The hotter Aguila Interceptor 40-gr. copper-plated flat point (1,470 f.p.s.) yielded a best group of 1.39" with an average of 1.47". 

Based on my experience, it's important to be careful when considering the purchase of a polymer-framed, combat-rifle type replica .22 rifle. I've seen some options out there that should be serving as plastic movie props, not sporting firearms. However, German Sports Guns is one of the companies which offers a quality product that's worthy of consideration.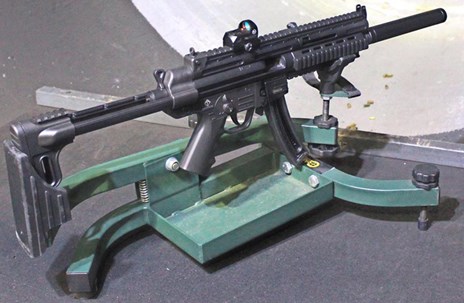 The GSG-16's light weight construction, collapsing stock and plentiful set of accessory rails make it a handy multi-purpose plinker that can comfortably travel as a trunk gun, camp gun or a backpacking option. The fact that it looks cool and can be found for real world prices closer to $350 are an added bonus.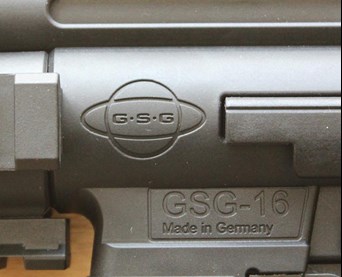 Specifications:
Importer: American Tactical Inc. 
Manufacturer: German Sports Guns 
Model: GSG-16 (GERGGSG1622)
Action: Blowback-Operated Semi-Automatic
Caliber: .22 LR
Barrel: 16.5" Stainless Steel, Pencil Profile
Faux Suppressor: Removable Aluminum Barrel Shroud 
Upper Receiver: Black Polymer
Trigger Group Housing: Black Polymer
Shoulder Stock: 4-Position Telescopic with Polymer Struts
Buttplate: Textured with Magazine Storage and 1.75" Accessory Rail
Pistol Grip: Integral Black Polymer, Finger Grooves, Smooth Surface
Trigger: Single-Stage, Smooth Faced Steel
Trigger Pull: 5 lbs. 8 oz. (Listed), 5-lbs. (As Tested)
Front Sight: Hooded Post, Interchangeable
Rear Sight: Drift Adjustable Peep, Interchangeable
Overall Length: 28.50" to 34.25"
Length of Pull: 8.25" to 14.50"
Weight: 4 lbs. 13.9 oz. Unloaded, With Empty Magazine
Capacity: 22+1 Rounds
Twist: 1:16" RH
Rifle Grooves: 6 
Accessories: One Magazine, Interchangeable Polymer Sight Set, Chamber Brush, Manual 
MSRP: $399.95
Crimson Trace CTS-1300 Red Dot $299