by
Kelly Young, Senior Executive Editor
posted on July 22, 2016
Support NRA American Rifleman
DONATE
One of Thompson/Center Arms' new introductions at SHOT Show 2016, the affordable but feature-packed Compass, is now shipping. The company—known for its unconventional but well-made products—has high expectations that its newest bolt-action rifle, which is available in 10 of the most popular center-fire rifle chamberings at launch (.204 Ruger, .223 Rem., .22-250 Rem., .243 Win., .270 Win., 7 mm-08 Rem., 7 mm Rem. Mag., .308 Win., .30-'06 Sprg. and .300 Win. Mag.), will make a splash in the competitive entry-level bolt-gun market.
In many ways, the new Compass draws upon T/C's previous bolt-action offerings for a number of its design cues, however, it also represents a departure from its predecessors in some ways as well. Like the Icon, Venture and Dimension before it, the Compass' full-diameter steel bolt utilizes a three-lug design and a 60-degree throw for improved scope clearance. The Compass' action is pillar-bedded within a lightweight synthetic stock, the receiver is drilled and tapped for the installation of an optic and a three-position wing safety allows the bolt to be manipulated while the safety is still engaged.
Also like T/C's other bolt-actions, the new rifle's free-floating barrel is button rifled with 5R rifling. Guns chambered in the line's two magnum cartridges have 24" blued steel barrels, while the other eight options all feature 22" tubes. Compass rifles are also covered by Thompson/Center's accuracy guarantee of being capable of 1" three-shot groups 100 yards with premium ammunition.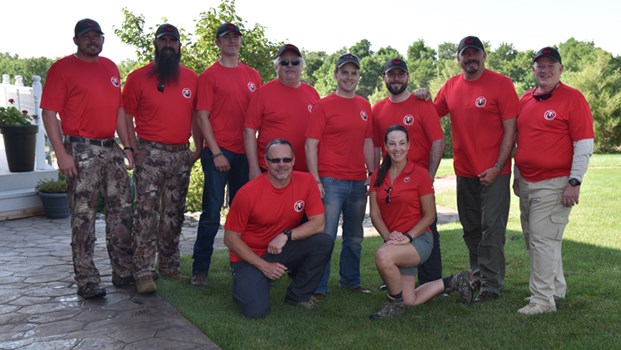 American Rifleman's Kelly Young, third from top right, put the new T/C Compass rifle through a recent successful prairie dog shoot. 
Textured grip panels on the pistol grip and fore-end provide purchase on the gun in either dry or wet conditions, and a cocking indicator is present to confirm when the bolt's striker is in the firing position. The rifles' user-adjustable, single-stage trigger can be adjusted for a pull weight between 3.5 to 5 lbs, and the Compass feeds from a flush-fitting, rotary, detachable-box magazine (5-round capacity for non-magnum cartridges, 4 for magnums).
Unlike its bolt gun forebears—indeed it is the first T/C firearm of any kind to bear this feature—the Compass comes standard from the factory with a threaded barrel for use with a compensator or suppressor. The thread pitch for the .204 Ruger, .223 Rem. and .22-250 Rem. models is 1/2x28; for all other chamberings, it's 5/8x24. A thread protector is also included for when a muzzle accessory is not being employed.
A .204 Ruger-chambered Compass (topped with a Vortex Viper HS 4-16x 44 mm) was used to good effect last week during a very successful prairie dog hunt in South Dakota. While no formal accuracy testing was conducted during the trip, the rifle proved to be minute-of-rodent out to 300 yards. The test gun also featured a smooth-cycling bolt and a superbly crisp trigger with no discernible creep—feats made all the more impressive in light of the new gun's price point.
With an MSRP of only $399—and a likely street price closer to $300—the American-made T/C Compass constitutes a bargain, offering performance that belies its wallet-friendly price tag. How much of the highly competitive entry-level rifle market it eventually snares remains to be seen, but the Compass offers the goods to allow it to contend with the heavy hitters of that market segment.
For more on the new T/C Compass, visit tcarms.com.