by
posted on June 24, 2021
Support NRA American Rifleman
DONATE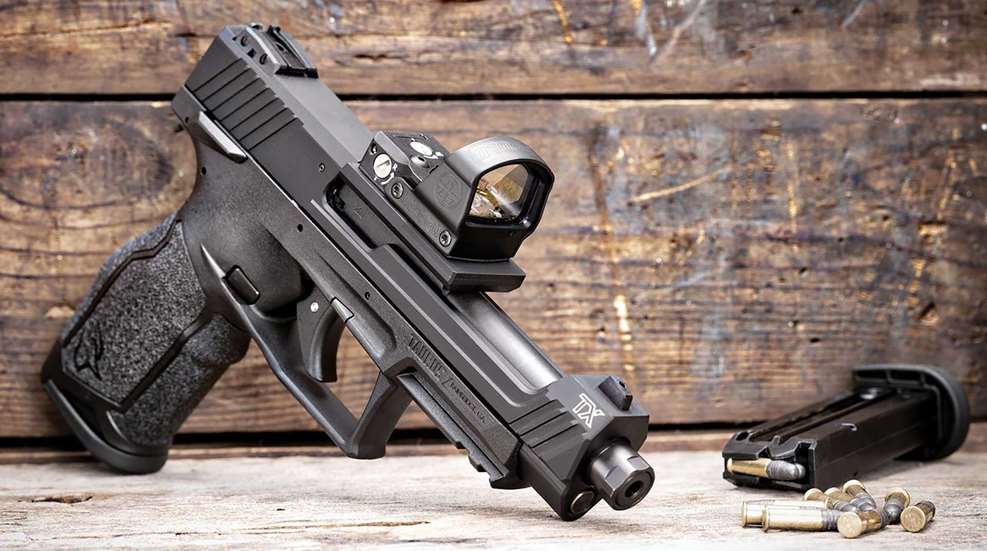 In 2019, Taurus International made the business decision to set aside the company's more unusual and exotic offerings. Instead, the team focused their efforts on improving product quality, manufacturing consistency and continuing to offer reliable handgun options that meet their customers' needs at affordable prices. Among the top offerings of that year was the TX22, an innovative increased capacity .22 LR pistol.
Since that time, the industry has seen a sharp rise in the demand for pistols that leave the factory with slides that are ready to accept micro red-dot optics (MRDO). The use of MRDOs is becoming a popular option in defensive circles because the technology is now reliable and affordable, while the sight picture these small reflex optics provide is fast to acquire and intuitive to use in most lighting conditions.
Using proper techniques, most shooting sport enthusiasts are able to print tighter groups down range with red-dot optics than traditional iron sight systems. As a result, just as integral dust cover accessory rails for lights and laser modules became a 'must have' for defensive semi-autos two decades ago, optics ready is quickly becoming the next standard for concealed carry, home defense and target shooting handguns.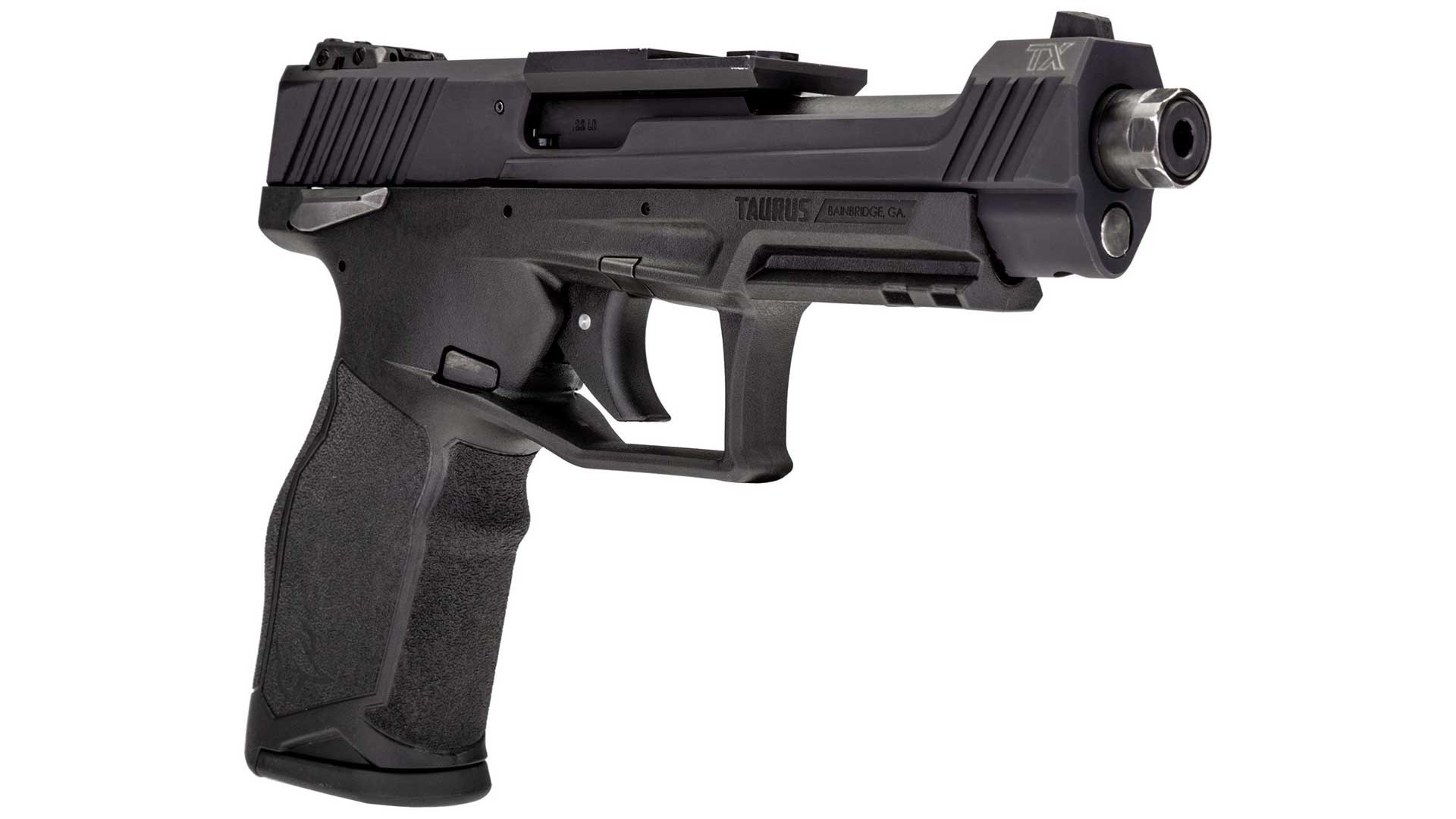 A close-up look at the Taurus TX22 Competition from the right side.
Recognizing the importance of accommodating the red dot trend, Taurus has introduced new optic-ready models as part of the company's 2021 line up. As a part of this new group, Taurus worked out an optic-ready of the TX22 as well, the new TX22 Competition model. The standard version of the TX22 is a blow-back operated semi-automatic handgun that has proven to be reliable with a variety of .22 LR ammunition. That's no mean feat considering how ammunition sensitive some rimfire pistols can be. And so making changes to the platform that might impede its reliability was a real concern.
The impact of modest changes in slide weight for center fire pistols with steel slides generally tends to be negligible. That's why we see so many defensive 9 mm pistols with the mechanically simple optic-mounting solution of milling out a portion of the slide. Most 9 mm ammunition generates enough pressure to compensate for a few ounces of added weight.
The TX22 rimfire is a different story. The light weight slide assembly is made primarily of aluminum, with some polymer and steel inserts. It weighs in at just 4.1-oz., which is a good fit for the reduced pressure levels produced by .22 LR cartridges. But attaching an optic and the required hardware could nearly double the weight, depending on the optic used. Of course not all optics weigh the same amount, which would make tuning the recoil spring a tricky business.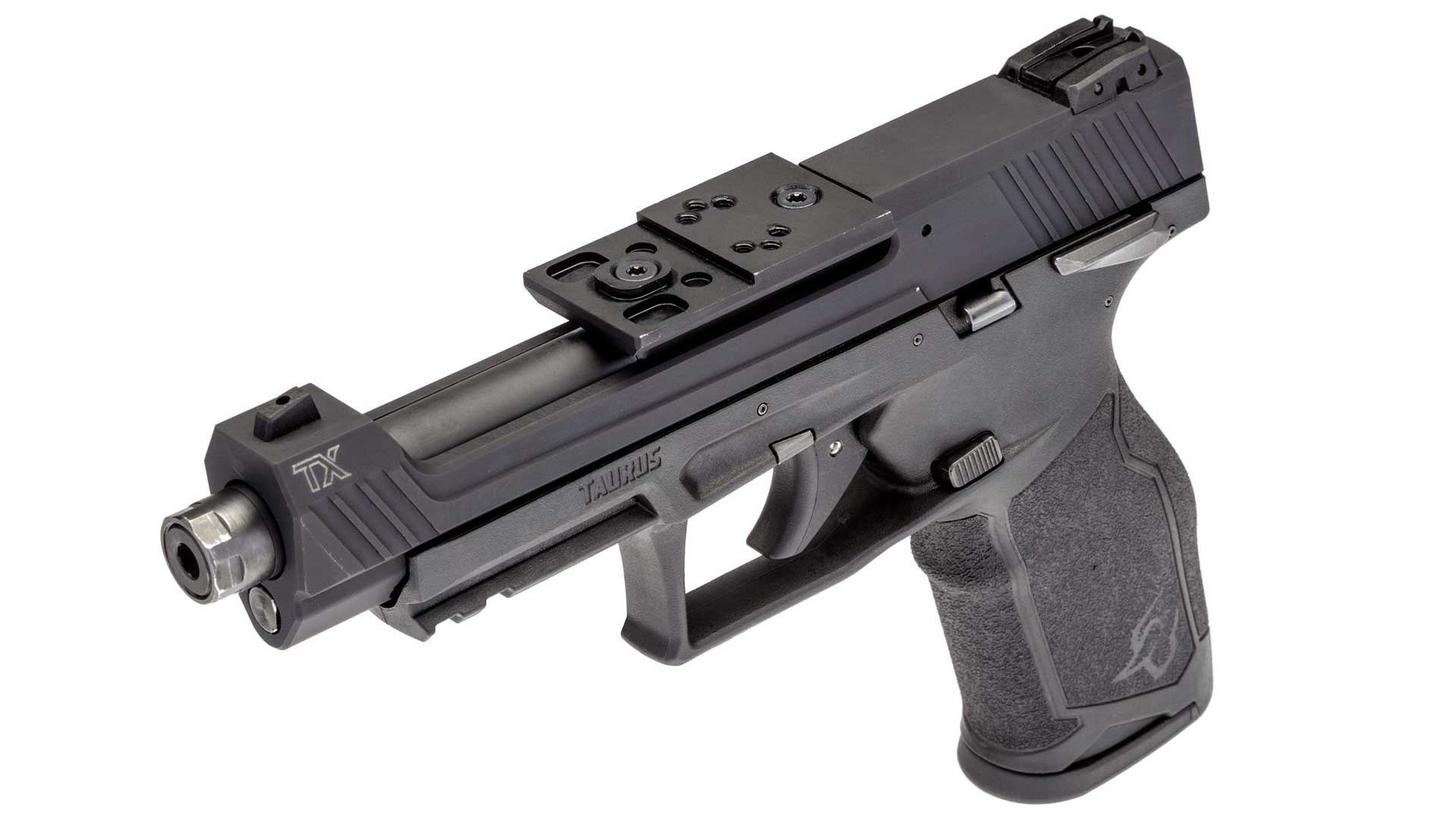 Another view of the Taurus TX22 Competition, with the mounting plate visible.
To resolve the problem, the company's engineers decided to take full advantage of the TX22's locked barrel design. Unlike many centerfire pistols, the barrel of the TX22 does not shift its position within the slide and frame when the action is cycled. Instead, the barrel is locked in place against the same aluminum block which supports the pistol's takedown lever extension and two of the three sets of short slide rails. This provides the stability of a frame-mounted barrel while allowing it to be easily removed along with the slide for cleaning. It also provides the foundation needed to support an optic and mounting system with the right modifications.
At the heart of the TX22 Competition is a new bull barrel, configured with target shooting in mind. The length and diameter have been increased from 4.1" to 5.25" and 0.40" to 0.60" respectively. Designers eliminated the need for a muzzle-device adapter with this model by extending the threaded barrel 0.25" past the nose of the slide. A thread protector is provided. The original polymer guide rod has been replaced with a full-length steel rod with a captured single flat wire spring. 
The squared off portion of the barrel around the chamber has been lengthened from 1.5" to 2.1" to support a steel 1.2" wide and 2.15" long scope base. This removable base is secured to the barrel via a twof Torx head screws. The front half of the base is milled to accept a pair of provided reversible mounting plates while the rear half of the mount sports three sets of screw ports. The plates and ports allow for four different configurations which accommodate a variety of red-dot optics, including models manufactured by Burris, C-More Systems, Docter, Holosun, Leupold, Sightmark and Trijicon.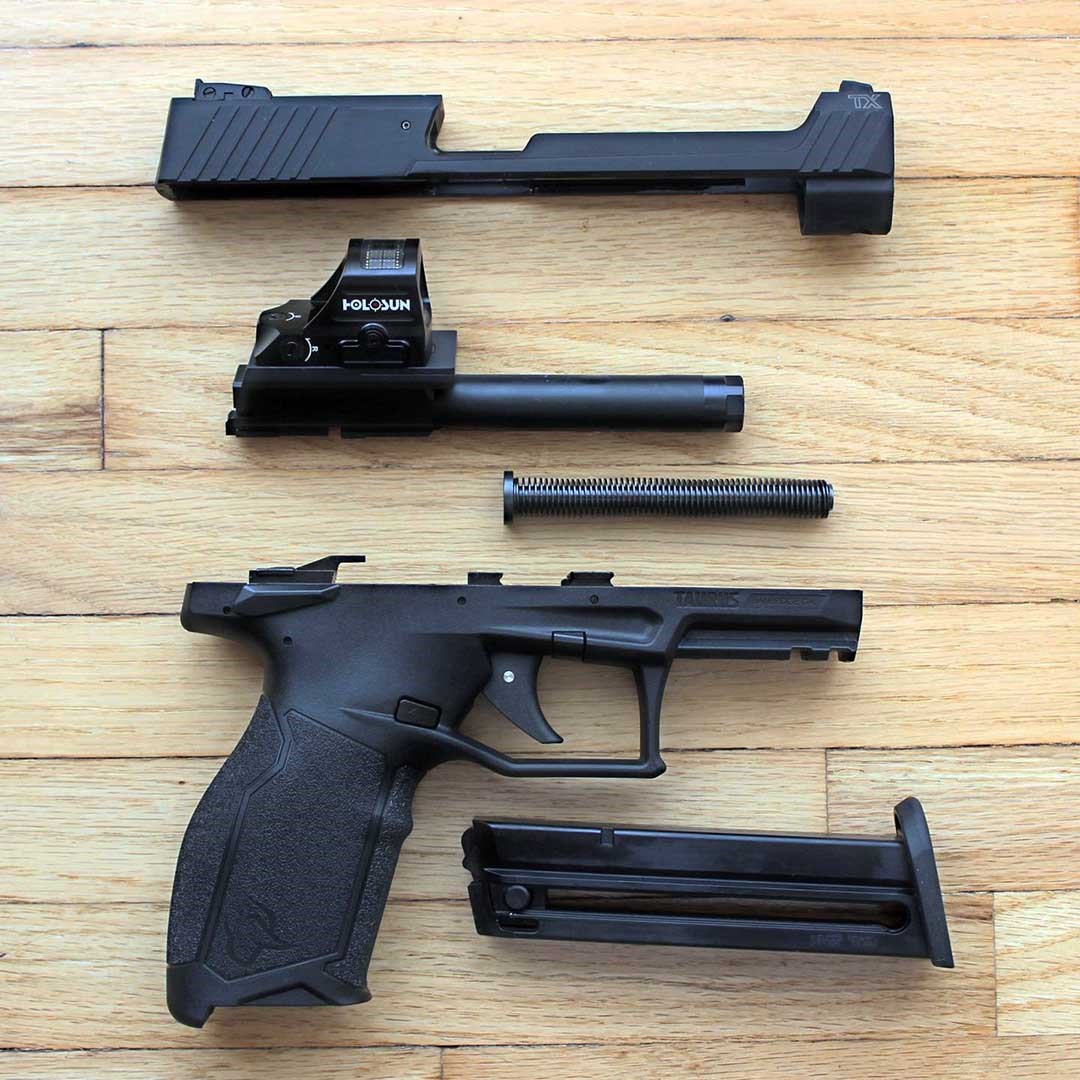 The Taurus TX22 Competition disassembled. 
The TX22 Competition's aluminum slide retains the same styling as the original but it has been stretched by 0.90". It has a top side cutout that reaches from just behind the polymer white dot front sight to the rear of the ejection port. This cutout accommodates the scope mount and reduces the longer slide's weight to 4.5-oz., which is nearly the same as the standard model.
There's still a set of canted cocking serrations at the front of the slide as well as the rear but the number of cuts up front has been reduced from five to three. The white dot rear sight remains fully adjustable for height and windage. It should be noted that the sights are standard height, which means they are too short to be viewed through or co-witnessed with the optic.   
The changes to the barrel and slide assembly have increased the pistol's weight from 17.4-oz. to 23-oz. before mounting an optic. Nevertheless, the pistol still has a light, handy and well balanced feel to it. As for the lower half of the gun, it remains unchanged from the standard model. This is a good thing since the sage advice 'don't fix it if it ain't broke' applies in this case.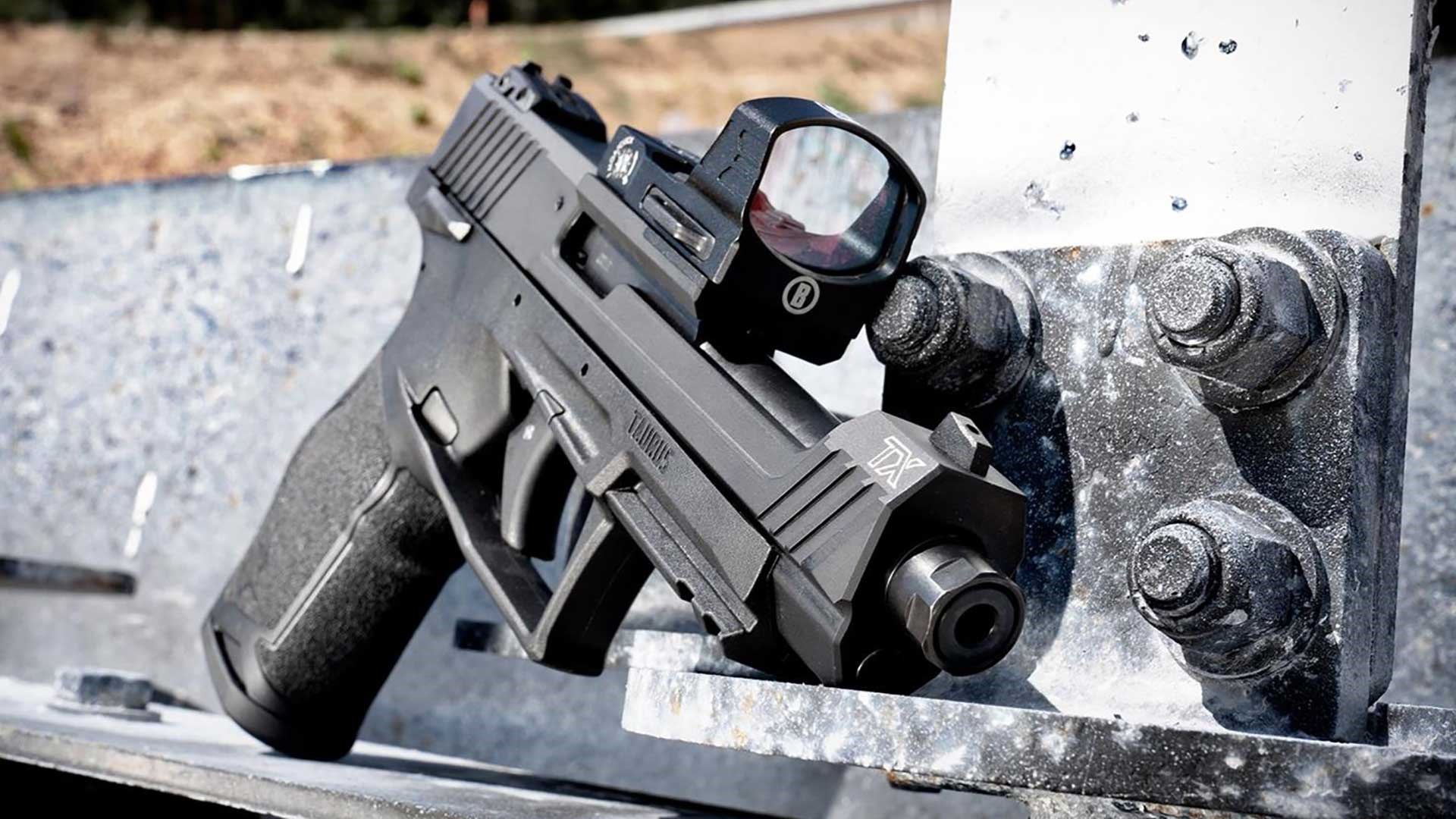 The textured polymer frame's features and its controls have been configured to mimic those commonly found on popular striker fired 9 mm pistols. A 1.75" accessory rail is molded into the dustcover for light and laser modules. Trigger finger rest indentations are located intuitively just above the trigger. The trigger guard is shaped to act as a finger rest and recessed where it meets the grip. 
A smooth faced, hinged trigger shoe takes the place of an integral trigger safety lever. The grip features a moderate molded-in wrap around texturing which is effective without being abrasive. The gun ships with two proprietary Taurus 16-round polymer magazines. The TX22 Competition was outfitted with a Holosun HS407C red-dot optic for informal and formal testing at the shooting range.
The pistol was fired using .22 LR cartridges topped with 40-gr. bullets launching at listed rifle velocities ranging from 1,070 f.p.s. to a more toasty 1,435 f.p.s. These rifle speeds translated into pistol muzzle velocity averages ranging from 946 f.p.s. to 1,129 f.p.s. Despite the changes in bullet velocities, this version of the TX22 ran just as reliably as its predecessor. It exhibited no malfunctions of any kind in the course of testing.  
Thanks to the smooth 4-lbs. 12-oz. trigger, bull barrel and Holosun optic, punching paper targets was a real pleasure. Generally speaking, my experience has been that using a red-dot optic can shave somewhere around 0.5" off of my group sizes when compared to the same, or similar, handguns aimed with traditional iron sights. The TX22 Competition did even better than that. The Standard model printed an average extreme spread of 2.98" at 25 yards when I tested it. The Competition yielded an average extreme spread of 2.18".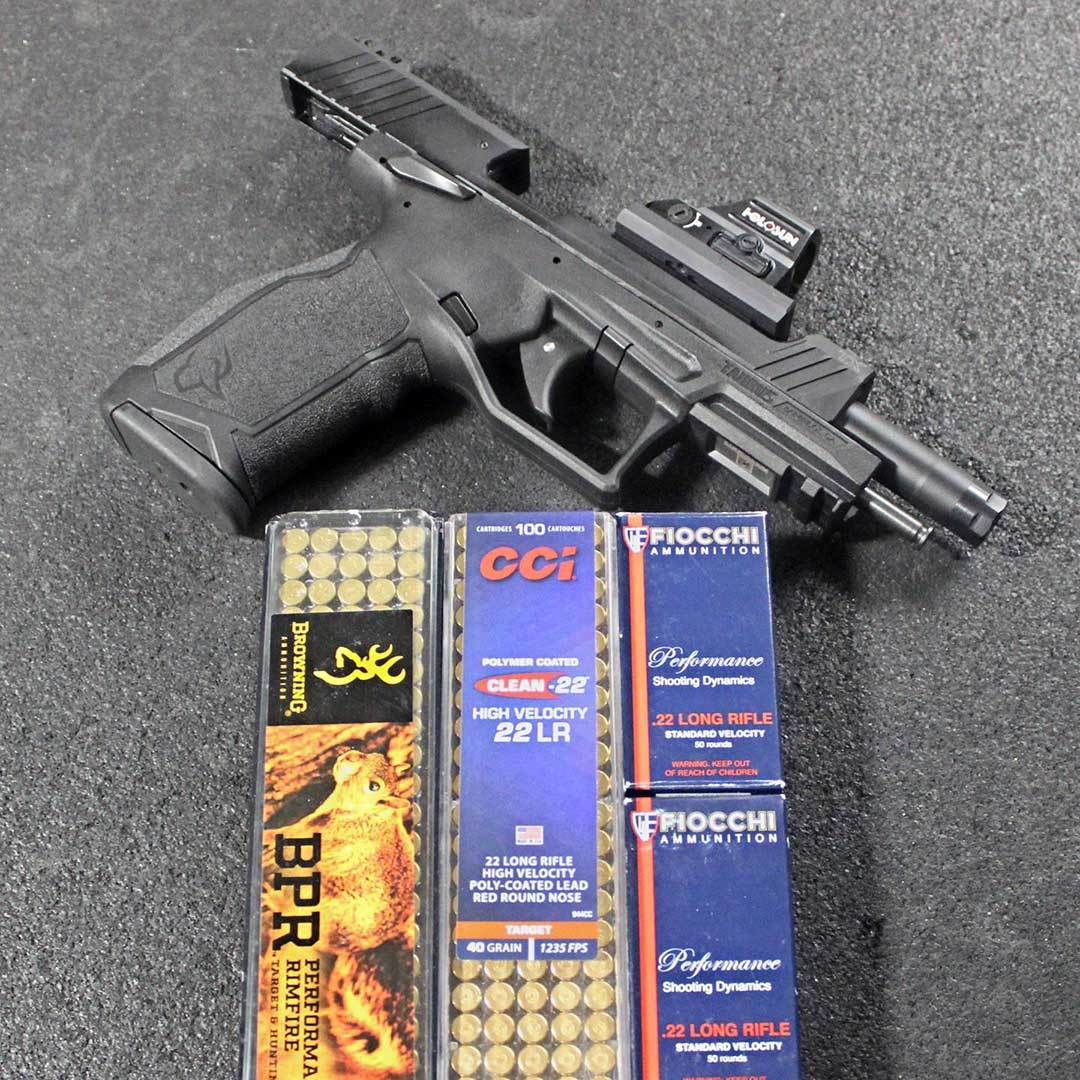 The Taurus TX22 Competition with the three different load of .22 LR used in testing.
Browning's BPR 40-gr. copper plated hollow point knocked out a best single group of 1.91" with a five group average of 2.03". CCI's Clean High Velocity 40-gr. polymer coated lead round nose yielded a best group of 2.47" with an average of 2.59". Fiocchi's Performance Shooting Dynamics (22FLRN) 40-gr. lead round nose produced the tightest single group of 1.76" with an average of 1.91".
Overall, the American made TX22 Competition exhibited a clean, professional level of fit and finish throughout, which is consistent with what I saw in the standard model. This is a very likable pistol that's a great fit for a variety of hand shapes and skill levels. The target-grade modifications increase the sticker price by about $170 when compared to the suggested retail price of the Standard version.
But the improved performance and its usefulness as a rimfire understudy to optics-ready defensive pistols make it a worthwhile investment. Although .22 LR pistols are a less than optimal choice, there are those who have their reasons for turning to a rimfire handgun for personal protection inside or outside of their homes. If I was limited to picking a .22 LR pistol for self defense, this one would be at the top of the list.
Specifications:
Manufacturer: Taurus USA; taurususa.com
Model: TX22 Competition
Action: Striker Fired Blow-Back Operated Semi-Auto
Caliber: .22LR
Slide: Open Top 7075 Aluminum, Front and Rear Cocking Serrations
Slide Finish: Matte Black Hardcoat Anodized
Front Sight: Polymer White Dot
Rear Sight: Polymer Adjustable 2-Dot
Optic Mounting System: Barrel-Mounted Optics Plate
Barrel: 5.25" Bull Barrel
Barrel Threading: 1/2-28" TPI with Thread Protector
Frame: Matte Black Polymer
Accessory Rail: 1.75" MIL-STD-1913
Grip: Wrap-Around Texturing
Trigger: Single-Action Only
Trigger Pull: 4-lbs. 12-oz. (As Tested)
Safeties:  Ambidextrous Manual, Firing Pin Block, Trigger Safety
Magazine Release: Reversible
Overall Length: 8.15"
Height: 5.44"
Slide Width: 1.00"
Grip Width: 1.25"
Weight: 23-oz. with Empty Magazine
Capacity: 16+1 or 10+1 Rounds
Twist: 1:16 RH
Rifle Grooves: 6
Accessories: Foam Lined Hard Case, Two Optics Adapter Plates, Two 16-Round Magazines, Magazine Loader, Lock, Owner's Manual
Suggested Retail: $485
Tested Optic: Holosun HS407C Open Reflex Red Dot, $282.34