by
posted on June 12, 2021
Support NRA American Rifleman
DONATE
The cancellation of the 2021 SHOT Show left manufacturers scrambling for a substitute forum with which to introduce their new products to the public. BPI Outdoors, the parent company of Bergara and CVA known for their long-range precision centerfire, rimfire and muzzleloading rifles, has been barnstorming the country with their aptly named "Long Shot Tour" events, which gives members of the outdoors media a chance to go hands-on with their latest offerings.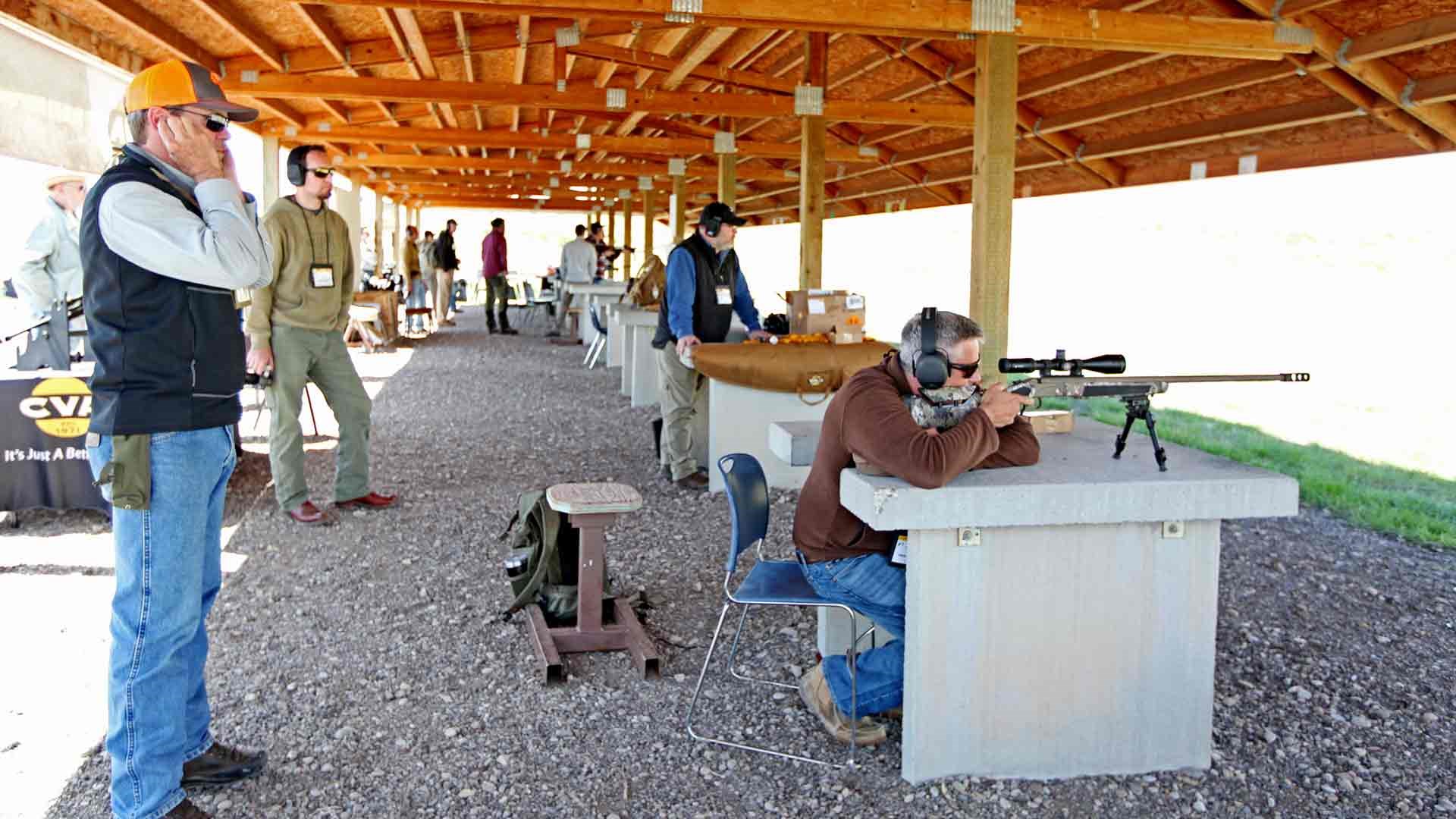 We caught up with the BPI team at their Great Falls, Mont., event (near Bergara's long range shooting school), where they had seven new or updated Bergara and CVA firearms for us to get some trigger time with. Stay tuned for complete reviews of these new firearms in the near future, but in the meantime, here is an overview of the two companies' latest products, along with our initial impressions. 
Bergara Small-Batch Series Sidekick Bolt-Action Pistol: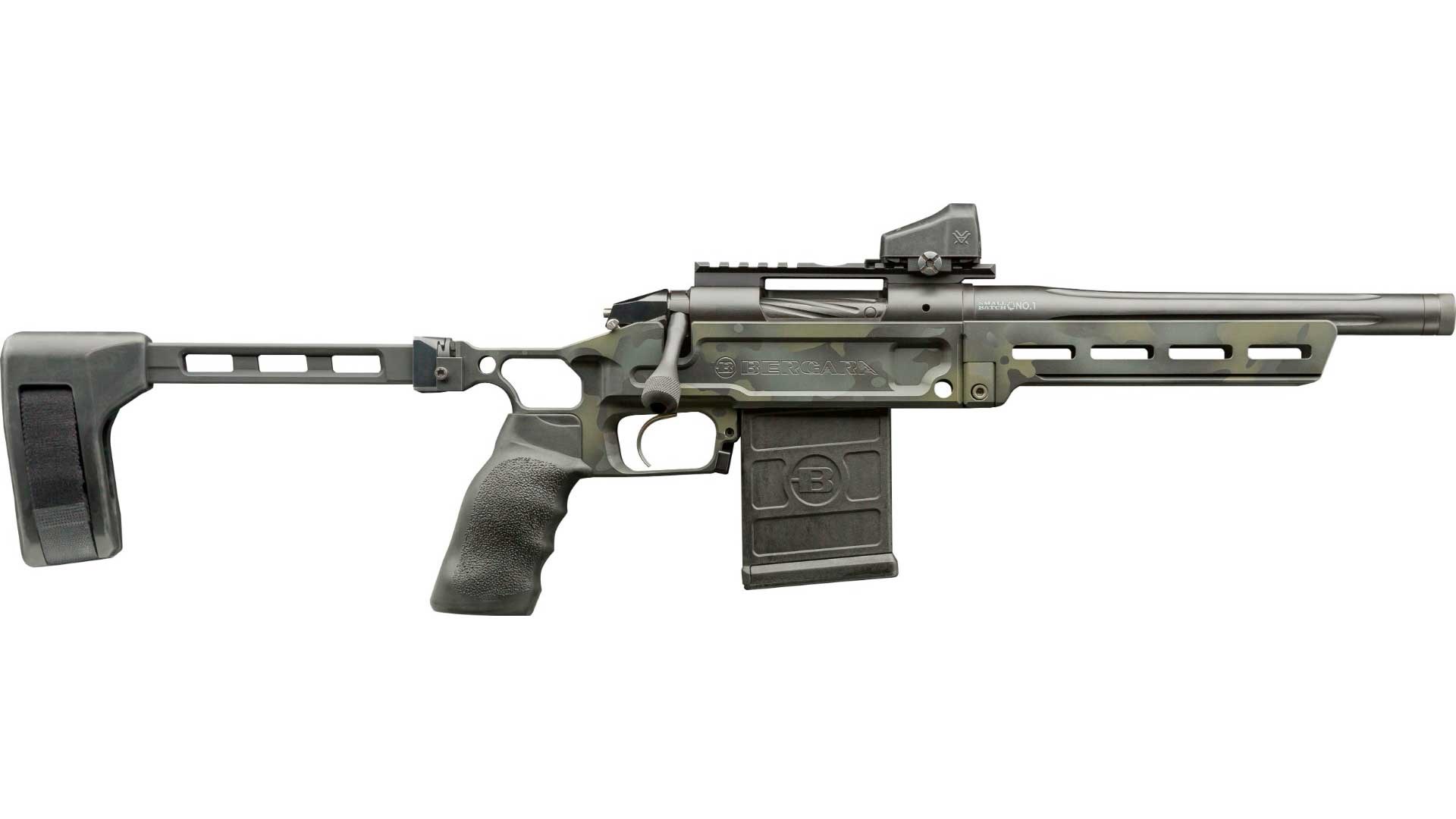 The Bergara Sidekick: The first model offered in Bergara's Small Batch Series is the Sidekick bolt action pistol. Image courtesy of BPI Outdoors.
In April, Bergara announced their "Small Batch Series." Using the language of boutique distilleries ("Barreled in Spain. Refined in Georgia." is their tagline), the company plans to produce a series of unique, limited production firearms.
For their No. 1 Small Batch offering, Bergara took an interesting step for a company who has built their reputation on rifles. They made a handgun. Called the Sidekick, Bergara mates one of their Premier actions with a TriggerTech Primary Trigger, a 10-round AICS-type magazine and a 10.5" fluted stainless steel barrel with a threaded muzzle.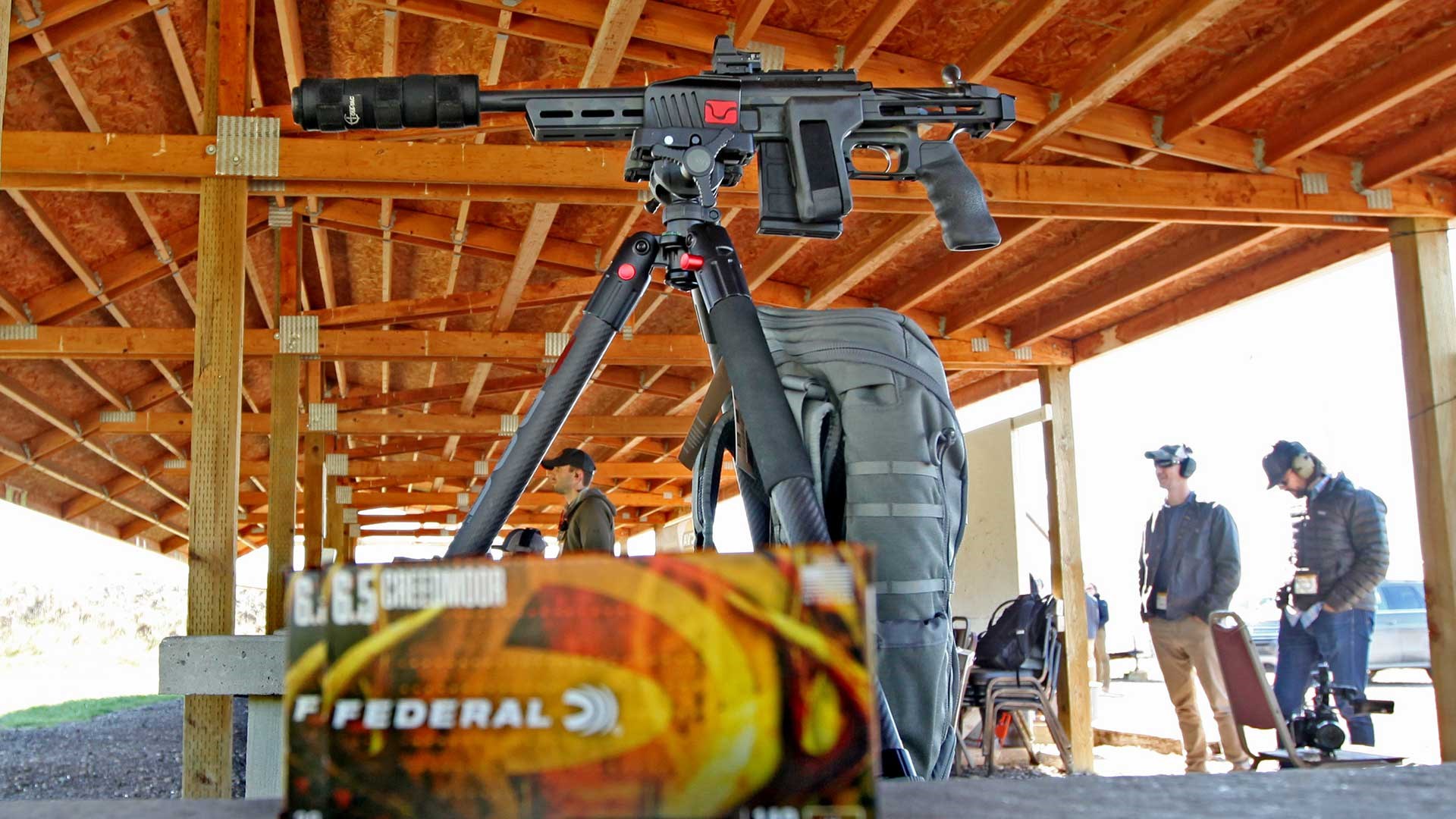 The action is mounted in a custom Black Collar Arms chassis that is fitted with an SB Tactical folding brace and finished in Multicam Black Cerakote. The result weighs 5.8 lbs. without an optic and is a compact 28.5" overall with the brace extended. Designed as a compact and portable hunting pistol, the Sidekick comes with a fitted Eberlestock Little Trick carrying bag.
The Sidekick is offered in .308 Win., 6.5 mm Creedmoor and .223 Rem. chamberings. At Long Shot, a 6.5 mm Creedmoor Sidekick was available for our testing. Fitted with a Leupold Delta Point red-dot sight, we fired the Sidekick from a Bog DeathGrip tripod rest with the brace folded. Even with the non-magnified optic, it was possible to ring an 8" steel plate out to 200 yards.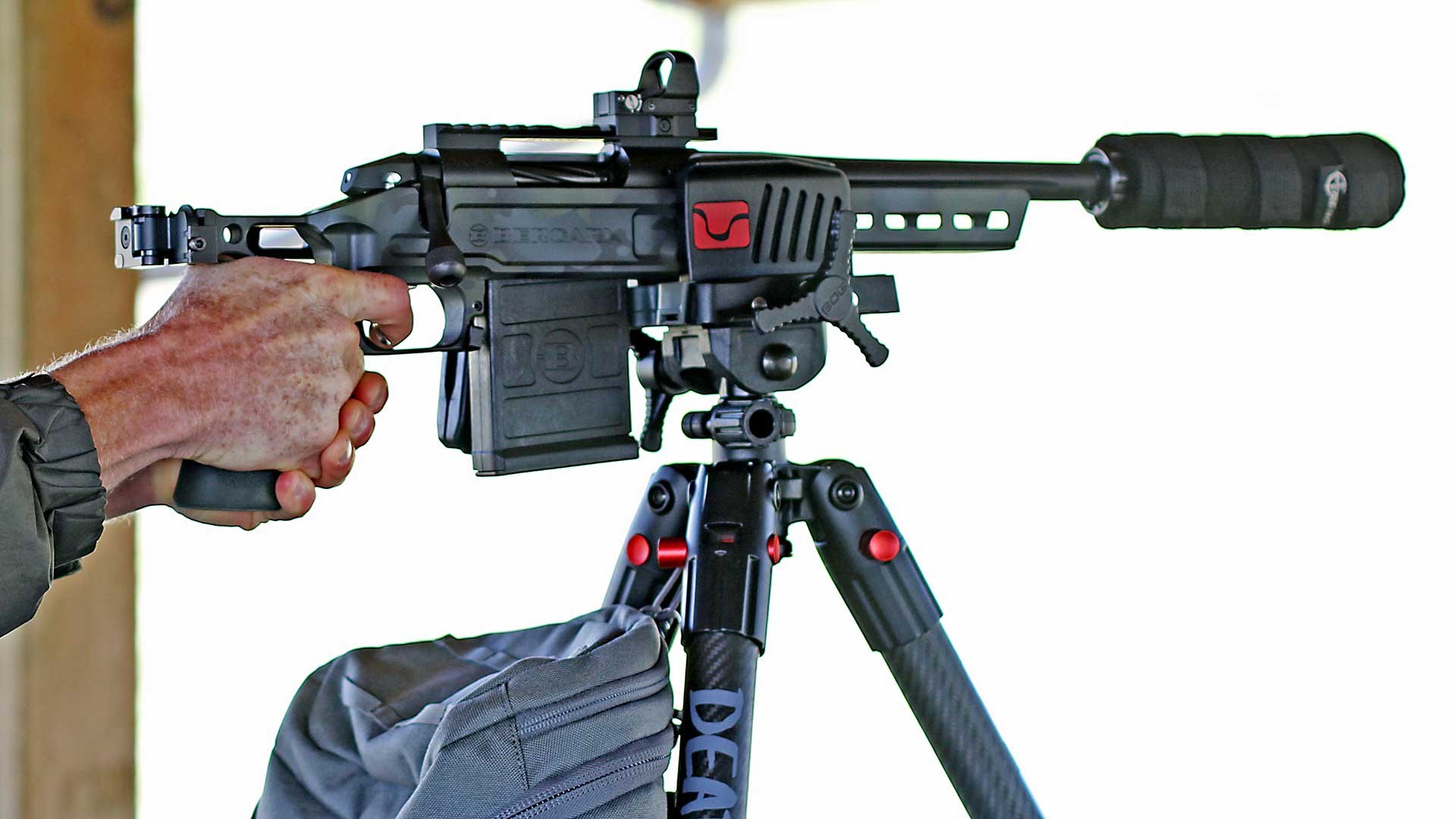 The MSRP of the Sidekick is $2899 and will be available from select dealers. Bergara is close-lipped as to what Round 2 of their Small Batch Series will be, but expect their second Small Batch product to come out later this year and, based on the response to the Sidekick, they plan to produce at least 500 next time around.
Bergara Premier Competition Rifle: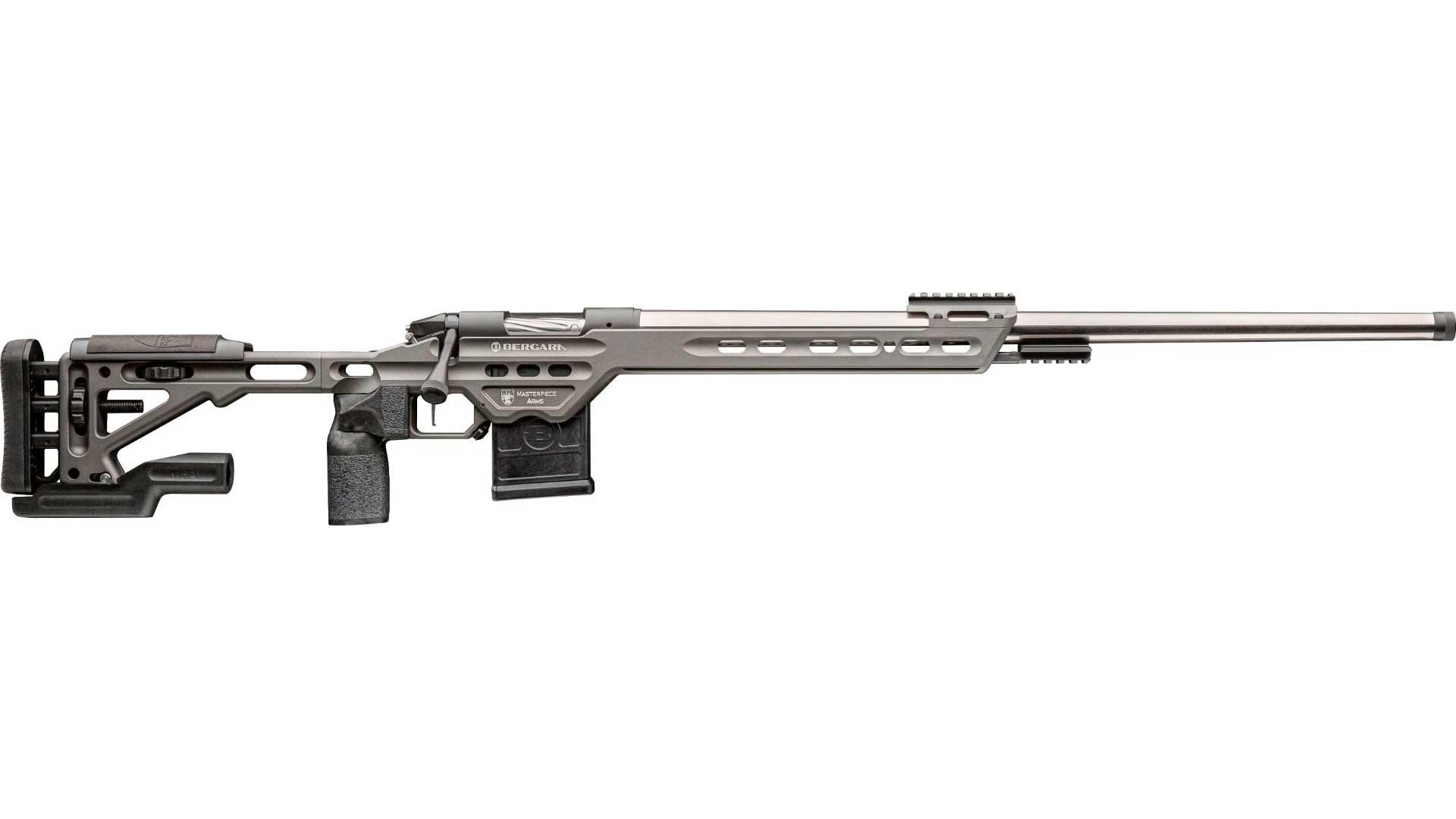 The Bergara Premier Competition Rifle. Image courtesy of BPI Outdoors.
Bergara adds one model to their Premier line-up for 2021 with their Competition Rifle. Designed for "production" classes in precision rifle competitions, the Competition Rifle comes from the factory with all of the bells and whistles you need for top performance straight out of the box, while keeping its MSRP one dollar under the magical $2,500 mark that competitions like the Precision Rifle Series (PRS) define as the limit for Production Division rifles.
To build the Competition Rifle, Bergara adds a No. 7 heavy taper stainless steel barrel to its Premier action, the heaviest barrel that Bergara puts on any of its production rifles. This combination is placed in a MPA BA Competition chassis, which has a length-of-pull and cheekpiece that are both adjustable, along with a bag rest. Compatible with AR-type grips, a MPA Enhanced Vertical Grip (EVG) comes standard. The chassis is set up to accommodate a variety of accessories, with top and bottom Picatinny rail platforms, as well as an ARCA Swiss rail section in the fore-end.
The Premier Competition rifle is offered in 6.5 mm and 6 mm Creedmoor with plans to offer other popular chamberings next year. On a range limited to 300 yards, hits with the 6.5 mm Creedmoor Competition Rifle, paired with a Leupold 5HD scope, come too easy. With a growing interest in PRS-style competition, Bergara's Competition Rifle offers new precision shooters a turn-key package that is anything but entry-level. 
Bergara Micro Rimfire (BMR) Rifles: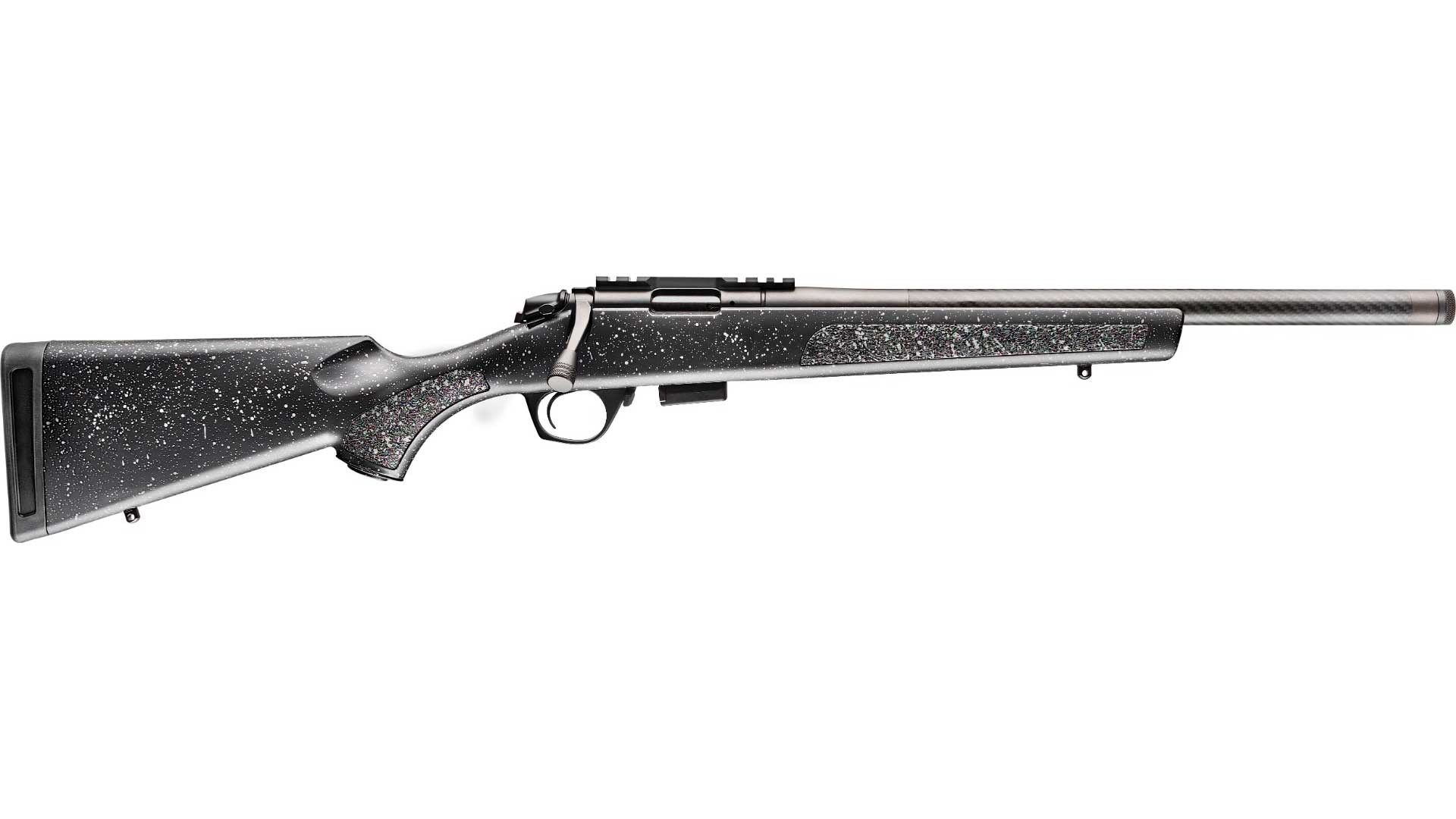 The Bergara Micro Rimfire (BMR). Pictured is the model chambered in .22 LR with an 18" carbon-fiber barrel. Photo courtesy of BPI Outdoors.
According to Damon Bungard, BPI Outdoors Senior Marketing Manager, Bergara started 2021 with the goal to "blow up our rimfire presence this year." The first step in that direction is the introduction of the Bergara Micro Rimfire (BMR). While Bergara is known for its full-sized precision bolt-action .22 LR trainers, that combine a centerfire-sized action and components with the .22 LR rimfire cartridge (see below), the BMR is centered around a rimfire-scaled action and magazine. The one full-sized component of the BMR? It uses Bergara's Performance Trigger, which is M700 compatible.
The BMR is available with either a carbon fiber No. 6 taper barrel or a No. 4 taper 4140 steel barrel. Barrel lengths are 18" in .22 LR chambering and 20" in .17 HMR and .22 WMR models with muzzles threaded 1/2X28". All barrels are given a match grade chamber, which Bergara says will give top accuracy, while still being compatible with 95 precent of ammunition on the market. The rifles weigh 5 to 5.8 lbs. and are 36" or 38" overall, depending on configuration. The BMR is supplied with both a five and a ten-round magazine and comes with a 30 m.o.a. scope rail.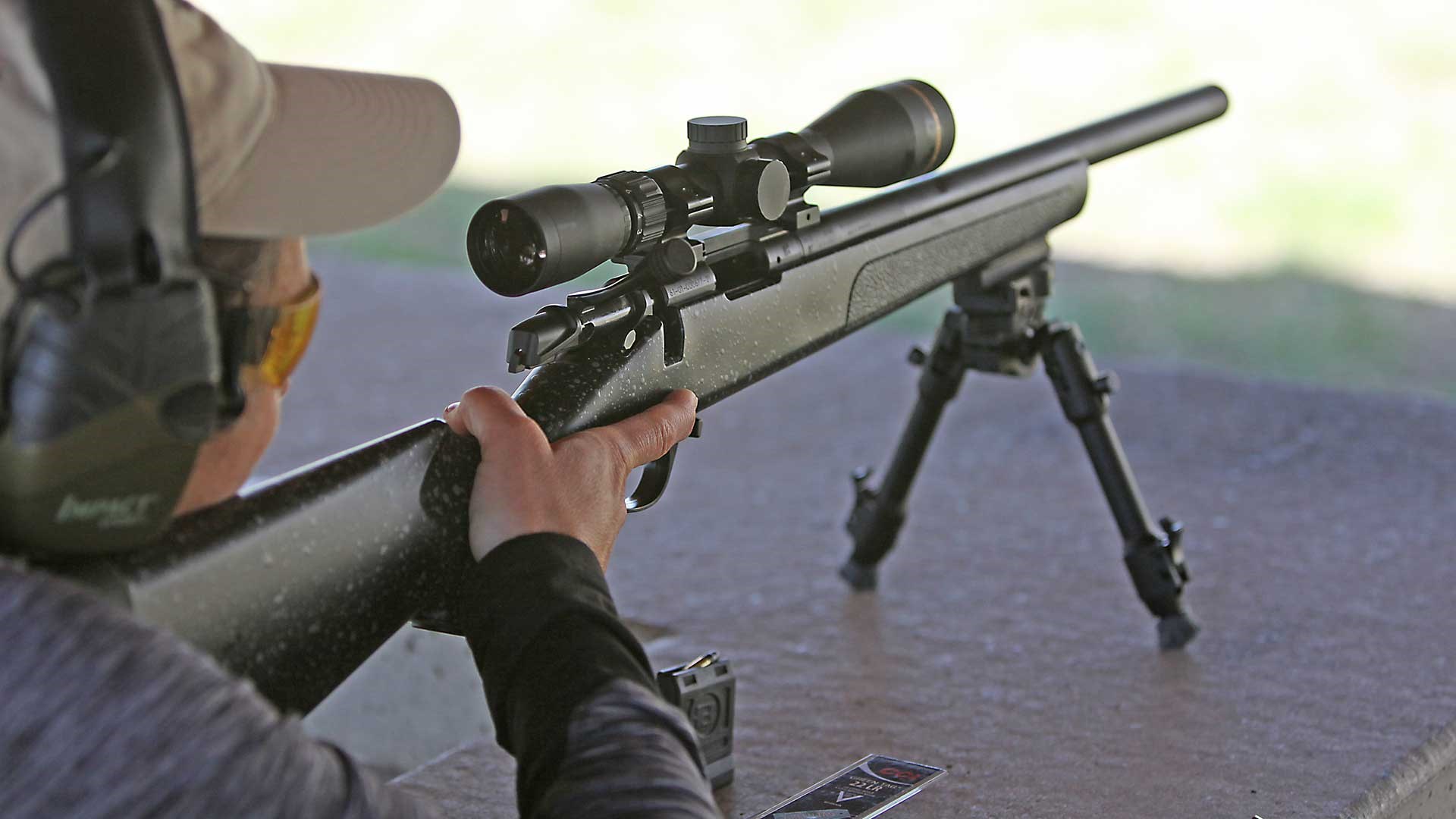 At Long Shot, Bergara brought out steel and carbon fiber-barreled BMRs in .22 LR, topped with Leupold VX-Freedom Rimfire scopes. Shooting standard grade CCI ammunition, the combination made it possible to keep steel targets swinging at 100 yards and beyond. While many products showcased at Long Shot put a smile on the face of those shooting it, nothing produced ear-to-ear grins quite like the BMR.   
The BMR has a MSRP of $659 for the carbon fiber barreled model and $565 for the steel barreled version, given hunters, plinkers and entry-level competitive shooters an affordable and accurate rimfire.  
Bergara B-14R: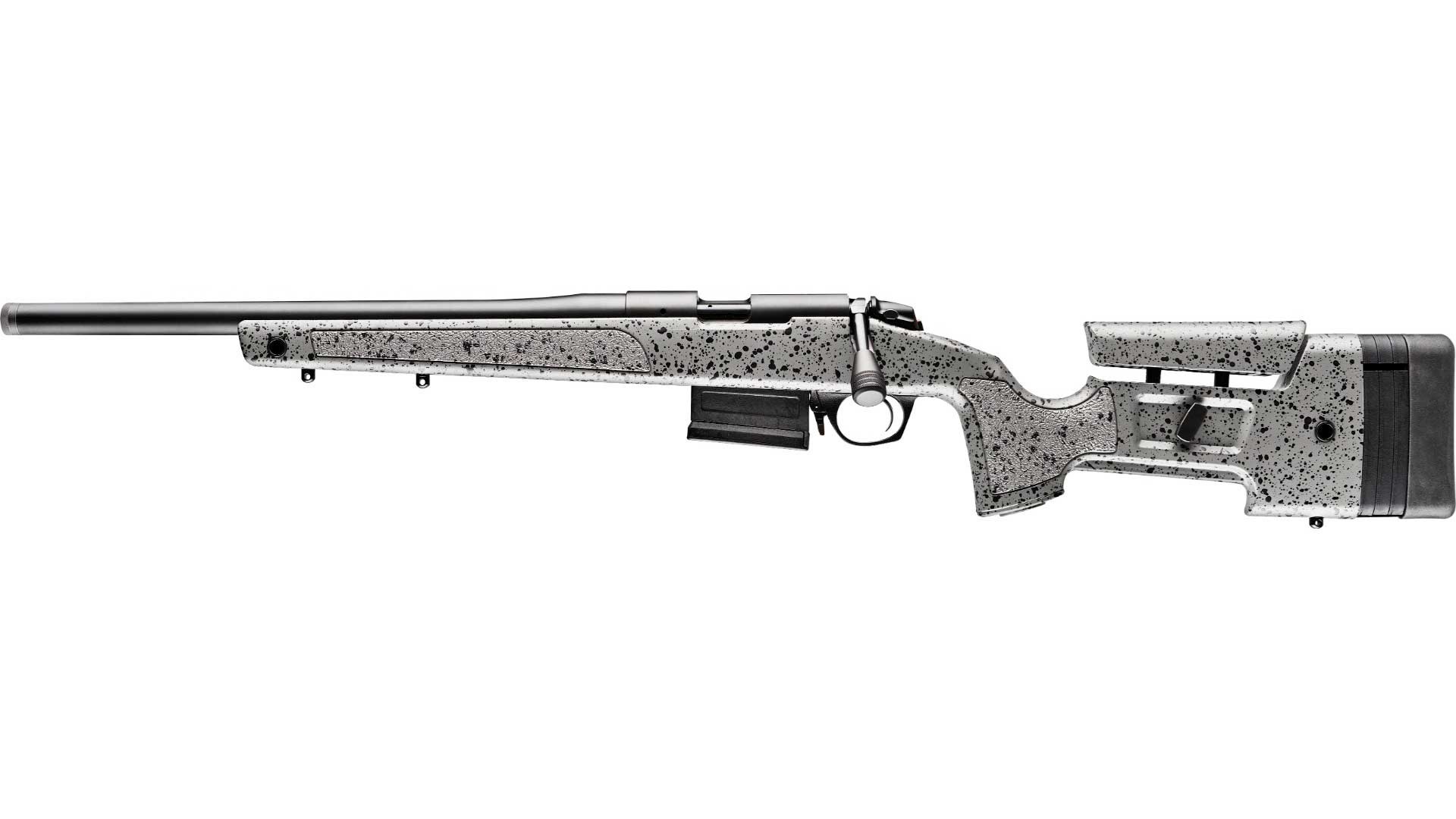 For 2021, Bergara is offering its B-14R precision trainer in a left-handed version. Pictured is the model chambered in .22 LR with a steel barrel. Image courtesy of BPI Outdoors.
For 2021, the B-14R, Bergara's full-sized precision trainer, has added .17 HMR and .22 WMR chamberings, in addition to its original .22 LR models. Also new for this year, the company is making left-handed versions of the B-14R, just like their centerfire B-14 HMR. The B-14R with a steel barrel has an MSRP of $1,150 and $1,245 for the carbon fiber barreled version.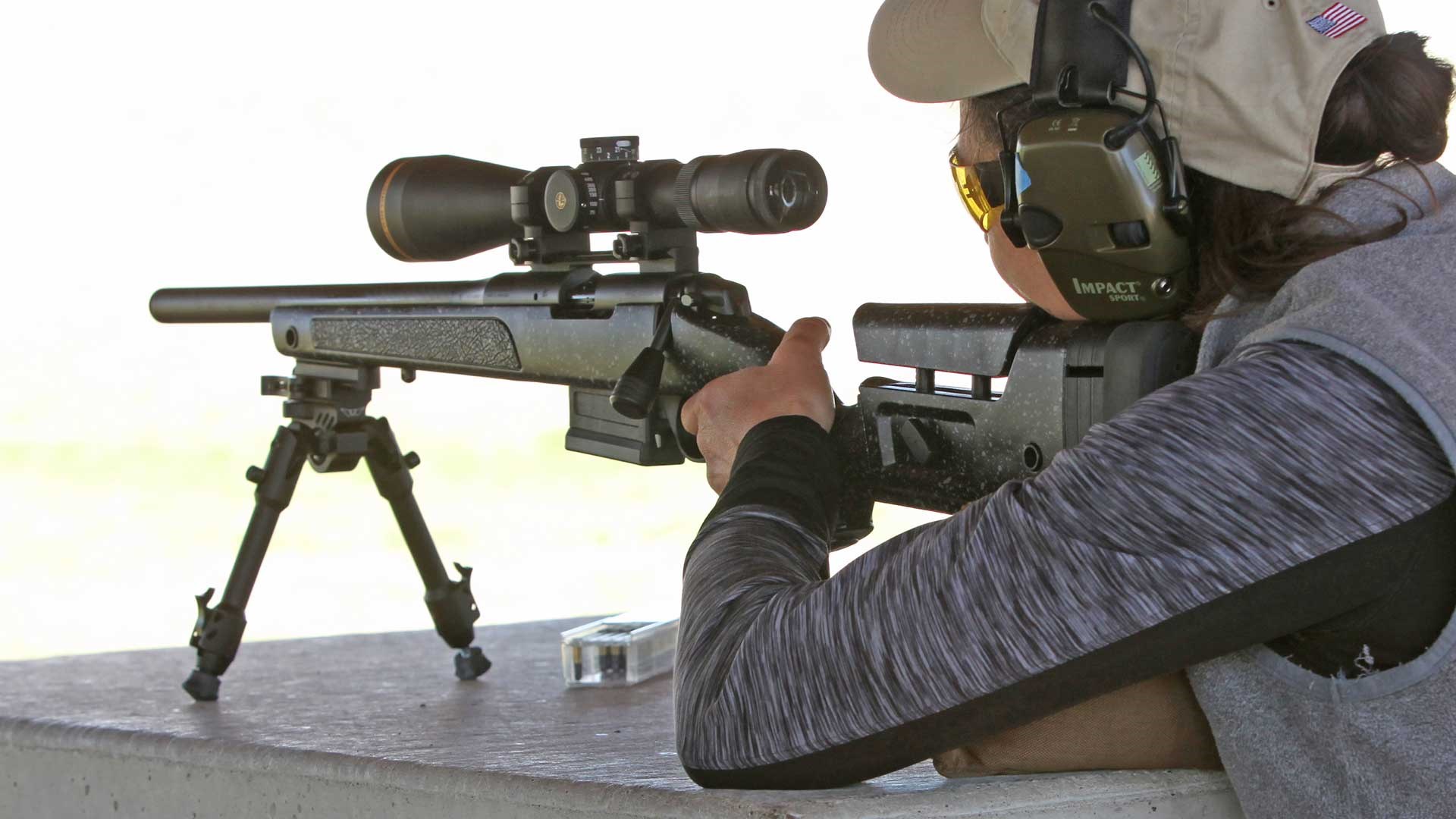 CVA Paramount Muzzleloaders: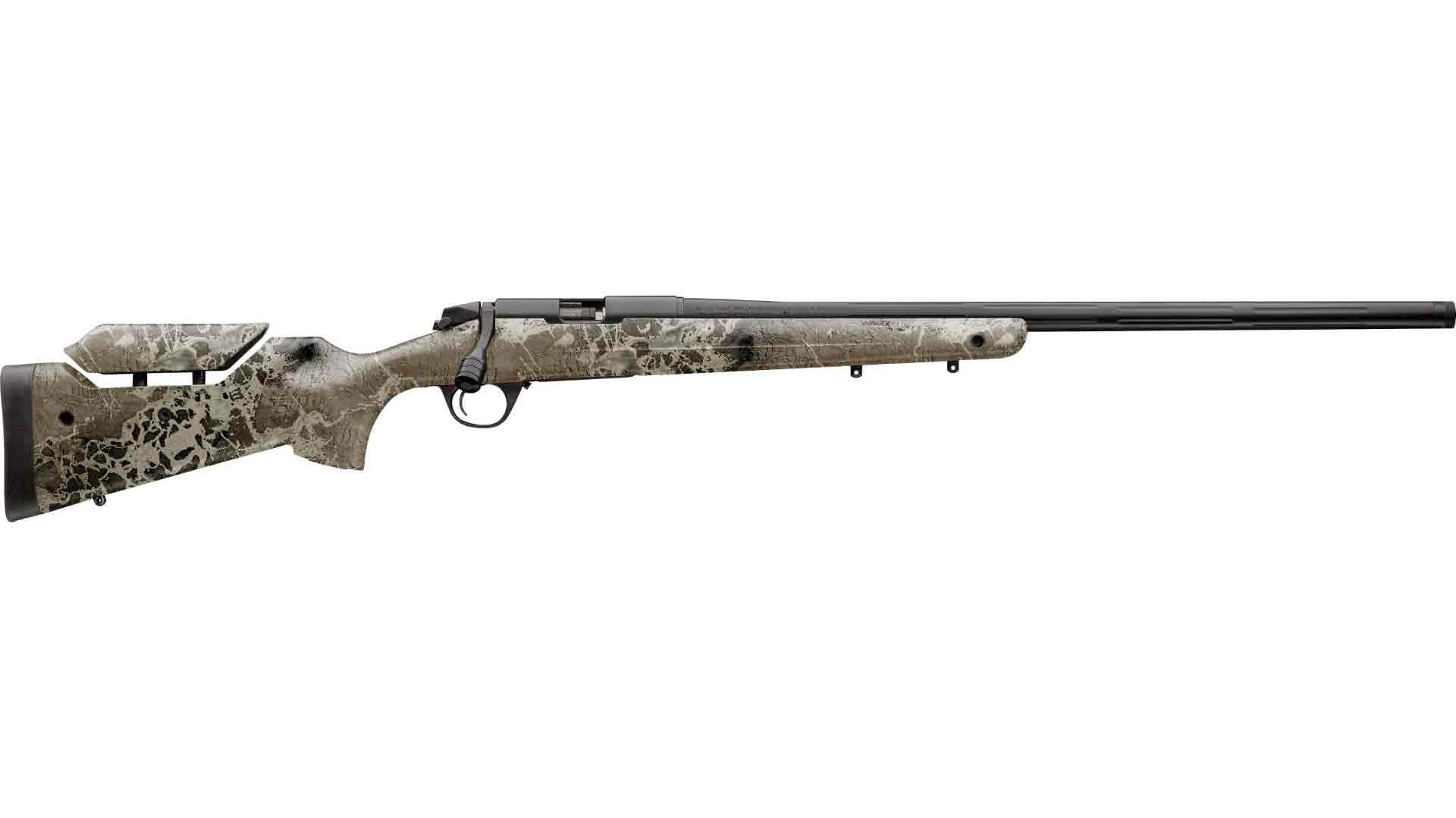 CVA has added the HTR, or "Hunter," model to their Paramount line. Pictured is the model with a Realtree Hillside camo patterned stock. Image courtesy of BPI Outdoors.
If you wanted to sum up CVA's approach to the future of muzzleloading, it would be their tagline ".40-cal. is the new .50-cal." New for this year they are offering a .40-cal. option in their Paramount Pro and new Paramount HTR. In a modern muzzloader, a .40-cal. projectile, which is legal for hunting in a growing number of states, has the advantages of higher velocity and flatter shooting and retains more energy at 500 yards, than .45- or .50-cal. projectiles.
This year CVA adds a "Hunter" or HTR model to their Paramount line of long-range muzzleloaders. The HTR takes the features of the original Paramount and places them in a slimmed down stock design finished in Realtree Hillside camo that still features an adjustable comb and internal aluminum bedding block. The HTR has a MSRP of $1,225.
At Long Shot, CVA had their new Paramount HTR in .40-cal. on the firing line. Loaded with a maximum charge of Blackhorn 209 powder and a PowerBelt (another company under the BPI umbrella) Extended Long Range (ELR) projectile, the set-up could easily ring a steel plate at 300 yards. And it did so with authority. Even at that range the 225-gr. bullet is still making over 2,000 f.p.s. and 2,000 ft./lbs. of energy.
Nearly as impressive was what was on the end of the Paramount's barrel. All of CVA's Paramount and Accura models now come with their muzzles threaded to take CVA's muzzle brake. The company claims the brake's three chamber design reduces recoil by 45 percent, taking down a magnum muzzleloader's .300 Win. Mag. level recoil to that of a .30-'06 Sprg. Our unscientific "shoulder test" bears this out.
Despite using a magnum powder charge to launch the .40-cal. bullet to 2,740 f.p.s., taking repeated shots with the Paramount from the bench was a pleasant experience. The side slots on the brake also have the advantage of dissipating the smoke from the muzzloading loading discharge to the sides so that it doesn't obscure the shooter's view of their target. 
CVA Accura X-Treme Series Muzzleloaders: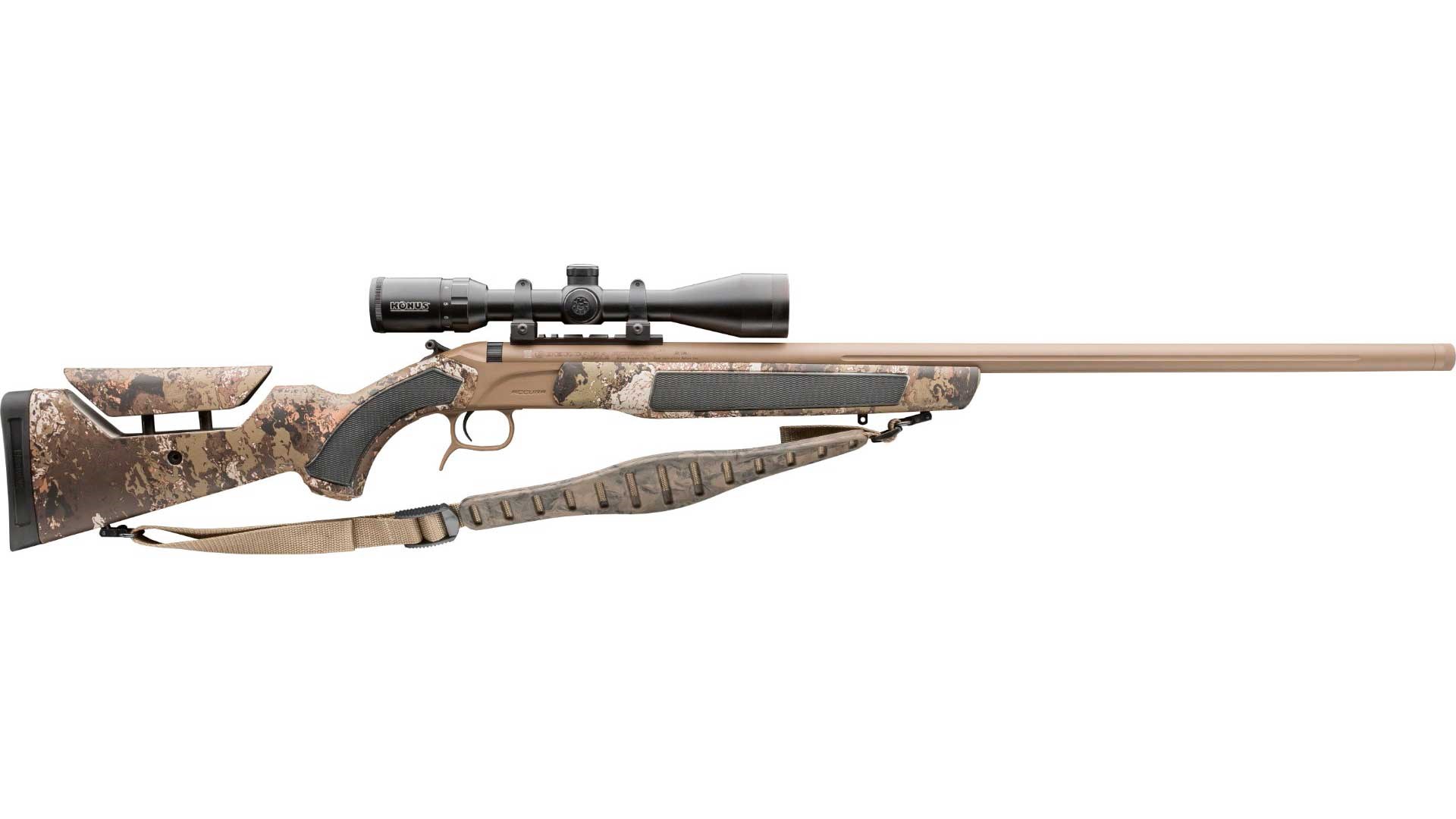 For 2021, CVA has updated their Accura break action muzzleloader with their X-Treme Series. Pictured is the Accura LR-X (Long Range) in .50-cal. with a flat dark earth cerakote finish and a Veil Wideland camo stock pattern. Image courtesy of BPI Outdoors.
CVA has updated their Accura line of break-action muzzleloaders with an enhancement they call their X-Treme Series. Many of the updates are a technological trickle-down from their Paramount series of rifles. To further enhance accuracy, the X-Treme Series dispenses with the under barrel mounted ramrod and instead utilizes a collapsible carbon fiber rod that is carried separately (the system used by their Paramount rifles).
The stock has an adjustable comb that allows hunters who go between areas where scopes are and aren't allowed to adapt the comb height to two different sighting systems. Additionally, the Accura now comes apart like a typical break-open firearm. Remove the forearm. Break open the action. Hinge the barrel down and off the receiver. This allows the firearm to be quickly broken down for cleaning or transport.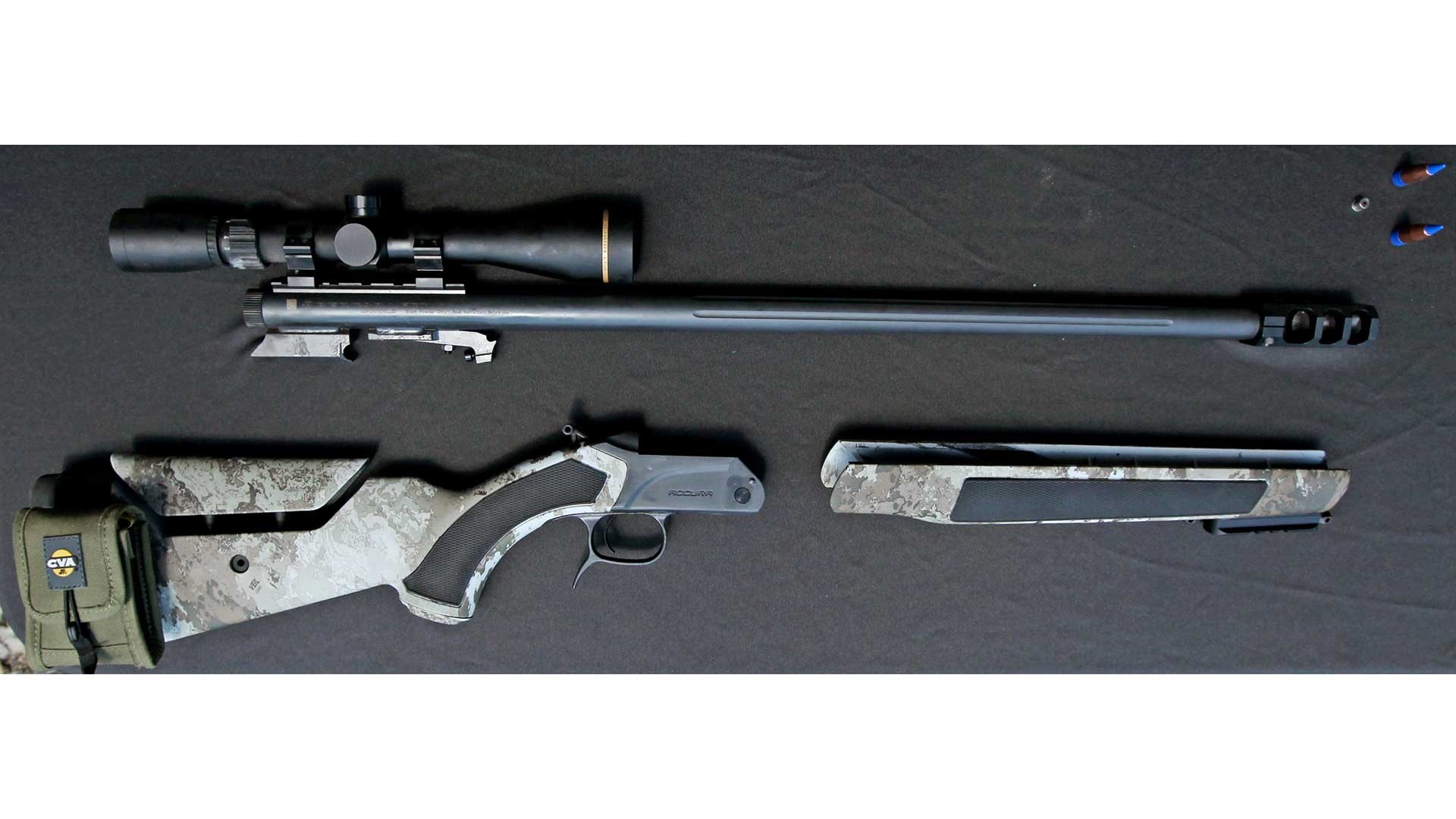 The Accura X-Treme Series comes in two flavors, the LR-X and the MR-X, both available in either .45- or .50-cal. The LR-X ("long range") has a 30" barrel and the MR-X ("mountain rifle") uses a 26" barrel. The LR-X is available with two stock and metal finish options and has an MSRP of $675. The MR-X is also available with two stock and metal finish combos with an MSRP of $670 or $599 for the black stock and stainless steel finished version. For $20 more a .50-cal. version of LR-X and MR-X models can be had with open sights, which consists of a Williams peep sight set-up.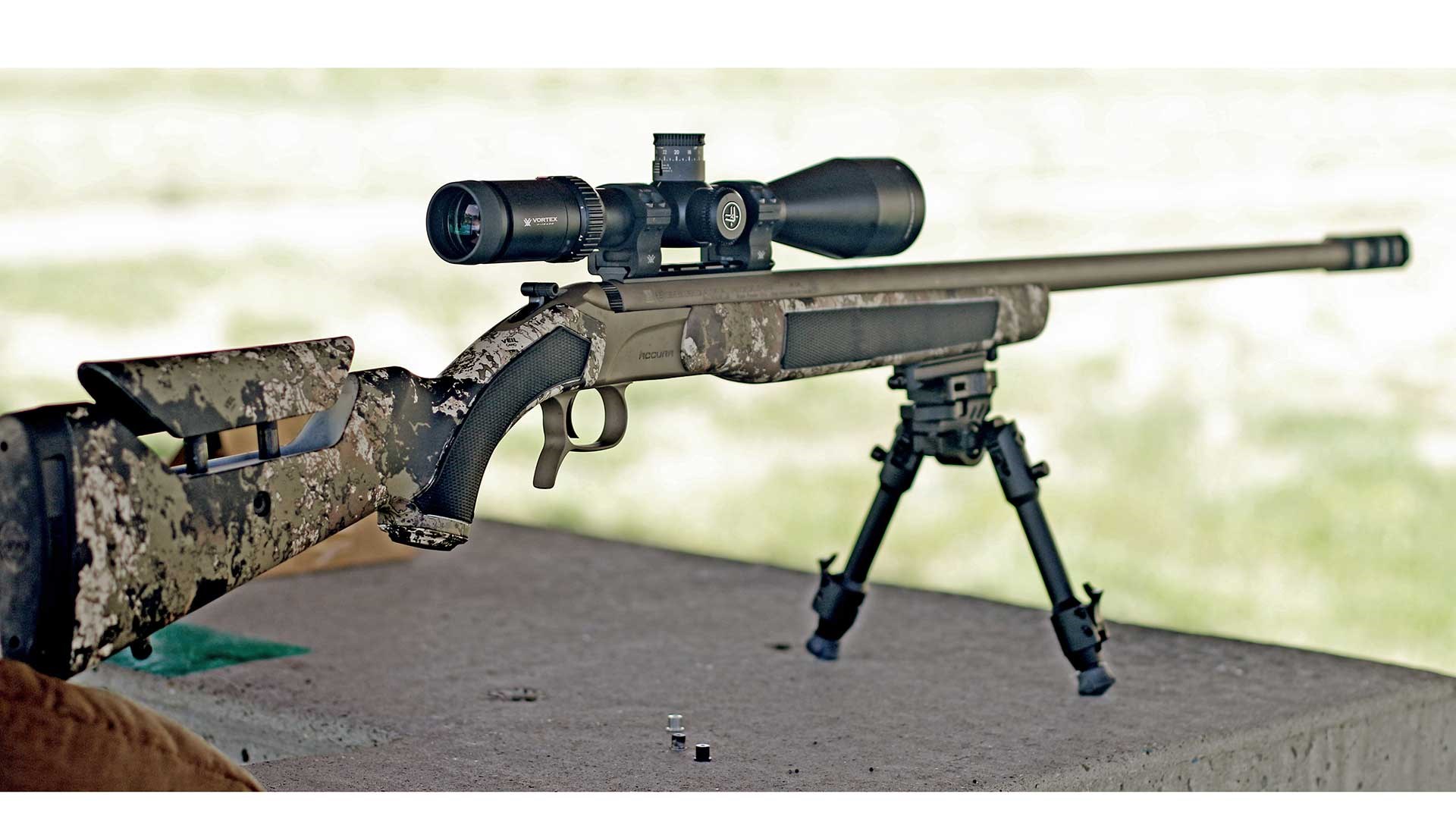 The Accura is compatible with the Paramount muzzle brake system. Despite using a 110-gr. load (by volume), the .45-cal. Accura LR-X we sampled at Long Shot had mild recoil, yet performed out to the 200 yard limit of the range we were shooting it on. CVA is also working on an adapter that will allow the Accura (which typically uses a 209 primer) to use the Variflame priming system of the Paramount, which uses a rifle primer.
They expect to release the adapter later this year. With its upgrades, the Accura X-Treme series offers an affordable muzzleloader that shares many features of the company's top-of-the-line Paramount models.
CVA Cascade Rifles: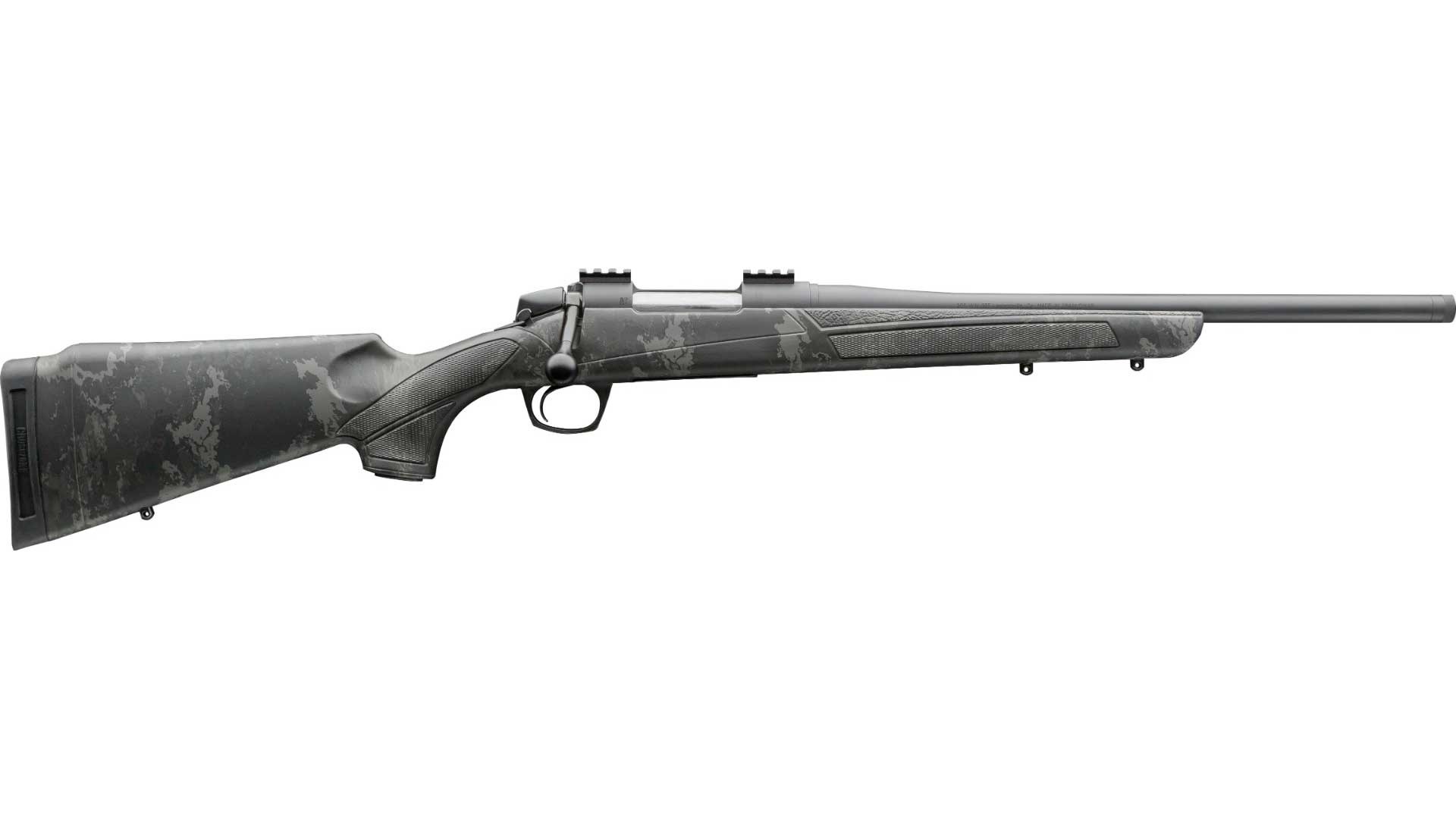 The CVA Cascade SB (Short Barrel) Series rifle. The model pictured is in 6.5 mm Creedmoor with an 18" barrel. Image courtesy of BPI Outdoors.
CVA branched out into the centerfire bolt action rifle market in 2019 with their Cascade. This year, CVA adds a SB Series to their Cascade line-up. SB stands for "short barrel," as in 18" in .308 Win. and 6.5 mm Creedmoor chamberings and 16.5" in .300 Blackout. The SB Series is designed for those wanting a more compact rifle, especially when using a suppressor (though the original Cascade is also supplied with a threaded muzzle).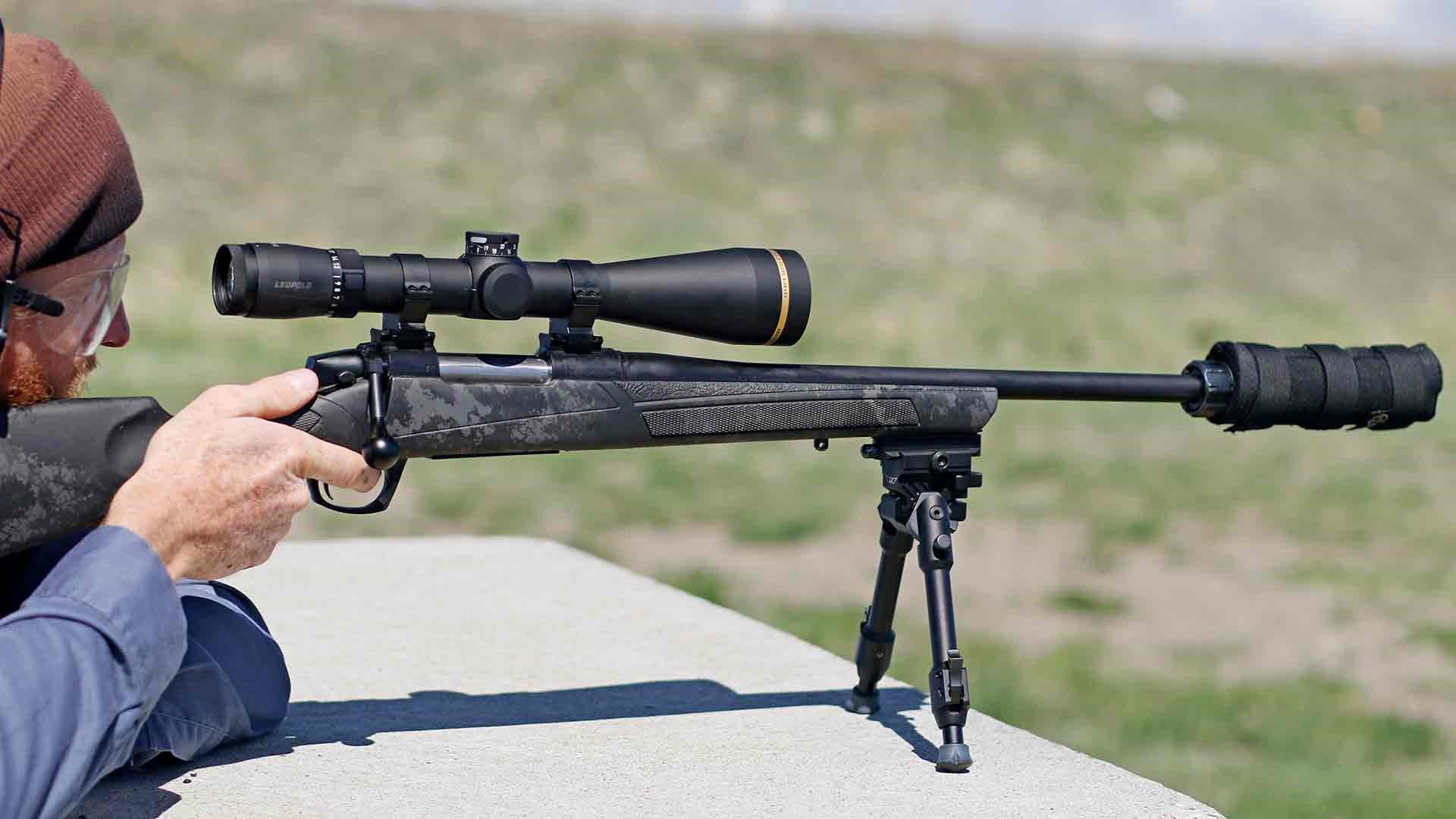 The Cascade SB features a black graphite cerakote finish with a Veil Tac Black Camo synthetic stock and has an MSRP of $670. The regular Cascade line adds several new calibers for 2021, including .204 Ruger, .28 Nosler and .300 PRC. A 6.5 mm Creedmoor Cascade SB was on hand at Long Shot. Fired from a bench off of a bipod, it made easy work of an 8" steel plate at 300 yards. Despite its entry-level MSRP, the Cascade delivers performance and features normally found in rifles at a much higher price point.
For more information on Bergara or CVA products, visit www.bergara.online and cva.com.