by
posted on September 19, 2017
Support NRA American Rifleman
DONATE
For the first time since the National Firearms Act (NFA) was created in 1934, civilians can enjoy suppressed shooting in nearly all 50 states with SilencerCo's latest innovation: the integrally suppressed Maxim 50 muzzleloader.
With the invention of the Maxim 50, SilencerCo has created a product that is 100 percent legal for civilian ownership under federal law (some state laws may not allow it, though, depending on how they define muzzleloaders) while providing hearing-saving suppression at a reasonable price point. How is this possible? By paying very close attention to federal law.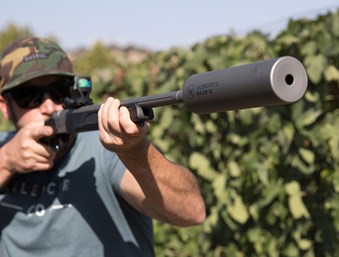 The BATFE defines a silencer as a "device for silencing, muffling, or diminishing the report of a portable firearm . . ."  By that definition, a silencer is only a silencer if it can attach to a firearm. The Maxim 50 is built on the base of a Traditions Vortek Strikerfire Muzzleloader. For those who know muzzleloaders, you'll also know that they are not considered firearms by the BATFE but are instead antique firearms, a definition and difference that is very distinct under federal law. Because of this, a moderator that is permanently affixed to a muzzleloader is not legally defined by BATF as a silencer, since it does not attach to a firearm. With this realization, the Maxim 50 was born. 
"It took a lot of creativity to arrive at this solution," said Josh Waldron, SilencerCo CEO and Co-Founder. "We have been working on this product for three years, with most of that time spent waiting on a determination from the Technology Branch of the BATFE as to how this product would be classified. As soon as we received official word that it wouldn't be considered or regulated as a silencer, we got to work on bringing the Maxim 50 to customers across the country." 
SilencerCo expects the Maxim 50 to be a hit not only with the NFA-loving crowd, but also with hobbyists and hunters. In many states, muzzleloader hunting begins days (sometimes weeks) before standard rifle season, giving hunters using this platform an edge. But this edge does come with caveats—antique firearms are usually loud, have lots of recoil, and the shooter has to battle the thick cloud of black powder smoke billowing from the barrel as they try to see if their shot connected with their game. The Maxim 50 solves all of the issues experienced by muzzleloader shooters while also drastically reducing the resulting smoke by more than two-thirds, allowing hunters to see the location of their shot and track their game. 



SilencerCo is honored to finally be able to bring suppressed shooting to its customers across the country, and, in most places, sans a long wait or a tax stamp.

For more information visit silencerco.com