by
posted on October 7, 2015
Support NRA American Rifleman
DONATE
SIG Sauer has added 125-gr (1230 fps) .38 Super +P Elite Performance Ammunition to its V-Crown jacketed hollow point (JHP) and SIG full-metal-jacket (FMJ) loads.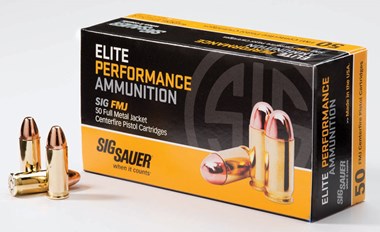 "With the introduction of the .38 Super +P ammunition, we now offer Elite Performance Ammunition for all SIG Sauer pistols," said Dan Powers, president of the SIG Sauer Ammunition Division.  "SIG FMJ ammunition is ... is designed to approximate the performance of the corresponding SIG V-Crown jacketed hollow-point rounds, giving our customers the advantage of a seamless transition from target ammo to carry ammo."
The SIG V-Crown load features a proprietary stacked hollow-point bullet for reliable, uniform expansion and optimal terminal performance. Coated brass cases also provide enhanced lubricity, offering superior corrosion resistance, and more reliable feeding and extraction in semi-automatic pistols.

The SIG FMJ premium target loads feature solid brass cases and durable, copper-jacketed bullets that remain intact on impact. Dependable primers and clean-burning powders are used for reduced barrel fouling with more reliable functioning. For more, visit sigsauer.com.
For more on SIG ammunition, please enjoy the following articles:

SIG Elite Performance Brings New Ammo Source to Market 
SIG Sauer Ammo Line Expands to Include FMJ Center-fire Pistol Cartridges